10 Best Korean Eye Masks and Patches: Top Picks of 2022
These masks can make your eyes look bright and beautiful like never before.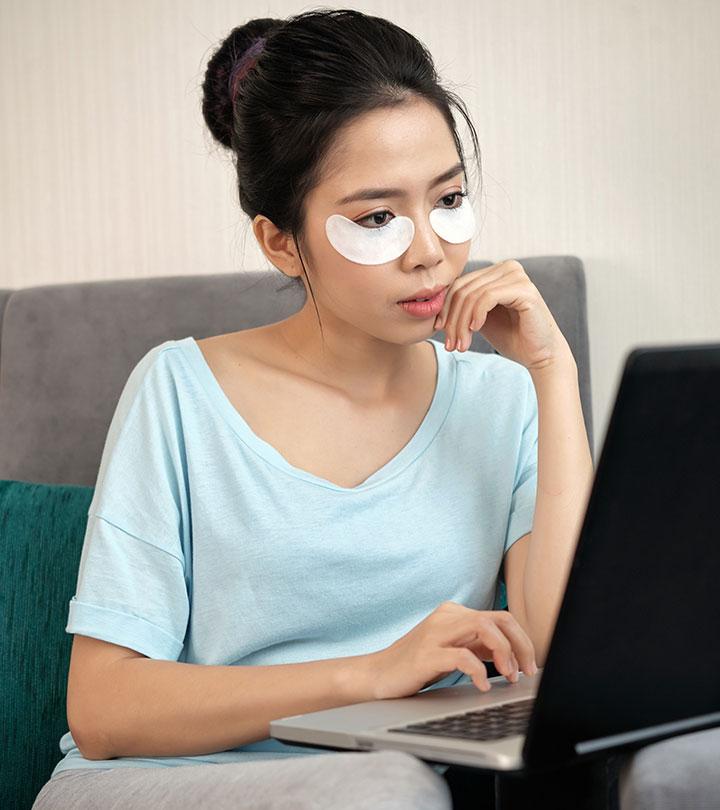 Adding the best Korean eye mask to your skincare routine can take the dullness off your eyes and give it the long-lasting sparkle it deserves. Think about your lifestyle; whether you are a party animal, a workaholic, or simply a person addicted to their phone, it reflects on your eyes. The soar and tired eyes need more than just glasses to retain their life back. K-beauty eye patches are made to restore the damage meted out to the delicate skin around your eyes and help it get its fresh look back. No matter what the cause of your eyes getting fine lines and wrinkles are, using these will surely tighten the skin and make your eyes look lively and beautiful. Here are 10 eye masks to pamper your eyes with.
10 Best Korean Eye Masks And Patches To Pamper Your Eyes
Best for: Dark circles and puffiness
This quick and easy-to-use eye mask repairs the area around the eyes by minimizing the wrinkles and fine lines. It contains castor oil, vitamin A, and E to hydrate and nourish the delicate eye area. The mask also helps de-puff eyes and removes dark circles, while firming the skin for a youthful appearance. It relieves dull, tired eyes, and brightens the area for a fresh and healthy look. Additionally, the CoolFX technology offers you a long-lasting cooling sensation.
Pros
100% natural
Easy and quick to use
Stays in place
Sulfate-free
Phthalate-free
Non-toxic
Formaldehyde-free
Cruelty-free
Cons
None
Best for: Dark circles and puffiness
This eye mask is infused with active ingredients and serums that brighten the eye area by reducing the appearance of dark circles. It is infused with a powerful triple action eye serum, vitamins B3 and C, green tea, licorice, and coffee extracts that nourish the delicate skin around your eyes and reduce puffiness.
Pros
Contains niacinamide
Dermatologist-tested
Cons
None
Best for: Dark circles and wrinkles
This eye patch is infused with natural extracts such as collagen hydrogel and tahitian black pearl essence that enrich the skin with essential minerals and vitamins. It also contains hyaluronic acid that revives the dull and sagging skin around the eyes while delivering intense hydration for a  plump and smooth skin texture. It also smoothes the fine lines and wrinkles, relieves the under-eye bags, and improves skin elasticity to impart a youthful look. Additionally, it can also be used on your laugh lines, forehead, or neck region.
Pros
Natural extracts
Easy to use
Quick results
Preservatives-free
Cruelty-free
Cons
None
Best for: Hydration and skin firming
This under-eye treatment patch contains collagen. It boosts the elasticity of the delicate eye area by hydrating it intensely and keeping it moisturized for long. The patch is made of natural fiber that helps your skin soak the active ingredients. It helps prevent puffiness and dark circles. Look at this video for a detailed review and demo of the Etude House Collagen Eye Patch.
Pros
Hypoallergenic
Botanical extracts
Cons
Best for: Moisturization and skin smoothening
These gold hydrogel patches contain 24-karat gold extracts along with ginseng, collagen, and rose water extracts. All these extraordinary ingredients help revive and rejuvenate the skin around your eyes. It helps reduce swelling, puffiness, and wrinkles and keeps your skin smooth. Before purchasing this, you can check out this brief YouTube video.
Pros
Botanical extracts
Contains hyaluronic acid
Cons
Contains parabens
Contains mineral oil
Best for: Dark circles, wrinkles, and puffiness
Mizon Snail Repair Intensive Gold Eye Gel Patches are enriched with snail slime – a powerful skin rejuvenating K-beauty ingredient – along with collagen peptides and 24-karat gold particles. These ingredients recharge your tired eyes, improve elasticity, reduce under-eye bags, and keep your skin firm.
Note: No snails are harmed in the manufacturing of this product.
Pros
Paraben-free
Sulfate-free
Natural extracts
No harmful chemicals
Cons
None
Best for: Fighting the signs of aging and skin brightening
The hydrogel eye patch technology of this product delivers 8 hours of moisturization to the skin around your eyes and relaxes it with its cooling effect. This eye patch contains hyaluronic acid, collagen, vitamin E, and bioflavonoids – all skin-nourishing ingredients that keep your skin hydrated and reduce wrinkles, puffiness, and dullness. It is easy to apply and remove.
Pros
Non-greasy
Clinically proven and certified
Dermatologically tested
Cons
None
Best for: Hydration, discoloration, and fine lines
This hydrogel eye patch diminishes all signs of aging like fine lines and wrinkles to make you ready in minutes with fresh, sparkling eyes. It is formulated with caffeine and blueberry to target discoloration and dark circles, while allantoin soothes and hydrates the skin for a plump and smooth appearance. In addition, its citrusy scent leaves you refreshed.
Pros
Easy to use
Non-slip
Paraben-free
Sulfate-free
Phthalate-free
Cruelty-free
Biodegradable
Cons
None
Best for: Dark circles and brightening
This under eye patch contains pearl extracts and shea butter. Pearl extracts are rich in minerals and amino acids that brighten your skin and reduce dark circles. Shea butter keeps your skin moisturized and soft. This eye patch is suitable for people with sensitive skin. For an honest customer review, click on this YouTube video.
Pros
Contains natural extracts
No harmful chemicals
Cons
The edge of the patches may poke a bit.
Best for: Dryness and puffiness
These hydrogel patches contain black pearl and gold extracts that keep your skin moisturized. These patches claim to rejuvenate your tired eyes, reduce puffiness, and keep the eye area hydrated. Take a look at this video to learn more about the application of Petitfee Black Pearl & Gold Hydrogel Eye Patch with a detailed review.
Pros
Botanical extracts
Paraben-free
Cons
You know how it feels when you put cucumber slices on your eyes, right? Your eyes will feel even better when you use eye masks and patches. Eye patches contain skin-nourishing ingredients that can refresh and rejuvenate your eyes. We hope that your tired and dull eyes found their match on this list! Let us know how your peepers felt after using these Korean under eye patches for bags and masks in the comments section below!
Why Trust StyleCraze?
The author, Shiboli Chakraborti, is a certified skin care coach and an ardent lover of Korean beauty products. She conducted hours of research to compile this list of the best eye masks and patches. She browsed many online forums to check user feedback before shortlisting the above products. These eye masks and patches can tighten the skin under the eye area and make your eyes look beautiful and bright.
Frequently Asked Questions
Do Korean eye masks work for dark circles?
Yes. Korean eye masks are formulated with essential vitamins that help reduce dark circles and impart youthful radiance to the skin around your eyes.
How long should you leave eye masks on?
Usually, eye masks can be kept on for an average of 10 to 20 minutes. Some eye masks can also be left overnight. However, read the instructions on the product packaging and wear it as instructed.
How often should you use an eye mask?
An eye mask can be used three to four times a week. However, abide by the instructions mentioned on the package.
What are the benefits of using Korean eye masks?
• Keep the skin under and around your eyes hydrated.
• Boost collagen in the skin near the eyes and tone the skin.
• Improve the blood circulation in the eye area, making it look fresh.
• Reduce pigmentation and eliminate dark circles.
Recommended Articles