10 Best Korean Eye Masks and Patches: Top Picks of 2020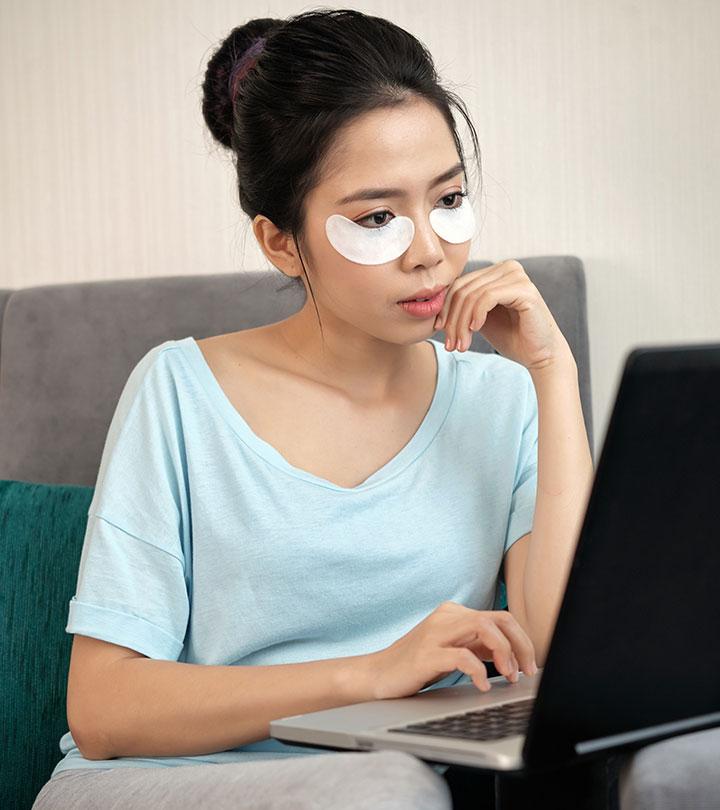 Worried that your eyes are looking dull and tired? Blame those late-night parties, dry climate, lack of sleep, long working hours in front of the computer, or your genes. Regardless of what's causing them, you need to start using eye masks or eye patches.
The skin around your eyes is delicate and needs a ton of TLC. Fortunately, all you need is 10 minutes and a Korean eye mask to fix this problem. Korean eye patches and masks are designed to repair the damage on the delicate eye area and make them look fresh. If you are yet to use a Korean eye mask or a patch, check out our list of the top-rated ones available right now before making your purchase.
10 Best Korean Eye Masks And Patches To Pamper Your Eyes
Best for: Puffiness and dryness
This leave-on eye mask repairs the area around your eyes throughout the night. It is developed with the Eye Moisture Wrap Technology that maintains the hydration level of your skin while you sleep and helps de-puff and soothe the eye area. It is the best Korean under eye mask.
Pros
Paraben-free
Phthalate-free
Dermatologist-tested
Cruelty-free
Cons
[ Read: 11 Best Gel Eye Masks ]
Best for: Dark circles and puffiness
This eye mask is infused with active ingredients and serums that brighten the eye area by reducing the appearance of dark circles. It is infused with a powerful triple action eye serum, vitamins B3 and C, green tea, licorice, and coffee extracts that nourish the delicate skin around your eyes and reduce puffiness.
Pros
Contains niacinamide
Dermatologist-tested
Cons
None
Best for: Dark circles and dullness
This eye patch is infused with salmon egg extracts that help reduce dark circles caused by stress and other factors. It also contains glutathione and hyaluronic acid that reduce puffiness and keep your skin hydrated. These U-shaped hydrogel eye patches feel super comfortable and are easy to apply. It is the best Korean hydrogel mask.
Pros
Paraben-free
Sulfate-free
No harmful chemicals
Cons
None
Best for: Hydration and skin firming
This under-eye treatment patch contains collagen. It boosts the elasticity of the delicate eye area by hydrating it intensely and keeping it moisturized for long. The patch is made of natural fiber that helps your skin soak the active ingredients. It helps prevent puffiness and dark circles.
Pros
Hypoallergenic
Botanical extracts
Cons
Best for: Moisturization and skin smoothening
These gold hydrogel patches contain 24-karat gold extracts along with ginseng, collagen, and rose water extracts. All these extraordinary ingredients help revive and rejuvenate the skin around your eyes. It helps reduce swelling, puffiness, and wrinkles and keeps your skin smooth.
Pros
Botanical extracts
Contains hyaluronic acid
Cons
Contains parabens
Contains mineral oil
[ Read: DIY – Refreshing Homemade Cucumber Soaked Eye Mask ]
Best for: Dark circles, wrinkles, and puffiness
Mizon Snail Repair Intensive Gold Eye Gel Patches are enriched with snail slime – a powerful skin rejuvenating K-beauty ingredient – along with collagen peptides and 24-karat gold particles. These ingredients recharge your tired eyes, improve elasticity, reduce under-eye bags, and keep your skin firm.
Note: No snails are harmed in the manufacturing of this product.
Pros
Paraben-free
Sulfate-free
Natural extracts
No harmful chemicals
Cons
None
Best for: Fighting the signs of aging and skin brightening
The hydrogel eye patch technology of this product delivers 8 hours of moisturization to the skin around your eyes and relaxes it with its cooling effect. This eye patch contains hyaluronic acid, collagen, vitamin E, and bioflavonoids – all skin-nourishing ingredients that keep your skin hydrated and reduce wrinkles, puffiness, and dullness. It is easy to apply and remove.
Pros
Non-greasy
Clinically proven and certified
Dermatologically tested
Cons
None
Best for: Skin calming
There's nothing like giving a relaxing steam treatment for your eyes after a long and tiring day. This steam eye mask by A'Pieu helps relax and rejuvenate your eye area. After opening, the mask heats up and stays hot for about 20 minutes. It melts away the tiredness, dullness, and signs of stress and fatigue around your eyes.
Pros
Paraben-free
Sulfate-free
No mineral oils
No harmful chemicals
Cons
None
[ Read: How To Get Rid Of Eye Floaters ]
Best for: Dark circles and brightening
This under eye patch contains pearl extracts and shea butter. Pearl extracts are rich in minerals and amino acids that brighten your skin and reduce dark circles. Shea butter keeps your skin moisturized and soft. This eye patch is suitable for people with sensitive skin.
Pros
Contains natural extracts
No harmful chemicals
Cons
The edge of the patches may poke a bit.
Best for: Dryness and puffiness
These hydrogel patches contain black pearl and gold extracts that keep your skin moisturized. These patches claim to rejuvenate your tired eyes, reduce puffiness, and keep the eye area hydrated.
Pros
Botanical extracts
Paraben-free
Cons
You know how it feels when you put cucumber slices on your eyes, right? Your eyes will feel even better when you use eye masks and patches. Eye patches contain skin-nourishing ingredients that can refresh and rejuvenate your eyes. We hope that your tired and dull eyes found their match on this list! Let us know how your peepers felt after using these Korean under eye patches for bags and masks in the comments section below!
Recommended Articles