10 Best Toothbrush Sanitizers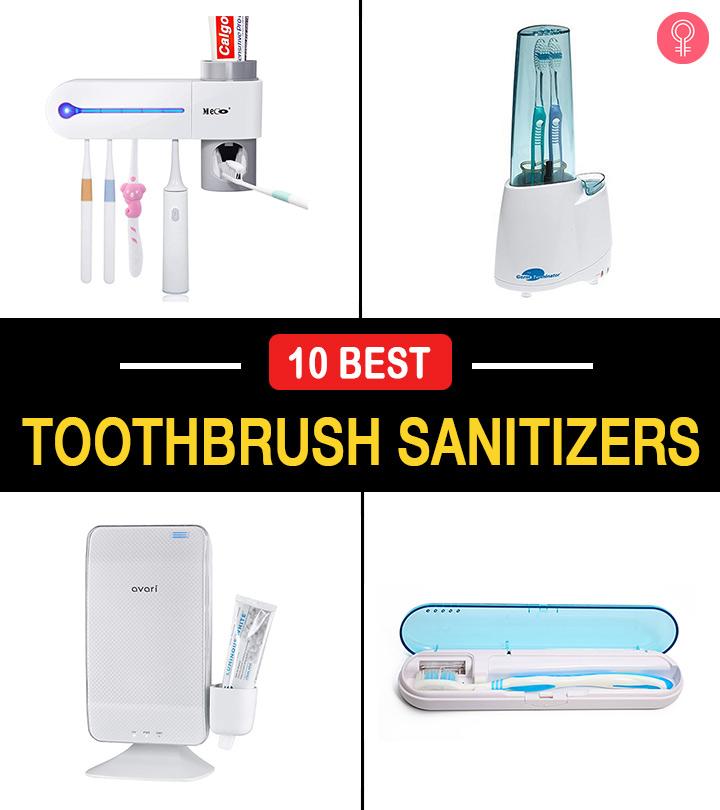 Have you ever thought about how clean your toothbrush really is? A toothbrush is supposed to clean your teeth and gums, but it might not be able to do that effectively if it is covered with bacteria and germs. When you brush, a few bacteria are transferred from your mouth to the toothbrush. These bacteria build up on the brush head and cleaning with water cannot help get rid of them. When the toothbrush is used again, the bacteria are transferred back to the mouth, and the cycle keeps repeating itself. However, there is one way to get rid of these bacteria and germs on your toothbrush – a toothbrush sanitizer. In this article, we will look at how a toothbrush sanitizer works, 10 best toothbrush sanitizers, and a buying guide. Scroll down to know more!
What Is A Toothbrush Sanitizer?
A toothbrush sanitizer is a device that uses either UV light or heat and steam to kill bacteria and other living microorganisms on a toothbrush.
How Does A Toothbrush Sanitizer Work?
There are two types of toothbrush sanitizers: one that works with UV light and the other that works with steam and heat.
UV Light: This toothbrush sanitizer will have a UV bulb that emits ultraviolet light at a particular wavelength range to get rid of any germs, bacteria, or viruses living on your toothbrush.
Steam And Heat: This method does not use any chemicals. Steam and heat help sterilize and dry the toothbrush, which keeps it clean from any microorganisms.
All toothbrush sanitizers are either battery-operated or plug-ins.
Why Should You Use A Toothbrush Sanitizer?
Bacteria, viruses, and germs that live on your toothbrush can cause serious health issues, like gum bleeding, cough, cold, etc. Using a toothbrush sanitizer can help clean the toothbrush and protect you and your family from infectious diseases. It also keeps your toothbrushes odor-free. Toothbrush sanitizers also double up as holders, which can help keep your countertop organized and neat.
Let's now look at the top ten toothbrush sanitizers you should consider. 
10 Best Toothbrush Sanitizers
The Meco UV Toothbrush Holder also works as a sanitizer. It helps kill almost all the bacteria and germs that might be present on toothbrushes. It uses UV light to sterilize toothbrushes. It can hold and sanitize up to five toothbrushes. It uses an automatic dispenser that works with a vacuum pump to squeeze out toothpaste.
Plug in the sanitizer for it to work. Place the toothbrushes inside and press the silver switch on. Once you close the lid, UV light is emitted to sterilize the toothbrushes. It automatically shuts off after five minutes.
You can stick this holder to the wall with tape or mount it with screws. It is environment-friendly and made of silicone. It comes with instructions, even for wall mounting. Its dimensions are 8Lx0.3Wx5H inches. The bulb has a long lifespan of greater than 25000 hours. It uses an ultraviolet wavelength of 1000uW/cm2. It works with a current of 180mA and a power of 2 watts.
Pros
Easy installation
Easy to use
Declutters the counter
Dispenses toothpaste well
Cons
Packaging or delivery issues
The toothpaste might get stuck in the dispenser.
Wall adhesive is weak
The Ejaisu Toothbrush Case is lightweight, compact, and easy to carry on travels. It works with manual and electric toothbrushes. The sanitizer begins the sterilization process once the toothbrush is placed inside. It automatically shuts off after five minutes. It is environmentally friendly and doesn't cause damage to health.
The sanitizer sterilizes the toothbrush by sending a blast of light over the toothbrush head. It kills almost all the germs and bacteria on the toothbrush. It is also extremely easy to clean. The bulb of the light lasts as long as the toothbrush case does. You can tell when the holder needs to be charged as the light on the sanitizer keeps blinking. Its dimensions are 8.3x2x0.9 inches, and it weighs 3.52 ounces.
Pros
Easy to use
Portable
Lightweight and compact
Works very well
Strong holder
Cons
Weak latch
The light can flicker after some time
The Violife VIO200B UV Toothbrush Sanitizer uses pure UV light to kill germs and bacteria. It works with both manual and electric toothbrushes. It has a designer toothbrush stand with a suction cup to stop contamination. Once the sanitizer is switched on, the sterilization process begins when the cover is closed. It automatically shuts off after six minutes. It uses 2 AA batteries, and the bulb has a long life span. Even when it is not in use, the sanitizer encloses the toothbrush and shields it from bacteria, germs, and airborne dust.
This lightweight sanitizer is perfect for travel. Its germicidal UV light also helps kill the influenza virus and E.Coli, Streptococcus, Staphylococcus, andsalmonellabacteria. The UV bulb is irreplaceable. This compact sanitizer is easy to carry on the go, ultra-safe to use, and helps eliminate bacteria and viruses in just 6 minutes.
Note: This sanitizer does not fit Sonicare toothbrush heads.
Pros
Easy to use
Lightweight
Compact
Portable
Works with manual toothbrushes and most electric toothbrush heads.
Cons
There may be issues with the battery cover.
Only one holder
The Germ Terminator Toothbrush Sanitizer uses steam and heat to kill bacteria and germs that might be on your toothbrush. It works for both manual and electric toothbrushes. It was inspired by the steam devices used in dental offices to sterilize instruments. It is 3 inches long, 6 inches wide, and 11.5 inches tall. It is FDA-cleared and can be charged with a plug adapter.
Plug in the Germ Terminator and place your toothbrush in the toothbrush basket. Replace the cover. Add water to start the steam cycle. If you notice steam filling the chamber, it indicates that the toothbrush is being sanitized. The steam cycle is followed by the dry heat cycle. It keeps the toothbrush sanitized in the chamber until the next use.
It takes only a few seconds to sterilize the toothbrush. Use it after brushing your teeth. It claims to kill up to 99.999% of germs and bacteria on toothbrushes. It is compact and lightweight, which makes it easy to carry along.
Pros
No chemicals
Sleek design
Declutters the sink
Easy to use
Portable
Cons
Needs to be unplugged or gets too hot.
Doesn't work with rubber toothbrushes.
Packaging issues
The Violight Countertop Toothbrush Sanitizer can kill up to 99.9% of bacteria to keep your toothbrush clean. It can sanitize and hold up to four toothbrushes at a time. It has a drip cup with separate chambers for each brush to prevent any cross-contamination or dripping. It 's easy to place on the counter and stays without moving.
The sanitizer has a modern design with a silver matte-finish and a light blue cap. It uses a powerful UV germicidal light bulb. Plug in the sanitizer, place the toothbrushes in it, and press the button in the front. The bulb glows to show that the sterilization process has started and takes 10 minutes to clean the toothbrush before automatically shutting down.
The Violight Sanitizer has a bulb that is easy to access and replace. It has a cap that opens easily, which covers a drip tray. It has a non-slip base to prevent any slipping. It is safe to use and can sanitize your toothbrushes up to thrice a day without any recharges. The bulb lasts over 2000 hours. Both the UV light and drip tray can be replaced easily.
Pros
Long bulb life
Durable material
Easy to use
Easy to install
Replaceable drip cup
Non-slip base
Cons
Quality issues
Does not last long
The Avari Premium UV Toothbrush Sanitizer uses dual UV and heat sterilization to kill bacteria.
The sanitizer consists of a UV light and a heating plate to provide dual technology protection. It helps kill 99.9% of germs on toothbrushes. The UV LED light destroys any bacteria on the toothbrush, like ColonBacillus, Staphylococcus, and Streptococcus. The heating plate in the sanitizer keeps your toothbrush dry and sterilized.
Place the toothbrush within the sanitizer and press the button to turn it on. The sterilization process begins once you close the door of the sanitizer. The entire process takes 10 minutes.
The package includes a stand and wall mount, toothpaste holder, AC adapter, and instructions. A melodic chime sounds on opening and closing the sanitizer's door. It can hold five toothbrushes or three toothbrushes and a razor.
Pros
Sleek design
Dries toothbrushes fast
Easy to use
No residue on the brushes
Easy to install
Cons
The plastic cover might not close fully.
Doesn't fit bigger toothbrushes
Quality issues
The Aquatrend UV Toothbrush Sanitizer & Holder helps kill germs and bacteria. It prevents bacteria from multiplying after sterilization. It contains a UV LED bulk and a dryer and can be recharged with a USB cable. It can hold and sterilize up to five toothbrushes. It works for regular and electric toothbrushes. It also works as a toothbrush holder and has a slot for toothpaste. It is non-toxic and made from ABS material, which is durable and waterproof.
The sanitizer can be activated by a button at the top, and the sterilization starts when you close the cover for the holder. It sanitizes the toothbrush with the help of UV light using 360-degree UV surround sterilization. After sterilizing the toothbrush, the device dries it for double protection. It can be used for four to five hours per charge. The sanitizer has an inbuilt fan to improve air circulation and reduce bacteria in the holder. It takes 8 minutes to completely sterilize the toothbrush and 4 minutes for drying it. It automatically shuts off after the sterilization is completed.
The sanitizer comes with double-sided scotch tape, which can be stuck on the wall without causing any damage. Make sure the wall is even and dry before taping it. It doesn't have any sharp edges that can harm kids. It comes with a sticky hook, double-sided tape, charging adapter and cable, user manual, and three customizable stickers.
Pros
Easy installation
Compact
Declutters the sink
Convenient to use
No batteries required
Cons
Not durable
Doesn't work for large toothbrushes.
There may be issues with the fan inside the sanitizer
This portable toothbrush sanitizer uses Advanced Deep DUV-C sanitizing technology. It uses a UVC-LED new generation clean light source, and the wavelength band is 250-280nm. Its sterilization capacity is 3600 times more than common light. It helps reduce 99.9% bacteria and works for regular and electric toothbrushes. This toothbrush sanitizer is portable and easy to travel with.
Place the toothbrush head in the case. Once you press the power button, the sterilization process begins. It automatically stops after 3 minutes. It can be recharged easily with a USB cable. It has a lithium-ion battery (240mAh) and takes three hours to get recharged.
It comes with a USB cable, a manual, and a brochure. The light is unseen, but can penetrate through the virus and bacteria, destroying their DNA or RNA and the protein structure. The HeaChips UVC LED doesn't leave any smell or residue. The toothbrush sanitizer can be used 55 times before recharging. 
Pros
Compact
Lightweight
Travel-friendly
Charging remains for a long time
Dries the toothbrush
High sanitizing efficiency
Cons
May break easily
The cover doesn't close properly
Adapter issues
The Qhand UV Toothbrush Sanitizer cleans 99.9% of bacteria on toothbrushes. It also acts like a holder. It can clean up to four toothbrushes at the same time. It works for both regular and electric toothbrushes. It uses an ultraviolet wavelength of 253.7 nm. It can penetrate cells and destroy protein structures or DNA.
Make sure you close the cover before you start the cleaning process to protect your eyes and face. It can be used for 30 days after charging once. It does not dry the toothbrush, and it is recommended to use only dry toothbrushes while sanitizing. It has dimensions of 7.87×2.95×1.57 inches and a lamp lifespan of greater than 8000 hours. It works on a current of 180 MA.
Open the cover and place the toothbrush inside. Rotate the soft hair of the toothbrush inside and close the cover. Press the start button. It comes with a double side adhesive for wall mounting. The LCD display cleans automatically and can rotate 360 degrees. It also has a USB charging port.
Pros
Cleans four toothbrushes at the same time
Easy to carry around
Convenient to use
Helps declutter the sink
Takes a few minutes to install
Cons
Packaging issues
The adhesive tape does not stick to textured walls
The Linsam Toothbrush Holder acts as a cleaner and a holder. It uses green light technology to clean the toothbrush. It auto starts when the door is closed and shuts off after 6-8 minutes. Put the toothbrush in the case and close the door for the cleaning process to start. It can hold 5  toothbrushes. You can also use it for makeup brushes and nail clippers. It uses the technology that is used in air and water purification.
Pros
Automatic shutoff
Holds 5 brushes at a time
Uses air and water purification technology
Cons
Needs dry environment or mold is seen
Issues with the light
Doesn't hold big toothbrushes
UV light is not replaceable
Now that you know about the top toothbrush sanitizers, here are some pointers for you to pick the best! 
Things To Consider While Buying A Toothbrush Sanitizer – Buying Guide
Capacity: If you have a family or are living with roommates, buy a toothbrush sanitizer that can hold more than one toothbrush at a time. You can find toothbrush sanitizers that handle 4-5 toothbrushes at a time, which is less time-consuming.
Portability: If you tend to travel a lot, buy a single holding toothbrush sanitizer that is battery operated. It is compact and lightweight, which makes it ideal for traveling.
Battery: Before buying a sanitizer, check its battery life. It is better to buy a rechargeable battery rather than one where you have to keep changing the battery.
UV Lamp: Some toothbrush sanitizers come with irreplaceable UV light bulbs, which can be a problem if the bulb breaks or short circuits. 
That was our list of the 10 best toothbrush sanitizers. Keeping your toothbrush clean and germ-free is the first step towards oral hygiene and overall health. If you are not sure which sanitizer to pick, consult your dentist. 
Expert's Answers For Readers' Questions
How often should I change my toothbrush?
It is recommended that you change your toothbrush every three months.
Should I buy a battery-powered or plug-in toothbrush?
It depends entirely on your preference and convenience. It is better to travel with a battery-operated toothbrush. A plug-in toothbrush sanitizer might become too hot if plugged in at all times, so it works better at home.
Recommended Articles
The following two tabs change content below.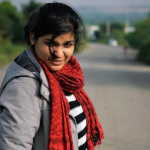 Latest posts by Anjali Sayee (see all)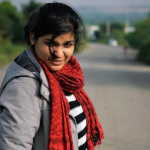 Anjali Sayee
Anjali Sayee is a writer and an introvert. From studying Aeronautical Engineering and wanting to design her own airplane to writing articles on hairstyles, she has been on quite a journey. She believes that hair is one of the key factors that define a woman's personality. To quote her, "What's the first thing they do in the movies to show a personality change? Change the hair – because it has a life of its own." She's here to help you find the hairstyle you need. This bookworm is a self-professed Wholocker, a talented drummer, and an amateur photographer.