10 Best Toothbrush Sanitizers To Upgrade Your Oral Hygiene – 2023
Keep your toothbrushes clean and hygienic to avoid any growth of germs in them.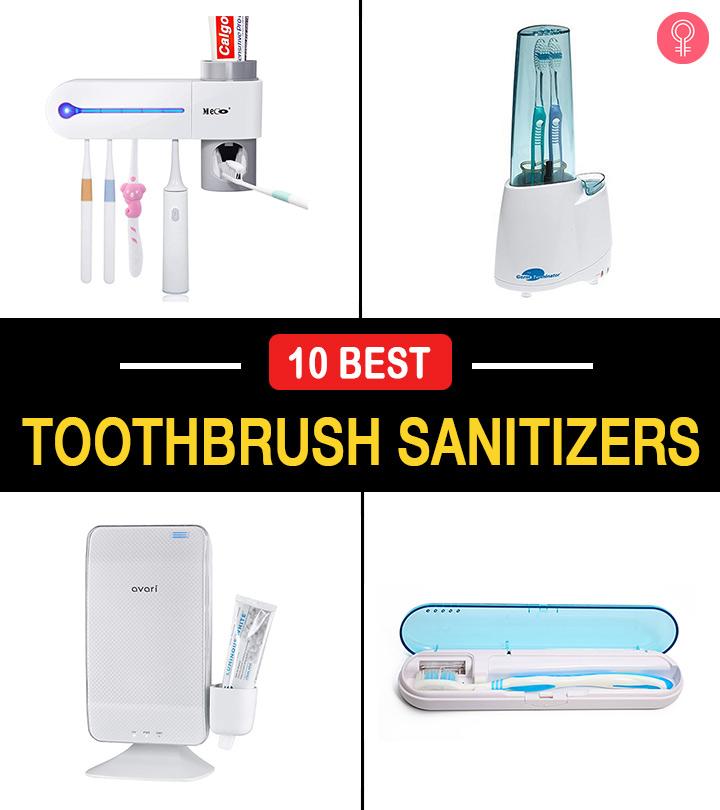 Your toothbrush is supposed to clean your teeth and mouth and help you maintain your oral health. But have you ever thought about how to clean your toothbrush? This is where the best toothbrush sanitizers that clean your brush come into play! Toothbrush sanitizers are actually a thing and are catching on quite fast! Similar to how your hand sanitizer works, toothbrush sanitizer also pretty much does the same thing. It's just that the chemical composition of the latter will vary because you don't want that much-concentrated alcohol in your mouth, making you tipsy bright and early in the morn! To learn how to sanitize your toothbrush the right way and for the 10 best toothbrush sanitizers, scroll through our list right now!
What Is A Toothbrush Sanitizer?
A toothbrush sanitizer is a device that uses either UV light or heat and steam to kill bacteria and other living microorganisms on a toothbrush.
How Does A Toothbrush Sanitizer Work?
There are two types of toothbrush sanitizers: one that works with UV light and the other that works with steam and heat.
UV Light: This toothbrush sanitizer will have a UV bulb that emits ultraviolet light at a particular wavelength range to get rid of any germs, bacteria, or viruses living on your toothbrush.
Steam And Heat: This method does not use any chemicals. Steam and heat help sterilize and dry the toothbrush, which keeps it clean from any microorganisms.
All toothbrush sanitizers are either battery-operated or plug-ins.
Why Should You Use A Toothbrush Sanitizer?
Bacteria, viruses, and germs that live on your toothbrush can cause serious health issues, like gum bleeding, cough, cold, etc. Using a toothbrush sanitizer can help clean the toothbrush and protect you and your family from infectious diseases. It also keeps your toothbrushes odor-free. Toothbrush sanitizers also double up as holders, which can help keep your countertop organized and neat.
Let's now look at the top ten toothbrush sanitizers you should consider. 
10 Best Toothbrush Sanitizers
The Meco UV Toothbrush Holder also works as a sanitizer. It helps kill almost all the bacteria and germs that might be present on toothbrushes. It uses UV light to sterilize toothbrushes. It can hold and sanitize up to five toothbrushes. It uses an automatic dispenser that works with a vacuum pump to squeeze out toothpaste.
Plug in the sanitizer for it to work. Place the toothbrushes inside and press the silver switch on. Once you close the lid, UV light is emitted to sterilize the toothbrushes. It automatically shuts off after five minutes.
You can stick this holder to the wall with tape or mount it with screws. It is environment-friendly and made of silicone. It comes with instructions, even for wall mounting. Its dimensions are 8Lx0.3Wx5H inches. The bulb has a long lifespan of greater than 25000 hours. It uses an ultraviolet wavelength of 1000uW/cm2. It works with a current of 180mA and a power of 2 watts.
Pros
Easy installation
Easy to use
Declutters the counter
Dispenses toothpaste well
Cons
Packaging or delivery issues
The toothpaste might get stuck in the dispenser.
Wall adhesive is weak
Price at the time of publication: $7.12
The Ejaisu Toothbrush Case is lightweight, compact, and easy to carry on travels. It works with manual and electric toothbrushes. The sanitizer begins the sterilization process once the toothbrush is placed inside. It automatically shuts off after five minutes. It is environmentally friendly and doesn't cause damage to health.
The sanitizer sterilizes the toothbrush by sending a blast of light over the toothbrush head. It kills almost all the germs and bacteria on the toothbrush. It is also extremely easy to clean. The bulb of the light lasts as long as the toothbrush case does. You can tell when the holder needs to be charged as the light on the sanitizer keeps blinking. Its dimensions are 8.3x2x0.9 inches, and it weighs 3.52 ounces.
Pros
Easy to use
Portable
Lightweight and compact
Works very well
Strong holder
Cons
Weak latch
The light can flicker after some time
Price at the time of publication: $11.99
The Mimore Toothbrush Sanitizer has 4 slots that fit most toothbrushes and can be easily installed on the walls. It offers 99% germ protection. The sanitizer begins the sterilization process once the toothbrushes are placed inside. All you need to do is just the operation of a single button to sterilize the toothbrush.
You can charge the device with the help of a USB. The default sanitizing time is 360 seconds and it will automatically power off when the timer ends. It can be used for both electric and manual toothbrushes.
Pros
Easy to use
Portable
Lightweight and compact
Strong adhesive holder
Comes with a gift box
Cons
If you are looking for a toothbrush sterilizer that holds all your toothbrushes and has a travel-friendly, compact design, try out the Caresfull Full Of Care UV-C LED Toothbrush Sterilizer. The auto shut-off feature gets activated when you open the lid and it offers a 100% clean sterilization without ozone generation or bulbs containing mercury. There are 2 magnets for stationary use. Before using, make sure the device is fully charged. After the brushes are sterilized, the device also has a self-cleaning mode that turns off automatically after 3 minutes. It kills almost 99.9% of the germs, bacteria, and viruses.
Pros
Travel-friendly size
Anti-skid bottom
Kills 99.9% of bacteria
Comes with a rechargeable battery
Cons
Evemant Portable Mini UVC Toothbrush Sterilizer Case is specially designed to sterilize the toothbrush heads and kill 99 % of germs effectively. The device is equipped with a built-in charger which lasts for 12 long days after being fully charged in 1.5 hours. This sterilizer comes with a removable inner case and an adjustable clamp to help in sterilizing all manual and electric brushes. It can hold one brush at a time and takes 5 minutes to sterilize the brush head. The sterilizer also keeps the toothbrush dry. It is suitable for home use, holiday travel, campaign, and business trip. Here's a detailed review video for more information.
Pros
Easy-to-use
Easy-to-clean
Lightweight
Portable
Cons
Price at the time of publication: $22.99
Philips Sonicare UV Sanitizer is specially engineered to kill the harmful germs and bacteria that reside on a used toothbrush. This UV light sanitizer sanitizes without any chemicals, and it reflects the UV light on the entire brush head evenly. The device has a built-in toothbrush charger and can hold up to 2 brush heads for sanitizing. It is featured with auto shut-off and supports all adult's Philips brush heads.
Pros
Auto-off
Easy operation mode
Travel-friendly
Cons
Price at the time of publication: $42.97
The Aquatrend UV Toothbrush Sanitizer & Holder helps kill germs and bacteria. It prevents bacteria from multiplying after sterilization. It contains a UV LED bulk and a dryer and can be recharged with a USB cable. It can hold and sterilize up to five toothbrushes. It works for regular and electric toothbrushes. It also works as a toothbrush holder and has a slot for toothpaste. It is non-toxic and made from ABS material, which is durable and waterproof.
The sanitizer can be activated by a button at the top, and the sterilization starts when you close the cover for the holder. It sanitizes the toothbrush with the help of UV light using 360-degree UV surround sterilization. After sterilizing the toothbrush, the device dries it for double protection. It can be used for four to five hours per charge. The sanitizer has an inbuilt fan to improve air circulation and reduce bacteria in the holder. It takes 8 minutes to completely sterilize the toothbrush and 4 minutes for drying it. It automatically shuts off after the sterilization is completed.
The sanitizer comes with double-sided scotch tape, which can be stuck on the wall without causing any damage. Make sure the wall is even and dry before taping it. It doesn't have any sharp edges that can harm kids. It comes with a sticky hook, double-sided tape, charging adapter and cable, user manual, and three customizable stickers.
Pros
Easy installation
Compact
Declutters the sink
Convenient to use
No batteries required
Cons
Not durable
Doesn't work for large toothbrushes.
There may be issues with the fan inside the sanitizer
Price at the time of publication: $31.99
The Pursonic S20 UV Toothbrush Sanitizer protects your toothbrushes against harmful microbes that don't wash out with regular rinsing. It uses germicidal ultraviolet light to eliminate 99.9% bacteria and germs. The device is designed with ozone and photocatalyst technology for this purpose.
You can also use this sanitizer to disinfect your shavers and tongue cleaners thoroughly. The wall-mounting design declutters your bathroom cabinet and helps bring order and neatness. It comes with an AC adapter that you can plug into the nearest wall socket for easy and convenient charging.
Pros
Compact
Rechargeable
Can hold up to 5 toothbrushes
Fits most manual toothbrushes
Inbuilt toothpaste holder
Affordable
Cons
Not sturdy enough
The door does not close properly.
Price at the time of publication: $19.95
TAISHAN UV Sanitizer Toothbrush Case is engineered to kill 99.99 % of germs and bacteria on the toothbrush head. This sanitizer is suitable for manual and electric toothbrushes. The device, once charged for 2 hours, will last for 12 long days. This sanitizer automatically shuts off after 1 minute of sanitizing. The device is ideal for holiday, campaign, business trip, travel, and home use. With this device, you can sanitize 2 brushes simultaneously.
Pros
Auto-shutoff
Wall-mounted
Portable
Easy-to-use
Compact
Cons
Price at the time of publication: $22.98
Commonly bristles of the toothbrush are loaded with bacteria that are harmful to oral health. The TAO Clean Germ Shield UV Sanitizer destroys 99.9 % of pathogens to ensure a clean brush. This battery-operated device takes 4 minutes to sanitize your brush. It is effective for both manual and electric toothbrushes.
Pros
Auto-shutoff
Travel-friendly
Cool glow – UV light
Cons
None
Price at the time of publication: $22.8
Now that you know about the top toothbrush sanitizers, here are some pointers for you to pick the best! 
Things To Consider While Buying A Toothbrush Sanitizer – Buying Guide
Capacity: If you have a family or are living with roommates, buy a toothbrush sanitizer that can hold more than one toothbrush at a time. You can find toothbrush sanitizers that handle 4-5 toothbrushes at a time, which is less time-consuming.
Portability: If you tend to travel a lot, buy a single holding toothbrush sanitizer that is battery operated. It is compact and lightweight, which makes it ideal for traveling.
Battery: Before buying a sanitizer, check its battery life. It is better to buy a rechargeable battery rather than one where you have to keep changing the battery.
UV Lamp: Some toothbrush sanitizers come with irreplaceable UV light bulbs, which can be a problem if the bulb breaks or short circuits.
Why Trust Stylecraze
With a passion for healthcare and a certification in health and wellness, Aditi Naskar loves reviewing new products as well as timeless classics to help make her readers' lives easier. Here, she highlights the best toothbrush sanitizers that keep your mouth fresh, clean, and hygienic throughout the day. Her review process involves research into each product's features, function, and benefits, along with the user reviews
Frequently Asked Questions
How often should I change my toothbrush?
It is recommended that you change your toothbrush every three months.
Should I buy a battery-powered or plug-in toothbrush?
It depends entirely on your preference and convenience. It is better to travel with a battery-operated toothbrush. A plug-in toothbrush sanitizer might become too hot if plugged in at all times, so it works better at home.
Does UV light actually clean toothbrushes?
Yes. UV light, heat, steam, and chlorhexidine (CHX) solution effectively reduce bacterial count and clean and sanitize toothbrushes.
Can a sanitizer prolong the life of my toothbrush?
No. Sanitizers help sterilize the toothbrush but do not make it more durable. You have to change your toothbrush periodically once the bristles start wearing out.
How do I use a toothbrush sanitizer?
Place your toothbrush inside the toothbrush sanitizer case. The device turns on automatically, cleanses your toothbrush, and shuts off after some time. You can then remove your freshly sanitized brush.
How often should I sanitize my toothbrush?
Sanitize your toothbrush thoroughly at least once or twice weekly.
How long does it take to sanitize a toothbrush?
Sanitizing your toothbrush inside a toothbrush sanitizer device can take a couple of minutes.
Can you put hand sanitizer on a toothbrush?
No. Instead, you can invest in a toothbrush sanitizer to keep your toothbrush bacteria-free. You can also dip your brush head in an antibacterial mouthwash or rubbing alcohol for a few minutes to disinfect your toothbrush. However, make sure to rinse your toothbrush thoroughly before putting it in your mouth as ingesting or inhaling rubbing alcohol may cause adverse health effects.
Recommended Articles