11 Best Soft Bristle Toothbrushes That Will Prevent Bleeding Gums – 2023
Brushing isn't a battle & bloodshed shouldn't be its consequence with these gum-friendly bristles.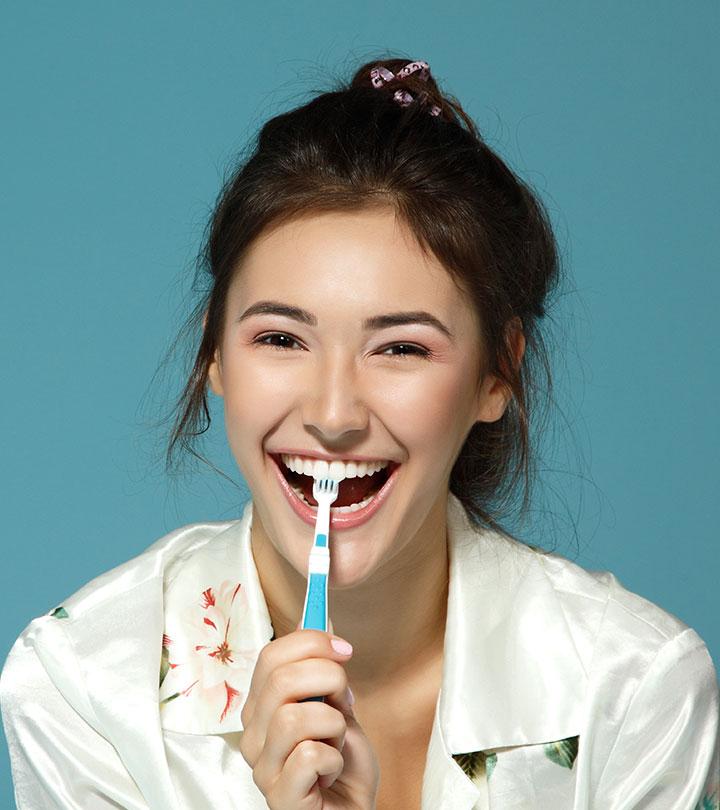 There are plenty of reasons why you may have decided to shift to using a soft bristle toothbrush. The best soft bristle toothbrush will be able to prevent you from enduring bleeding gums, gum regression, toothaches, and a multitude of other problems that come through rigorous brushing or using a brush with stiff bristles. They can also lower the pressure that you might be unknowingly applying and cause abrasion to the enamel of your tooth. So here are the best soft bristles toothbrushes for you.
What Is A Soft Bristle Toothbrush?
These toothbrushes are ultra-soft and made of either nylon or polyester bristles which are gentle on gums and ensure maximum plaque removal. They are dense with over 10,000-20,000 strands on a brush head for effective cleaning or aligned in a pattern (wavy, for example) to ensure deep cleaning, especially between teeth, gaps, and hard-to-reach areas.
Why Use A Soft Bristle Toothbrush?
A soft bristle toothbrush provides more than just a gentle cleaning experience. It massages, cleans, and stimulates the gums, thus making them strong over time. It also cleans unreachable areas, removes stains, sticky plaque, and polishes teeth while balancing pressure applied by the user. Sounds like something you'd want to swap your daily toothbrush with? To make shopping for the best soft bristle toothbrush easy for you, we've rounded up some of the finest options on the market. Check out our list of 11 best soft bristle toothbrushes below.
11 Best Soft Bristle Toothbrushes To Protect And Strengthen Your Gums
Just like your everyday toothbrush but only biodegradable! Nuduko Soft Bristle Bamboo Toothbrush is 100% natural, has the softest bristles, and is suitable for sensitive teeth and gums. They are made from sustainable bamboo farms, and the bristle strands are high-quality soft nylon that is tough on bacteria and plaque but gentle on the gums. Besides, they are super convenient with imprinted alphabets to distinguish them from each other.
Pros
Child-safe
Easy to use
Dries quickly
Environmental-friendly
Cons
Price at the time of publication: $8.99
For deep, effective, and advanced cleansing, try this battery-powered toothbrush with soft bristles. Without irritating or hurting your gums, this soft toothbrush for sensitive gums uses dual-action technology of spinning and scrubbing at the same time for intense cleaning. The design is ergonomic for a comfortable grip, and the SoftSwitch power buttons make sure the water does not seep into the brush. Plus, the brush head is replaceable with color-wear bristles that fade to indicate you need a new bristle head.
Pros
Easy to use
Dentist-recommended
3900 sweeps per minute
Cleans hard-to-reach places
Removes 70% more plaque than manual brushes
Cons
Price at the time of publication: $5
If you have super-sensitive gums, VEGOLS has the gentlest toothbrush for effective cleaning. With 20,000 soft bristles (yes 20,000!) on the toothbrush head, they are aligned in a wavy formation to clean hard-to-reach places and remove up to 99.99% plaque. It also has a cleaner on the back of the head for scrubbing the tongue thoroughly for optimal freshness. Easy to hold and use with an ergonomic flat body, the brush also has alphabetical markings for quick identification.
Pros
Anti-slip
Non-staining
Protective cleaning
Eliminates bad breath
Cons
Price at the time of publication: $11.99
How about a stylish toothbrush that also understands your brushing needs? The Gleem Electric Toothbrush has a sleek and glossy finish and is high-performing too. It has a built-in 2-minute timer with four 30-seconds intervals for you to change sides. It also has a memory function wherein you can pause and resume exactly where you had stopped. Operating on pre-installed AAA batteries, this soft bristle electric toothbrush has soft nylon bristles that use sonic vibrations for effective and gentle cleaning. Stylish and efficient, there's no toothbrush more worthy than this one.
Pros
Portable
Easy to use
Lightweight
Replaceable head
Travel case included
Cons
Price at the time of publication: $19.98
This toothbrush may look like any other, but its tapered polyester bristle design is a fantastic choice for those with braces, super-sensitive gums and is safe to use after gum therapy too. Ultra-soft and tapered to clean hard-to-reach areas and protect tooth enamel from abrasion, it also massages gums gently to prevent bleeding or pain. Another feature that makes this ultra-soft bristle toothbrush unique is polyester bristles that are less porous than nylon which means minimal chances of bacteria growth.
Pros
Lightweight
Optimal cleaning
Comfortable grip
50% more long-lasting than nylon brushes
Cons
Price at the time of publication: $18.99
When it comes to deep cleaning, this toothbrush by GUM will go beyond the typical brushing pattern. With soft bristles, it cleans hard-to-reach places and below gum lines areas to remove plaque effortlessly. Given how plaque build-up can lead to gingivitis, inflammation, and bleeding, the toothbrush has a unique quad-grip handle and tapered-rounded head for comfortable maneuver and access to gaps and unreachable areas. Effortless brushing, anyone?
Pros
Easy to use
Clinically proven
Optimal cleansing
Cons
Not ideal if you need ultra-soft bristles
Price at the time of publication: $6.47
If you are a hard brusher, this right-handed and flexible toothbrush is ideal for balancing the brushing pressure. With an angled neck and supersized brush head for optimal cleaning, it reduces pressure on your teeth and gums effectively. The brush also has soft nylon and 3 times longer bristles to clean gaps and head-to-reach areas effortlessly. Unique in every way you use it, the neck is 45-degree angled for creating ideal pressure, and it has a thumb and palm design for a comfortable grip. Click here to check out this YouTuber's unbiased review.
Pros
BPA-free
ADA-accepted
User-friendly
Dentist-recommended
Award-winning design
Available for left- and right-handed users
Cons
Price at the time of publication: $7.78
High on hygiene, comfort, and cleaning, this toothbrush is suitable for sensitive gums, fragile teeth, gum recession, and other teeth-related conditions. With 10,000 micro-nano, dense, and ultra-soft bristles separated into 16 clusters, these bristles will scrub away the plaque from your teeth and gums without damaging the tooth enamel. Gentle and quick-drying, the clustered design reduces the chances of staining and bacteria growth. Suitable for teens and above, these toothbrushes are ideal for elders, pregnant women, hard brushers, and those with braces.
Pros
BPA-free
Lightweight
Non-toxic bristles
Ergonomic design
Will not deform
Available in 4 aesthetic colors
Cons
The brush head is slightly bulky.
Price at the time of publication: $12.99
Trusted by dentists globally, Oral-B toothbrushes are well-known for tooth and gum care while brushing. And this one with multi-level, soft, and power bristles is no different. It will provide optimal cleaning by scrubbing plaque from hard-to-reach areas and also massage and clean sensitive gums in one go. Plus, the brand guarantees to remove more plaque than other manual toothbrushes by reaching posterior places too. Give it a try if you are looking for a trusted brand.
Pros
Lightweight
Deep cleaning
Ergonomic grip
Stimulates gums
Cons
Not ideal if you need ultra-soft bristles
Price at the time of publication: $15.38
The multiple benefits of this charcoal soft bristle toothbrush will make you a fan instantly! Be it removing stains, suppressing bacteria growth, or removing plaque from gaps and hard-to-reach areas, this slender toothbrush can do it all. The bristles have activated charcoal to eliminate bacteria, and the medium-rounded design ensures stain-removing and gentle cleansing. Besides this, the bristle strands are soft-tapered, and the brush head is 8-degree angled for deep cleaning and maximum removal of plaque. An incredible choice for caffeine lovers to restore their white teeth, it's also great for quick brushers as it cleans more teeth than other brushes at once.
Pros
Easy to use
Time-efficient
Ergonomic grip
Available in multiple colors
Cons
Some may find the brush head too long.
Price at the time of publication: $9.99
If odor or sensitivity is giving you a hard time, you might want to try this toothbrush by Ebeet. The ultra-soft bristles of PBT material are gentle on gums but tough on plaque and bacteria. Plus, the u-shaped brush head ensures deep and effective cleaning in the gaps and unreachable areas for optimal hygiene. And as for the odor, it has a scrubber on the back of the head for effective tongue cleaning. Besides this, the wooden plastic and TPE handle delivers a comfortable grip to reduce pressure, making this ultra-soft manual toothbrush a great option for elders, pregnant women, sensitive gums, and more.
Pros
BPA-free
Travel-friendly
Protective cleaning
Recyclable brush handle
Available in multiple colors
Cons
Price at the time of publication: $7.99
Say hello to healthy gums and flaunt your precious smile! There you go, those were the 11 best soft bristle toothbrushes that are too gentle to be missed. If you are still wondering how to pick the right toothbrush for yourself or its benefits, we have some exclusive tips for you in our buying guide below.
How To Choose The Best Soft Bristle Toothbrush?
The quality of the bristles says a lot about the softness and the service it will provide. Ideally, BPA-free and non-toxic bristles are either made of nylon or polyester. Both are soft and equally good at deep and effective cleaning. However, polyester bristles are less porous than nylon bristles which means fewer chances of bacteria growth.
Inspect the alignment of the bristles and whether they are suitable for deep cleaning, especially hard-to-reach areas. Also, bristles should clean both teeth and gums respectively to sustain good dental health.
It's imperative to have a comfortable grip while brushing your teeth to balance the pressure. So, if you are a hard brusher, make sure to pick an ergonomic design or flexible/angled bristles that will balance the force and provide safe cleaning.
There are more than just brushing benefits you can enjoy with a toothbrush. There are options with scrubbers on the back for effective tongue cleaning, which is a must to maintain good oral health. Besides this, choose an eco-friendly toothbrush, so it's not only good for you but the planet too.
Now that you know what factors to keep in mind when buying a toothbrush, we're here with our next helpful segment. Here's why you must swap your toothbrush with a soft bristle toothbrush.
What Are The Benefits Of A Soft Bristle Toothbrush?
Massages and cleans gums gentle
Removes sticky plaque from the surface
Reduces bleeding, regression, and abrasion
Balances the pressure while brushing to avoid damage
Eliminates bacteria and plaque from hard-to-reach areas
Scrubs away stains and polishes teeth to reduce yellowness
Why Trust StyleCraze?
Shreya Viswanathan, the author, is a beauty and health aficionado who is always on the lookout for trying new grooming tools and gadgets. She has scoured through several health and beauty forums and done an in-depth review before recommending you these top 11 soft-bristle toothbrushes to make you smile brighter. The list includes bamboo, electric, flexible, and BPA-free, all various kinds of soft-bristle toothbrushes to take care of your teeth and gums.
Frequently Asked Questions
Are soft bristle toothbrushes effective?
Absolutely! Soft bristle toothbrushes massage, clean, and stimulate gums. They also deep clean effectively to maintain good oral health.
Do soft bristle toothbrushes clean better?
Yes, they do! Soft and denser toothbrushes are known for removing sticky plaque and unreachable bacteria more effectively than other bristles, which is why they are dentist-recommended!
Are soft bristle toothbrushes better for gums?
Absolutely! If you have sensitive or bleeding gums, it's best to use a soft bristle toothbrush as they will clean and massage your gums gently without damaging them.
Are soft bristle toothbrushes safe for braces?
Yes, they are safe for newly installed braces. Soft bristle toothbrushes will clean gently without irritating gums that might be sore or sensitive. However, to be safe, consult your dentist before using any toothbrush.
What's the difference between a hard and soft bristle toothbrush?
Both bristles are effective in removing plaque from the teeth, between teeth, and unreachable areas. However, hard/medium bristles may damage the gums compared to soft bristles that are gentler.
Recommended Articles