7 Best Instant Eye Lift Serums Of 2021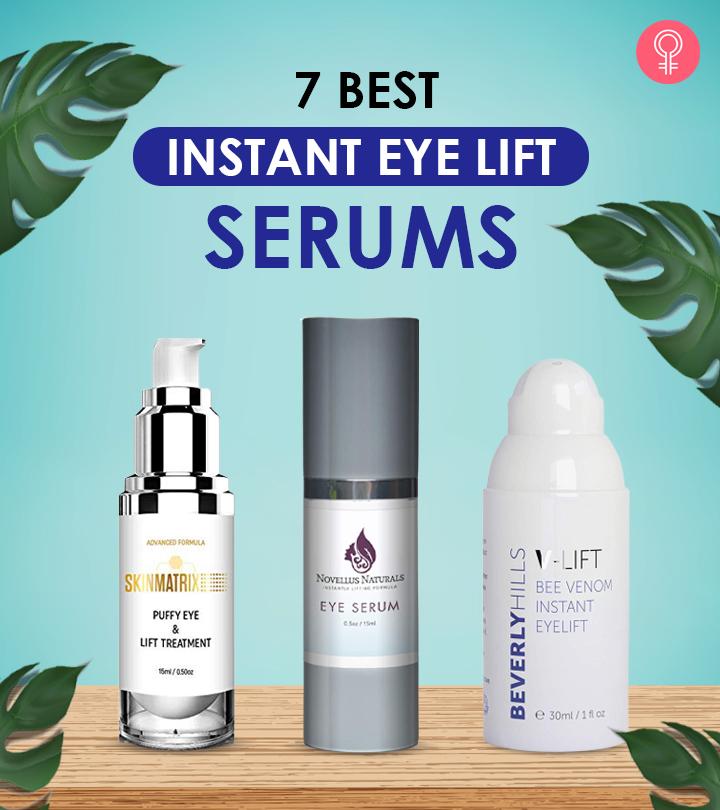 Feeling young at heart may sometimes not be enough, especially when your eyes look tired, puffy, and wrinkly. This is when a good eye lift serum comes into the picture. It is just the product to reduce puffiness, dark circles, crow's feet, and fine lines and restore your eyes to their former youthful glory. Check out the list below to find the 7 best instant eye lift serums for puffy eyes.
7 Best Instant Eye Lift Serums
This instant eye lift serum from Beverly Hills reduces dark circles, puffiness, fine lines, and wrinkles and offers the benefits of a facelift without the cost or pain. It contains bee venom that deeply penetrates the skin and boosts blood circulation to make it appear lifted, plumper, and firmer. This eye serum also contains acetyl hexapeptide-8, an anti-aging peptide that stimulates collagen production to actively defy aging. It claims to show remarkable results within 90 seconds of application.
Key Ingredients: Bee venom and Acetyl hexapeptide-8
Pros
A little goes a long way
Non-irritating
Non-greasy
Fast-acting
Absorbed easily
Cons
Does not work well with makeup.
The Vitamin C Eye Lift Serum from Lumirance is a breakthrough anti-aging formula. It harnesses the power of Vitamin C that acts as a brightening agent and an antioxidant for long-term anti-aging benefits. While the microdroplets of hyaluronic acid plump and hydrate the delicate eye area for a firmer look, the retinol noticeably smooths the appearance of fine lines, wrinkles, and crow's feet. This serum rejuvenates the under-eye area as its ingredients help plump up the delicate skin for stunning results.
Key Ingredients: Vitamin C, Retinol, Hyaluronic acid, and Vitamin K
Pros
Lightweight
Safe for all skin types
Paraben-free
Cruelty-free
Cons
This exclusive formula helps treat dark circles, fine lines, and puffiness in the eye area in as little as 30 minutes. This eye gel contains a Silk Amino Acid Blend, which provides a silky touch and smoothness to the eye area. The palmitoyl tripeptide 3 in the gel is a vegan alternative that stimulates collagen production.
EGF (Epidermal Growth Factor) is a protein with 53 amino acids that helps reduce wrinkles and pigmentation and improves hydration of the skin. This eye lift serum also contains Matrixyl 3000, a peptide blend that stimulates collagen production to reduce deep wrinkles and increase the skin's tonicity. Regular use of this product significantly reduces dark circles, crow's feet, and wrinkles and makes your eyes appear refreshed and bright.
Key Ingredients: Silk Amino Acid Blend, Palmitoyl tripeptide 3, Epidermal Growth Factor, and Matrixyl 3000
Pros
Quick-absorbing
Spreads easily
Long-lasting
Lightweight
Cons
Not suitable for sensitive skin.
The Elite Serum quickly and dramatically reduces the appearance of fine lines and wrinkles around your eyes. This serum is specifically formulated for at-home use, and it immediately improves the skin without any costly and risky injections or cosmetic surgery. It reduces the signs of aging by diminishing crow's feet on the outer eye area, draining the puffiness and inflammation under the eyes, and improving skin firmness and elasticity.
This instant eye lift serum contains GABA that relaxes the nerves around the eyes. The extracts of purslane, panax ginseng, and Centella asiatica relax the muscles, relieve stress, stimulate collagen synthesis, and reduce fine lines, wrinkles, and under-eye shadows. This product also contains cyclomethicone and polysilicone-11, which fill wrinkles, absorb oil, and impart a matter appearance to the skin. Barium sulfate offers a soft focus. This eye serum delivers a light-diffusing action to hide and soften wrinkles.
Key Ingredients: Gamma amino butyric acid (GABA), Purslane extract, Panax ginseng extract, Centella asiatica extract, Cyclomethicone, Polysilicone-11, and Barium sulfate
Pros
Cons
Does not get absorbed into the skin completely.
This eye lift serum is enriched with Arctic bilberry extract that helps reduce swelling and signs of fatigue. The Skin Messenger Molecules in this formula support the synthesis of collagen and elastin while helping firm and strengthen the skin. The peptides stimulate blood circulation, improving the appearance of the area around your eyes. Panthenol soothes and hydrates the skin.
Key Ingredients: Arctic bilberries, Peptides, and Panthenol
Pros
Suitable for all skin types
Non-greasy
Non-sticky
Paraben-free
No synthetic colors
Fragrance-free
Mineral oil-free
Cons
The Puffy Eye & Lift Treatment Serum from Skin Matrix can instantly and temporarily tighten, lift, firm, and smoothen the eye area. It diminishes the appearance of crow's feet, fine lines, deep wrinkles, and under-eye puffiness for up to 8 to 10 hours. This formula is specifically made for around the eyes to repair and fill in wrinkles. It contains powerful moisturizing ingredients that deliver lasting hydration to the delicate under-eye area.
Key Ingredients: Hyaluronic acid and Vitamin C
Pros
Paraben-free
Fragrance-free
Hypoallergenic
A little goes a long way
Cons
Leaves a white residue on the skin.
A single application of the Novellus Naturals Eye Serum can help improve the firmness and strength of your skin and make it appear young, firm, and strong. This premium serum helps boost the natural collagen production and hydrates your pores with essential peptides. This is a light moisturizer with a luxurious texture, which is enriched with essential skin care nutrients that penetrate deeply into dry skin areas and give your facial skin a renewed, strengthened, and youthful appearance.
Key Ingredients: Retinol, Essential peptides, and Amino acids
Pros
Suitable for all skin types
Long-lasting
Non-greasy
Cons
An eye lifting serum that tightens and brightens the skin around your eyes can be a great addition to your skin care routine. This is because it provides an instant lift and reduces the appearance of puffy and wrinkly eyes within minutes. Not just that, it also boosts your confidence. Pick any of the above products to firm up and revive the sparkle of your eyes.
Recommended Articles