10 Best Serums For Microneedling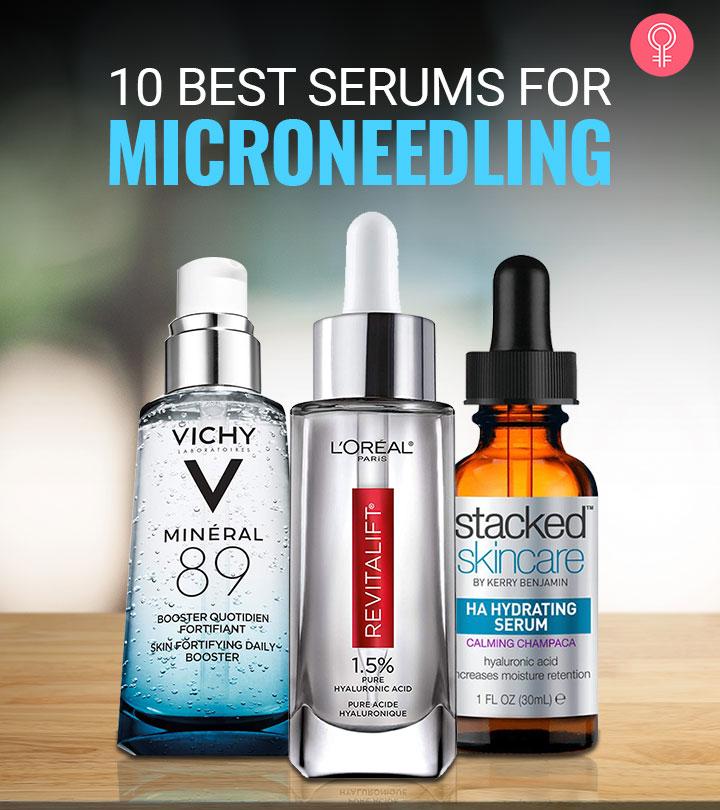 Using a serum is highly recommended while undergoing microneedling therapy, a minimally invasive procedure. So, which is the best serum for microneedling? Before we go ahead, let us first understand what is this therapy all about and how it works? This cosmetic procedure involves rolling a needle-covered derma roller on the skin to stimulate collagen production and reduce fine lines, wrinkles, dark spots, and acne scars. This Collagen Induction Therapy (CIT) makes the skin firmer and smoother. But why using a serum is recommended? A serum serves as a buffer between the skin and the derma-roller. This article lists 10 amazing serums that make your life easy during a microneedling session. Read on!
The 10 Best Serums For Microneedling
The TruSkin Vitamin C Serum is an advanced antioxidant serum that targets the most common signs of aging, such as brightness, firmness, fine lines, wrinkles, dark spots, and sunspots. The serum has a plant-based formulation and is free of synthetic color additives and fragrances. It contains active botanicals and nutrients needed to revitalize aging skin and restore a youthful appearance, like aloe vera, MSM, botanical hyaluronic acid, witch hazel, and organic jojoba oil. The serum can be used both in the morning and at night. Watch this video for a thorough understanding of the product.
Pros
Reduces fine lines and dark spots
Improves skin tone
Plant-based formulation
Free of synthetic colors, additives, and fragrances
Cruelty-free
Cons
The Cosmedica Pure Hyaluronic Serum is a natural and organic serum that improves skin texture and brightness with intense moisture and balance. It is a hydrating facial moisturizer with 100 percent pure hyaluronic acid serum formula. The serum has anti-aging properties and diminishes the appearance of fine lines and wrinkles. Your skin will look visibly plumper, softer, and smoother after using the serum. It is gentle and effective and can be used on sensitive skin. This video will give you a better insight into the qualities of the product.
Pros 
Contains 100% hyaluronic acid
Improves skin texture and brightness
Diminishes fine lines and wrinkles
Ideal for sensitive skin
Vegan
Paraben-free
Fragrance-free
Oil-free
Cruelty-free
Cons
The L'Oreal Paris Revitalift is an intensive hydrating serum. It contains 1.5 % pure hyaluronic acid that moisturizes and makes your skin visibly plumped. It helps reduce wrinkles and fine lines to provide an even complexion. The serum provides instant relief from dryness, and the skin feels smooth and tight. It deeply hydrates and claims to give younger-looking skin within just one week of use. The serum is lightweight and fast-absorbing. It provides a sheer finish and can be used under makeup as a primer.
Pros
Moisturizes and plumps the skin
Helps reduce wrinkles and fine lines
Evens out the skin tone
Lightweight
Fast-absorbing
Can be used as a primer before makeup
Fragrance-free
Mineral oil-free
Dye-free
Does not clog pores
Paraben-free
Dermatologist-tested
Cons
Sticky texture
May cause an allergic reaction.
The Mad Hippie Vitamin C Serum has a tightening, brightening, and smoothening effect on the skin. The harmonious blend of antioxidants evens out the skin tone and improves skin texture. It also helps in the recovery of sun-damaged skin. Vitamin C reduces the appearance of fine lines and wrinkles and protects the skin from photoaging. The vitamin E in the serum is an antioxidant that reduces the appearance of wrinkles and blemishes. Ferulic acid has a compounding antioxidant effect when combined with vitamins C and E. Hyaluronic acid plumps up the skin and reduces wrinkles. The konjac root in the serum softens and smoothens the skin. Other ingredients like grapefruit, chamomile extracts, and clary sage help exfoliate the skin, provide a protective shield, and tone the skin. Here's a personal review video to help you get a better understanding of the product
Pros
Tightens, brightens, and smoothens the skin
Acts as a natural toner and astringent
Vegan
Cruelty-free
GMO-free
Cons
Not suitable for sensitive and oily skin.
The Vichy Mineral 89 Skin Fortifying Daily Booster moisturizes, hydrates, and plumps the skin. It contains natural origin hyaluronic acid that gives a dose of strength to the skin. It is a lightweight, fast-absorbing -formula that provides 24-hour hydration to all skin types. It strengthens and repairs skin barriers to reveal a luminous, healthy-looking glow. It contains Vichy mineralizing water with 15 essential minerals that reduce stress caused due to pollution. The serum is dermatologist-tested, non-greasy, and non-sticky. Watch this video for a thorough understanding of the product.
Pros
Dermatologist-tested
Fragrance-free
Allergy-free
Paraben-free
Alcohol-free
Suitable for all skin types, including sensitive skin
Non-greasy
Cons
The Stacked Skincare HA Hydrating Serum is non-greasy and rich in hyaluronic acid. The serum deeply moisturizes your skin. It also controls oil and visibly plumps fine lines. The serum is fast-absorbing and acts hydrates the skin most effectively. It contains trehalose, lactic acid, and niacinamide that condition, brighten, and balance the oil levels in your skin. The serum has a soft, floral Balinese champaca fragrance.
Pros
Non-greasy
Lightweight
Ideal for all skin types
Controls oil
Softens skin
Plumps fine lines
Deeply moisturizes the skin
Cons
The Drunk Elephant Night Serum helps refine and resurface the skin to reveal a smoother and radiant-looking complexion. It enhances the performance of other products by clearing the way for maximum absorption. The serum resurfaces dull skin and gently lifts dead skin cells away. It delivers precise chemical exfoliation without harsh side effects like dryness or sensitization.
Pros
Helps refine and resurface the skin
Resurfaces dull skin
Gently lifts dead skin cells
Gives a clear, smooth, and even-looking complexion
Fragrance-free
Silicone-free
Cruelty-free
Cons
The Ordinary Niacinamide + Zinc Serum combats blemishes, congestion, and sebum overproduction. It has a lightweight, ultra-high concentration formula. It works to reduce the appearance of existing blemishes and prevents future breakouts. The serum contains niacinamide that boosts the skin's immunity and improves moisture retention by strengthening the epidermal barrier. The serum also contains zinc that supports the skin structure by healing damaged skin and encourages the production of collagen and elastin.
Pros
Reduces the appearance of blemishes
Prevents future breakouts
Boosts skin's immunity
Improves moisture retention
Heals damaged skin
Cons
The First Aid Beauty Ultra Repair Hydrating Serum is a universal serum that gives the skin its daily dose of moisture. It makes the skin soft, smooth, and youthful-looking. The serum instantly infuses into the skin and provides essential hydration to help plump the skin and minimize the appearance of fine lines and wrinkles. The hyaluronic acid in the serum is a moisture-locking agent that helps hydrate and nourish the skin. The serum also contains colloidal oatmeal and aloe leaf juice to calm and soothe irritated skin. The peptides and collagen smooth the skin and reduce the appearance of fine lines and wrinkles. The serum has a water-based gel texture that is absorbed quickly into the skin. It is lightweight and perfect for use during the day and night.
Pros
Suitable for all skin types, including sensitive skin
Minimizes fine lines and wrinkles
Absorbed quickly into the skin
Non-comedogenic
Perfect for day and night use
Allergy-tested
Gluten-free
Oil-free
Soy-free
Nano-free
Cons
May cause allergic reactions.
The Kate Somerville Wrinkle Warrior works as a serum and a plumping moisturizer as well as a primer. This lightweight serum combats concerns like dryness and signs of aging, giving you smooth and younger-looking skin in just 30 minutes. It improves skin firmness, smoothes crow's feet, and visibly diminishes the appearance of fine lines and wrinkles. It has hyaluronic acid to deliver intense hydration and glucosamine to increase skin elasticity. It further has a blend of amino acids, activated sugar, and copper, clinically proven to target the wrinkles for a smooth and toned skin.
Pros
Lightweight
Fast-absorbing
Immediate results
3-in-1 formula
Cons
If you have recently undergone microneedling therapy, you need serums that can help you recover faster and make your skin firm. These microneedling serums help promote collagen and reduce the signs of aging like wrinkles, dark spots, and fine lines. These products are eco-friendly and contain hydraulic acid that helps in revitalize your skin cells and restore your glow. The serums on our list are cruelty-free, lightweight, and non-greasy. However, some products may cause breakouts and allergic reactions. So, choose the serums carefully and perform a patch test to avoid irritations.
Why Trust Stylecraze
The author of this article, Oyendrila Kanjilal, is a certified skin care coach. She loves to experiment with new products and review them for her readers. She curated this list of the ebst serums for microneedling after conducting hours of research. These serums act as a buffer between the skin and the derma roller and help improve skin texture and diminish fine lines and wrinkles. The author has checkd the ingredients of the serums and gone through multiple user review to shortlist the top-rated products for the list.
Frequently Asked Questions
Can I wash my face after microneedling?
Wait for 4 hours after a microneedling treatment to wash your face.
When can I exfoliate after microneedling?
Avoid exfoliating your face after a microneedling treatment. Your skin will be dry, swollen, and sensitive after the treatment, and further exfoliation might aggravate the sensitivity and swelling.
Do you put the serum on, before, or after microneedling?
You can apply the serum before or after microneedling as per your liking. However, do a patch test before applying it to your face.
Recommended Articles
The following two tabs change content below.