9 Best EGF Serums Of 2023
Restore and improve your skin's overall health with the help of these skincare concoctions.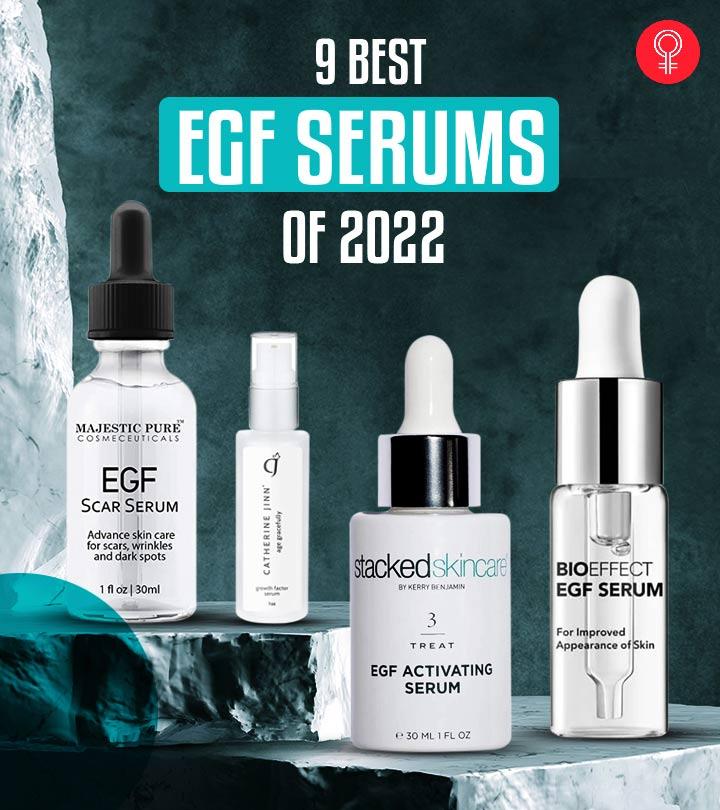 Including the best EGF serums in your skin care regimen can help delay aging signs. EGF, or epidermal growth factor (or simply known as youth protein), has the ability to stimulate the production of natural proteins. These proteins include elastin, collagen, and hyaluronic acid, which play a vital role in skin repair and healing. Learn more about EGF serums and understand how you can benefit from their use. Continue reading.
9 Best EGF Serums To Try
The Majestic Pure EGF Scar Serum is excellent for fading scars, brightening, hydrating, and revitalizing the skin. It contains EGF, orange peel oil, grapefruit oil, and sandalwood oil that fade dark spots, acne scars, and hyperpigmentation. This anti-aging serum also contains lavender oil, frankincense, and witch hazel that nourish and protect the skin. It reduces the appearance of fine lines and wrinkles, so your skin looks young and radiant.
Note: Do a patch test to avoid an allergic reaction.
Key Ingredients:
EGF
Witch hazel
Lavender oil
Frankincense oil
Pros
Cruelty-free
Contains certified organic ingredients
Cons
Not moisturizing
Contains alcohol
Price at the time of publication: $21.5
The Secret Beauty Club EGF Serum is a proprietary blend of ChroNOline (a biomimetic peptide) and Cococin, an essential fatty acid complex. ChroNOline repairs the skin, and Cococin recondition it, improving the lipid barrier strength. These ingredients also boost collagen production, improve circulation, and promote cell rejuvenation to improve skin firmness and elasticity. The serum accelerates cell regeneration and reduces the appearance of pigmentation, fine lines, and wrinkles.
Key Ingredients:
EGF
ChroNOline (Biomimetic peptide)
Cococin (essential fatty acids)
Pros
Gets absorbed quickly
Visible results
Cons
Price at the time of publication: $39.95
The EasyDew Double Synergy Ampoule comprises pure, high-quality, medical-grade EGF. It stimulates collagen and elastin production in the skin, which works against fine lines and wrinkles. It helps your skin hold onto moisture while increasing skin cell regeneration. It works effectively to reduce scars. It is clinically proven to increase collagen production, reduce the appearance of wrinkles, and improve overall skin texture. The antioxidant power of the product makes it suitable for use on eczema, rosacea, and dermatitis-prone skin.
Key Ingredients
EGF
Hyaluronic acid
Panthenol
Bakuchiol
Pros
Makes skin youthful
Hydrating
Reasonable cost
You can use it on all skin types, including sensitive skin.
Cons
Price at the time of publication: $33
The Le Mieux EGF-DNA Serum is perfect for treating mildly irritated and mature skin, making it an ideal choice for laser, micro-peels, and microneedling procedures. The serum accelerates the healing process and is suitable for all skin types. It contains EGF, sodium hyaluronate, and oligopeptide that repair, hydrate, and nourish the skin. This transforms dull, dry, and aging skin to look healthier and youthful.
Key Ingredients:
EGF
Sodium hyaluronate
Oligopeptide-1
Pros
Formulated for mature skin
Can be used with skin procedures
No fillers
Sulfate-free
Paraben-free
Cruelty-free
Cons
Price at the time of publication: $73.97
This INKEY Vitamin C + EGF Serum is a potent serum that boosts skin glow with the help of its active ingredients. The formula improves natural skin elasticity and brightens dull skin. It is supremely lightweight and helps achieve an even and radiant skin tone. The powerful components of this serum noticeably target hyperpigmentation, scarring, and uneven skin tone while protecting the skin from damage. It is best to use it after cleansing and apply it to the face and neck for an anti-aging effect.
Key Ingredients
Pros
Made with powerful ingredients
Lightweight
Gel-based
Soothing
Aids in skin brightening
Cons
May not suit very sensitive skin
Price at the time of publication: $15.99
DearKlairs Midnight Blue Youth Activating Drop is a concentrated anti-aging peptide treatment solution. The blue color is due to Guaiazulene which helps to calm and soothe irritated skin. The dual peptides, EGF and bFGF, help smoothen the skin and improve skin quality. You can make the most use of this EGF peptide treatment concentrate in the mid-20s when the skin's natural peptide production is relatively low. This 10-ingredient concentrated aqueous solution combats the harmful effects of UVA light on skin elasticity and firmness.
Key Ingredients
Peptides
Guaiazulene
Blueberry
Pros
Aids in the skin renewal process
Improves complexion
Makes skin youthful
Vegan friendly
Cruelty-free
Cons
This powerful skin-refining serum improves skin cell turnover and regeneration. The Stacked Skincare EGF Activating Serum is a blend of fermented ingredients like yeast extract and oligopeptides that boost collagen production and accelerate skin healing.
The antioxidant-rich green tea extract in the serum fights free radicals. This EGF activating serum also improves blemishes, sun damage, and natural signs of aging. Regular use of this brightening serum will help you achieve a luminous glow.
Key Ingredients:
Yeast extract
SH-oligopeptide 1
Green tea extract
Pros
Vegan
Paraben-free
Sulfate-free
Phthalate-free
Gluten-free
Cruelty-free
Cons
Price at the time of publication: $149.0
The BIOEFFECT EGF serum is formulated with patented barley EGF grown in the carbon-neutral greenhouses in Iceland. It restores the depleting natural EGF to improve skin health and make it appear youthful.
The barley EGF boosts collagen and elastin proteins to improve skin elasticity and firmness, while glycerin and hyaluronic acid moisturize and hydrate the skin. This serum helps to lift and plump the skin, leaving it soft, smooth, and supple. You can use this EGF serum in conjunction with micro-peels, microdermabrasion, lasers, jade rollers, and derma rollers to improve product penetration and efficacy.
Key Ingredients:
Barley EGF
Glycerin
Hyaluronic acid
Pros
Oil-free
Alcohol-free
Fragrance-free
Paraben-free
Cons
Price at the time of publication: $154.99
The EGF Botanical Complex by Nurse Jamie is a blend of EGF, hyaluronic acid, shea butter, phospholipids, and plant stem cells. This anti-aging serum delays fine lines and wrinkles by boosting collagen and elastin in the skin. This speeds up skin renewal and enhances skin firmness.
The plant stem cells are rich in antioxidants that protect the skin from sun damage and free radicals. The natural humectants (HA, shea butter, and phospholipids) provide intense hydration and replenish lost moisture. This lightweight serum moisturizes the skin, leaving it soft and supple.
Key Ingredients:
EGF
Hyaluronic acid
Plant stem cells
Phospholipids
Shea butter
Pros
Lightweight
Paraben-free
Phthalate-free
Sulfate-free
Cons
Price at the time of publication: $125.0
If you are looking to improve your skin health and reduce the signs of aging, consider using an EGF serum. These serums contain high levels of elastin, collagen, and hyaluronic acid, making the skin more elastic. They also help reduce the appearance of wrinkles and fine lines, keeping the skin plump and hydrated. We have compiled a list of factors to keep in mind before investing in an EGF serum. Scroll down for more information.
Things to Look For In A EGF Serum
Skin Type: Some EGF serums are better suited for oily or combination skin, while others are better for dry skin. If you have dry or sensitive skin, look for a serum that contains hyaluronic acid or other hydrating ingredients. For oily or acne-prone skin, look for serums that contain anti-inflammatory ingredients such as licorice or witch hazel.
Concentration: Some serums contain only natural ingredients, while others may include active ingredients such as botanical extracts, herbs, and vitamins. Also, it is important to note that some people may need a higher concentration of EGF in their serum to achieve the desired result, so read the product descriptions carefully.
Formulation: There are three main types of formulations for EGF serums – cream, gel, and liquid. Each formula has its unique benefits and drawbacks. Creams tend to be more moisturizing but can be heavier on the skin. Gels are lightweight but can leave a glossy finish on the skin. Liquids are the most lightweight option but may not provide as much coverage as other formulations. Therefore, it is essential to choose the formulation best suited for your skin type and needs.
EGF fights the signs of aging, reduces inflammation, and boosts skin cell regeneration. Using EGF serums can help improve skin elasticity, reduce pigmentation, and replenish essential skin nutrients. Shower your skin with that much-needed care and pick your favorite EGF serum from our list to get that youthful glow.
Why Trust StyleCraze?
Shiboli Chakraborti is a certified skin care coach who lists the best skin care products after considering her reader's skin type and requirements. She compiled this list of the best EGF serums after carefully reviewing user feedback from trusted sources and brand websites. These products play a vital role in skin repair and healing and help delay aging signs. Esthetician Annete McBain says "I am very impressed by this article and the writer. Not only is this list full of beneficial EGF products, but it is thorough and well explained if you aren't familiar with the amazing ingredients and their benefits. Brave, Stylecraze team!"
Frequently Asked Questions
Can I use EGF serum in the morning?
Yes, you can use EGF serum in the morning. However, always follow it up with a layer of SPF.
Is EGF better than retinol?
Yes, EGF serums are better than retinol because they are gentler on the skin and provide the same anti-aging benefits.
What should not be used with an EGF?
Some vitamin C products that contain L-ascorbic acid have a low pH that can damage the ingredients of EGF. Hence, the two should not be used together.
Can I use vitamin C and EGF together?
Mostly, the two work well together, but products that contain L-ascorbic acid have a low pH that can damage the ingredients of EGF.
Can EGF cause purging?
EGF is a gentle ingredient that does not cause purging, but people with sensitive skin types may experience breakouts or skin changes.
Recommended Articles