The 15 Best Hair Conditioners For Oily Hair – 2022
Keep frizz away from oily tresses and improve their texture without any hassle.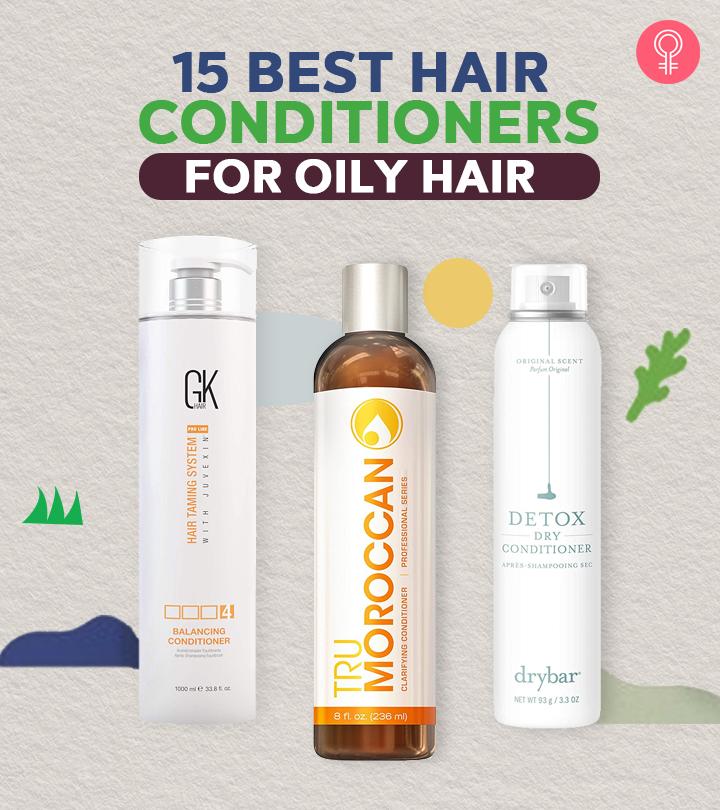 There is a myth that oily people shouldn't use conditioners, but this is not true. Oily people need the best conditioners for oily hair to control the scalp's excess oil while ensuring your tresses are smooth and silky. It also promotes hair growth while tacking frizz effectively. If you can't wait to add a conditioner like this to your hair care routine, read on as we've listed 15 best conditioners for oily-haired folks. We're sure these will solve all your oily hair woes.
Before checking the products, let us take a look at factors contributing to excess oil in your hair and scalp.
What Are The Different Causes Of Oily Hair And Scalp
Washing Your Hair Frequently: Scrubbing your hair or washing it too often can produce more oil in your scalp as your sebaceous glands tend to keep your scalp hydrated.
Hygiene Issues: If you do not wash your hair properly, sleep in dirty places, and do not wash your pillow covers, you might experience sticky and oily scalp issues.
Stress: Mental and physical stress can often lead to oily scalp. Stress can also lead to an increase in unhealthy food consumption, including the high intake of oily and spicy foods, which can ultimately cause excess oil in your scalp and hair.
Hormonal Imbalances: Irregular periods, pregnancy, or other hormonal changes can be the reason for an overly oily scalp.
15 Best Hair Conditioners For Oily Hair
The Rahua Voluminous Conditioner is a nourishing conditioner. It is rich yet weightless. It leaves hair lustrous, silky, and voluminous. The conditioner is formulated with soothing lavender and uplifting eucalyptus. These ingredients offer a great aromatherapy experience. The conditioner is also ideal for color-treated hair. It is made with plant-powered ingredients that are sourced from the Amazon rainforest. Check out this review for a detailed understanding about the product.
Pros
Weightless
Provides volume to the hair
Made with plant-based ingredients
Also ideal for color-treated hair
Cons
None
The Truss Equilibrium Conditioner has an oil balancing formula that helps in eliminating excess oil from the hair and scalp. The conditioner also helps in hydrating dry hair ends. Removing oil from hair and scalp will also reduce the appearance of oil around the hairline. The conditioner is lightweight and moisturizing. It deeply moisturizes the hair shaft to restore softness. It is formulated with amino acids and proteins. These ingredients target chemical damage and split ends and restore broken cuticles. The advanced formula of the conditioner also protects your hair from UV rays.
Pros
Lightweight
Moisturizing
Repairs split ends
Protects hair from UV rays
Restores broken hair cuticles
Cons
None
The GKHair Keratin Conditioner is formulated with natural seed oils and plant extracts. These ingredients help in hydrating hair and leave them nourished and conditioned. The conditioner also contains the keratin protein, which protects hair from damage. It also protects hair from environmental aggressors. The conditioner is formulated without any harsh chemicals like parabens or sulfates. It is also ideal for color-treated hair.
Pros
Nourishes hair
Provides environmental protection
Paraben-free
Sulfate-free
Ideal for color-treated hair
Cons
The Just Nutritive Hair Conditioner is a clarifying, sulfate-free shampoo. It deeply cleanses the scalp and hair. It leaves the hair shiny, bouncy, and fuller looking. The conditioner is formulated with lemongrass, tea tree, and basil. These ingredients provide antibacterial properties and purify the hair roots. The conditioner helps restore scalp balance. It offers a refreshing natural lemon citrus scent. It is made without parabens, dyes, and silicones.
Pros
Deeply cleanses scalp and hair
Restores scalp balance
Purifies hair roots
Paraben-free
Dye-free
Silicone-free
Cons
None
The Yes To Scalp Relief Conditioner is formulated with tea tree and sage oils. These ingredients soothe and calm your dry, itchy scalp. The conditioner also contains sweet potato extract and kukui seed oil. These ingredients add moisture and softness to the scalp. The conditioner is clinically proven to soothe dry, itchy scalp in 8 days. It contains no parabens or silicones.
Pros
Soothes and calms dry scalp
Moisturizes scalp
Soothes dry scalp in 8 days
Paraben-free
Silicone-free
Cons
None
The ecoLove Organic Conditioner is made without sulfates, parabens, or petrochemicals. It is formulated with 95% natural ingredients. The conditioner is enriched with essential oils, organic herbs and plant extracts, and 26 minerals from the dead sea. The conditioner is ideal for normal to oily hair. It helps in balancing the pH levels of the scalp and reduces oil production. It is ideal for curly, wavy, and straight hair. It moisturizes the scalp and leaves your hair feeling soft and detangled. The conditioner also reduces the environmental impact on hair.
Pros
Paraben-free
Sulfate-free
Moisturizes hair
Balances scalp pH
Reduces oil production
Reduces environmental damage
Cons
The Tru Moroccan Oil Conditioner is a vegan conditioner that is free from parabens and sulfates. The conditioner is formulated with natural plant-based ingredients that pamper your hair. The conditioner repairs damaged hair and nourishes it. It helps restore hair softness and shine. The Moroccan oil in the conditioner controls oil on the scalp by balancing the sebaceous glands. It moisturizes hair while strengthening and restructuring its shafts and cuticles. Using the conditioner allows one to comb and style their hair easily.
Pros
Vegan
Paraben-free
Sulfate-free
Moisturizing
Nourishing
Strengthens hair shafts and cuticles
Restores hair shine
Cons
None
The Oriflame Nature Secrets Conditioner deeply cleanses the hair. The conditioner is formulated with nettle extract and lemon oil. These ingredients reduce oiliness and add a healthy shine to hair. The conditioner also helps in smoothening hair cuticles. It has a zesty fragrance.
Pros
Deeply cleanses hair
Adds healthy shine
Smoothens hair cuticles
Cons
None
The Eco Beyond Hair Conditioner is a hydrating conditioner. It moisturizes and protects the locks. It leaves hair shiny and thicker.  The conditioner is formulated with blueberry, cranberry, and juniper berry that repair extremely oily, itchy scalp, and smelly hair. The conditioner is great for moisture retention. It is dermatologically-tested and is formulated without parabens.
Pros
Retains moisture
Leaves hair thicker
Treats itchy scalp
Dermatologically-tested
Paraben-free
Cons
None
The L'Oreal Paris Clay Rebalancing Conditioner purifies the roots and hydrates the hair. The conditioner is formulated without any silicones. It leaves the hair looking beautiful and fresh. It is clinically-tested to hydrate the hair.
Pros
Moisturizing
Silicone-free
Clinically-tested to hydrate hair
Cons
None
The Desert Essence Conditioner is formulated with ingredients that are perfect for oil-prone scalp and hair. The conditioner is infused with a zesty lemon scent. It purifies and nurtures hair. The conditioner is lightweight and non-greasy. It helps balance the scalp pH. The conditioner leaves the hair bouncy, soft, and manageable. This video review will help you understand more about the product.
Pros
Lightweight
Balances scalp pH
Moisturizing
Great fragrance
Cons
None
The Drybar Detox Dry Conditioner will leave your hair soft and silky. The conditioner has an innovative dry formula that hydrates, smoothens, and detangles hair. It contains argan oil that delivers lightweight hydration to the hair. The conditioner also contains mango butter that restores moisture and nourishes dry ends.
Pros
Hydrating
Detangles hair
Lightweight
Dry formula
Cons
None
The Christina Moss Naturals Hair Conditioner is vegan and environmentally-friendly. It gently and thoroughly conditions and nourishes the hair. It is safe for color-treated hair. The conditioner is formulated without any harsh chemicals like parabens or sulfates. It doesn't contain any synthetic fragrances. The conditioner is hypoallergenic and safe for children.
Pros
Moisturizing
Vegan
Environmentally-friendly
Paraben-free
Sulfate-free
Hypoallergenic
No synthetic fragrances
Safe for children too
Cons
The OGX Hydrating TeaTree Mint Conditioner helps hydrate and nourish hair. Its formula helps smoothen hair and reduces the appearance of split ends. The conditioner is great for all kinds of hair – including wavy, curly, and straight. The conditioner helps nourish, rejuvenate, and detangle your hair.
Pros
Moisturizing
Reduces split ends
Ideal for all hair types
Detangles hair
Cons
May cause allergic reactions
The Pola Form Conditioner is ideal for those who want a soft and natural finish. The product provides a soft texture to hair. It is silicone-free and adapts to the scalp and hair. The conditioner leaves hair fluffy and smooth.
Pros
Provides soft, natural finish
Silicone-free
Leaves hair fluffy
Cons
None
Now, let us know more about the various factors to consider when purchasing the best hair conditioners for oily hair.
What To Look For In A Hair Conditioner For Oily Hair (Buying Guide)
Ingredients: Conditioners with apple cider vinegar, coconut, or neem clean dirt, grime, and other impurities while banishing excess oil from your tresses. Always look for ingredients that keep oiliness at bay while offering maximum nourishment to your hair.
Formula: The best conditioners for oily hair are lightweight formulas that do not weigh your hair down. The product should not strip the natural moisture of your hair. Choose formulas that are best for balancing, volumizing, and strengthening, as these conditioners are effective at removing excess sebum and oil.
Shine: Controlling your scalp oil does not mean the conditioner should completely turn your tresses into dull locks. Conditioners with argan oil often keep your hair well-protected and add luster without adding excess oil to your tresses.
Long-Lasting Effect: Oily hair often needs too much cleansing. However, choose a conditioner that can keep your tresses sebum- and oil-free without shampooing five days a week.
Now that you know the factors while choosing the best hair conditioners for oily hair, let us look at the significant practices that can help control excess scalp oil.
Tips For Controlling Excess Oil
Wash Your Hair Less Often: As discussed before, your tresses might be accumulating excess oil due to overwashing. Since frequent washing strips the natural oils of your scalp, the sebaceous glands may produce more oil to rehydrate it.
Shampoo Your Roots: Shampooing your hair properly can eliminate excess oil, dirt, and grime. Even if you shampoo your hair once a week, make sure that you are catering to the roots of your tresses and rinse well after application.
Avoid Hot Styling tools: While straighteners and curlers can make your tresses look glamorous, they often tend to make them too greasy, sticky, and oily. It is better to use these tools as little as possible.
Clean Your Comb And Hair Brush: It is recommended that you clean your comb and hair brushes almost regularly to get rid of gunk, residue, and buildup. Do not use dirty brushes and combs on your clean hair without washing them thoroughly.
Why Trust StyleCraze?
The author of this article, Oyendrila Kanjilal, is passionate about hair care and styling. She understands the hair's needs and has an in-depth knowledge of various hair care products. The list of best hair conditioners for oily hair is a compilation based on extensive research, and she has read many customer reviews online from many trusted platforms. These conditioners perfectly fit your hair care regimen and promote hair growth while tackling frizz effectively.
Frequently Asked Questions
Is it necessary to condition oily hair?
Yes, conditioning oily hair enhances the way it looks and feels. It also makes your hair bouncy, which is difficult to achieve with mere shampooing.
How often must I condition my oily hair?
You must condition your oily hair every time you shampoo your hair.
Is argan oil conditioner good for oily hair?
Yes, argan oil is good for oily hair as It will hydrate dry, brittle hair without adding greasiness or weight to oily hair. However, never use argan oil directly on your scalp if you have oily hair.
Why is my hair oily, but my scalp is dry?
If your hair is straight, the sebum can flow down the length of your hair, leaving your scalp dry and the strands oily. In addition, your scalp's pores may have accumulated too much dirt and product residue due to these clogged pores pushing sebum down the length of your hair.
How can I moisturize my scalp without it getting greasy?
Here are some ways to moisturize the scalp without making it greasy:
• Wet your hair to make it less absorbent and apply the oil to your scalp using a cotton ball. Let it get absorbed for a little while.
• To remove the oil from your hair, shampoo it soon after. Your shampoo should contain astringents like tea tree oil, citrus oil, rosemary, or chamomile.
• Reduce the amount of hair style products you use. This helps prevent a buildup of product residues that weigh down your hair and cause greasiness.
Should I use shampoo or conditioner first for oily hair?
For oily hair, use a conditioner before shampooing, as the conditioner acts as a shield for the hair, while shampoo removes the natural oils from the scalp and strands.
How long should I leave the conditioner in my hair?
Leave it on for 5-10 minutes for the best results.
Recommended Articles: