15 Best Shampoos For Thick Hair (2023) – With A Buying Guide
The right shampoo can nourish and strengthen your thick tresses with vital nutrients.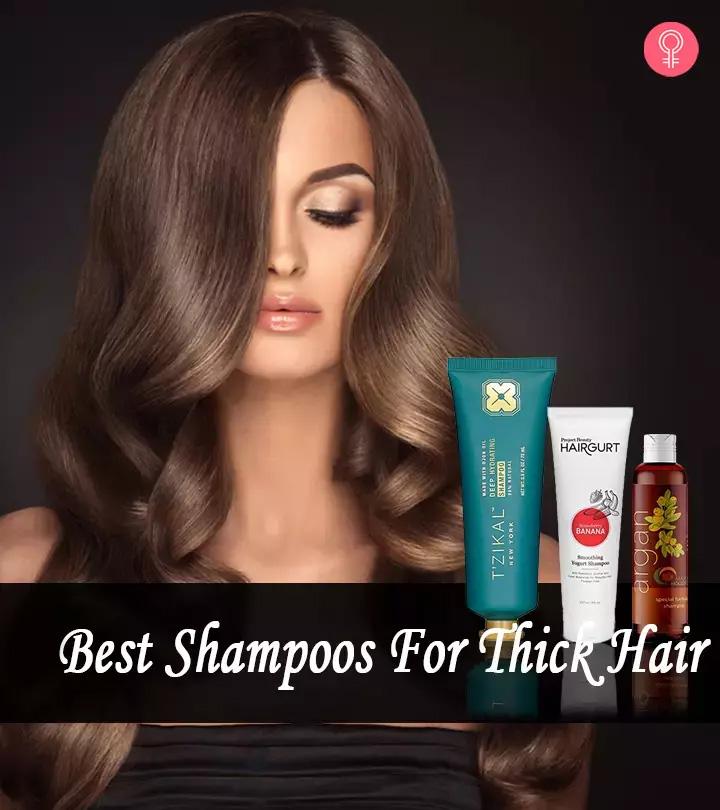 Thick hair is a blessing, but it can be a challenge to manage if you don't have the best shampoo for thick hair as a part of your hair care kit. It is essential that you use a product specifically formulated for thick hair as this type of hair is more prone to split ends, frizz, and nutrient deficiencies than others. A good shampoo can do a world of difference by clearing out product build-up from the scalp and removing the stubborn dirt and grime from the hair strands. Check out our list of the 9 best shampoos for a knot-free, manageable mane.
15 Best Shampoos For Thick Hair
Garnier is a trusted brand that is serving customers for over 100 years with its plethora of natural hair care and skin care products. The Garnier Fructis Sleek and Shine Shampoo is entirely made of protein that gives strength to your hair, thereby increasing hair density and helps maintain it. It also offers a long-lasting frizz control that is an exclusive combination of citrus protein, vitamins B3 and B6, fruit, and plant-derived extracts. The most active ingredient of this shampoo is the Moroccan argan oil. It contains essential fatty acids that moisturize hair, increase elasticity, control frizz, and restore hair shine. The shampoo also contains powerful antioxidants that protect hair from free radical damage. If you are willing to find more about Garnier Fructis Sleek And Shine Shampoo, check out this YouTuber's video review.
Pros
Made of natural protein and botanical extracts
Manages dry and frizzy thick hair
Paraben-free
Works best even in 97% humid weather
Provides UV-protection
Detangles hair
Soothing smell
Cons
None
The Joico Moisture Recovery Moisturizing Shampoo is the ultimate solution for dry, and coarse hair in need of hydration. It contains moisturizing rosehip oil, arginine, and keratin that quenches the most parched hair for a visibly rejuvenated look. It also contains sea kelp that provides targeted hydration, thereby maintaining the natural moisture level in the tresses, whereas jojoba oil and shea butter deeply condition the hair, adding a stunning shine. The gentle formula hydrates and repairs damage to fortify your hair's natural resilience against future stressors. The effective cleansing action of this shampoo removes impurities without stripping your hair of its natural oils, leaving it clean, fresh, and prepared to absorb the ultimate hydration. The shampoo revives your hair's natural beauty and unlocks a new level of softness and manageability.
Pros
Suitable for curly hair
Reduces breakage
Offers intense hydration
Gentle cleansing
Pleasant scent
Cons
The Maple Holistics Argan Oil Shampoo restores the hydration, shine, and health of the hair. This therapeutic-blend shampoo contains all the natural oils with botanical keratin to give maximum nourishment to dry, frizzy, damaged, thick, and rough hair. This sulfate-free formula contains nourishing oils like argan, avocado, peach kernel, jojoba, and almond oils. They are rich in vitamins A, B, D, and E and proteins that strengthen and nourish hair, while also promoting hair density. The camellia seed oil is rich in omega-9 fatty acids that help seal moisture, restore hair color, and nourish the hair follicles. The peach kernel oil nourishes natural curls, fortifies hair follicles, and makes thick hair easy to manage. This fortifying sulfate- and paraben-free formula promotes healthy scalp and makes hair soft from root to tip, leaving shinier hair as a result. The shampoo is also ideal for colored hair. Check out the review of Maple Holistics Argan Oil Shampoo for more information.
Pros
Sulfate-free
Paraben-free
Cruelty-free
100% natural botanical blends
Suitable for dry or damaged hair
Gives best results on curly hair
Color-safe shampoo
Cons
This sulfate-free shampoo moisturizes and protects thick hair from further damage. The Pureology Hydrate Moisturizing Shampoo gently cleanses hair from deep within. It nourishes and smoothens each hair strand and provides superior replenishment to the hair. It leaves hair softer and smoother. The advanced Hydrating Micro-Emulsion Technology deeply hydrates hair and revitalizes it. It also enhances the color radiance. The jojoba oil and aloe vera extract in the shampoo lock in the hydration from the root to the tip. The sunflower seed oil, vitamin E, and green tea extract act as antioxidants and protect hair from free radical damage. The soy protein, hydrolyzed wheat protein, and oat protein maintain the structural integrity of each hair strand. The shampoo also has a blend of ylang-ylang, bergamot, and patchouli oils that give a refreshing fragrance. Check out this video on YouTube for a detailed review of the Pureology Hydrate Moisturizing Shampoo.
Pros
Sulfate-free
Paraben-free
100% vegan
Gentle formula
Contains natural botanical extracts
Locks in hydration
Made with 95% Post-consumer Recycled (PCR) packaging
Color-safe
Advanced hydrating micro-emulsion technology
Cons
Contains gluten
Expensive
The Maui Moisture Curl Quench Shampoo is blended with rich coconut oil with creamy papaya butter and plumeria extract. This anti-frizz shampoo with a sulfate-free formula is ideal for thick curly hair. It locks in the moisture and gives you luscious, hydrated hair. The papaya butter is a great conditioner. It deeply cleanses hair from within and nourishes hair strands, and its papaya enzymes hydrate the hair from the roots. The coconut oil and papaya butter together detangle and defrizz hair, define curls, and lock in moisture. The unique blend of aloe vera juice with coconut oil helps condition hair and reduces itchiness and hair damage.
Pros
Sulfate-free
Non-GMO
Combats itchy scalp
A blend of natural botanical ingredients
Reduces frizz
Long-lasting hydration
Refreshing smell
Cons
The R+Co Bel Air Smoothing Shampoo controls dry, frizzy hair and locks in the moisture. This smoothing shampoo is specifically formulated for thick, dry, and frizzy hair. This gluten-, paraben-, and sulfate-free formula is blended with nourishing ingredients like artichoke extract, plum seed oil, broccoli seed oil, and okra seed extract. Artichoke extract is an effective antioxidant that protects hair and scalp from damage from free radicals and UV rays. It acts as a protective shield to the hair shaft and protects color from fading. The plum seed oil is a non-greasy formula that balances the scalp environment for stronger and thicker hair. The Broccoli seed oil is rich in vitamins C and B6. It makes the hair soft, glossy, and frizz-free. The okra seed extract prevents friction between hair strands and makes combing easy. According to several Amazon reviews, this shampoo is the best at managing different hair textures, especially wavy, thick, and coarse hair types.
Pros
Paraben-free
Sulfate-free
Petroleum- and mineral oil-free
Cruelty-free
Gluten-free
Blended with natural ingredients
Special formula with antioxidant properties
Subtle, sophisticated fragrance
Cons
Expensive
Not suitable for oily hair
The Kérastase Discipline Bain Fluidéaliste  Shampoo is specifically designed for unmanageable, undisciplined, unruly hair that is difficult to style. This rich, white, creamy gel combines active ingredients to gently cleanse the hair from the roots. It supplies the right amount of nutrients to restore the strength of hair fibers. It optimizes the fluidity and movement of hair. The key ingredient in the shampoo is Morpho-Kératine Complex, which consists of morpho-constituting agents and surface-morphing polymers. These restore the homogeneity of the hair fiber and nourish and coat the fiber for better manageability and strength. The creamy shampoo also contains surface protectors that act as a protective barrier to lock in hair hydration and tame your unruly hair. It also contains ceramides that strengthen the hair shaft. Ceramides also act as conditioning, nourishing, and restructuring agents that make thick hair easily manageable. To know more about the results after using the Kérastase Discipline Bain Fluidéaliste Shampoo, have a look at this YouTube video.
Pros
Best for dry and frizzy hair
Detangles curls
Pleasing fragrance
Morpho-keratine complex strengthens hair fibers
Surface protectors lock in the hydration
Cons
None

The Shea Moisture Raw Shea Retention Shampoo helps manage dry, frizzy, and thick hair. It is a perfect solution for a transition from chemically treated hair to hair with a natural texture. The shampoo is packed with nourishing ingredients like organic shea butter, sea kelp, and argan oil which make it a perfect choice for thick or color-treated, dry, and frizzy hair. Shea butter is a by-product of organic shea nuts and is an excellent moisturizer. It contains vitamins A and E, along with fatty acids, these helpful ingredients nourish hair from the root to the tip. The oil from shea nuts penetrates deep into the hair follicles, moisturizes, reduces breakage and frizz, and protects hair from environmental damage. The shea butter's anti-inflammatory properties protect the scalp from irritation and itching. It also unclogs the pores and deep cleanses them. The sea kelp is a natural source of B vitamins, minerals, and amino acids that provide moisturization and boost hair growth. The argan oil helps in nourishing each hair strand. It is rich in antioxidants, vitamin E, and essential fatty acids that increase the elasticity of hair, strengthen hair strands, and give life to thick hair. The shampoo is suitable for dry, curly, and coily hair types.
Pros
Sulfate-free
Paraben-free
Phthalate-free
No propylene glycol
No mineral oil
Cruelty-free
Petrolatum-free
Fortifies and restores damaged hair
100% natural formula
Cons
The OUAI Thick Shampoo is made with nourishing ingredients like keratin, marshmallow root, shea butter, and avocado oil that smooth your hair and control frizz while calming and strengthening thick, dry strands. This bio-keratin formula has a rose fragrance with notes of jasmine, Italian lemon, and white musk. It strengthens hair follicles and protects them against breakage, damage, and split ends. The avocado oil moisturizes and hydrates each hair strand. The shampoo is expertly created to reduce style time and improve the health of your hair. Many reviewers commend its ability to smoothen out thick, coarse hair while providing restorative care to damaged strands.
Key Ingredients: Keratin, Marshmallow root, Shea butter, and Avocado oil
Pleasant fragrance
Pros
Best for dry and frizzy hair
Enhances thickness
Sulfate-free
Paraben-free
Phthalate-free
No propylene glycol
No mineral oil
Cruelty-free
Cons
The Monday Haircare Moisture Shampoo for women is ideal for frizzy and unmanageable hair. It is infused with a potent blend of nourishing ingredients that gives you a salon-like finish. It contains coconut oil protein that hydrates and adds shine, and shea butter that seals the cuticles and creates a protective barrier to prevent dryness. The rice protein helps with moisture retention. This dermatologically tested shampoo effectively removes dirt and impurities without stripping your hair of its natural oils. The signature gardenia fragrance is an added touch that lingers in your hair and provides a relaxing shampooing experience.
Pros
pH balanced
SLS-free
Paraben-free
Phthalate-free
Safe for color-treated hair
Suitable for wavy and curly hair
Recyclable bottle
Cruelty-free
Dermatologically-tested
Cons
Does not soften the strands
The Living Proof No Frizz Shampoo creates an invisible shield around each strand, blocking out humidity and preventing frizz from ruining your style. It gently cleanses your hair and scalp, removing impurities and buildup without stripping away essential moisture. It also enhances natural shine and adds a radiant touch to your hair. The gentle and lightweight formula also contains a blend of slip modifiers to reduce surface friction and fiber stressors to control frizz and reduce damage from wet and dry combing. The luxurious shampoo also contains marine-derived polysaccharides that protect against the effects of pollution on hair. It has a light citrusy fragrance and gives you a sleek, polished look that lasts all day.
Pros
Safe for chemically-treated hair
Safe for color-treated hair
Adds shine
Sulfate-free
Silicon-free
Paraben-free
Phthalate-free
Cruelty-free
Cons
May not lather well
Less in quantity
The Ballsy Goodhead Shampoo is designed to invigorate, cleanse, and nourish your hair and scalp like never before. It is enriched with essential nutrients and botanical extracts that promote hair strength, resilience, and softness. The activated charcoal and tea tree oil have proven efficacy in removing dirt, excess oils, and product buildup, leaving your hair feeling fresh and revitalized. The quinoa protein locks in the moisture while green tea extract protects the hair from damage. The blue-green algae extracts promote thicker hair to maintain your luscious mane. The strengthening formula is free from harsh chemicals and ensures a deep cleanse, thereby leaving you with amazing hair every time. Several Amazon reviews state that this shampoo is good at deep cleansing hair and scalp while infusing an amazing fragrance to the tresses.
Pros
Natural ingredients
Moisturizing formula
Pleasant formula
Sulfate-free
Paraben-free
Talc-free
Aluminum-free
Cruelty-free
Cons
The scent may be too strong for some
The Alterna Caviar Anti-Aging Smoothing Anti-Frizz Shampoo has been meticulously crafted to address the specific needs of mature hair. This premium-quality shampoo is formulated with a harmonious blend of caviar extract to nourish and revitalize your hair, restoring its natural strength and vibrancy. It also works to protect your hair against humidity and tames even the most stubborn flyaways, leaving your hair sleek and polished. The gentle formula has an exquisite fragrance that leaves a lasting, captivating aura around you. It is ideal for all hair types and delivers results that leave you looking and feeling your best. Many reviewers love this shampoo testifying that it helps tame their frizzy hair and boost the shine.
Pros
Controls frizz
Adds instant shine
Smoothens the hair
Paraben-free
Sulfate-free
SLS-free
Synthetic color-free
Cons
The Pantene Pro-V Smooth & Sleek Shampoo, formulated with Pantene's powerful Pro-V nourishment, makes your hair luxuriously smooth and impeccably sleek every day. It cleanses hair with a nutrient-rich lather that replenishes dry, fragile hair, detangles strands, and provides 48 hours of frizz-fighting endurance. The gentle formula is infused with the nourishing goodness of Pro-Vitamin B5 and a curated blend of essential nutrients that provides a salon-like experience. Whether you are battling humidity, styling stress, or simply seeking an extra boost of elegance, this shampoo effortlessly rises to the occasion, leaving your hair gorgeously manageable.
Pros
Smoothens hair
Controls frizz
Enhances shine
Affordable
Ideal for dry scalp
Tested and approved by the Swiss Vitamin Institute
Cons
The T'zikal Deep Hydrating Shampoo is an effective Ojon oil shampoo for hydrating dry and damaged hair. Ojon oil is the key ingredient that helps restore hair health. It is rich in omega oils and other nutrients that replenish and rejuvenate lifeless hair, leaving it extraordinarily soft, supple, shiny, and manageable. This luxury oil repairs dry, frizzy, damaged thick hair and provides deep moisturization. Its hibiscus flower extract is rich in vitamin C strengthens roots and nourishes hair from deep within. The soothing, relaxing aroma of the shampoo comes from a botanical blend of aroma oils like that of lavender, bergamot, Ho Wood, Lavandin Grosso herb, orange peel, Petitgrain leaf, and extracts of ylang-ylang, and hibiscus flower. Moreover, the shampoo is also suitable for chemically-treated and colored hair.
Pros
Sulfate-free
Cruelty-free
Paraben-free formula
No EDTA
No artificial colors
No artificial fragrances
Color-safe
Balanced pH
A luxurious blend of botanical extracts
A perfectly thick consistency
Cons
None
*The prices provided in this article are based on the latest available information. However, they may vary due to changes in pricing by the seller and/or promotional offers.
If you have super thick hair, not every shampoo will be able to cleanse it effectively. Before making a purchase, it is very important that you choose the product that will be a perfect fit for your hair! Your tresses may have unique needs, so keep the following points in mind.
How To Choose The Best Shampoo If You Have Thick Hair
Ingredients
Go for a sulfate-free and paraben-free option when choosing the perfect shampoo. Formulas without sulfates and parabens go a long way in keeping your mane healthy. Opting for natural products is most often the best option – so look for shampoos containing organic plant oils like jojoba oil, argan oil, olive oil, avocado oil, and coconut oil. Also, prebiotic ingredients contain lactic acid that can offer smooth and lustrous hair. The yogurt protein is a nourishing ingredient that helps you achieve strong and healthy hair. Therefore, you may go for shampoos that contain yogurt powder and other botanical oil blends. They nourish your hair, strengthen the roots, and repair any damage to the shafts. However, steer clear of ingredients that you are personally allergic to, even if they are natural.
Hair Type
Go for super hydrating options when it comes with thicker strands. As your hair has a lot of volume, you may need extra help to hydrate it better. A hydrating shampoo paired with a deep conditioner will work wonders for your hair. It nourishes the hair from the root and prevents split ends. However, this is not true in all cases. If you have an oily scalp and hair that tends to get greasy a couple of days after getting washed, go for clarifying shampoos.
If you have curly hair, focus on shampoos that are specially formulated for your hair type. Those with curly hair often find that their hair turns dry over time if they keep on using shampoos meant for straight hair. Those with wavy hair can get away with it though!
Individual Concerns
If you have dandruff, do not go for a shampoo that would not take care of the issue. You may have to look for an exfoliating shampoo that removes dead skin cells, offers a gentle cleanse, and prevents hair loss. Similarly, color-treated hair or damaged hair will also need products that will give your hair some extra TLC.
Price
Do not get dazzled by a product just because it is posh and pricey! It is entirely possible that a shampoo that will make you break the bank can leave you with frizzy, dry hair. It is important to make sure the product suits your hair type. However, it is true that some pricey products with premium-quality ingredients may go the extra mile in giving you the tresses of your dreams.
Fragrance
It is always a good idea to go for fragrance-free skincare or haircare products. However, if you like your hair smelling sweet and dreamy, go for shampoos that have added fragrance to them. But if you have extremely sensitive scalp skin, skip the perfumed products.
These are the shampoos especially meant for thick hair. These lock in the hydration, cleanse the hair, remove dirt and grime better, and make your hair more manageable. But before you make a purchase, you need to know the factors to look for in a shampoo that is meant for thick hair.
Cosmetologist, Lindsay Loo, says, "When it comes to thick hair, one of the steps that is overlooked is scalp health. Due the the volume of hair that you have, make sure you are shampooing at the root first, massaging the product in and thoroughly rinsing the product out. Rinse and repeat if needed."
How To Pick The Best Shampoo For Thick Hair
You are constantly bombarded with several brands online. Hence, knowing what you want helps you make a better purchasing decision.
Choose a shampoo that is free of sulfates and parabens and is 100% vegan. This is applicable to any shampoo that you buy for any use.
Ultra-hydrating shampoos work best for thick hair. Since you have more volume, you need a shampoo that hydrates better. It also locks in the hydration and protects your hair from damage.
The shampoo must also contain natural essential oils, vitamin E, and other antioxidants. Thick hair is usually prone to more damage. The presence of these ingredients reduces the risk.
Thick hair is generally heavier. This means the roots need to be stronger to hold the hair. Ensure the shampoo contains organic plant oils like argan oil, jojoba oil, olive oil, and coconut oil that only strengthen hair but also work on the roots.
Why Trust StyleCraze?
The author, Oyendrila Kanjilal, is a hair care enthusiast and loves reviewing hair care and styling products for her readers. She conducted extensive research to shortlist the best shampoos for thick hair. She checked product details, user reviews, and feedback on various online forums to pick the best ones for the list.
Frequently Asked Questions
What's the difference between thickening and volumizing shampoo?
A volumizing shampoo boosts the volume of scalp hair so that your hair appears to be fuller; it doesn't necessarily enhance the quality of your hair strands. A thickening shampoo works on hair stands. It protects hair stands from damage and repairs them.
What ingredients can help my hair look thicker?
Ingredients like eggs, castor oil, and coconut oil are well-known to improve hair thickness. Quinoa is also a wonderful remedy for hair-related issues. The 9 essential amino acids in quinoa work to protect each hair strand, hydrate and nourish the hair, and promote hair growth.
Does thick hair need more shampoo?
Yes, you will need an extra amount of shampoo to cleanse thick hair thoroughly.
Does shampoo affect hair thickness?
Hair thickening shampoo formulas are ideal for people with thin hair who are looking forward to getting thick and healthy hair strands. However, wash your hair no more than 2-3 times a week only. Excessive use of any shampoo may cause dryness and lead to hair damage and loss.
How often should I use shampoo?
Wash your hair 2-3 times a week. Even if you have thin hair and are using a thickening shampoo, 3 times a week should suffice. Excessive or minimal washing can cause further hair damage because of hair dryness or product buildup.
Recommended Articles