The 10 Best Folding Exercise Bikes Of 2021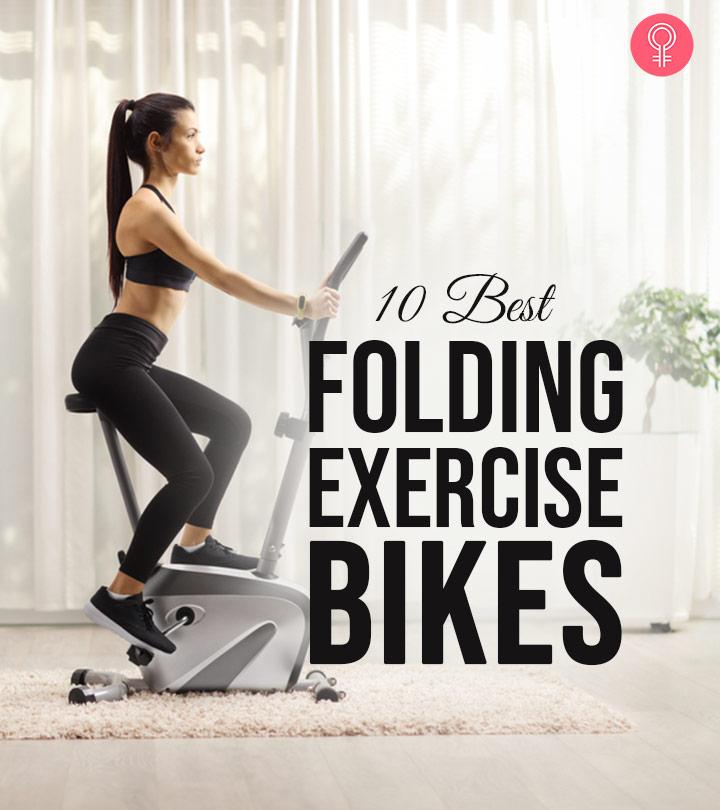 Exercise bikes are the most common and favored exercise equipment right now. This is because they are convenient for low-impact workout and easy cardio burn at home. However, one thing that may put people off buying one is the lack of space. If you have a space crunch at home, folding exercise bikes can work best for you.
A folding exercise bike can help you turn your room into a temporary gym without compromising on the fitness benefits offered by the standard stationary exercise bikes. After you are done working out, you can fold it and store it in the corner of the room or a closet. In this article, we have listed the top-rated folding exercise bikes with all their key features. Scroll down and pick the one that suits your needs.
10 Best-Rated Foldable Exercise Bikes – 2020
This foldable upright exercise bike is built with a magnetic tension control system. It provides eight levels of super quiet tension resistance and can be customized from easy to difficult levels. It has a heavy-duty flywheel that ensures a smooth ride experience. This is a 2-in-1 bike that can be transformed into a recumbent bike for low-impact cardio. The foldable design makes it easier to store it in less space.
Technical Specifications
Resistance: Magnetic resistance – 8 levels
Weight: 49 lbs
Size: 24 x 18.5 x 46 inches (L/W/H)
Capacity: 265 lbs
Pros
Multi-function LCD monitor
Phone/Pad holder
Ergonomically designed
Comfortable large back cushion
Adjustable seats
Cons
Not comfortable for tall people with long legs.
The Marcy Foldable Exercise Bike comes in five colors and has a versatile seat. The seat can be adjusted to accommodate people of different heights. It has a built-in pulse monitor to keep track of your heart rate while you exercise. It also has gripped pedals and a basket cage to prevent your feet from slipping. The adjustable resistance allows you to set your difficulty level and intensity of the workout.
Technical Specifications
Resistance: Magnetic resistance – 8 levels
Weight: 38 lbs
Size: 32 x 18 x 42 inches (L/W/H)
Capacity:250 lbs
Pros
Sturdy design
LCD display panel
Lightweight
Easy to move
Cons
Not comfortable for shorter people.
The Exerpeutic Folding Magnetic Upright Exercise Bike offers a comfortable workout as it is very easy to get on and off the bike. It has a large LCD display where you can check your time, speed, pulse, and scan. The large seat cushion can accommodate people of any size. Its 3-piece high torque cranking system ensures a smooth pedaling motion.
Technical Specifications
Resistance: Magnetic resistance – 8 levels
Weight: 42.8 lbs
Size: 22 x 20 x 55.5 inches (L/W/H)
Capacity: 300 lbs
Pros
Cushioned seat
Transportation wheels
Compact
Quiet operation
Cons
Mileage resets after 999.9 miles.
Rubber pedal straps not durable.
The BCAN Folding Exercise Bike is made of high strength steel and can accommodate people in the height range of 4.8 ft to 6.2 ft. This stationary bike has a unique unlimited magnetic tension control system that allows the user to set their tension as per their difficulty level. It has a padded seat, ergonomic handlebars, and a unique arc steel design, which makes it convenient, sturdy, and durable.
Technical Specifications
Resistance: Magnetic resistance – unlimited tension adjustment
Size: 35.4 x 19.6 x 47.2 (L/W/H)
Capacity: 330 lbs
Pros
5 adjustment angle seat
Large LCD screen
Upright magnetic bike
Two transport wheels
Adjustable safety pedals
Quiet riding
Cons
Tedious to install.
Seat is not comfortable.
This bike has a heavy-duty steel frame and can be connected to MyCloudFitness app available in Android and iOS. Hence, you can easily keep track of your workout. The bike has a large cushioned seat. It can be adjusted to accommodate people between the heights of 5'3" and 6'1". It has a precision balanced flywheel and V-belt drive for a smooth ride.
Technical Specifications
Resistance: Magnetic resistance – 8 levels
Weight: 39 lbs
Size: 37.5 x 22 x 47.5 (L/W/H)
Capacity: 300 lbs
Pros
LCD display
Hand Pulse Sensors
Extended leg stabilizers
1-year warranty
Accessory holder
Transportation wheels
Cons
Some users report that the pulse indicator may not be accurate.
The ProGear 225 foldable upright bike is apt for small space. It has an upgraded crank system that ensures smooth and consistent pedaling. It comes with transportation wheels for easy movement. The bike has a dual transmission flywheel that allows you to do high resistance workout. The large cushioned seat can easily adjust and fit people between the heights of 5'1" and 6'.
Technical Specifications
Resistance: Magnetic resistance – 8 levels
Weight: 34.8 lbs
Size: 19 x 17.5 x 53 (folded L/W/H)
Capacity: 220 lbs
Pros
LCD display and pulse
Contoured seat cushion
3-piece crank system
Large pedal with straps
Phone/accessory holder
Adjustable leg stabilizers
Quiet operation
Cons
The XTERRA Fitness FB350 Folding bike has a solid X-frame design and multi-seating positions. It has a padded lower back seat, along with padded handles, that makes it comfortable for you to work out for longer hours. It has thick steel tubing and a silent belt-driven system with eight levels of manual resistance that can be controlled with a single dial tension knob.
Technical Specifications
Resistance: Manual resistance – 8 Levels
Weight: 42.3 lbs
Size: 20.5″ x 21″ x 50.5″ (folded L/W/H)
Capacity: 225 lbs
Pros
1-year warranty for frame, 90 days for parts
LCD window
Adjustable seat
Heart rate pulse grip
Accessory pocket
Transport wheel
Cons
The seat may not be comfortable for all.
The XTERRA Fitness FB150 Folding Bike has a solid X-frame design and thick steel tubing. It does not take much floor space when folded. This bike has an anatomically designed seat, multi-grip padded handlebars, and LCD window to keep track of your speed, time, distance, pulse, and calories. It has a 3.3 lbs precision-balanced flywheel that ensures a smooth and quiet ride.
Technical Specifications
Resistance: Manual resistance – 8 levels
Weight: 32 pounds
Size: 18.1″ x 18.1″ x 50.79″(folded L/W/H)
Capacity: 225 lbs
Pros
3-piece pedal crank
1-year warranty for frame and 90 days for parts
Oversized cushion
Easy to use console
Heart rate pulse grip
Transport wheels
Cons
No accessory holder
The heart rate monitor malfunctions often.
The Exerpeutic ExerWorK Folding Bike is not just an exercise bike, but you can also use its desk to keep your laptop and work as you pedal. This bike can double as your work station at home. It has a high torque 3-piece torque crank system, heart pulse monitoring, and a "double drive" transmission system that makes it easier for you to work and exercise at the same time. It has built-in transportation wheels and adjustable leg stabilizers to prevent shaking or any accidents.
Technical Specifications
Resistance: Magnetic resistance – 8 levels
Weight: 64.7 lbs
Size: 45.3″ x 25″ x 51.3″ (L/W/H)
Capacity: 300 lbs
Pros
Adjustable sliding desktop
Thick airsoft seat
LCD display
Cushioned backrest
Cons
Not so comfortable for short people.
This is a collapsible stationary bike and is easy to set up and fold. It has resistance levels and a comfortable seat with backrest. It helps to strengthen your endurance, muscle strength, and circulation. It is made of 80% metal and 20% plastic.
Technical Specifications
Resistance: Magnetic resistance – 8 levels
Weight: 42.3 lbs
Size: 74 x 41 x 111 CM (L/W/H)
Capacity: 100 kg
Pros
Cushioned seat witch backrest
Quiet operation
Anti-slip pedals
Wide base
Height adjustable saddle
Cons
Shorter people may have trouble reaching the pedals.
These are the top 10 choices for foldable exercise bikes. All these bikes have multiple advantages. However, you may wonder why exactly you need to have a folding exercise bike at home or which one will be suitable for you. Whether you are a first-time buyer, wondering if you need this at all, or are confused between your choices, our buyer's guide will help you make a decision. Scroll down for more information.
How To Choose The Best Folding Exercise Bike – Buyer's Guide
Advantages Of A Foldable Exercise Bike
You Can Lose Calories: An exercise bike is one of the best ways to shed some extra pounds. Depending on your weight and intensity of riding, you can burn anywhere between 200-300 calories or more if your ride for at least half an hour.
Tones Your Muscles: It helps tone the muscles on your legs, calves, quads, and glutes. If you are using the handlebars, you also get an upper body workout.
Strengthens Your Muscles: Riding can help strengthen the major muscles that support your thighs, legs, and back, including the hamstring muscles.
Easy On Your Joints: Riding doesn't put additional pressure on your joints like any other form of exercise, such as jogging, running, etc.
Best Form Of Cardio Exercise: Needless to say, riding a stationary bike is the best way to do some cardio at home. It helps improve the efficiency of your heart and also regulates blood pressure and blood sugar levels.
Things To Consider While Choosing A Folding Exercise Bike
Check The Resistance: It depends on your fitness levels. Not all bikes may offer the same resistance levels. If you exercise regularly, go for a bike that has higher resistance.
Weight Capacity: A good and sturdy folding exercise bike should support a good amount of weight. The weight capacity of bikes can be anywhere between 220 lbs to 400 lbs. Pick one that can support your weight.
Flexibility Of Height Adjustment: You need height adjustment flexibility if you are a taller or shorter person. Also, if the bike is to be used by family members of different heights, you will need one that supports people of all heights.
Seat Comfort: You cannot ride for longer if the seat is not comfortable. Check whether it is cushioned or not. Also, if you need back support, check if the bike offers the feature.
Ease Of Assembly: Some bikes are ready-to-use, and some need to be assembled. If you opt for the latter, see if it has clear instructions, and if there are any faulty parts.
Your Budget: Expensive bikes have more features than budget bikes. Evaluate the features you will need and set the budget accordingly.
In your busy lifestyle, you may not be able to squeeze out time for exercise and gym. However, you cannot ignore your health. Having a foldable exercise bike at home makes it easy for you to maintain your fitness without having to step out of the house. We hope you find the perfect folding exercise bike from this list to start your exercise journey!
Frequently Asked Questions
What is the difference between recumbent and upright exercise bikes?
Recumbent bikes have chair-like seats that support your back. On the other hand, in upright bikes, you have to hunch over the handlebars, which don't support your posture.
Recommended Articles
The following two tabs change content below.