4 Best Aqua Bikes In The Market Right Now
Make the most of your workout by including an exciting resistance element – water.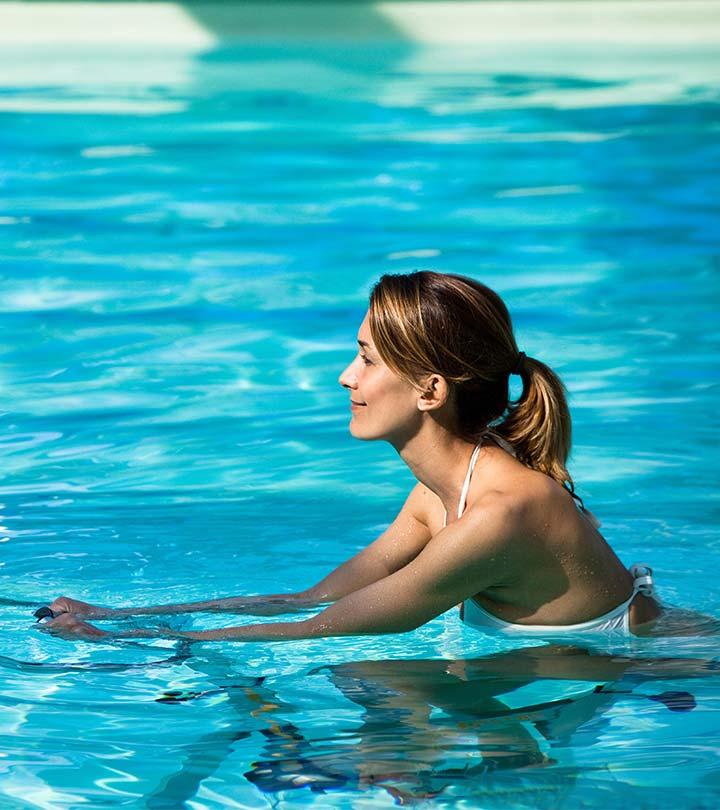 Given the immense health benefits of aquatic exercise, it has become extremely popular. And if you have the best aqua bikes in place, you can do this low-impact workout and give yourself some cardio too. To this end, we shall discuss everything about this type of exercise in this article. So, let's dive in!
What Is An Aqua Bike?
An aqua bike is very similar to the indoor stationary cycles you see at the gym, except that they're placed in the water. They have pedals that are average-sized and a seat and handlebars, much like a regular bike. These bikes are submerged in about 3-4 feet of water, and the rider is required to pedal against the water. Sounds fun, doesn't it?
What Makes It So Unique?
Aqua biking or pool cycling first came about in the late 1800s and seems to be gaining a lot of popularity of late, particularly in the United States. There are many reasons why aqua biking is so unique. Firstly, it allows its rider to exercise with minimal risk. Exercising in the water puts far less pressure on your joints, so if you have recently experienced an injury or have limited mobility, then this may be the workout for you. The buoyancy of the water helps support the joints, and the moisture draws the heat away from the body, thus regulating body temperature.
The other great thing about aqua biking is that it gives you a tougher workout. The resistance of water means you will have to apply twice the pressure when doing some exercises. Let's also not forget how fun these workouts can be. With a trained instructor and some pumping music, aqua biking will spice up your workout sessions and make them something you begin to look forward to.
How Does It Work?
Aquabikes are specially designed for aquatic practice. Once seated on the bike, the water will generally come up till your belly. You then grab hold of the handlebars and begin pedaling. Pedals are usually of average size and have fins that slow the movement down. Aquabiking has been shown to tone the lower body.
Now that we have understood what aqua bikes are and how they work, let's take a look at the 4 best aqua bikes currently available in the market.
4 Best Aqua Bikes In The Market Right Now
This simple aqua bike is great for a beginner. It is ergonomically designed and tested for efficiency. It has the right amount of resistance required to give you a low impact and refreshing work out session. The handles are easy to reach, so you don't have to lean forward to reach them. The bike can be manually adjusted to adapt to different depths, and the resistance gradually increases according to the pedal speed. The pedals are made of resin and must be used barefoot. The body of the bike is manufactured using high-quality stainless steel that will not rust. The bike comes with a manual that contains easy instructions and hence can be assembled with ease. It also comes with a 3-year extended warranty. With its sleek design, full progressive resistance of the pedals, and high-quality material, this bike is perfect if you want to try your hand at aqua biking and can be used even after you become an experienced rider.
Pros
Good stability
Beginner-friendly
Cons
The seat is a little uncomfortable to sit on
Quick Tip
You are in control of your bike with no speed setting. Just pedal faster to increase resistance.
Price at the time of publication: $1650.0
Made from lightweight marine grade steel, this bike is designed to give you an exhilarating riding experience. The stainless steel body is rust-resistant, even in pools of water treated with chlorine and bromine. It has scratch-resistant fittings at the bottom to help protect your pool and a jam-resistant design making it easier to transport and store. The adjustable cushioned seat allows its rider to sit on it comfortably, and the handlebars can be adjusted to your needs while exercising. If you're looking to get in shape, then this is the aqua bike for you.
Pros
Minimal maintenance required
Compact and durable
Cons
Slightly heavier than other models
Price at the time of publication: $1140.73
Here is an advanced aqua bike that is an excellent tool for cardiovascular exercise. They don't put much pressure on your joints so that you can work out for prolonged periods. It is made from stainless steel that is covered with electro-polished protective treatment. Its progressive resistance and anatomical pedals allow a good cycling experience. The large stainless steel, watertight bearings on central pedals guarantees a perfect rotation. Incorporating this aqua bike into your aqua cycling experience will allow you to maximize your workout and won't tire your joints out. For optimal exercise, ensure that the water comes up to your waist before exercising.
Pros
Extremely user-friendly
Adjustable resistance
Sturdy build
The pedal has been biologically tested
Cons
Quick Tip
Spend 8-10 minutes at first to warm up your muscles before doing more vigorous exercises on the bike.
Price at the time of publication: $1550.0
At only 18lbs, this is one of the lightest bikes available in the market. It has adjustable resistant pedals and is available in 6 attractive colors. It is made from high-quality marine aluminum that will not rust even with prolonged exposure to water. This bike is easy to use and even easier to maintain. It is ergonomically designed and a great hit among many users. This bike can easily be lifted out of the water as it is lightweight. The pedals come with additional support to its rider and the seat can be adjusted to a comfortable height. This bike is perfect if you have limited motor abilities or are healing from a recent injury. They can be even placed at home pools.
Pros
Adjustable seat
Very light
Adjustable resistance
Cons
Plastic components can deteriorate if left in the water for too long.
Price at the time of publication: $1490.0
What Are The Benefits Of Using An Aqua Bike?
Here are a few of the benefits of using an aqua bike:
Less pressure on the joints
Allows rider to exercise with minimal risk
Improved flexibility and posture
Upto 800 calories can be burnt
Helps tone lower body
What Are The Benefits Of Pool Exercise?
Here are a few of the benefits of pool exercise:
Water's buoyancy helps support the joints
Moisture draws heat away from the body, thereby regulating body temperature
More intense workout session
Great for people who are recovering from a recent injury
How Do You Use Aqua Bike?
If you are to use an aqua bike, it first has to be submerged in about 3-4 feet of water. Following that, you simply get on it and begin pedaling as you would typically do in your local spin class.
Things To Consider Before Buying A Pool Bicycle?
Ensure that the seat of your pool bike is comfortable to sit on. You should be able to adjust it to the height of your preference.
It would be best if you kept in mind the weight of the bike. A heavy bike cannot be lifted and put in the water easily. It should have scratch-resistant and jam-resistant fittings at the bottom so as not to damage the pool. The resistance of the pedal should increase with speed.
You will want to invest in an aqua bike that has at least 3 years warranty.
A bike made of aluminum or stainless steel that does not rust easily is the best option. It should be made out of sturdy material that will not damage your pool.
These are some of the things you will need to know before you start aqua biking. We have compiled a list of the best pool bikes. If you're looking at buying an aqua bike, then don't even think twice. They are an investment that your body will thank you for making.
Why Trust Stylecraze?
Shreya Vishwanathan is a fitness and health enthusiast who researches and recommends the best health tools and equipment for her readers. In this post, she has enlisted the four best aqua bikes in the market with high ratings on various trusted e-commerce websites. These aqua bikes will help you effectively engage in your desired low-impact cardio workout. In addition, the buying guide will help you make the right choice for your needs.
Frequently Asked Questions
Is Aqua Cycling effective?
Aqua cycling is effective in burning calories and improving cardiovascular health. They allow its rider to exercise with minimal risk.
How many calories are burnt when using a pool bike?
Upto 800 calories can be burnt by using a pool bike.
Is aqua cycling hard?
No. Aqua cycling is gentle on the joints because a person's weight in water is one-fifth of what it is on land. However, the water gives steady resistance to the bike, making it tough to push the pedals at times.
What do you wear to aqua bikes?
All you need is a swimsuit that is both comfy and supportive. One-pieces are mostly preferred; however, two-pieces, sports bras, and bikini bottoms or shorts are also good.
Is aqua biking good for belly fat?
Yes. Aqua biking is a moderate yet effective method of losing belly fat. Although spot reduction is not possible, regular involvement will result in fat loss from storage areas all over your body.
Do aqua bikes reduce cellulite?
Yes. Aqua cycling rapidly burns 600 to 800 calories in a 45-minute session. Also, it reduces cellulite and offers a relaxing experience without putting strain on the joints or muscles.
Recommended Articles
The following two tabs change content below.