13 Best Long-Lasting Fall Perfumes For Women – 2022
Create heaven on earth for yourself and smell like a dream for the longest time.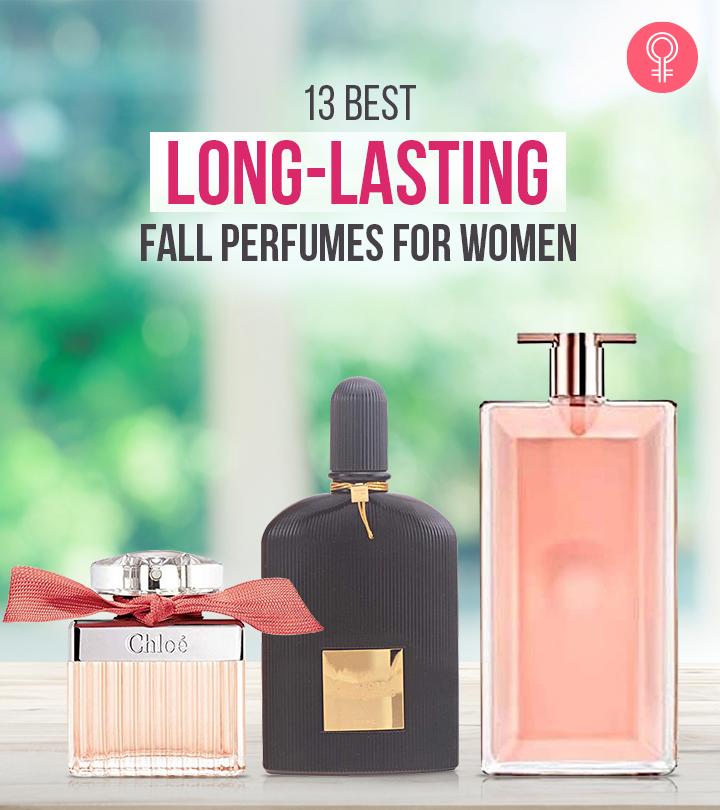 Fall is one of the most-awaited and loved seasons of the year. This is when the best fall perfumes with musky and woody notes make their appearance. The smoky sweetness of the perfume or the moody scents finds space at your dressing table in multiple numbers. These scents add an amazing aura to your personality. With fall being so captivating, we have lined the best fall perfumes for you. These fall perfumes are remarkable fragrances from different brands. Keep scrolling to explore.
13 Most Popular Fall Perfumes For Women
The Burberry London Eau De Parfum is designed with expert craftsmanship and comes in a specially crafted glass bottle wrapped with a checked fabric cover. The makers have been inspired by music and fashion in creating the fragrance. It has top notes of fresh roses and sweet honeysuckle. The deep heart notes feature jasmine, peonies, and tiare with a hint of clementine zest. The base solar notes of the perfume include sandalwood, patchouli, and musk. Check out this video to know more about this product.
Pros
A warm and distinct fragrance
Overpowering smell
Suitable for daily wear
Cons
Price at the time of publication: $98
Nothing complements your feminine features like a generous spritz of the Yves Saint Laurent Libre Eau De Parfum. The provocative fragrance hits you with a blend of floral, citrus, and aromatic accords.
The top notes of the perfume feature rejuvenating lavender, mandarin orange, petitgrain, and black current. The middle notes have lavender, orange blossoms, and jasmine that replace the earlier notes in a mysteriously soothing way. In contrast, the base notes are cedar, musk, Madagascar vanilla, and salty ambergris that blend to create a sophisticated and alluring fragrance that makes any woman feel beautiful, sexy, and confident. Before buying, have a look at this video for more details.
Pros
Skin-friendly fragrance
Wears all-day long
Suitable for daily wear
Exquisite packaging
Cons
Price at the time of publication: $106.99
If you want to create an iconic style statement, the Tom Ford Black Orchid perfume is the one for you. The opulent perfume smells luxuriously alluring as it features a combination of the dark trace of black orchids and spice.
The top notes consist of black currant, citrus, French jasmine, ylang-ylang, and black truffle. The deep heart notes have Tom Ford's black orchid in a floral, spicy blend. The base notes are sandalwood, patchouli, dark chocolate, amber, incense, vanilla, balsam, vetiver, white musk. This is one of the top women's perfumes bottled in black glass that reflects elegance and glamor. Watch this video to know more about the product.
Pros
Sensual fragrance
Timeless packaging
Not overbearing
Unisex
Cons
Price at the time of publication: $149.56
Love the smell of florals? Grab a bottle of the Lancome Idole Le Parfum. This perfume features top notes of pear and bergamot. The heart notes are of fresh and pure Turkish rose, rose de mai, and Indian jasmine. The base notes include vanilla and white musk. The perfume comes in a transparent light pink bottle.
Pros
Clean fragrance
Luxe bottle
Large quantity
Value for money
Cons
Overpowering floral fragrance
Price at the time of publication: $89.0
Honorine Blanc and Annick Menardo created the Calvin Klein Obsessed to evoke memories through the fragrance. It brings memories with desire and bridges the gap between the masculine and feminine, all in one bottle. This perfume is an echo of both the past and the present.
The top notes of the perfume feature neroli, citruses, bergamot, and elemi. The middle notes include orange blossom, lily of the valley, rose, lavender, sage, and violet leaf. The base notes consist of ambrette, iso E super, and musk. The scent is clear and transparent and comes in an oval-shaped crystal glass bottle.
Pros
A blend of masculine and feminine fragrances
Long-wearing
Not overpowering
Cons
Amandine Clerc-Marie and Michel Almairac created the Chloe perfume. The delicately pleated bottle sports an artistic, free-spirited design with a hand-tied ribbon on the neck. It houses a rich floral fragrance with top notes of peonies, litchi, and freesia. The heart notes include rose, magnolia, and lily of the valley. The base notes feature amber and Virginia cedar. The perfume is designed for everyday use.
Pros
Pleasant fragrance
Not too strong
Mild fragrance
Luxurious packaging
Cons
None
Price at the time of publication: $81.43
The perfume from the house of Marc Jacobs is loved for its luxuriously woody and sensual scent. This popular women's fragrance is irresistible and indulgent with sultry top notes of succulent Italian plums, iris, and saffron that add a golden edge.
The heart notes include intoxicating Bulgarian rose blooms, jasmine sambac, and orris. The drydown base is infused with liquid amber, vetiver, and papyrus woods. A gold chain with black tassels is attached to the bottle's cap, while its body features a deep green python print. The hat is firmly secured to the bottle with magnets. You can carry along the perfume bottle by the chain without worries about it crashing to the floor.
Pros
Clear frosted glass packaging
Ideal for day and night
Easy to use
Mild fragrance
Cons
None
Price at the time of publication: $99.75
Gucci Memoire D'Une Odeurwas was created by the master perfumer Alberto Morillas with the idea to bring back memories from the past and relive them all over again every time you spray the perfume. It is easily recognized with its classic notes of Roman chamomile. The top notes feature chamomile and bitter almond, while the heart notes have coral jasmine, Indian jasmine, and musk. The base notes consist of vanilla, sandalwood, and cedarwood. The perfume is light blue and comes in a transparent bottle.
Pros
Ideal for casual wear
Refreshing smell
Unisex
Mild fragrance
Cons
Price at the time of publication: $51.9
My Way is a new fragrance launched by Giorgio Armani in 2022. Carlos Benaim and Bruno Jovanovic created this floral fragrance for women. The top notes of this perfume feature orange blossom and bergamot, and the middle notes are tuberose and Indian jasmine. The base notes are white musk, Madagascar vanilla, and Virginian cedar. The fragrance is inspired by fresh and authentic florals that invigorate the senses. The perfume is available in a refillable bottle of 150 ml and packaged in a cellophane-free, eco-friendly box.
Pros
Suitable for all occasions
Enchanting smell
A few sprays do the job
Sustainable packaging
Cons
Price at the time of publication: $70.47
Who doesn't love a sensual perfume that exudes confidence and sophistication? The Elizabeth And James Nirvana delivers just that! With its alluring blend of sweet honeysuckle, intense hypnotizing tobacco notes, and spicy cedarwood, this is the perfume for the modern-day woman. The pleasing fragrance turns heads as you move elegantly and seductively about the room, leaving a lingering trail of sweet florals. The perfume comes in a sleek purple and gold textured glass bottle.
Pros
Suitable for daily wear
Ideal for all seasons
Clean fragrance
Cons
Price at the time of publication: $37.94
This is a floral perfume for women created by Antoine Maisondieu. The opening notes of this fragrance contain rose, violet, and green tea. The heart notes feature Turkish rose and magnolia, while the base notes include musk and cedar accords.
The creators of this perfume have not used florals that are harvested, crushed, or distilled. Instead, the live blooms are kept in a glass bell, and the scent is extracted with cutting-edge technology. It is then blended with Turkish rose oil and green tea, complete with a sprinkling of magnolia and violets. Soft husks are used for the woody accord. It makes the fragrance linger on in the memories of those who get a whiff of it.
Pros
Subtle fragrance
Not too sweet
Value for money
Long-lasting
Cons
Price at the time of publication: $51.46
The Coco Mademoiselle perfume from Chanel Paris gives a signature fresh oriental fragrance that signifies personal luxury. Jacques Polge created the award-winning bouquet. When the bottle is opened, you get a whiff of orange, mandarin orange, orange blossoms, and bergamot. The heart notes contain Turkish rose, jasmine, ylang-ylang, and mimosa. The base notes feature vanilla, white musk, Tonka bean, vetiver, and opoponax.
Pros
Travel-friendly
Classic bottle design
Not too strong
Cons
Price at the time of publication: $75
Launched in 2009, Byredo Bal d'Afrique Eau de Parfum Spray is inspired by African culture, art, music, and dance. It has an amber woody fragrance that uplifts your senses. The scent is warm and romantic includes three notes that instantly make you feel excited from the moment you spray it on. Its top notes consist of African marigold, bergamot, buchu, lemon, neroli. The heart notes include cyclamen, jasmine petals, and violet, and the base notes feature black amber, Moroccan cedarwood, musk, and vetiver.
Pros
Premium natural ingredients
Exquisite packaging
Unique fragrance
Cons
Price at the time of publication: $149.9
Perfumes can really help define your individual personality and it helps you form a lasting impression at important events and parties. You should use perfumes as per the seasons. While some perfumes are best for the summer season, they may not work well during the fall season. If you want to select long-lasting perfumes for yourself that will be functional during the fall season, here is a brief buying guide for your help.
Points To Remember While Choosing The Best Long-Lasting Fall Perfume For Women
Spray a little on your forearm to check if the fragrance is pleasant for you or not. Apart from this, perfumes are also categorized into day and night fragrances. Daytime perfumes are usually lighter and dominated by citrus and floral notes, whereas nighttime perfumes are stronger and include musk or woody notes that are rich, sultry, and robust. The ingredients in a perfume mostly influence the fragrance, so you must go through the ingredients list and avoid selecting the ingredients that you are allergic to.
Give a bottle of perfume a quick shake and watch how long it takes for the bubbles to go away to clearly distinguish between high-quality perfumes and low-quality perfumes. Bubbles from high-quality perfumes will appear and last for 10 to 15 seconds.
Strength And Lasting Power
Every perfume has different strengths. Most perfumes generally include perfume oil and alcohol. If the amount of perfume oil is more, then it will last longer. You can also choose your perfume from the two categories extrait de parfum which contains 20 to 40% fragrance concentration and has an eight-hour lasting power. On the other hand, eau de parfum lasts between four to six hours and contains 15 to 20% of perfume oil. Eau de parfum is suitable for daily wear during the fall season.
A fragrance is composed of three types of notes including the top, middle, and the base notes. Choose the right top note which is the immediate fragrance you smell after spraying the perfume. During the fall season, the top notes can be spicy, floral, or filled with the essence of vanilla. The core fragrance of the perfumes define the middle notes. Fall perfumes can comprise earthy middle notes. The fragrance that lingers in the air are the base notes. You can choose perfumes with woody base notes for the fall season.
You also have to consider your skin type before purchasing perfumes. For oily skin, although almost all perfumes suit you, you can look for perfumes that include citrus, lemon, and zesty orange. For dry skin, you must use gentle, alcohol-free perfumes that have woody scents. If you have sensitive skin, you should choose perfumes that contain natural or organic ingredients and are free from artificial fragrances.
Why Trust StyleCraze?
The author, Baishali Bhattacharya, is a certified image consultant and expert in makeup artistry. She loves trying out different perfumes and recommends the best options to her readers. For this article, she has extensively studied a wide range of products to compile this list of the best fall perfumes. The author has carefully selected the products based on positive user reviews. These fall perfumes are long-lasting, have musky and woody notes, and uplift your mood instantly.
Frequently Asked Questions
Which fragrances make fall perfume?
Fall brings woodsy tones and falling leaves. The slight drop in temperature makes you yearn for warmth. The greatest fall fragrances, therefore, contain warm and musky notes like patchouli, vetiver, sandalwood, and amber.
Are fall perfumes worth it?
Yes. Fall perfumes are all about the woody and musky notes that truly sets the tone for the fall mood. The fall perfumes also perfectly align with the fall clothing. They evoke in you a craving for all things fall, like a hot cup of cinnamon coffee!
Does fall perfume expire?
Yes, just like any other perfume, fall perfumes do expire. If stored correctly, you can use them for 3-4 falls.
Does heat affect fall perfume?
Yes, heat can affect the longevity of your perfume. Heat may make your perfume evaporate faster. Be careful of storing your fall perfume properly in a closed and dry place.
Is fall perfume safe?
Yes, fall perfumes are safe for regular use. You can use them every day during the fall season.
Recommended Articles