8 Best Serums For Rosacea – 2022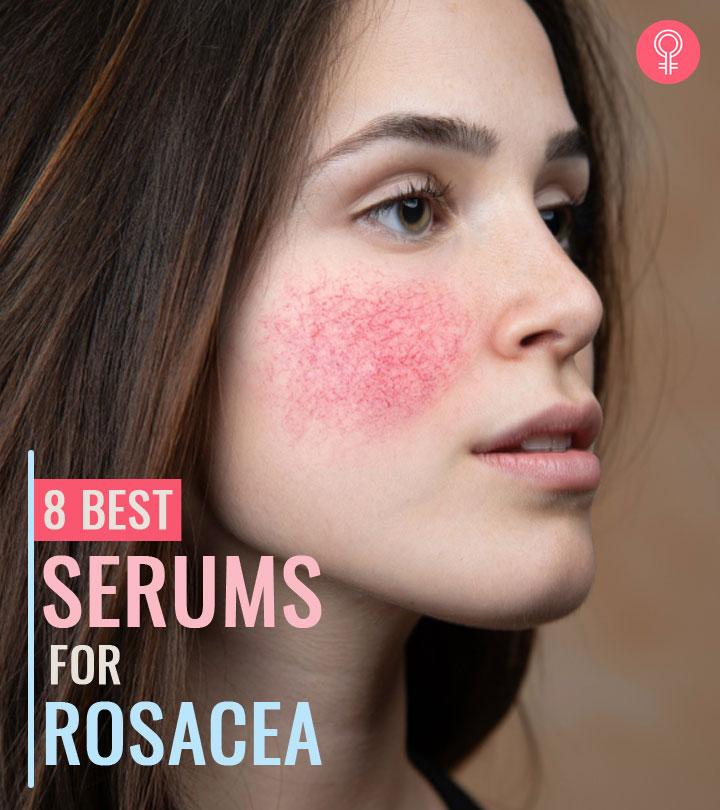 Rosacea, a chronic skin condition, causes inflammation and turns the skin red and agitated. Many products are made for sensitive skin that help keep your skin from getting irritated. But if you are looking for the best serum for rosacea management, keep reading.
Broken blood capillaries and excess heat cause the skin to become inflamed and lead to rosacea. Although not harmful, this condition causes most people to feel embarrassed, socially anxious, and uncomfortable. Common rosacea symptoms are blotchy and flushed skin paired with red bumps. You may also notice some tingling or burning sensations. While there is no definitive cure for rosacea, avoiding the triggers that cause it can help manage this condition. Some of the triggers are specific food products, stress, sun exposure, irritants and allergens, and harsh skin care products.
Because of their highly sensitive skin, people who have rosacea need to be careful about the products they use. Serums, made specifically to help manage rosacea, contain powerful anti-inflammatory ingredients that relieve the skin from irritation. They raise the cell turnover rate and rejuvenate and repair the skin. Some of these products also have anti-aging and hydration benefits that soothe rosacea. Using these serums regularly improves your skin color and texture and helps prevent any breakouts. Scroll down and take a look at the 8 best serums for rosacea.
8 Best Serums For Rosacea
Dermaced Redness Redux Serum is an advanced formula that treats skin redness, inflammation, and rosacea. It contains an active anti-inflammatory protein called Epidermal Growth Factor (EGF) that promotes healthy skin rejuvenation and cell growth. This serum also contains other anti-inflammatory ingredients such as soothing aloe vera polysaccharides. The healing sea kelp bioferment in this serum is rich in natural peptides and amino acids that repair collagen and rebuild skin cells. It also does not strip away the natural oils from the skin. Pomegranate and green tea extracts are powerful anti-aging antioxidants that scavenge free radicals released due to oxidation or sun damage. These ingredients work synergistically to fight the irritants and allergens that cause inflammation and redness. It also contains hyaluronic acid that provides intense hydration to the skin which helps in adding bounce and plumpness to it. Thus, it makes dry skin look soft and youthful.
Pros
Repairs damaged skin
Moisturizes the skin
Anti-aging formula
Does not make the skin oily
Reduces inflammation
Softens the skin
Cons
Contains phenoxyethanol and methylparaben
La Roche-Posay Rosaliac AR Intense Visible Redness Reducing Serum is a hydrating face serum that is specially formulated to treat rosacea symptoms such as redness and inflammation. It is an intense concentrate of 3 active ingredients – Ambophenol, Neurosensine, and thermal spring water. These actives work efficiently on sensitive skin to reduce the redness caused by inflammation and irritation. Ambophenol is a polyphenol that constricts the blood vessels and strengthens their walls to reduce redness. Neurosensine has a soothing effect on the skin. Thermal spring water is rich in nutrients, minerals, and antioxidants that help in restoring the skin's natural radiance and color. The light reflectors in the serum also help in mattifying the skin so that it does not look flushed. This light and fresh gel can be used regularly as it is free from preservatives, fragrances, and harmful chemicals. It comes in sterile packaging that prevents contamination.
Pros
Tested on sensitive skin
Hydrates the skin
Fragrance-free
Preservative-free
Paraben-free
Alcohol-free
Colorant-free
Suitable for all skin types
No risk of contamination
Non-oily
Non-comedogenic
Lightweight
Recommended by dermatologists
Cons
Rosadyn Soothing CoQ10 Facial Serum is a moisturizing serum that targets to eliminate rosacea from the root causes. It treats many rosacea symptoms such as broken capillaries, ocular rosacea, flushing, blemishes, and acne. It is an anti-aging serum that diminishes various signs of aging, giving the skin a youthful appearance without irritating or bothering your sensitive skin issues. The enriching formula of CoQ10, DMAE, and hyaluronic acid repair the skin effectively and moisturize thoroughly without making your skin greasy or sticky. Skin-friendly ingredients like Vitamin A, B, C, Retinol, carrot oil, and polyphenols provide anti-aging benefits to the skin, reducing wrinkles and fine lines to preserve its natural health and firmness. The gentle aloe vera base of this solution soothes the irritated rosacea skin to provide comfort and relief. This ultra calming gel serum can be used regularly as it is free from parabens, phthalates, fragrance, sulfates, and petroleum.
Pros
Lightweight
Non-allergenic
Free from harsh chemicals and irritants
Dermatologist-tested
Natural and organic ingredients
Paraben-free
Phthalate-free
Sulphate-free
Petroleum-free
No added fragrance
Cons
None
Osmosis Skincare Epidermal Repair Serum targets multiple skin conditions such as rosacea, hyperpigmentation, age spots, cystic acne, and skin inflammation. It is perfect for treating dry, acne-prone, aging, sensitive, irritated, blemish-prone, and pigmented skin. It contains trioxolane, an oriental herb extracted from sweet wormwood that can soothe inflamed skin, activate epidermal wound healing, and neutralize toxins. This helps in increasing the production of collagen and elastin, which in turn improves the elasticity and resilience of the skin. This repair serum also contains niacinamide and phosphatidylcholine that balance the oil, restore the skin barrier, and protect the skin from the sun. It reduces age spots and minimizes the appearance of pores so that your skin has an even texture and glowing complexion.
Pros
Improves skin texture and skin tone
Tightens the skin
Prevents skin damage
Reduces hyperpigmentation
Anti-aging formula
Restores the skin barrier
Repairs and heals the skin
Reduces inflammation
Minimizes the appearance of pores
Can be used as a spot treatment
Cons
This rosacea skin care set consists of a green tea face cleanser and a rosehip face serum that are formulated for calming rosacea and redness. The organic plant extracts of aloe vera, honey, green tea, grapeseed, chamomile, witch hazel, hibiscus, lavender, and neem have anti-inflammatory, antioxidant, antimicrobial, and astringent properties that soothe the skin. The gentle, non-abrasive cleanser removes dead skin cells, bacteria, makeup, dirt, and excess oil on the skin. The organic serum soothes redness and repairs broken blood capillaries that cause flushing or inflammation. This rosehip serum is rich in nutrients like omega 3 and 6 fatty acids and vitamins A, E, and C that restore, repair, and rejuvenate the skin. Thus, this skin care set helps in cleansing and maintaining sensitive, rosacea-prone skin. It is highly recommended as it does not contain irritants. It is fast-acting and gives lasting results.
Pros
Soothes the skin
Repairs the skin
Dermatologist-tested
Cruelty-free
Alcohol-free
Hypoallergenic
Petroleum-free
Paraben-free
No synthetic dyes or fragrances
Gentle on the skin
Prevents skin damage
Organic and cold-pressed ingredients
Phthalate-free
Cons
Cos De BAHA Azelaic Acid 10 Serum is an all-rounder, multipurpose serum that reduces the appearance of blemishes and acne, fades dark spots and acne scars from previous breakouts. The powerful combination of azelaic acid and niacinamide treat acne scars, hyperpigmentation, redness, rosacea, improving the skin's overall appearance. This hydrating serum leaves your skin feeling soft, smooth, and silky. The thin and slippery texture dries quickly, making the skin appear plump and fresh, ready for makeup application.  Its lightweight, oil-free texture feels gentle on the skin and gets easily mixed with other skin treatments. This Korean skincare serum is free from harsh chemicals and is safe and suitable for everyday use.
Pros
Lightweight
Oil-free
Alcohol-free
Paraben-free
Cruelty-free
Formaldehyde-free
Fragrance-free
Cons
Might not suit sensitive skin
Might cause breakouts in some people
SkinResource.MD R-Relief Serum visibly reduces the signs of chronic inflammation, such as redness and sensitivity, that are often associated with rosacea. The four patented complexes derived from plant extracts are rich in bioactive peptides along with panthenol, pro-vitamin B5, and Copper PCA that make this serum extremely hydrating and effective. It calms the skin and prevents further aggravation of symptoms like flaky skin. It cools heat-activated skin, which in turn controls redness and blotchiness. The anti-swelling agents, such as sodium palmitoyl proline and methyl chalcone, reduce puffiness. This serum also inhibits lipase and unwanted microbial growth, which are triggers for rosacea. It is hydrating and gets absorbed quickly into the skin, leaving it looking supple, soft, and glowing.
Pros
Soothes the skin
Hydrates the skin
Reduces puffiness
Prevents future flare-ups
Antimicrobial properties
Gets absorbed quickly
Dermatologically tested and approved
Suitable for dry, dehydrated skin
Cons
May take time to show results
Skinception Rosacea Relief Serum has four clinically proven actives that work together to reduce inflammation, prickling heat sensation, and redness and soothe the skin. This patented blend of peptides contains teprenone (Renovage), Boerhaviadiffusaroot extract, Saccharomycescerevisiae extract (Actiflow), and vitamin U (Allantoin). These ingredients improve the skin barrier function, hydration, firmness, elasticity, and blood circulation. They also slough off dead skin cells. They have anti-aging properties that help in reducing wrinkles, fine lines, and keratolytic effects to heal the skin faster and better. Extracts from grapeseed, green tea, bilberry milk thistle, and ginkgo biloba have soothing, antiseptic, antibacterial, and anti-inflammatory effects on the skin. Overall, this serum helps in restoring the skin to a normal texture and color after a bout of rosacea.
Pros
Relieves burning sensation
Moisturizes the skin
Repairs the skin barrier
Prevents future flare-ups
Removes dead skin cells
Gets absorbed quickly
Reduces discoloration
Improves blood circulation
Cons
These are some of the best serums to control rosacea. Now, let us delve into the factors that can help you manage this condition better.
How To Handle Skin That Is Suffering From Rosacea
As we already know, there is no cure for rosacea. The best course of action is to avoid the triggers and to use products that alleviate its symptoms. These are some things that you can keep in mind:
Triggers: Different people have different triggers. It is better to observe and record your triggers to avoid flare-ups. Some common triggers of rosacea include hot showers, sunbathing, drinking alcohol, and hypersensitivity to makeup products. Spicy food has also been known to increase rosacea. So, regulate your alcohol and spicy food intake and avoid very hot or very cold showers.
Irritants: Avoid harmful ingredients in skin care and makeup products such as parabens, alcohol, fragrances, SLS, petroleum, and phthalates.
SPF: It is imperative to use sunscreen with high SPF at all times, especially when you have rosacea. The damage caused by the sun makes you more susceptible to a rosacea flare-up. Titanium oxide or zinc oxide are some great ingredients in sunscreens. Also, use umbrellas, hats, scarves, and sunglasses.
Ingredients: Look for products that contain antioxidant and anti-inflammatory ingredients like aloe, cucumber, oat, green tea, and chamomile that soothe the skin.
Hydration: Dry skin aggravates a rosacea flare-up, so moisturization is another important factor to control rosacea. Use products with moisturizing agents like hyaluronic acid, squalane, and glycerin. Avoid oily or comedogenic products.
Skin Barrier Repair: Ceramides and niacinamide help in repairing and restoring the skin's protective barrier. Include vitamins C, A, and E that have anti-aging benefits. They also help in reducing inflammation and hyperpigmentation. Using vitamin C-based serums is a must if you have rosacea.
Skin Care Routine: Follow a proper skin care routine with products formulated for rosacea. Consult a dermatologist if the symptoms persist. Be gentle with your skin as harsh movements (vigorously using makeup wipes or washcloth, tugging or pulling the skin) and products (exfoliants, scrubs, double cleansers, toners, alcohol-based products, and oily products) can rupture the blood vessels. These broken capillaries aggravate redness.
It is very easy to use serums in your skin care routine to treat rosacea. Scroll down to learn more.
How to Use Face Serums On Rosacea Skin
Serums are concentrated products that get absorbed quickly and penetrate deep into the skin to work effectively. Most serums have a light oily consistency that does not feel heavy on the skin. Serum needs to be applied after cleansing and moisturizing your face. Wait till the product has gotten completely absorbed. It is important to use a serum on dry skin as wet skin is more permeable, which can sometimes lead to irritation. Take one or two pumps of the product and pat it gently on the skin. Use your serum 2-3 times a week at first and watch how it tolerates it. Let your skin adjust to the product. Consult a doctor if there is any discomfort. Use SPF after the serum to protect your skin.
Why Trust Stylecraze
Shiboli Chakraborti, the author of this post, is a certified skin care coach and loves to try out various skin care products and review them. In this article, she has researched multiple options thoroughly and read many online reviews to pick the best serum for rosacea for her readers. These serums are made with ingredients that have anti-inflammatory properties. They also rejuvenate and repair the skin.
Recommended Articles