7 Best Shampoos For Scalp Acne – 2020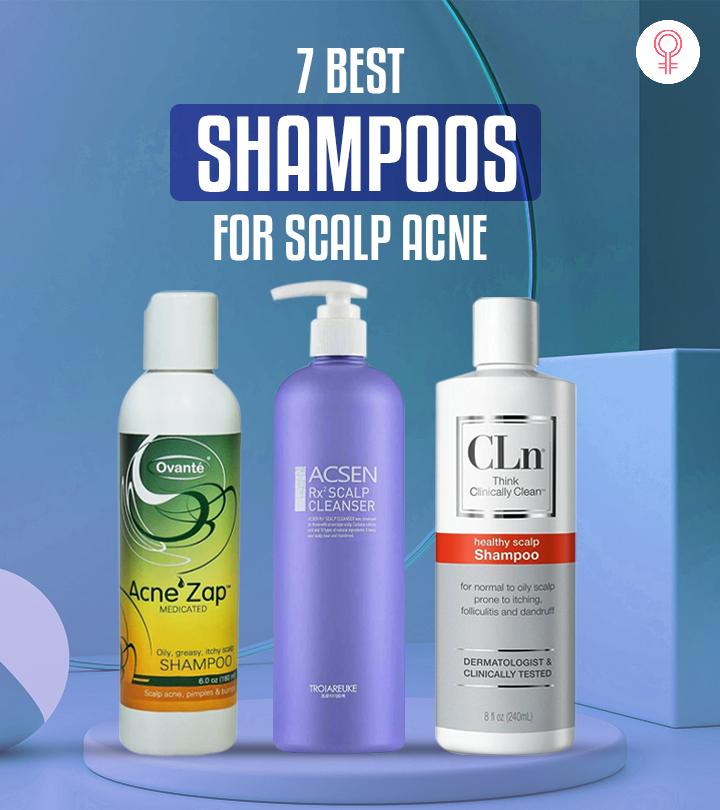 Acne does not differentiate. It can appear not only on your face but also on other parts of the body – like your scalp. Scalp acne is annoying, but the good news is there are shampoos to help you deal with it and get rid of the bumps and redness.
Scalp acne is caused due to inflammation of the hair follicles. This occurs due to the clogging of sebum or product buildup. A good scalp acne shampoo can help you get rid of excess oil and product buildup without damaging your hair. Scroll down to check out the 7 best scalp acne shampoos and select the one that is apt for you!
7 Best Shampoos For Scalp Acne
The CLn Healthy Scalp Shampoo is designed for normal to oily scalps and hair. It is developed by physicians for hair and scalp prone to flaking, itching, seborrheic dermatitis, dandruff, and folliculitis. It can also be used on the beard. This shampoo cleanses the hair shafts and leaves the scalp feeling fresh and rejuvenated.
It contains salicylic acid that softens and exfoliates the dead cells and unclogs the pores without disturbing the scalp's natural oil balance. Sodium hypochlorite soothes the scalp and cleanses the hair shafts and follicles of excess oils and dulling residue. Glycerin is a humectant that conditions the scalp and hair. This shampoo is hypoallergenic and free of fragrance, triclosan, parabens, and antibiotics. For best results, use it three times a week.
Key Ingredients: Salicylic acid, Sodium hypochlorite, and Glycerin
Pros
Paraben-free
Triclosan-free
Antibiotic-free
Physician developed
Clinically tested
Dermatologist-recommended
Cons
The OvanteFolliculit Solution Shampoo is specially formulated to deal with folliculitis. This soothing, antibacterial, and antifungal shampoo contains a unique blend of natural herbs and oils that purify and strengthen the hair follicles. The deep penetrating formula is infused with neem, tea tree, and lemongrass oils that fight bacterial and fungal infections and relieve itching, scalp redness, burning, and inflammation of the hair follicles.
This shampoo cleanses and degreases the scalp without stripping its natural oils. It is free of dyes, sulfates, parabens, and other irritants. Shake the bottle well and take 1-2 tablespoons of the shampoo in a bowl. Massage it gently into wet hair and scalp and lather well. Leave it on for 3-5 minutes and rinse your hair and scalp thoroughly.
Key Ingredients: Neem, Tea tree oil, and Lemongrass oil
Pros
Paraben-free
Dye-free
Sulfate-free
Gentle
Contains herbal extracts
Moisturizes the hair
Cons
The Neutrogena T/Sal Therapeutic Shampoo is a dermatologist-recommended formula that clear crusty scalp buildup and relieve itching and flaking associated with conditions like dandruff, seborrheic dermatitis, and scalp psoriasis. It also helps in controlling the symptoms of dandruff.
This shampoo contains 3% salicylic acid, a beta-hydroxy acid that penetrates the scalp, unclogs the follicles, and exfoliates dead skin cells, dirt, and excess oil. It soothes and relieves itchy and flaky scalp and continues to work for several hours after it is rinsed off. This shampoo is free of added colors, preservatives, and fragrance. Massage it onto wet hair and scalp, lather, leave it on for 3-5 minutes, and rinse off.
Key Ingredients: 3% Salicylic acid
Pros
Fragrance-free
Preservative-free
Gentle
Color-safe
Dermatologist-recommended
Cons
The Ovante Acne Zap Shampoo has a therapeutic formula that helps treat scalp acne, dandruff, and itchy and dry scalps. It contains all-natural ingredients like tea tree oil, saw palmetto extract, birch leaves extract, sulfur, safflower oil, and borage seed oil shampoo with antibacterial and anti-inflammatory properties.
This scalp acne shampoo cleanses the pores of oil and residue and soothes your scalp. It also helps moisturize dry and flaky scalps. The product does not contain irritants, harsh chemicals, parabens, or mineral oil. Apply a quarter-sized amount to wet hair and lather. Leave it on for 3-5 minutes and rinse thoroughly.
Key Ingredients: Sulfur, Tea tree oil, Saw palmetto extract, Birch leaves extract, Safflower oil, and Borage seed oil
Pros
Paraben-free
Mineral oil-free
Formaldehyde-free
Cons
Does not lather well
Strong medicinal smell
The TROIAREUKE ACSEN Rx2 Scalp Cleanser is one of the best shampoos for scalp acne. This clarifying shampoo removes dirt, oils, impurities, dandruff, and debris from the scalp to reduce zits. It contains teflose, an ingredient that controls scalp odor and forms a protective layer on the scalp and hair to prevent sun damage and reduce hair loss and thinning.
The capryloyl salicylic acid in the formula is a hypoallergenic exfoliant that sloughs away the dead skin cells and flakes and promotes healing. Niacinamide helps the scalp retain moisture and reduces skin irritation, while the 10 plant-derived natural ingredients control excessive sebum production and relax your senses. Use this shampoo once a week if you have a dry scalp and 2-3 times a week if you have an oily scalp.
Key Ingredients: Teflose, Capryloyl salicylic acid, Niacinamide, and 10 herbal ingredients
Pros
Paraben-free
Sulfate-free
Silicone-free
Phthalate-free
No animal ingredients
Protects the scalp and hair from the sun
Cons
None
The Vidansaeng Potato Shampoo contains 22% ultra-fine potato powder that helps remove dirt, buildup, and grease from the scalp. It also contains glycerin that helps moisturize the scalp. This shampoo is suitable for itchy and oily scalps and helps remove scalp pimples. The product does not contain oils and emulsifiers.
Key Ingredients: 22% Potato powder
Pros
Chemical-free
Contains natural ingredients
Can be used for the body and face
Cons
None
The glycolix 10% Shampoo is a pH-balanced shampoo that removes oil and residue on the scalp and normalizes the damage caused by chemicals and the environment. It contains 10% pure glycolic acid that gently exfoliates the scalp to clear the acne-causing bacteria, dead skin cells, and debris, reduces itching, and prevents hair damage. The non-comedogenic shampoo treats scalp acne, eczema, and psoriasis and is suitable for dry, oily, and sensitive scalps.
Key Ingredients: 10% Glycolic acid
Pros
Non-comedogenic
pH-balanced
Gentle
Lathers well
Cons
Scalp acne should be treated soon without negligence. Go through this list of the best scalp acne shampoos and choose the one that suits you the best!
Expert's Answers For Readers' Questions
Is coconut oil good for scalp acne?
Yes. Coconut oil has antimicrobial and anti-inflammatory properties that can help in treating scalp acne. Massage it into your scalp and hair, leave it on an hour, and wash off with a mild shampoo.
Why do I have bumps on my scalp?
The bumps on the scalp are caused due to infection in the hair shafts or the scalp. Sometimes, an allergic reaction or a viral infection can also trigger zits on the scalp.
Can pimples on the scalp cause hair loss?
While there is no definitive relationship, if pimples on the scalp are not treated in time, theycan cause excess inflammation, which affects the hair follicle growth and may lead to hair thinning.
Is aloe vera good for scalp acne?
Yes. Aloe vera has soothing and healing properties that can relieve irritation and inflammation in the scalp.
Does scalp folliculitis ever go away?
Folliculitis is not permanent. It usually goes away on its own within 7-10 days without treatment. In severe cases, it lasts for months, leading to scarring and hair loss. Hence, it is better to consult a medical professional for treatment.
Recommended Articles