The 11 Best Shampoos For Folliculitis You Can Shop For In 2022
Soothe the scalp and make dandruff and its woes vanish with these medicated formulations!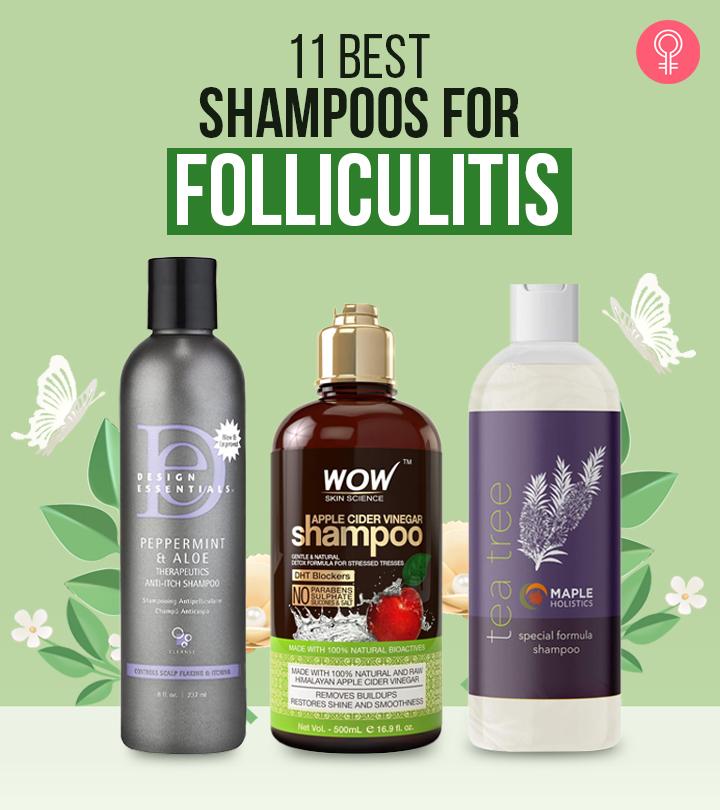 Folliculitis is basically dandruff 2.0, which can actually be fixed with the best shampoos for folliculitis. This scalp condition is characterized by itchy red bumps that are infected and full of pus. This makes it hard and often painful to comb. Even though the inflammation can heal on its own, it is best to speed up the process with medically-formulated shampoos crafted to soothe folliculitis. Choose your fave out of our top 11!
What Is Folliculitis?
Folliculitis is a condition in which the hair follicles are inflamed and may result in red, itchy bumps on the scalp. They can also appear on the face, neck, and bottom. There are many causes of folliculitis, such as sweat, dirt, bacteria, and yeast infections. There are three types of folliculitis – infectious folliculitis, non-infectious folliculitis, and perifolliculitis.
Let's now look at the top 11 folliculitis shampoos you can buy online.
Note: Please consult a doctor before trying these shampoos.
11 Best Shampoo For Folliculitis
The BallVic Follicution Scalp RX Shampoo recovers the protective function of the scalp by soothing it and restoring moisture. It maintains the pH level of the scalp and hair and retains moisture and oil. This daily cleansing shampoo controls sebum production and removes oil residue from the scalp. It cleanses the scalp pores deeply with a cooling effect.
This shampoo prevents hair loss and reduces flare-ups on the scalp like folliculitis, itching, eczema, dandruff, redness, and flaking. It is formulated with clinically-tested ingredients like hydrolyzed yeast protein complex, zinc pyrithione, rapeseed sterols, allantoin, climbazole, and ammonium glycyrrhizate.
Zinc pyrithione has antibacterial and antifungal properties that cleanse the scalp and prevent infections. Rapeseed has anti-inflammatory, soothing, and hair repairing properties. The shampoo has a pH of 5.5, strengthens the hair follicles, and adds volume. It is dermatologist recommended and safe on babies. This product does not contain sulfates, parabens, silicones, DEA, TEA, or other harsh chemicals.
Pros
Dermatologist recommended
Clinically tested
Sulfate-free
Paraben-free
Silicone-free
DEA-free
TEA-free
No harsh chemicals
Safe for babies and kids
Cons
None
The Wow Apple Cider Vinegar Shampoo maintains the pH level of hair and makes it shiny, silky, and soft. This clarifying shampoo detoxes the scalp and hair from build-up, dirt, product residue, and other impurities. It contains raw apple cider vinegar infused with pure Himalayan spring water that removes toxins from damaged hair and rejuvenates it.
The shampoo reduces dandruff, flakes, and frizz while nourishing the hair. The saw palmetto reduces hair fall and male pattern baldness. This product volumizes, thickens, and softens the hair. It is hypoallergenic, vegan, cruelty-free, and does not contain any sulfates, silicones, or parabens. Use it twice a week to reduce breakage, split ends, and thinning hair.
Pros
Vegan
Gluten-free
Paraben-free
Sulfate-free
Color-safe
Hypoallergenic
Silicone-free
Dermatology-tested
Cons
Contains added fragrance
Might dry out the hair
The CLn Healthy Scalp Shampoo is a physician-developed cleanser suitable for normal to oily hair and scalps. It tackles itching or flaking caused by folliculitis, dermatitis, and dandruff. This shampoo contains salicylic acid and sodium hypochlorite, which remove excess and unwanted oils, dead skin cells, and other residues from the scalp pores. It does not contain antibiotics, parabens, triclosan, or fragrance. This hypoallergenic product should be used 1-3 times a week to make the hair and scalp healthy. Learn more about the product in this video.
Pros
Dermatologist-tested
Clinically-tested
Antibiotic-free
Paraben-free
Triclosan-free
Fragrance-free
Hypoallergenic
Physician-developed
Cons
Contains SLS
May cause pimples
The Ovante Folliculit Solution Shampoo cleanses and moisturizes the scalp. It eliminates yeast and dandruff to prevent scalp itching and flaking. This shampoo stimulates hair growth and is suitable for all hair types. It is formulated with natural oils, vitamins, and herbal extracts that nourish the scalp and hair. This video gives you more information about the product.
Pros
Suitable for all hair types
Nourishes the scalp
Eliminates yeast
Prevents itching and flaking
Reduces dandruff
Cons
The Maple Holistics Tea Tree Special Formula Shampoo contains pure tea tree essential oil with antifungal and antibacterial properties. It treats dry, itchy, and flaky scalps. This anti-dandruff shampoo prevents hair shedding and thinning. It promotes hair growth, hydrates the scalp, and strengthens hair follicles.
The shampoo retains hair moisture and soothes irritated or flaky scalps. It also contains lavender and rosemary, which eliminate head lice. This product is color-safe and does not contain sulfates. It can be used by women, men, and children. Have a look at this video to learn more about the product.
Pros
Sulfate-free
Color-safe
BPA-free
Hypoallergenic
Recyclable
Suitable for women, men, and children
Treats dandruff
Cons
The Healthy Hair Folli-Cleanse Shampoo contains natural ingredients blended with zinc PCA, which cleanses the scalp and hair. It contains fenugreek, thyme, sage, and an effective HMF blend of natural extracts that remove build-up, product residue, and other impurities from the scalp. Zinc and PCA help regulate oil production. This shampoo prevents scalp issues like itching, oiliness, dandruff, flakes, dermatitis, psoriasis, and inflammation. It also soothes and calms an irritated scalp.
Pros
Pleasant scent
Soothes the scalp
Non-irritating
Cons
Healthy Hair Plus Anti-B Antibacterial Shampoo is a gentle antimicrobial, antifungal, and antibacterial formula that combats bacteria and infection. It damages pore-laden bacteria and soothes inflamed scalp caused by seborrhea, ringworm, acne, and sensitive scalp skin.
The powerful combination of Cutipure CLR, Lemon Essential Oil, Witch Hazel, and Aloe Vera treat and soothe inflammation. It is a natural anti-itch formula that infuses vitamins, minerals to reduce itching, redness, flaking, and irritation. It removes oil and dirt effectively, leaving the scalp feeling clean and fresh. Adults and kids can use this paraben and sulfate-free shampoo to maintain healthy scalp conditions.
Pros
Sulfate-free
Paraben-free
Suitable for adults and kids
Can be used as a body wash too
Cons
None
The Puriya Scalp Therapy Shampoo is formulated with a proprietary herbal blend of tea tree oil, arnica, sage, and rosemary. These ingredients cleanse and hydrate the scalp and hair. The shampoo retains and seals the scalp moisture, restores dry and brittle hair, and rejuvenates the scalp.
This product removes buildup, dirt, and impurities from the scalp and hair. It also smoothens the hair and adds shine. It is suitable for all hair types that can also be used by women, men, and kids. This pH-balanced shampoo does not contain sulfates, sodium chloride, parabens, or artificial fragrances. The gentle formula can also be used on pets.
Pros
Gentle formula
Suitable for all hair types
Sulfate-free
Sodium chloride-free
Paraben-free
No artificial fragrance
Unisex
Pet-friendly
Cons
None
The Tree To Tub Soapberry For Hair cleanses the hair follicles deeply. It is formulated with an exclusive blend of DHT blocking botanicals, caffeine, and rosemary oil. This shampoo stimulates hair growth and strengthens the hair. The soapberry removes buildup and residue, maintaining its pH level of 5.5. The saponin produces a deep cleansing lather and has anti-dandruff properties.
This shampoo also contains saw palmetto, pumpkin seed, and biotin. The eucalyptus and tea tree essential oils have antibacterial and antifungal properties, which reduce hair thinning. It is free of toxins, sulfates, parabens, silicones, DEA/MEA, gluten, harsh chemicals, toxic coatings, or artificial fragrances. This dermatologist-recommended shampoo is vegan, sustainably harvested, fair trade, and cruelty-free. It is gentle and can be used on sensitive and color-treated hair.
Pros
Dermatologist recommended
Cruelty-free
Vegan
Sustainably harvested
Color-safe
Toxin-free
Paraben-free
Sulfate-free
SLS-free
Silicone-free
DEA-free
MEA-free
No artificial fragrance
Gluten-free
Cons
May cause allergic reactions
The Design Essentials Peppermint & Aloe Therapeutics Anti-Itch Shampoo contains zinc pyrithione, which controls flaking and relieves scalp itching and dryness. It restores hair moisture and keeps it healthy and nourished.
This shampoo is formulated with active ingredients that cleanse the hair and scalp thoroughly. Aloe vera and peppermint calms and soothes irritated and itchy scalp. This gentle formula also treats issues like dandruff and seborrheic dermatitis.
Pros
Treats dandruff
Nourishes the hair and scalp
Soothes the scalp
Controls flaking
Gentle formula
Long-lasting
Cons
The Desert Essence Tea Tree Replenishing Shampoo is a replenishing shampoo that cleanses hair and scalp effectively without stripping off the natural emollients. It restores moisture and the scalp's natural pH balance while adding shine and vigor to your hair.
It is formulated with Pure Australian Tea Tree Oil that deeply cleanses the scalp while retaining hair moisture. The soothing peppermint and eucalyptus oils stimulate the scalp, leaving the scalp and hair feel fresh and cool. The Yucca and Prickly Pear Cactus adds shine and reduces flaking, keeping the scalp smooth and healthy at all times. This shampoo is cruelty-free, gluten-free, and vegan without any artificial fragrances. This pH-balanced shampoo is suitable for all skin types.
Pros
Vegan
Cruelty-free
Gluten-free
No artificial fragrances
Suitable for all skin types
Non-greasy
Cons
Not suitable for color-treated hair
Why Trust Stylecraze?
Shiboli Chakraborti, the author of this post, is a hair care enthusiast who loves experimenting with different products. She has gone through numerous user ratings and reviews before coming up with this list of the best shampoos for folliculitis. Each of these shampoos is effective and safe. You can read through the features, pros, and cons of each of them to find a suitable one for your hair.
Frequently Asked Questions
Why do I keep getting folliculitis on my scalp?
You may keep getting folliculitis if your scalp is infected with harmful bacteria, fungi, parasites, or viruses. It can also happen frequently due to too many physical injuries.
How do you get rid of folliculitis fast?
Keep the area clean, apply soothing lotions, and protect the affected areas to get rid of folliculitis quickly.
How often should you wash your hair with a scalp folliculitis shampoo?
You can wash your hair twice daily with a scalp folliculitis shampoo. Make sure to keep your scalp and your tresses squeaky clean.
Is an anti-dandruff shampoo good for folliculitis?
Yes, a medicated anti-dandruff shampoo with ketoconazole and ciclopirox is good for folliculitis. For best results, use a shampoo specially designed to treat folliculitis.
Is tea tree oil good for folliculitis?
Yes, tea tree oil is great for people with recurring folliculitis. You can also use a mixture of tea tree oil with geranium oil, grapefruit seed oil, and neem oil for better results.
Who suffers from folliculitis the most?
There are no particular age groups that suffer from folliculitis the most. The condition can happen to anybody at any moment. However, people with low resistance power and immunity will likely catch the infection faster.
How long till results are visible after using a shampoo for folliculitis?
It can take a week or 10 days to witness visible results after using a folliculitis shampoo. However, it may also take longer, depending on the severity of the condition.
Recommended Articles