11 Best Sulfur Soaps Of 2023 For Healthier Skin, Nails, And Hair
Cleanse away the impurities and fill your skin with detoxifying properties of this potent ingredient.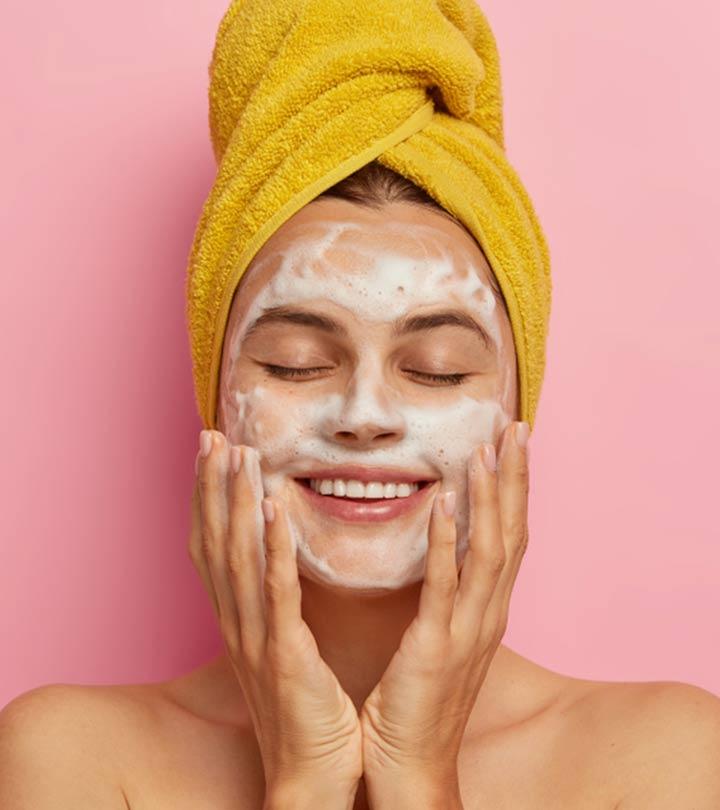 Sulfur is often excluded from skin care products due to its peculiar smell. Thankfully, soaps made of sulfur don't smell bad. Some of the best sulfur soaps may help clear acne and treat other skin issues like eczema, psoriasis, rosacea, and dandruff. Keep reading to know why using sulfur soaps on your skin is beneficial.
Because of its medicinal benefits, sulfur may be suggested as a topical treatment for acne and other skin breakouts. It has anti-inflammatory, astringent, detoxifying, and disinfectant properties that may make your skin clear. In addition, it has antifungal, antibacterial, and keratolytic properties that prevent fungal diseases like ringworm infections. Sulfur soaps can also be used on the hair and nails to prevent microorganisms from causing infections. The best part is that these soaps are much gentler on the skin than most skin cleansing products. So, even people with sensitive skin can try it. Intrigued by these breakout-clearing soaps? Scroll down and check out our list of the 11 best effective sulfur soaps. Pick your favorite and keep your skin healthy, clean, and happy.
11 Best Sulfur Soaps Of 2023 To Go The Healthier Way
Are you looking for a soap that addresses multiple skin concerns at the same time? Then try out the Naturasil Multi-Purpose Sulfur-Lavender Soap. This soap is made of 10% micronized volcanic sulfur and pure lavender oil that can treat a number of skin ailments like acne, human mites, psoriasis, tinea versicolor, onychomycosis, candida, and bug bites. While using, let the soap sit on your skin for a few minutes before rinsing it off.
Pros
No sodium lauryl sulfate
No EDTA
Paraben-free
Phthalate-free
Silicone-free
FDA-registered
Cons
Not suitable for extremely sensitive skin
Price at the time of publication: $15.95
If skin maladies have been the bane of your life, do try out this fragrance-free sulfur soap that has 10% sulfur as its active ingredient. It also contains ingredients like saponified palm and palm kernel oils, glycerin, and salicylic acid. This advanced sulfur wash is ideal for treating acne, body odor, dermatitis, itchy skin, skin mites, rosacea, eczema, demodex mites, and psoriasis. This sulfur soap has a fresh, natural scent and can be a great cure for skin problems.
Pros
10% sulfur
Versatile
Contains salicylic acid
No added fragrance
Cons
Does not help with scabies
Price at the time of publication: $6.99
Craving for flawless skin? This micronized volcanic sulfur soap is a palm kernel and coconut oil based homeopathic soap with 100% pure lavender oil. This medicated soap assists in the treatment of common fungal infections like tinea versicolor, healing your fungal infection from the outside and penetrating deeply to kill the fungus on contact. It is hand crafted and made in small batches to ensure top quality. It doesn't just relieve symptoms of tinea versicolor but also of candida and onychomycosis. This sulfur soap is specially formulated to help your body fight fungal infections from the inside. 
Pros
Cruelty-free
100% natural
Paraben-free
No sulfates
Fragrance-free
FDA-registered
Cons
May not be suitable for extremely sensitive skin
Price at the time of publication: $16.95
The properties of sulfur and salicylic acid in treating skin problems have been known since ancient Greek times. This medicated sulfur soap has 10% sulfur and 3% salicylic acid and is especially formulated for those with problem skin, like acne and dandruff. The soap is safe for use by both adults and children and is good for all skin types. The best part of this soap is that it has an added soy-derived natural odor eliminator to help control the sulfur smell to a certain extent.
Pros
Cruelty-free
Fragrance-free
No artificial color
Soy-derived natural odor control
Cons
May cause dryness of the skin
Price at the time of publication: $8.24
Show your best face to the world with azufre sulfur soap which contains lanolin for acne treatment. The antiseptic, antifungal, and antibacterial properties of the soap work to remove built-up oils and grime. It has a deep cleaning effect, regulates and controls the excessive production of sebum, and prevents the appearance of pimples and blackheads. Lanolin also helps to visibly improve any scars left by acne, and has long been used in the skin care industry as an effective emollient to lock in much-needed moisture. The 10% sulfur in this soap helps with acne because of its inorganic and keratolytic elements that help to kill bacteria and slough away the dead outer layer of skin to leave you with clean and radiant skin.
Pros
Contains 10% sulfur
Contains lanolin
Removes acne scars
Suitable for all skin types
Cons
Price at the time of publication: $8.29
If you have been using makeup to cover your imperfect skin, worry no more! This topical antibacterial cleansing bar helps to treat and manage skin blemishes and other skin conditions that are related to clogged pores and oily skin. This acne sulfur soap deeply cleans and removes dirt, oil, and other impurities from your pores without stripping the skin of its essential oils. It sloughs away dead cells and cleanses clogged, dirty pores, leaving your skin clean and fresh-looking. This soap contains 3% sulfur that leaves your skin feeling good and looking fresh. It's suitable as a daily skin cleanser for adults and children, and is gentle enough for all skin types, especially oily skin. Get ready to face the world with clear skin with this sulfur soap.
Pros
Reduces oiliness of skin
Suitable for adults and children
Dermatologist-recommended
Suitable for all skin types
Cons
The sulfur content may not be high enough for some.
Price at the time of publication: $11.99
Tired of acne and pimples? This natural sulfur soap is especially formulated to cleanse oily skin and help unclog pores while giving out a rich, hydrating lather. Sulfur has natural anti-inflammatory and antibacterial properties which helps clear bacteria from the pores that would otherwise lead to acne. It also helps to reduce the production of sebum, which leads to oiliness, and is a great alternative to harsher chemical ingredients found in most acne treatment products. It also contains aloe vera to help soothe any skin irritation, as well as sustainably sourced palm oil. Although intended primarily for oily skin, this sulfur soap can be used on any type of skin. 
Pros
Cruelty-free
Paraben-free
100% vegetable base
Sustainably sourced palm oil
Cons
Price at the time of publication: $6.49
Does the smell of sulfur put you off? This lavender-smelling 10% micronized natural sulfur soap is palm kernel and coconut oil based with pure lavender essential oils to promote fast healing of skin problems. It also contains safflower oil, kosher glycerine, and purified water. Sorbitol is a good moisturizer, sorbitan oleate an emulsifier, soybean protein a conditioner, and titanium dioxide is a natural mineral whitener. It's easy to use, penetrates the skin quickly, and has a mild smell. So, at least you don't have to worry about the off-putting smell of sulfur. 
Pros
Mild smell
10% micronized sulfur
Paraben-free
Sulfate-free
No added fragrance
Cons
May not be suitable for extremely sensitive skin
Price at the time of publication: $72.95
Have you been battling oily, acne-prone skin for the better part of your life? One of the best sulfur soaps, this comes in a pack of 2 and controls excess oiliness of the skin and deeply cleans and exfoliates your skin without overdrying it. This acne bar soap is oil-free and contains 2% salicylic acid which makes it great for treating pimples, blackheads, whiteheads, hormonal acne bumps, and ingrown hair. Its hydro-force formula enriched with sulfur allows the skin to heal and recover with its deep cleansing action. This might just be the end of your skin woes! 
Pros
Hydro-force formula
2% salicylic acid
Oil-free
Gently exfoliates skin
Cons
May not be suitable for extremely dry skin
Price at the time of publication: $14.99
Your search for the perfect soap may just have come to an end. This medicated zinc oxide sulfur soap helps relieve skin problems while keeping your skin healthy. It's the ideal treatment for common skin problems like acne, lice, and scabies. This product is available in a pack of 4 soap bars of 80 gms each, with 2 grams of sulfur and 750 mg of zinc oxide in each soap. This alcohol-free soap also contains glycerin which protects the barrier of your skin, and zinc oxide which provides protection from sun damage. It's safe for daily use by both adults and children of at least 3 years of age. It helps dry pimples and prevents acne, blackheads, dermatitis, scabies, eczema, lice, dandruff, crusty scales, sores, and also helps relieve itchy skin. Why not try it out?
Pros
Alcohol-free
Fast-acting
Contains zinc oxide
Helps remediate skin irritation
Cons
Some may find the smell overbearing
Price at the time of publication: $16.34
If you have been struggling with skin ailments like acne and rosacea, this natural volcanic sulfur soap  is great for the treatment of skin maladies and is formulated and developed by dermatologists as a natural alternative to salicylic acid or benzoyl peroxide. This natural antiseptic, antibacterial, and anti-fungal soap is recommended for the treatment of acne, clogged pores, blackheads, whiteheads, dermatitis, and blemishes. This soap removes dirt and oil buildup to give your skin a healthy complexion and lower the chances of future breakouts. 
Pros
Cruelty-free
Contains volcanic sulfur
Suitable for oily to normal skin
Formulated by dermatologists
Cons
Smell might seep into towels and clothes
Price at the time of publication: $35.97
Now that you have been through our review of the 11 best sulfur soaps, let us give you a few tips on what to look for while choosing a sulfur soap for yourself, so that you can derive the maximum benefit from it.
How To Choose A Sulfur Soap? 
Sulfur soaps are now available in combination with sodium sulfacetamide which makes them gentler on the skin and less stinky in general. Salicylic acid helps clear blocked pores and reduces swelling and inflammation. To keep your skin hydrated, look for sulfur soaps that contain emollients or humectants which hold moisture in your skin, or exfoliants like AHAs to smooth rough areas.
Make sure that your sulfur soap does not contain ingredients that dry out your skin like retinoids and benzoyl peroxide to prevent the skin from becoming inflamed or too dry. Also avoid ingredients like abrasives, alcohol, resorcinol, and tretinoin as they can cause severe irritation to the skin.
Now that you know what to look for while choosing a good sulfur soap for yourself, it is important to know the benefits of this soap and how it can help you with various skin ailments like acne, eczema, and psoriasis to name a few. 
Benefits Of Sulfur Soap 
Sulfur soap reduces the sebum production and stops the spread of microorganisms. This greatly reduces the appearance of pimples and also gets rid of those already there. When sulfur soap is applied to blemishes, it dries out the skin so it can then be sloughed away.
Sulfur exfoliates dead skin and removes impurities. It has a keratolytic effect which helps remove dead skin cells and prevent clogging of pores.
All the chemical and heat treatments we use on our hair can cause irritation to the scalp and increase oiliness. Sometimes we may even infect our scalp by scratching it. Sulfur soap applied once a week will get rid of residue and keep your scalp clean and healthy.
Our nails are packed with all kinds of germs because our hands are in constant contact with various surfaces. This often leads to a fungal infection under the nails. Washing your hands and feet with sulfur soap thrice a week can restore the health of your nails.
Sulfur is anti-inflammatory and helps to soften and exfoliate thick, dead skin, which treats skin ailments like acne, psoriasis, dandruff, eczema, rosacea, and seborrheic dermatitis or dandruff.
Folliculitis and furunculosis are infections that can come up between the sebaceous glands and the hair. This causes irritation in the affected area which may result in a boil. To prevent the infection from progressing, it is very beneficial to wash the area with sulfur soap.
Residual makeup can cause blackheads and pimples and washing your face once a day with sulfur soap will clean the pores, remove impurities, and reduce the chances of any infection.
Why Trust StyleCraze?
Vaishnavi Kothuri, the author of this post, is passionate about skin care and finding products that improve your skin health. In this article, she discusses the best sulfur soaps that help manage skin conditions with antimicrobial properties. She recommends each of these products after conducting intense research and studying many reviews over various forums. The products have merits such as approved sulfur concentrations, absence of harsh elements, skin care benefits, and more.
Frequently Asked Questions
Is sulfur soap good for the face?
When you wash your face in the morning with sulfur soap, your day starts with less oil, and when you wash your face with sulfur soap at night, your pores will be clear at night. In case you have sensitive skin, you can use it once a day and gradually move up to twice a day.
Can I use sulfur soap everyday?
However oily your skin might be, do not exceed using the soap more than 2 times a day as this can potentially cause more acne. If you use sulfur soap 2 times a day on sensitive skin, it can get irritated, and it's best to use it once a day.
Can I use sulfur soap while pregnant?
No, it's not recommended to use sulfur soaps when pregnant. To maintain clear, acne-free skin without medications during pregnancy, it's best to wash your skin with a gentle and mild soap or see a skin specialist.
Can sulfur soap remove acne scars?
Sulfur dries up and removes dead skin cells, so in theory, it can reduce acne scars too. But, sulfur soaps shouldn't be your first line of treatment, instead you should try a product specifically formulated for lightening blemishes and acne scars.
Can sulfur soap remove dark spots?
While sulfur soaps cannot completely remove dark spots, they can reduce hyperpigmentation, clear dead skin cells, and encourage skin cell turnover.
Is sulfur soap good for sensitive skin?
Yes, sulfur soap is good for sensitive skin. Sulfur has antimicrobial properties that can reduce allergies and itching.
Does sulfur soap kill scabies?
Yes, a sulfur soap can kill scabies if you clean your skin with the soap for two to three consecutive days. However, it is always recommended to contact your doctor before adding anything new to your skincare routine.
When should I stop using sulfur soap?
Stop using sulfur soap if the formula makes your skin itch. Check whether the soap is offering you visible results within one to eight weeks. If not, you can switch to something else.
How often should I use sulfur soap?
You can use sulfur soap one to three times a day, depending on your requirements. Apply the soap on wet skin and lather it well before rinsing it off.
How long does it take for sulfur soap to work?
It usually takes one to eight weeks for sulfur soap to work. It may also take up to three months to show satisfactory results depending on your skin type and conditions.
Does sulfur soap have side effects?
Yes, some side effects of sulfur soap on sensitive skin include mild burning, tingling, itching, and redness.
Recommended Articles