13 Best Products For 3B Hair Type – Reviews And Hair Care Guide
These gentle and effective products meet your 3B hair requirements like no other.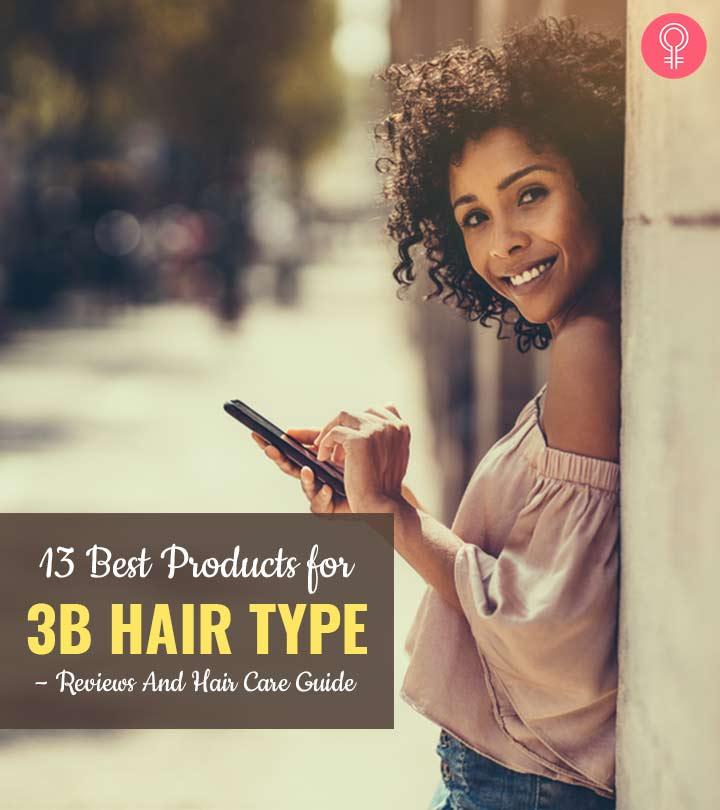 3B hair is a combination of corkscrews and waves. If you are struggling to manage this type of hair shape and texture, you have come to the right place. To help you maintain your hair most effectively, we have listed the best products for 3B curly hair. As this hair texture is coarse, it demands the right products to eliminate frizz and add definition to your curls. "I love products that contain coconut and shea butter for naturally curly hair. They literally soak in the moisture helping the hair be as frizz-free as possible. Curly hair gets so dry so quickly and adding these really do help to get the perfect natural curl," says Laura Courtie, a professional Hair Stylist with 19 years of experience. Refer to our list to find the best products for yourself. Read on.
13 Best 3B Hair Products Of 2023
Product Type: Hair Spray
For glossy, bouncy, and well-defined waves, try the Color Wow Dream Coat, specially formulated for curly hair. This one-and-done spray solution for frizz-free, crunch-free curls is a weightless, non-frying, and non-sticky formula. In addition, the formula gives you the combined benefits of a gel, serum, and styling cream without weighing down your curls or making them greasy. You can use this styling cream on wet, damp, and day-old curls. The curls will look effortlessly volumized, glossy, healthy, and well-maintained. This product is also not tested on animals, making for an ethical choice.
Pros
Non-drying
Anti-frizz
Easy to use
Crunch-free
Non-sticky
Provides heat protection
Sulfate-free
Alcohol-free
Paraben-free
Gluten-free
Cruelty-free
Vegan
Cons
Takes a lot of time to dry
Price at the time of publication: $24.0
Product Type: Styling Milk
This styling milk is one of the best styling products for 3b curly hair as it contains natural hair nourishing and moisturizing ingredients such as Shea butter, Coconut Oil, Neem Oil, and Carrot Seed Oil. The ingredients help to condition your natural curls and give it a healthy shine. After applying this multitasking coconut styling cream, style your hair with curlers or curling irons to get a good hold for the day. This styling milk helps to define your natural curls, and keep them bouncy without that heavy feeling. It also keeps them soft and frizz-free. Check out this review video on YouTube to explore a tester's experience with the product.
Pros
Cruelty-free
Contains ethically traded ingredients
Detangles the hair
Certified organic ingredients
Paraben-free
Sulfate-free
Cons
May feel a bit greasy on thin hair.
Price at the time of publication: $8.69
Product Type: Hair Cream
If your hair is tough to tame, you definitely need this curl cream that contains mega-moisture boosting humectants. It contains nourishing ingredients like shea butter, olive oil, and soybean oil that keep your curls hydrated and define the spirals and coils. It also helps to hold your style for longer. If you want to know more about the benefits of this product, check out this quick review on YouTube.
Pros
No flaking
Sulfate-free
Paraben-free
Mineral oil-free
Petrolatum-free
Improves curl definition
Good for both 3A and 3B hair types
Makes hair manageable
Pleasant fragrance
Cons
May not blend well with other styling products.
Price at the time of publication: $6.99
Product Type: Hair Conditioner 
This is a creamy conditioner enriched with nourishing ingredients like coconut oil, papaya butter, and plumeria extract. This rich, creamy formula helps detangle your hair, defrizz and define your curls, and improve the manageability of your hair. It also enhances the softness of your curls and makes them shiny and bouncy.
Pros
Prevents frizz
Non-greasy
Keeps hair moisturized for long
Pleasant smell
Enhances your curl retention
Doesn't feel heavy on the hair
Cons
Contains urea
May not provide all-day hold.
Price at the time of publication: $7.09
Product Type: Leave-in Conditioner
This leave-in conditioning repair cream is great for natural, colored, permed, and chemically treated hair. This is an intensive deep penetrating conditioning treatment that contains pure shea butter and other natural oils. It helps nourish your hair, prevent breakage, repair damage and split ends, and make it shiny and manageable with every application. Additionally, the leave-in conditioner is not tested on animals. For the best results, cover your hair with a plastic cap overnight after application.
Pros
Provides deep conditioning
Prevents frizz
Keeps brittle and coarse hair smooth
Non-greasy
Doesn't weigh the hair down
Reduces hair breakage
Cons
May not mix well with other products, especially oils (turns flaky).
Price at the time of publication: $6.48
Product Type: Shampoo
If your shampoo is making your hair frizzy and dry, it's time to switch to a sulfate-free alternative. The Design Essentials Natural Almond & Avocado Moisturizing & Detangling Shampoo cleans your hair and scalp without stripping the natural oils, helps control frizz, and offers intense moisturization. It has a gentle formula with cold-pressed sweet almond oil and avocado extracts and other natural ingredients that detangle your hair, soften it and keep it hydrated.
Pros
Paraben-free
Paraffin-free
Petrolatum-free
Mineral oil-free
Sulfate-free
Moisturizing
Detangles the hair
Reduces frizz
Cons
May feel a bit heavy on fine hair.
Price at the time of publication: $11.99
Product Type: Curl Enhancing Gel
This is an aloe vera-based curl enhancing gel that claims to define your curls, enhancing their appearance, and improving their manageability. It is also good for taming frizz and achieving smooth hair. It contains organic aloe vera that is a good moisturizing agent and agave nectar that helps nourish your scalp and keep it healthy. It also contains vitamin E, marshmallow and chamomile extracts, and citric acid.
Pros
Defines curls and coils
Provides lasting hold
No flaking
Refreshing
Moisturizes hair
Makes hair shiny
Cons
Price at the time of publication: $24.17
Product Type: Hair Gel 
The TRESemmé Bouncy Curls Defining Gel has a humidity-resistant formula that helps transform your frizzy hair into soft, well-defined, and bouncy curls. It contains keratin amino acids that make your curls look healthy and provide lasting frizz control. This professional-grade hair gel gives you a moveable hold without any crunchiness and makes your hair appear shiny. It is alcohol-free, so it will not dry your hair.
Pros
Makes hair silky
Provides long-lasting hold with flexibility in movement
Keeps frizz at bay
Humidity protection
Doesn't make hair crunchy
Pleasant fragrance
Travel-friendly
Alcohol-free
Cons
Packaging issues
Contains silicone
Price at the time of publication: $26.22
Product Type: Leave-in Conditioner
This leave-in conditioner is perfect for dry, damaged, and colored hair. It contains a blend of avocado and golden olive oil, two of the most hydrating and hair-nourishing ingredients. It is formulated with Dual Moisture Complex that replenishes lifeless, brittle, and dull hair and makes. It helps revive parched hair, improve their elasticity and resilience even if you style it regularly.
Pros
Paraben-free
Cruelty-free
100% color safe
USDA certified organic ingredients
Salon-quality results
Softens hair
Reduces plopping
Prevents frizz
Cons
Strong and artificial fragrance
Not an effective detangler
Price at the time of publication: $8.99
Product Type: Shampoo, Conditioner, Styler
Give your hair a complete TLC with the LUS Love Ur Curls 3-Step System with shampoo, conditioner, and a curly, all-in-one styler. This potent, dermatologist-tested combo gives your curls a gentle cleanse and ultra hydration and detangling effects. All three products are packed with vitamins, amino acids, minerals, and proteins that glorify your curls. While the shampoo thoroughly cleanses the hair, the conditioner detangles your hair and leaves your curls bouncy and soft. Lastly, the all-in-one curl styler is a non-crunch and non-sticky formula that repairs, defines, and hydrates your curls; all in one go! Investing in this 3-Step System will only give you touchable, bouncy, and well-defined curls, waves, spirals, kinks, and coils.
Pros
No crunch formula
Non-sticky formula
Hypoallergenic
Non-irritating
Paraben-free
Silicone-free
Mineral oil-free
Sulfate-free
Phthalate-free
Gluten-free
DEA-free
No synthetic dyes
Dermatologically tested
Vegan
Cruelty-free
Cons
Price at the time of publication: $55
Product Type: Leave-in Conditioner
This is a leave-in conditioner meant for curly and dry hair. It helps to moisturize your hair with extremely hydrating ingredients like Moroccan argan oil and shea butter. This is a nourishing and extremely lightweight formula for dehydrated and frizzy curls. It keeps your hair manageable and soft and adds shine and bounce to it. This is a well-loved product that has garnered multiple positive reviews for its effectiveness in managing curly hair.
Pros
Sulfate-free
Mineral oil-free
Petrolatum-free
Soothing fragrance
Keeps hair moisturized for long
Cons
Contains PEG
Contains artificial colorant
Thicker consistency makes it difficult to dispense.
Price at the time of publication: $7.52
Product Type: Hair Mask
This intensely moisturizing hair mask is infused with Protein Complex that provides 24-hour moisture. It contains glycerine that rehydrates your dry hair and binds moisture within the strands. The rich formula deeply penetrates the hair and gives it a natural reflective shine. It doesn't weigh your hair down but helps to retain its natural movement and leaves your hair nourished and protected.
Pros
Contains 100% pure elastin protein
Makes hair soft and smooth
Makes hair look healthy
Prevents scrunching
Provides protein treatment
Defines curls
Works on colored hair
Cons
Contains silicone
Contains PEG
Price at the time of publication: $35.99
Product Type: Hair Butter
This is a lightweight moisturizing butter. It has a rich formula infused with a blend of argan, shea, and cocoa butters. These butters work together to soften rough and unruly hair and make it soft. This product helps to keep the hair moisturized and improves manageability. It is suitable for all curl types. So add this product to your basket to improve your 3b curly hair routine instantly.
Pros
Paraben-free
Sulfate-free
Mineral oil-free
Petrolatum-free
Suitable for transitioning hair
Cons
May flake if a little too much of the product is used.
Price at the time of publication: $9.68
If you have type 3B hair, it means you have voluminous hair that can be dense and coarse. Since your hair has a lot more body, it can easily get dull and dry. Here are a few tips for caring for type 3B natural hair.
Hair Care Guide For 3B Hair Type
1. Shampoo Once A Week
If necessary, get a co-wash in the middle of the week to skip shampooing days. Washing and conditioning regularly can dry your hair easily.
2. Pick A Light Hair Oil
A light and nourishing hair oil can help seal the moisture in and keep your curls protected, nourished, and healthy.
3. Use Your Fingers To Detangle
Skip a wide-toothed comb and use only your fingers to detangle your tresses. Remember to always do it on wet hair.
4. Check Your Hair Porosity Level
Pay attention to the porosity level of your hair. For instance, for your hair, you can either use a leave-in conditioner with a light gel or apply hair cream and layer it with a hair mousse. See which hair care routine is ideal for your porosity level and stick to it.
5. Keep Your Hands Away
Do it until your hair dries completely. Your curls look best right after a shower and after you have applied all hair care products. While it becomes tough to keep frizz at bay throughout the day, not touching your hair quite often can help a lot.
Why Trust StyleCraze?
Oyendrila Kanjilal, the author of this article, is a hair care enthusiast who loves to experiment with various hair care products. However, she believes that the 3B curl type needs special attention and care. So, she browsed through a wide range of hair care products and analyzed the reviews to provide her readers with the curated list of best products for 3b curly hair. These hair care products make the hair smooth and keep the curls well-defined and bouncy.
Frequently Asked Questions
Is it bad to brush wet curly hair?
No. In fact, it is best to brush curly hair when it is wet. Dry curly hair is extremely brittle, and brushing after drying can cause hair breakage.
Is it okay to wet curly hair every day?
Washing curly hair with shampoo every day can strip its natural oils. However, you can definitely get it. Try using a cleansing conditioner to remove dirt and impurities when you wet your hair.
What is Type 3B curly hair?
Type 3B curly hair refers to hair that looks like a collection of bouncy or small ringlets.
Do I have 3B or 3C curls?
You can identify your hair type by understanding its circumference. Here's what you can do, take a permanent marker and try to fit it through your curls. If it fits easily without expanding the circumference, then you have type 3B curls. And if the same happens with a pencil instead, your curls are probably even smaller and you have type 3C curls.
What can I use for 3B hair?
The most highly recommended product for 3B hair would be a deep conditioner. It is the best way to groom your curls by preventing frizz breakage, or dryness.
Is 3B curly hair coarse?
Yes. 3B hair type does tend to have a coarse texture which may lead to frizz or dryness. To keep your 3B type hair well-groomed, voluminous, and shiny, you must opt for a suitable conditioner and serum.
Is 3B hair Afro-type?
3B hair type is actually loose compared to the curl density of Afro hair. The ringlets have a bigger circumference and are less coarse.
Recommended Articles