Eliminate Blackheads With The 11 Best Ultrasonic Skin Scrubbers Of 2023 (With Reviews!)
Exfoliate your skin and enjoy youthful radiant using the best ultrasonic skin care tool.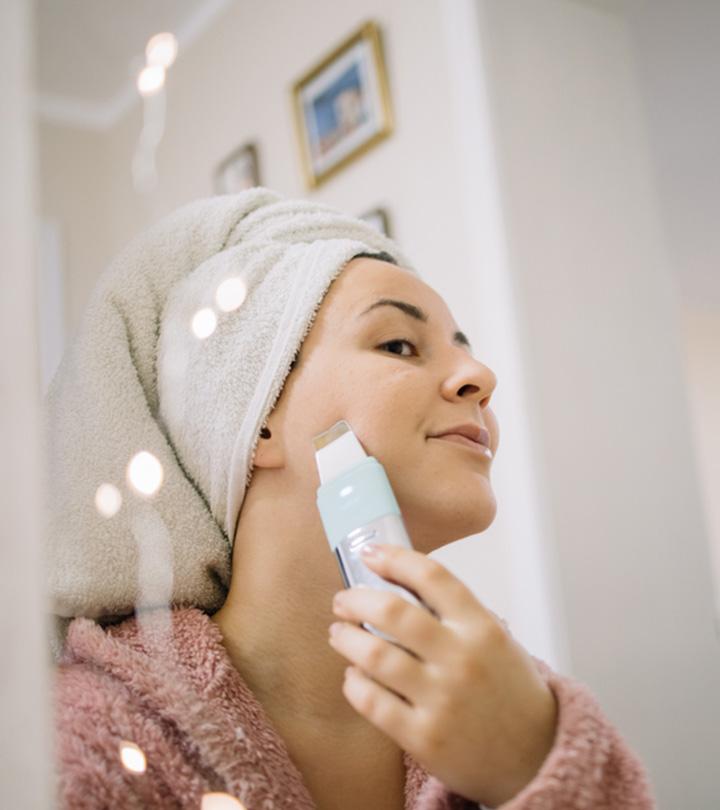 Do you often feel your skin's natural glow is disturbed by blackheads, acne, clogged pores, and dead skin cells? Well, using the best ultrasonic skin scrubber can be a one-stop solution for all your skin problems. These products are gaining popularity as a must-have skin care device in many skin care regimes. They are giving visible results. The ultrasonic sound waves micro-vibration technology, and high-frequency vibrations can effectively handle all skin issues and boost radiance. They improve skin texture, leaving a smoothening effect on the skin and combat the action of harmful free radicals. Thus, they give the skin an even look similar to a professional skin treatment. You do not have to compromise on your hygiene when you use this device. These advanced cleaning tools are available in many variants, and here in this article, we have listed out 11 ultrasonic skin scrubbers which can make your choice easy. Scroll down and have a look and select the one which best suits your skin type.
Top 11 Best Ultrasonic Skin Scrubbers To Fight Blackheads! (With Buying Guide)
Deep cleansing and skin detoxification just got easy! This ultrasonic deep skin scrubber ensures deep exfoliating treatment and nutrient absorption with its 24k high-frequency vibration. Leaving your skin firmer, clearer, and shinier with its water-based exfoliation technology, the device has 4 built-in modes to meet all your skin-cleansing needs. The cleansing mode ensures deep pore exfoliation.  The results-driven cleanser boosts collagen and skin regeneration, whereas the lon+ and lon- features eliminate grease and dead skin cells to stimulate nutrient absorption. Want more? It is travel-friendly as well, with a USB cable and built-in charging sockets. Give it a try! Watch the video for the tester's experience to know more about the GUGUG Skin Scrubber.
Pros
Cruelty-free product
Professional-grade formula
100% stainless steel spatula
Brightens and tightens skin
Includes two silicone bristles for easy cleaning and lifting
Safe, lightweight, and easy-to-use
Suitable for dry, normal, and oily skin
Cons
Not suitable for sensitive skin
Price at the time of publication: $22.99
The Bio-Therapeutic bt-Micro Fusion Ultrasonic Skin Perfecting Tool offers all essential skincare benefits- exfoliation, cleansing, and extraction. It has 3 modes- the 'exfoliation mode' helps you remove dirt and build-up from the pores while the 'clear mode' removes blackheads and dead skin cells by loosening skin oils. The 'apply mode' encourages product absorption, so you get the best of all your skincare products. The tools offer 30000 Hz of ultrasonic vibrations to clean, extract and smoothen the skin. It features a medical-grade stainless steel applicator that lasts a long time. The handle is ergonomically designed and is built with a durable and IP35 water-resistant alloy construction. The device comes with rechargeable batteries with a magnetic charging port, a charging cable, and a storage stand. Additionally, you also get an ion-infused silicon case, an adapter, a device stand, a protective sleeve, and an applicator cover with this scrubber.
Pros
Water-resistant
Ergonomic handle
Stainless steel applicator
Value for money
Rechargeable
Silver ion silicon case and applicator cover
Comes with an adapter and stand
Cons
Price at the time of publication: $195
The Grace and Stella Ultrasonic Skin Spatula uses the scraping technique combined with high frequencies to clean and replenish your skin. It has a flat stainless steel head which does not irritate your skin. It is engineered with vibration technology at 24000 Hz that exfoliates your skin intensely and promotes blood circulation. The scrapper pulls out gunk and impurities from your pores, detoxifying the skin from within. The tool removes blackheads and dead skin cells and helps you achieve an even skin tone. It promotes the skin renewal process, improves skin elasticity, and eliminates aging signs.
Pros
Easy to use
Non-irritating
Reduces fine lines and wrinkles
Improved skin absorption
High-frequency
Cons
Price at the time of publication: $32.99
The Xawy& Skin Scrubber & Blackhead Remover is known for its deep cleansing abilities at high-frequency vibration of 28000Hz. The package also contains a spatula made of stainless steel that has a rounded 'r' angle to clean around your nose. Travel-friendly and safe, this results-driven product from Xawy& comes with a USB data cable for fast charging. Its adjustable modes can also give a good massage to your face while you use the device for cleaning your pores.
Pros
Easy to use
Stainless steel spatula
Reduces blackheads and dark spots
Eliminates dead skin cells
Suitable for sensitive skin
Cons
Beginners may need supervision
Price at the time of publication: $14.39
The Lesenbeauty Face scrubber is the definition of skincare on the go! This mini-size wireless facial scrubber is made of ABS material and it has a streamlined design that is easy to grip. It features sharp blades made with stainless steel that pulls out blackheads and other impurities from your pores without irritating your skin. This ergonomic tool has a water spray function that prevents skin moisture loss. It is a perfect gift for the skincare enthusiasts in your life. The device is waterproof and can be easily charged anywhere by simply placing it on the base. It works amazingly well with liquid skincare products. The product comes with a charging base, a bottle, a USB cable, and a user manual.
Pros
Easy to operate
Ergonomic design
Easy charging facility
Waterproof
Comes with a protective cap
Cons
Price at the time of publication: $57
Do you step out frequently during work? If yes, then this gentle exfoliator is a must-try for you! Eliminating all the gunk build-up on the skin due to pollution, this high-frequency vibration scrubber also removes whiteheads, dead skin cells, and acne-causing bacteria. And that's not all! After cleansing, the nutrition mode ensures your skin gets all the nutrients it needs to stay supple and glowing. And as for the aging signs? Consider it taken care of by the EMS (lifting) mode! Go on, give this compact and lightweight ultrasonic skin scrubber a try already.
Pros
Reduces wrinkles
Multifunctional mode
Boosts collagen and skin's metabolism
Gentle and safe on skin
Moisturizes and lifts the skin
Durable
Portable
Rechargeable
Cons
Price at the time of publication: $19.99
Are blackheads ruining your dates and special occasions? Take control with this premium ultrasonic skin scrubber with not 4 but 5 functional modes! Designed with an LCD screen display, the product also has a spatula which is made of 100% stainless steel and is skin-friendly too. Now, whether you want a skin smoothing, deep clean with general vibration, intense clean, a facial massage for improved skin absorption, or uplift the skin, this device can be your go-to for all your skin needs. Yep, all you have to do is switch it on and enjoy a salon-worthy experience with every use. Try it!
Pros
Suitable for all skin types
Improves elasticity and complexion
Ensures soft, smooth, and tight skin
Eliminates acne, whiteheads, comedones, grease, and more
Gentle, safe, and easy-to-use
Durable, portable, and rechargeable
Ideal for deep facial cleansing and moisturizing
Cons
Price at the time of publication: $24.99
With 5 functional modes, LED display screen, and a built-in automatic timer, this ultrasonic facial spatula cannot get more convenient than this! The heat functions added to the cleansing, lon+, and lon- features, increase nutrient absorption and eliminate the need for steaming before using the device. If you have sensitive skin, then you will love this device even more because it turns off automatically after 5 minutes. It tightens the skin by eliminating wrinkles and enhancing skin elasticity, giving you a youthful appearance.
Pros
Suitable for all skin types
Increases nutrient absorption
Improves elasticity and complexion
Tightens pores and reduces wrinkles
Eliminates blackheads, dead skin cells, comedones, and whiteheads
Rechargeable
Portable
Travel-friendly
Cons
Beginners may require assistance or practice
Price at the time of publication: $24.99
The Voyor Facial Scrubber uses advanced technology that breaks down dirt with high-frequency vibrations and uses water molecules to extract dirt and impurities. It is powered by ionic technology for cleansing, exfoliating, and controlling oil and blackheads. It features a unique U-shaped stainless steel anti-allergic blade that is perfect for multi-angle use and produces micro vibrations for facial massage. The results-driven scrubber improves skin elasticity, lifts the skin, and encourages better skin care product absorption. This cordless device comes with 3 adjustable modes, has an auto-turn-off protective feature, and an in-built timer. It is easy to operate with just one switch mechanism and is travel friendly.
Pros
Easy to operate
Lightweight
U-Shaped Anti-allergic blade
3 adjustable modes
Auto turn-off mechanism
Cordless
Rechargeable
Portable
Cons:
Price at the time of publication: $29.99
The Dermaflash Dermapore Ultrasonic 2-in-1 Pore Extractor is a water-resistant tool with a silicon body that is comfortable to use and durable. It has a rounded stainless steel blade that offers precision for pore extraction and enhances the skin's absorbance power. It imparts ultrasonic vibrations to your skin to unclog your pores and exfoliate build-ups and blackheads. The clinically-backed skincare extractor also increases the blood circulation of your face and restores its youthful glow. The scrubber comes with a protective cap, a stand, and a USB charging cord. It is comfortable to use on all skin types and ages.
Pros
Suitable for all skin types and ages
Water-resistant silicon body
Durable
Device stand
Protective cap
USB charging cord
Cruelty-free
Cons
What makes this multifunctional ultrasonic skin scrubber unique? Many things! It has an aluminum alloy sleek body topped with a stainless-steel spatula, making it ideal for those looking for a travel-friendly and compact device. Besides this, its cleansing mode has a heat function up to 42 ̊C, so you can enjoy effective cleansing while exfoliating stubborn clogged pores. Other than this, it has an LCD screen to keep a tab on the mode and battery level, and it auto-shuts off after 8 minutes, so you don't end up over-scrubbing! Worth a try, we think.
Pros
Increases nutrient absorption
Boosts moisture levels and collagen
Produces 24k high-frequency vibrations
Reduces fine lines, sagging skin, and wrinkles
Eliminates dead skin cells, blackheads, acne, and more
The device comes with 2 silicone brushes for intense cleansing.
Cons
Price at the time of publication: $15.99
Don't let blackheads, whiteheads, and comedones take over your skin! There you go, those were the 11 best ultrasonic skin scrubbers of 2023 for you. Do you still need assistance with buying the right ultrasonic skin scrubber? Or do you wonder how to use one? Check out the buying guide below for our tips!
Buying Guide
How to Choose the Right Ultrasonic Skin Scrubber?
Look out for the following features in the product before buying:
Spatula Design: Pick a spatula made of 100% stainless steel and is designed to reach every area on your face painlessly and effortlessly. Check out the online reviews from various testers' experiences and see how 100% stainless steel is beneficial.
Cleansing intensity: Skin scrubbers offer mild exfoliation, intense exfoliation, or both in one device. So, inspect before buying to avoid ending up with an unsuitable one.
Functional Modes: Look out for the functional modes and pick the one that offers deep cleansing, lon+, lon-, and EMS (lifting) modes for the best experience. Also, there are skin scrubbers with a heat function if you are dealing with stubborn clogged pores.
Convenient charging: Though most skin scrubbers are portable and rechargeable, some devices are available with wireless charging docks or rechargeable batteries if you are looking for a hassle-free option.
Auto shut-off feature: Lastly, opt for a device with an auto shut-off feature; so you don't end up over-scrubbing your skin.
How to Use an Ultrasonic Skin Scrubber?
It's simple! And here are some steps you can follow:
Since damp skin is ideal for this process, you can either take steam for up to 10 minutes or splash water on your skin.
Next, switch on the cleansing mode and gently move the spatula on the skin starting from the jawline area.
Do not stroke an area more than 2-3 times to prevent damage. Also, concentrate on the nose, chin, and forehead areas as they are more prone to bacteria build-ups.
Lastly, apply a non-comedogenic serum or lotion after skin toning to nourish and tighten the pores.
However, for moisturizing or skin hydration only, apply a serum or lotion of your choice and stroke the areas 2-3 times gently for effective absorption.
What Are the Benefits of Ultrasonic Skin Scrubber?
For those who have never used an ultrasonic skin scrubber before, here are some benefits for you:
Cleanses intensely
Exfoliates dead skin cells
Boosts collagen and metabolism
Improves complexion and elasticity
Stimulates skin regeneration and renewal
Leaves skin tightened, firmer, soft, and smoother
Increases nutrient absorption , blood circulation, and moisture levels
Banishes grease, dirt, debris, and makeup residue
Fights wrinkles, fine lines, sagging skin, and dullness
Eliminates blackheads, whiteheads, comedones, and acne
Why Trust StyleCraze?
The author of this article, Krati Darak, is a skin care enthusiast. She explores skin care products and keeps a keen eye on emerging skin care trends. The best ultrasonic skin scrubbers list is curated carefully after thorough research and reading customer reviews online. These scrubbers are a great way to boost the skin glow and are very easy to use. They keep blackheads, acne, and dead skin cells at bay and enhance skin health.
Frequently Asked Questions
Do Ultrasonic Skin Scrubbers Work?
Absolutely! Ultrasonic skin scrubbers are now becoming a part of daily skincare routines because of their hassle-free exfoliating benefits. Besides this, they help with deep moisturizing and fighting aging signs too.
Is Ultrasonic Skin Scrubber Safe?
It depends on your skin type. However, it is safe for those with oily, acne-prone, and blemish-prone skin.
How Often Should You Use A Skin Scrubber?
Though it is designed for everyday cleansing and exfoliation, you should not use it more than 2-3 times a week.
Are skin scrubbers good for your skin?
Yes, skin scrubbers can reduce the appearance of whiteheads while eliminating dirt, debris, and buildup. They make pores look less stretched.
Are silicone face scrubbers better than brushes?
Yes, silicone scrubbers are much more effective and hygienic than brushes. Since they are non-porous, silicone face scrubbers are also resistant to bacterial buildup.
Are ultrasonic skin scrubbers good for mature skin?
Yes, ultrasonic skin scrubbers are gentle on the skin. They are perfect for delicate and mature skin as they exfoliate without causing any skin bleeding or irritation.
How long do skin scrubbing results last?
Skin scrubbing results last a month or two if you use them two to three times a week. They can also last longer depending on your skin type and conditions.
Recommended Articles: