Eliminate Blackheads With 11 Best Ultrasonic Skin Scrubbers Of 2021 (With Reviews!)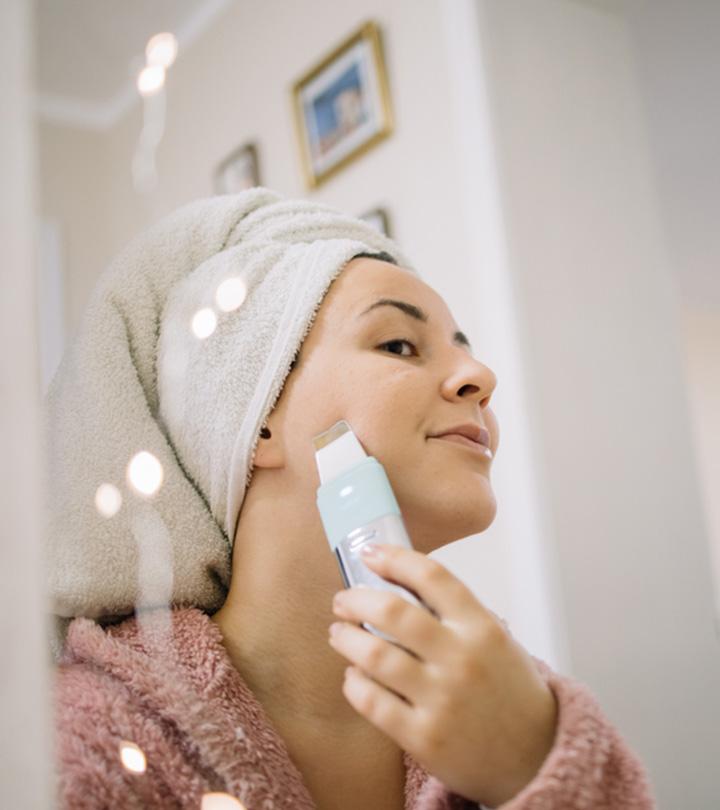 Before blackheads and comedones settle on your skin permanently, banish them with the best ultrasonic skin scrubber this season! Have you never used one before? It is a must-try if you have acne-prone, blemish-prone, or aging skin, as this advanced device produces high-frequency vibrations and ultrasonic soundwaves to eliminate all the skin troubles. Sounds unbelievable? There's more. It is safe, gentle, and ultra-hygienic too. Yep, say goodbye to blackheads, acne, dead skin cells, and clogged pores with this skin-cleansing tool. Tough on free radicals but gentle on the skin— no wonder it is gradually becoming a part of a daily skincare routine as well. Still, thinking? How about you browse through the top choices that we have lined up below?
Don't let the blackheads ruin your natural glow! Check out our list of the 11 best ultrasonic skin scrubbers of 2021 for you.
Read on to know more!
Top 11 Best Ultrasonic Skin Scrubbers To Fight Blackheads! (With Buying Guide)
Deep cleansing just got easy! This ultrasonic deep skin scrubber ensures deep exfoliating treatment and nutrient absorption with its 24k high-frequency vibration. Leaving your skin firmer, clearer, and shinier with its water-based exfoliation technology, the device has 4 built-in modes to meet all your skin-cleansing needs. The cleansing mode ensures deep pore exfoliation. The lifting feature boosts collagen and skin regeneration, whereas the lon+ and lon- features eliminate grease and dead skin cells to stimulate nutrient absorption. Want more? It is travel-friendly as well, with a USB cable and built-in charging sockets. Give it a try!
Pros:
Cruelty-free product
100% stainless steel spatula
Brightens and tightens skin
Includes two silicone bristles for easy cleaning and lifting
Safe, lightweight, and easy-to-use
Suitable for dry, normal, and oily skin
Cons:
Not suitable for sensitive skin
Gentle, convenient, and travel-friendly, here's a scrubber that your skin will thank you for! Whether you want to use it daily for mild cleansing or to fight aging skin, this device can do it all with its ultrasonic vibration. Also, without disturbing the natural suppleness of your skin, it claims to eliminate dead skin cells, clogged pores, comedones, and acne to leave your skin moisturized, firmer, and more tightened than before. Built-in with a timer that turns off the device after 5 minutes, it also has 4 adjustable modes— ultrasonic (cleansing), EMS (lifting), Lon+, and Lon-. Go on, give your skin a reason to glow!
Pros:
Improves elasticity
Stimulates nutrients absorption
Tightens skin and reduces wrinkles
Comforts and soothes skin intensely
Cleanses with 24K high-frequency vibration
Safe, portable, and durable
Suitable for all skin types
Cons:
Not ideal for intense cleansing
What if we tell you that all those expensive lotions may not be enriching your skin? Yep, clogged pores and dead skin cells may block these topical creams, which is why you need this gentle exfoliator in your daily routine. Claiming to double your skin's absorption power and awaken your skin cells, it also eliminates dead skin cells, whiteheads, acne, and more. Also, are you dealing with early signs of aging or dull skin? The built-in lifting mode works towards tightening and leaving skin firmer and smoother than before. Do not skip this facial ultrasonic skin scrubber!
Pros:
100% stainless steel spatula
Improves complexion
Uses ultrasonic technology
Includes 3 functional modes (cleansing, lifting, and nutrition)
Safe, gentle, and easy-to-use
Durable, portable, and rechargeable
Suitable for all skin types
Cons:
Sleek, stylish, and multi-colored, this mini ultrasonic skin scrubber will fit in your travel or everyday bag easily. Yep, go gunk-free anywhere, anytime with this advanced tool that produces intense high-frequency vibrations to eliminate all the skin-damaging radicals. Leaving your skin cleansed, tightened, and improved, its 4 built-in functional modes ensure gentle exfoliation, skin lifting and stimulates nutrient absorption as well. Busy bees and travelers, keep your skin in top form with this one!
Pros:
100% stainless steel spatula
Improves complexion
Eliminates comedones and acne
Boosts collagen and skin regeneration
Deep-cleans pores and fights aging signs
Helps serums and lotion penetrate skin efficiently
Safe, durable, and rechargeable
Cons:
Slightly noisy
Beginners may require practice
Turn your exfoliation session into a healing massage with this ultrasonic skin scrubber spatula! Made of 100% stainless steel and skin-friendly, it's safe as it gently exfoliates all the grease and dirt from the pores effortlessly. Yep, no more painful treatments to get rid of blackheads and acne! Moreover, the built-in lon+ mode drives out all the gunk, and the lon- feature leads in all the nutrients, making this device a godsend solution for healthy and glowing skin. Also, this skin spatula uses German technology, is painless, and suitable for all skin types. Why skip it?
Pros:
Nano-medium power
Portable and rechargeable
Fights wrinkles and tightens skin
Ensures soft, clear, and smooth skin
Brightens skin and improves elasticity
Renews skin cells and boosts collagen
Produces 24k high-frequency vibration
Eliminates dead skin cells, comedones, and makeup residue
Cons:
Not suitable for sensitive skin
Do you step out frequently during work? If yes, then this gentle exfoliator is a must-try for you! Eliminating all the gunk build-up on the skin due to pollution, this high-frequency vibration scrubber also removes whiteheads, dead skin cells, and acne-causing bacteria. And that's not all; after cleansing, the nutrition mode ensures your skin gets all the nutrients it needs to stay supple and glowing. And as for the aging signs? Consider it taken care of by the EMS (lifting) mode! Go on, give this compact and lightweight ultrasonic skin scrubber a try already.
Pros:
Reduces wrinkles
Uses electric-impulse to lift the skin
Boosts collagen and skin's metabolism
Restores keratin, renews skin cells, and tightens skin
Durable, portable, and rechargeable
Cons:
The equipment is not waterproof.
Are blackheads ruining your dates and special occasions? Take control with this premium ultrasonic skin scrubber with not 4 but 5 functional modes! Designed with an LCD screen display, the product also has a spatula which is made of 100% stainless steel and is skin-friendly too. Now, whether you want to deep clean with general vibration, intense clean, do a facial massage, improve absorption, or uplift skin, this device can be your go-to for all your skin needs. Yep, all you have to do is switch it on and enjoy a salon-worthy experience with every use. Try it!
Pros:
Suitable for all skin types
Improves elasticity and complexion
Ensures soft, smooth, and tight skin
Eliminates acne, whiteheads, comedones, grease, and more
Gentle, safe, and easy-to-use
Durable, portable, and rechargeable
Ideal for deep facial cleansing and moisturizing
Cons:
With 7 functional modes, an LCD screen, and a built-in timer, your ultrasonic skin scrubber machine cannot get more convenient than this! Yep, with heat functions added to the cleansing, lon+ and lon- features, it increases nutrient absorption and prevents the need for steaming before using the device. Convenient, isn't it? Also, do you have sensitive skin? Then you will love this device even more because it turns off automatically after 5 minutes, which is the ideal time a scrubber should be used on sensitive skin. Still, want to skip it?
Pros:
Suitable for all skin types
Increases nutrient absorption
Improves elasticity and complexion
Tightens pores and reduces wrinkles
Eliminates blackheads, dead skin cells, comedones, and whiteheads
Rechargeable, portable, and travel-friendly
Cons:
Beginners may require assistance or practice
Are you planning to upgrade your old skin scrubber? We bet you haven't tried this wireless exfoliating band yet. Yep, no more hassle of carrying the charger, plus it's lightweight, portable, and travel-friendly too. And as for the functional modes, it has 3! The exfoliator removes impurities and grease from clogged pores, the moisturize mode uses a combination of ultrasonic oscillation and anion flow to increase absorption, and the lifting feature fights aging signs. Give it a try if you haven't already!
Pros:
Penetrates the skin up to 5mm
Reduces wrinkles and fine lines
Ensures instant uplifting and tightening
Uses micro-current to lift facial muscles
Eliminates blackheads and dead skin cells
Suitable for all skin types
Cons:
Here's another super convenient ultrasonic skin scrubber that runs on rechargeable batteries. Yep, no more looking for sockets to recharge your skin-cleansing tool, plus it comes with overcurrent, short circuit, and overcharge protection as well. Besides this, it has one-touch for all 4 functional modes, making it easy and quick to use. Also, ideal for beginners and gifting— go on, eliminate the grease, blackheads, whiteheads, acne, and aging signs with this gem!
Pros:
Stainless steel spatula
Increases nutrient absorption
Removes dirt, oil, and impurities
Improves elasticity and complexion
Uplifts and tightens skin with the EMS electro pulse
Eliminates dead skin cells and exfoliates clogged pores
Hygienic, bacteria-free, and suitable for sensitive skin
Cons:
What makes this multifunctional ultrasonic skin scrubber unique? Many things! It has an aluminum alloy sleek body topped with a stainless-steel spatula, making it ideal for those looking for a travel-friendly and compact device. Besides this, its cleansing mode has a heat function up to 42 ̊C, so you can enjoy effective cleansing while exfoliating stubborn clogged pores. Other than this, it has an LCD screen to keep a tab on the mode and battery level, and it auto-shuts off after 8 minutes, so you don't end up over-scrubbing! Worth a try, we think.
Pros:
Increases nutrient absorption
Boosts moisture levels and collagen
Produces 24k high-frequency vibrations
Reduces fine lines, sagging skin, and wrinkles
Eliminates dead skin cells, blackheads, acne, and more
The device comes with 2 silicone brushes for intense cleansing.
Cons
Don't let blackheads, whiteheads, and comedones take over your skin! There you go, those were the 11 best ultrasonic skin scrubbers of 2021 for you. Do you still need assistance with buying the right ultrasonic skin scrubber? Or do you wonder how to use one? Check out the buying guide below for our tips!
Buying Guide
How to Choose the Right Ultrasonic Skin Scrubber?
Look out for the following features in the product before buying:
Spatula Design: Pick a spatula made of 100% stainless steel and is designed to reach every area on your face painlessly and effortlessly.
Cleansing intensity: Skin scrubbers offer mild exfoliation, intense exfoliation, or both in one device. So, inspect before buying to avoid ending up with an unsuitable one.
Functional Modes: Look out for the functional modes and pick the one that offers deep cleansing, lon+, lon-, and EMS (lifting) modes for the best experience. Also, there are skin scrubbers with a heat function if you are dealing with stubborn clogged pores.
Convenient charging: Though most skin scrubbers are portable and rechargeable, some devices are available with wireless charging docks or rechargeable batteries if you are looking for a hassle-free option.
Auto shut-off feature: Lastly, opt for a device with an auto shut-off feature; so you don't end up over-scrubbing your skin.
How to Use an Ultrasonic Skin Scrubber?
It's simple! And here are some steps you can follow:
Since damp skin is ideal for this process, you can either take steam for up to 10 minutes or splash water on your skin.
Next, switch on the cleansing mode and gently move the spatula on the skin starting from the jawline area.
Do not stroke an area more than 2-3 times to prevent damage. Also, concentrate on the nose, chin, and forehead areas as they are more prone to bacteria build-ups.
Lastly, apply a non-comedogenic serum or lotion to nourish and tighten the pores.
However, for moisturizing only, apply a serum or lotion of your choice and stroke the areas 2-3 times gently for effective absorption.
What Are the Benefits of Ultrasonic Skin Scrubber?
For those who have never used an ultrasonic skin scrubber before, here are some benefits for you:
Cleanses intensely
Exfoliates dead skin cells
Boosts collagen and metabolism
Improves complexion and elasticity
Stimulates skin regeneration and renewal
Leaves skin tightened, firmer, soft, and smoother
Increases nutrient absorption and moisture levels
Banishes grease, dirt, debris, and makeup residue
Fights wrinkles, fine lines, sagging skin, and dullness
Eliminates blackheads, whiteheads, comedones, and acne
Clean and glowing skin now looks insanely easy! Ultrasonic skin scrubbers are now becoming a part of daily skin routines and are esthetically-approved too. So, get ready to go gunk-free and glow with the best ultrasonic skin scrubbers on our list. Keeping the blackheads and acne at bay and your skin in top form, watch these exfoliating wands become your BFF in no time. Now, what are you waiting for? Pick your ultrasonic skin scrubber today!
Expert's Answers for Readers Questions
Do Ultrasonic Skin Scrubbers Work?
Absolutely! Ultrasonic skin scrubbers are now becoming a part of daily skincare routines because of their hassle-free exfoliating benefits. Besides this, they help with deep moisturizing and fighting aging signs too.
Is Ultrasonic Skin Scrubber Safe?
It depends on your skin type. However, it is safe for those with oily, acne-prone, and blemish-prone skin.
How Often Should You Use A Skin Scrubber?
Though it is designed for everyday cleansing and exfoliation, you should not use it more than 2-3 times a week.
The following two tabs change content below.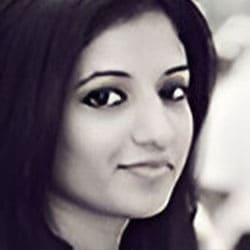 Chaitra is an extremely passionate writer and storyteller. She has a triple main Bachelor's degree in Journalism, Communicative English, and Economics and a Master's degree in Journalism and Mass Communication. She has more than three years of experience in content writing and editing and specializes in beauty, fashion, and lifestyle genres. Her background in journalism helps her guide her team in churning out fine content for the readers. When she's not editing or juggling tasks at work, she likes to daydream and stalk doggos on Instagram.