15 Best Hair Mousses That'll Give Gravity-Defying Volume – 2022
Your stunning curls deserve just the right care to stay voluminous and bouncy.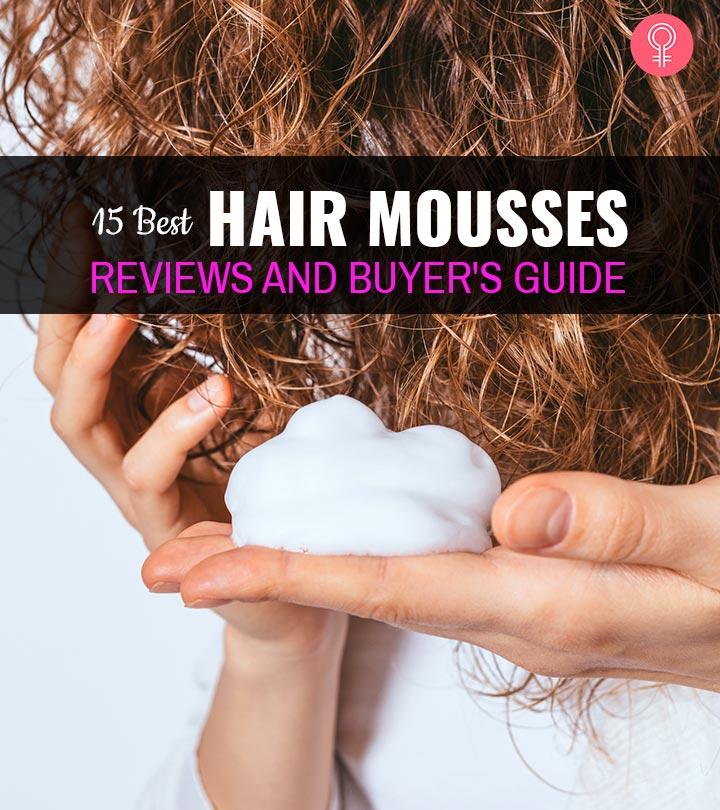 Slay and stay stunning by adding volume to hair with the best hair mousses that we have picked for you. Hair mousses are great for hairstyling and adding volume to hair. It's like a lightweight styling foam that adds shine, volume, moisture, and an effortless lift to the hair. Hair mousse is easy to apply and also acts as a heat protectant. In the 80s, hair mousse got its popularity to rock the "big hair" look. However, it left hair dry, crunchy, and stiff back in that time. But thanks to the new formulas available, the hydrating ingredients and polymers will help you get rid of frizzy hair without compromising the volume and hold of hair. So, you can replace your hair gels with hair mousse because they are perfect for flaunting the sleek wet look. Hair mousse will do it all, from grooming your hair to adding a new look. So, don't wait up and check out the top 15 hair mousses below.
List Of Hair Mousse Products For Different Hair Types And Styles
Scroll down to check out the reviews of the 15 best hair mousses available right now!
15 Best Hair Mousses Available Right Now – Reviews
Got2B Fat-tastic Thickening Plumping Hair Mousse is infused with collagen that adds shine, elasticity, and great volume to your hair. The collagen makes your hair look thicker and denser. This weightless formula revives flat hair, controls frizz, and helps in defining your curls. You can also check this YouTuber's detailed review to know more about the results after using this product.You can also check this YouTuber's detailed review to know more about the results after using this product.
Pros
Defines curls
Lightweight
Adds volume
Makes hair shiny
Controls frizz
Cons
Kenra Volume Mousse Extra 17 is a firm-hold, lightweight styling mousse that provides intense thermal protection (up to 450°F/232°C). It controls frizz and spreads evenly throughout the hair to add volume, bounce, and shine. This alcohol-free product does not dry your hair or leave behind flakes. It is perfect for enhancing curls on both naturally curly hair and permed hair. It resists humidity and does not make your hair sticky.
Pros
Non-drying
Non-flaking
Lightweight
Non-greasy
Humidity-resistant
Tames frizz
Provides thermal protection
Alcohol-free
Cons
Dispenser does not work efficiently
This hair mousse is enriched with coconut, hibiscus, and neem oils that provide intense hydration to your hair. They protect your hair from breakage and control frizz. This curl mousse adds shine and definition to your curls without drying them out or making your hair crunchy. It also contains silk proteins that make your hair soft, smooth, and silky. This styling mousse is free from toxic chemicals such as mineral oil, sulfates, phthalates, and parabens. For a thorough review of the product, have a look at this YouTuber's video.
Pros
Non-sticky
Controls frizz
Moisturizes the hair
Paraben-free
No mineral oil
Phthalate-free
Color-safe
Cons
Moroccan Oil Volumizing Mousse has a lightweight formula that creates volume in the hair without any flaking or greasiness. It is infused with argan oil that conditions your hair to make it look soft and smooth. This long-lasting mousse offers flexible hold and makes your hair look sleek and shiny. The anti-static ingredients in this mousse also tame frizz. It adds oodles of volume to fine, straight hair.
Pros
Adds volume
Flexible hold
Non-sticky
Suitable for fine to medium hair
No flaking
Long-lasting
Lightweight
Cons
Keranique Thickening And Texturizing Mousse protects your hair from breakage and heat. It strengthens the hair shaft by restoring moisture. This helps in detangling and styling your hair. It adds volume, body, and bounce without any stiffness. This styling product conditions your hair to make it soft to touch and add a glossy shine.
Pros
Prevents hair breakage
Strengthens the hair
Works as a heat protectant
Detangles the hair
Sulfate-free
Cruelty-free
Paraben-free
Conditions the hair
Cons
This product is a blend of hair cream and mousse as it adds body and volume to your hair without compromising on softness and texture. Redken Aerate 08 Bodifying Hair Cream-Mousse is lightweight and creamy, so it gets absorbed easily without drying out your hair. This hair-styling and conditioning mousse contains UV filters that protect color-treated hair.
Pros
Medium hold
Adds volume
Softens the hair
Safe for color-treated hair
Lightweight
Suitable for all hair types
Creamy formula
Cons
Oribe Grandiose Hair Plumping Mousse is a hydrating mousse that has won multiple awards. It is formulated with the Oribe Signature Complex (a blend of watermelon, lychee, and edelweiss flower extracts) that protects, hydrates, strengthens, and conditions your hair. It adds volume to your hair and is specially used to create thick, voluminous hairstyles. It makes your hair soft and thick by plumping up the hair shaft. It also provides thermal protection. The Superior Styling Polymer in it provides long-lasting and flexible hold. Check out this YouTuber's review of the product if you require more details.
Pros
Softens the hair
Adds volume
Provides heat protection
Repairs and strengthens the hair
Non-crunchy
Suitable for color- and keratin-treated hair
Provide UV protection
Suitable for thick hair
Paraben-free
Cons
The nozzle does not dispense product effectively
It's A 10 Miracle Styling Mousse is enriched with nutrients that nourish and strengthen your hair. Its formula consists of ingredients that offer a strong hold and add volume and shine to your hair to prep it for styling. This alcohol-free mousse does not dry out your hair or leave it crunchy. In fact, the heat protectants in it protect your hair from high temperatures and styling tools.
Pros
Nourishes and strengthens the hair
Non-crunchy
Adds shine, volume, and lift to the hair
Superior hold
Alcohol-free
Works as a heat protectant
Controls static
Cons
Garnier Fructis Style Sky-Hi Volume Mousse adds incredible volume to your hair that lasts throughout the day. This volumizing mousse offers extreme hold that is comparable to high-end brands at a reasonable price. It is formulated with cotton flower extracts that create all-over volume without making your hair brittle, dry, or crunchy.
Pros
Adds all-over volume
Long-lasting (up to 24 hours)
Offers extreme hold
Non-crunchy
Easy to use
Pleasant fruity fragrance
Affordable
Cons
This spray mousse adds tons of volume to your hair! It is humidity-resistant, so it protects your hair shafts from uneven swelling, frizz, and flyaways. You can use it on dry hair to create texture. It is perfect for fine to medium hair types.
Pros
Medium hold
Reduces frizz
Controls static
Suitable for fine and medium hair
Humidity-resistant
Adds lift to the hair
Easy to wash off
Cons
Tresemme Thermal Creations Volume Boosting Mousse is loaded with ingredients like glycerin, keratin amino acids, panthenol, tocopheryl acetate, ascorbic acid, niacinamide, biotin, and lactic acid. These powerful ingredients nourish your hair and make it soft and silky. They restore moisture in the hair shafts and help control frizz and static. This product has amazing hold and adds volume and shine to your hair.
Pros
Softens the hair
Nourishes the hair
Adds volume
Adds shine
Repairs and restores hair
Conditions the hair
Cons
None
Schwarzkopf OSIS+ 4 Grip Extreme Hold Mousse is a creamy mousse that adds extreme volume to your hair. It offers a strong hold for elaborate hairstyles. It gets absorbed quickly into the hair and lasts for a long time, keeping your hair free from frizz and static. This product is best suited for coarse or curly hair.
Pros
Extreme hold
Suitable for coarse and curly hair types
Long-lasting hold
Creamy formula
Non-sticky
Makes the hair look thick and lustrous
Easy to wash off
Cons
May leave behind some residue
TRESemme Extra Firm Control Mousse is an ultra-light mousse that protects your hair against humidity all day long. It offers strong hold and control, which allows you to style your hair easily. It preps your hair and prevents damage from heat styling tools. It is easy to apply and does not make your hair stiff or sticky. This alcohol-free product contains iso-polymers that add volume, shine, and bounce to the hair without drying it out.
Pros
Works as a heat protectant
Maximum hold and control
Builds fullness for body
Adds shine
Adds bounce
Humidity-resistant (up to 24 hours)
Lightweight
Cons
None
R+Co Aircraft Pomade Mousse is specifically formulated to create texture on your hair while retaining its body and volume. It works perfectly on second-day hair. It is rich in ingredients such as vegetable protein and neem oil that strengthen your hair by maintaining its moisture content. The papaya extracts in it help create volume and add shine to your hair. This cruelty-free product is free from toxic chemicals and best suited to shape curls on wavy or curly hair.
Pros
Paraben-free
Sulfate-free
Adds shine and texture
Cruelty-free
Gluten-free
Offers UV protection
Strengthens the hair
Vegan
No mineral oil
Petroleum-free
Cons
OGX Weightless Mousse contains nourishing coconut milk, whipped egg white protein, and coconut oil that add strength, shine, volume, and moisture to your hair. These ingredients condition your hair, leaving it soft and smooth. This nourishing mousse tames flyaways without making your hair stiff, dry, or crunchy.
Pros
Sulfate-free
Hydrates the hair
Organic
Adds instant moisture
Strengthens and nourishes the hair
Lightweight
Cons
Buying Guide For Hair Mousse
Hold: The primary purpose of using hair mousse is to hold the hair in place. There are products that offer 'natural hold' so that your hair does not look stiff or crunchy. 'Light hold' creates a breezy but defined look. Polymers and resins coat the hair to add the flexibility to shape it while giving it body and volume. Hair mousse with 'strong hold,' 'extreme grip,' or 'sky high volume' set your hairstyle in place for a long time. This is particularly useful for elaborate hairdos, wedding hairstyles, or high fashion runway looks!
Formula: Most hair mousses are lightweight, foam aerosol sprays that can be easily applied without making your hair sticky or greasy. There are also cream-based mousses available that do not dry out your hair or leave behind any residue. If you have dry or damaged hair, look for products that do not contain alcohol. Also avoid chemicals such as parabens, sulfates, and mineral oil as they are toxic to your hair as well as the environment.
Ingredients: Hair mousses contain ingredients that nourish, repair, and restore the moisture levels of your hair. This strengthens and conditions your hair, leaving it soft, shiny, and healthy. Natural ingredients like coconut milk, argan oil, hibiscus, neem, cotton flower, fruit and stem cell extracts, and whipped egg whites are quite common. Collagen, biotin, keratin, panthenol, and vitamins also nourish and fortify the hair.
The antioxidants, heat protectants, and sunscreen ingredients in hair mousses protect your hair from free radicals and oxidative damage. Specific hair mousses are available for colored hair that contain dyes and color protectants to prevent your hair color from fading quickly. Hair mousses with humidity-resistant ingredients can control frizz and static and tame flyaways, leaving your hair smooth and manageable.
Types Of Hair Mousse
Drugstore mousses are the most commonly available. They add shine and volume and reduce frizz. They are affordable and easy to use. They suit all hair types. They are popularly used to achieve curls or waves.
Volumizing mousse boosts the volume of your hair so that even fine, limp hair looks fuller and thicker. It is generally used on wet hair to prep the hair for styling tools. These mousses don't weigh down your hair or leave it sticky or stiff. They work best on fine hair to give the appearance of full-bodied hair.
Firm-hold mousse adds lift and body to your hair and offers style control. It is best suited for thick or coarse hair types that are difficult to manage. They tame frizz and combat humidity so that your hair looks neat and tidy. Light to medium hold is best for everyday natural-looking hair with flexibility!
Now that we have learned all about the different types of hair mousse, let us look at the proper way to use it for great results.
How To Use Hair Mousse Properly
Choose the right product for your hair type and style.
The most important step is to start with a blank canvas, i.e., clean hair. Makes sure that the product gets absorbed completely and helps you style your hair easily. There are products that can be used on second-day hair or between wash days to add texture and volume.
Make sure to start with smaller amounts as you don't need too much product. Apply the styling product to small sections of hair. Saturating your hair with any styling product will weigh it down and lead to product build-up.
Hair mousse works best on damp hair as it locks in moisture, which helps in building volume. Avoid using it on dry hair unless it is formulated for that specific purpose.
Apply hair mousse from the roots to the tips. Gradually add more product as you go. One to two pumps of mousse is good enough for short to medium-length hair.
Use the right blowdryer attachments, i.e., a diffuser for curly hair for best results.
Blowdry gently and in an upward motion to add lift and volume.
You can style your hair or define your curls using a comb or a brush.
Be vigilant while using multiple styling products. It is better not to mix too many products as it can damage your hair.
Now, let's answer the most important question…
Does Hair Mousse Make Your Hair Crunchy?
Unlike hair gel, hair mousse does not make your hair crunchy. You just need to apply it in small amounts at first and gradually add more for the best results. It makes your hair soft, manageable, and easy to comb.
Hair mousse is a multipurpose product that boosts volume, fights humidity, offers heat protection, and enhances the shine and definition of your hair. This styling product keeps your hair in place and can be used to style your tresses in versatile ways. So, pick a product from the ones listed above and style your hair away!
Why Trust StyleCraze?
The author of this article, Shiboli Chakraborti, is an ardent haircare enthusiast. She uses her extensive knowledge of product formulations, ingredients, and excellent research skills to bring leading haircare products to her users. She collated this list of the best hair mousses her users after conducting extensive research. She checked the brand websites and user reviews and feedback to shortlist the products.
Recommended Articles