9 Best L'Oréal Hair Products To Try In 2022
Pamper your tresses with these moisturizing, nourishing, and lightweight formulas.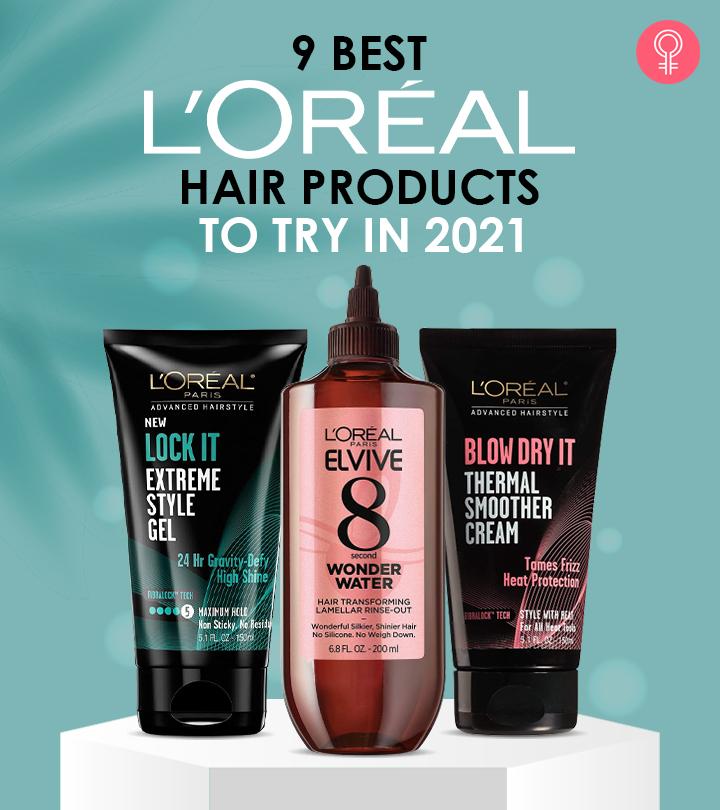 When you think of the best L'Oréal hair products, the first thing that pops up has to be dreamy women with flawless hair in ads. It is enough to convince you to invest in this high-class brand with its variety of beauty and hair care products. Name a styling tool, or, a specific hair product, it has the answer to all your hair woes. It is not only the first choice of most professional hairstylists and celeb stylists but also loved by masses alike. Pick your fave product of the 9 best ones below!
9 Best L'Oréal Hair Products
L'Oréal Paris Magic Root Cover Up is a temporary root touch up spray that conceals grey hair and roots flawlessly within seconds. The formula perfectly hides the thin areas and gaps on your hair and effectively covers grey hair for seamless coverage. It is quite easy to apply and doesn't leave any grey-cast residue on your hair or scalp. Have a look at this video to learn more about the product.
Pros
Lightweight
Gives natural coverage
No grey cast
Peroxide-free
Ammonia-free
Pleasant fragrance
Budget-friendly
Cons
Not sweat proof
Transfers while drying
Price at the time of publication: $21.98
The L'Oréal Paris EverPure purple shampoo and conditioner kit moisturize your hair and balance the brassy tones effectively. The set contains hibiscus and purple dye that hydrates your hair and neutralizes orange and brassy yellow tones in bleached and color-treated hair. Whether you have silver locks, highlighted brown, or blonde hair, you can get salon-like quality hair at home with this combo. They also protect your hair from further damage leaving them moisturized and shinier. This set is recommended for damaged and bleached hair.
Pros
Hydrates dry hair
Easy to use
Sulfate-free
Paraben-free
Vegan
Gluten-free
Cons
Greasy
Overpowering smell
Price at the time of publication: $15.99
The L'Oréal Paris Advanced Hairstyle Sleek It Iron Straight Heat spray provides heat protection to your hair and helps in taming frizz. The high-performance styler shields the hair for up to 24 hours while managing flyaway and static. Moreover, its formula, powered by Fibralock Tech, enhances the endurance of hair follicles to withstand up to 450-degree Fahrenheit post-treatment. By using this heat spray, you can use heating tools to style your hair without worrying about hair damage. It also blocks humidity to smoothe your hair for better manageability. Here is an informative video that tells you more about the product.
Pros
Lightweight
Easy to apply
Adds volume
Effective up to 3 days
Locks out humidity
Refreshing fragrance
Cons
Price at the time of publication: $3.39
Say goodbye to frizz and flyaway with the Blow Dry It Thermal Smoother Cream from L'Oréal Paris. This lightweight cream detangles your hair, smooths your tresses, and acts as a styler post-shampoo and conditioning. It can also be used as a heat-protectant before blow-drying or ironing your hair. It enables you to use styling tools on your hair without the fear of tugging or pulling. This cream is suitable for all hair types.
Pros
Heat protection
Tames flyaway
A little goes a long way
Add shine
Affordable
Cons
Price at the time of publication: $39.64
Millions trust the L'Oréal Paris Excellence Creme Permanent Hair Color for covering their greys and highlighting their dull, boring hair. The rich colors protect your hair from damage and cover grey hair excellently. Its triple protection formula contains ceramide, collagen, and pro-keratin complex that locks in moisture and protects your hair from damage. It gives your tresses super-rich and glowing color with 100% grey hair coverage from root to tip. This hair color is suitable for normal hair types.
Pros
100% gray coverage
Long-lasting
Non-drip formula
Natural-looking color
Infused with active ingredients
Bleach-free
Easy to use
Cons
Contains ammonia and peroxide
Price at the time of publication: $8.97
Say goodbye to hair fall with this premium hair product from L'Oréal Paris. The Elvive 8 Second Wonder Water has a quick-action formula that makes your hair soft and glossy in just 8 seconds. The innovative Lamellar Technology guides the moisturizing agents like castor oil, protein, vitamins, and amino acids in the formula to focus on damaged and dry hair, giving them a polished and healthy texture. Additionally, it forms thin, smooth layers on your hair fiber to protect it from further damage and prevent split ends, frizz, and flyaway. For more information about the product, click this video.
Pros
Weightless
Easy to rinse off
Hydrates hair
Does not weigh hair
Silicone-free
Cons
Contains alcohol denat
Contains phenoxyethanol
Price at the time of publication: $8.97
The lightweight hair mousse from L'Oreal Paris adds envious volume and shine to your hair. The formula contains thickening agents to give your hair a boost and texture that lasts for 24 hours. It contains castor oil to add extra smoothness to your hair, and the refreshing minty fragrance is a bonus.
Pros
Adds shine to hair
Effects last up to 24 hours
Offers heat protection
Cons
Price at the time of publication: $3.99
The L'Oreal Paris Advanced Hairstyle Lock It Extreme Style Gel holds your hair in place for up to 24 hours while adding shine to them. The transparent hair gel has a flake-free formula that does not leave any residue on the hair. Take a dime-sized amount on your hands and distribute it evenly throughout your damp hair, and you are ready to rock any hairstyle.
Pros
Holds hair for 24 hours
Lightweight
Effective in humid weather
Non-sticky
Effective in humid weather
Keeps the frizz down
Washes out easily
Cons
Price at the time of publication: $27.89
Tell frizz who's the boss with this frizz vanisher cream from the brand. The cream has a lightweight formula with nourishing ingredients like coconut oil, glycerin, and olive oil that helps in making your hair look stylish and sleek. In addition, it is humidity resistant, tames stubborn flyaway, and smooths your perfectly styled hair.
Pros
Good Consistency
Easy to apply
Locks out humidity
Refreshing fragrance
Cons
Price at the time of publication: $21.99
Why Trust Stylecraze
Shiboli Chakraborti, the author, is a hair care enthusiast who lives by tried and tested brands. She swears by the above-listed L'Oreal products. They contain ingredients that nourish and transform hair, making it healthy and beautiful. She vetted each of these products after reading their reviews on multiple forums. These products were chosen based on their hair care benefits, absence of harsh elements, texture, fragrance, and more.
Frequently Asked Questions
Is L'Oréal a good hair brand?
Yes, L'Oréal is a good hair brand. It is one of the most valued brands, gives promising results, and is trusted by celebrities, stylists, professional salons, and millions of users alike.
Which is better Olay or L'Oréal?
L'Oréal is a reputable and well-known brand. Also, hair care products by L'Oréal are quite effective and affordable. Whereas Olay products are expensive, and it is quite popular for its skincare products. So, L'Oréal scores high in the hair care department than Olay.
Can we use L'Oréal shampoo daily?
No. Washing your hair daily can leave your scalp and hair dry regardless of the type of shampoo you are using. It is recommended to wash your hair 2-3 times a week.
Are L'Oréal hair products cruelty-free?
L'Oréal hair products have not been tested on animals since 1989 unless it is required by law to do so.
Are L'Oréal hair products good for damaged hair?
Yes, L'Oréal hair products are good for damaged hair. You can use the L'Oréal Paris EverPure purple shampoo and conditioner kit to revive your damaged hair while toning its cool color.
Can you use L'Oréal hair dye when pregnant?
Yes, some L'Oréal hair dyes have nearly zero harsh chemicals like ammonia, sulfate, peroxide, etc. So, you can safely use them while pregnant.
How often can you use L'Oréal Root Touch-Up?
You can use L'Oréal Root Touch-Up every 4-6 weeks.
Recommended Articles
Best L'Oreal Products we All Need – Our Top Picks
Best Products For Air-Drying Your Hair
Best Hair Products For Long Hair
Best Shampoo For Long Hair That Gives You Healthy And Shiny Tresses