7 Best Salicylic Acid Toners For Clear And Smooth Skin – 2023
Achieve glowing, acne-free skin at home with these mild, non-comedogenic toners.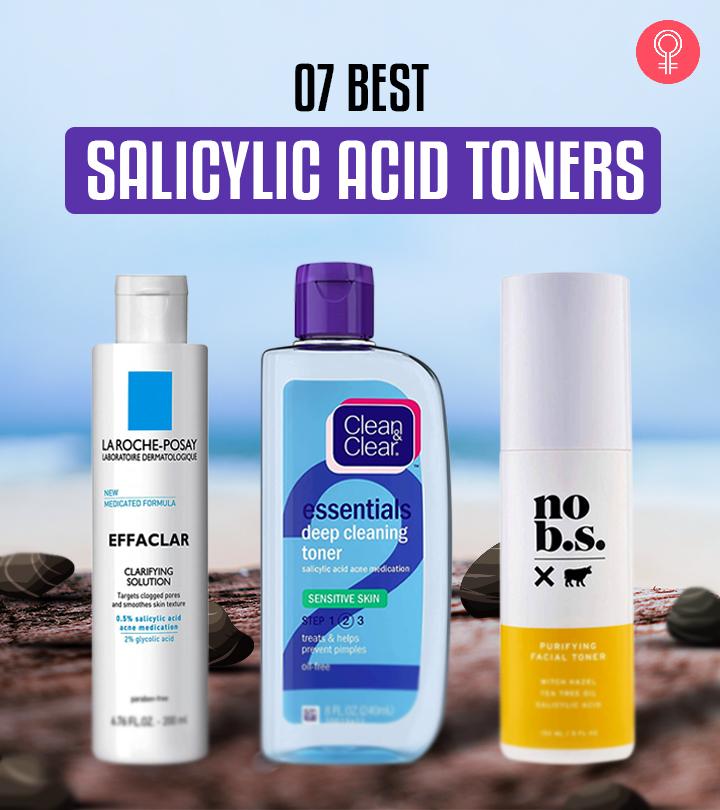 Salicylic acid is the most effective ingredient for helping skin stay smooth and clear. The best salicylic acid toners are currently the most effective and dependable way on the market to control breakouts and skin oils. Salicylic acid, the most well-known member of the beta-hydroxy acid family, is a must for all. They can permeate the skin and mend it from the inside out as they get easily soluble. Keep scrolling to check out our list of the top picks!
7 Best Salicylic Acid Toners
The La Roche – PosayEffaclar Clarifying Solution is a face toner for acne-prone skin. The toner contains both salicylic acid and glycolic acid. These acids gently exfoliate and remove excess dirt from the skin. The product protects against sun exposure and pollution and prevents acne. Glycolic acid penetrates acne-prone skin and unclogs pores. It also smoothens skin texture. The 0.5% salicylic acid formula helps clear blackheads, whiteheads, and acne blemishes. The clarifying solution toner is ideal for sensitive skin and can be used daily.
Pros
Oil-free
Fragrance-free
Paraben-free
Allergy-tested
Dermatologist-tested
Suitable for sensitive skin
Clears blemishes
Removes blackheads
Cons
Price at the time of publication: $15.99
The age-defying and skin clearing toner by Insta Natural is a face mist designed to balance skin and clear blemishes. Its main components include salicylic acid, MSM, and tea tree oil. These components help unclog and minimize pores and reveal healthy-looking skin. Insta Natural's skin clearing toner will make your skin softer, suppler, and smoother in the long run. The facial toner features vitamin C, niacinamide, and hyaluronic acid for superb antioxidant hydration. The natural ingredients work to reduce signs of sun damage and maintain healthy skin. This organic clearing toner works for both men and women. It restores skin health and promotes an instant glow. It is enriched with antioxidant ingredients. This toner is safe for sensitive skin and supports the skin's natural barrier.
Pros
Boosts hydration
Clears skin
Reduces skin discoloration
Fades blemishes
Reduces fine lines
Cons
Price at the time of publication: $14.97
The clarifying facial toner by no B.S. is an effective, alcohol-free facial treatment. This purifying toner is enriched with witch hazel, salicylic acid, and tea tree oil. Together, these wonderful components balance oil production and combat stubborn acne. The toner gently exfoliates the skin and unclogs pores. It also soothes redness and breakouts. This elixir contains no toxic ingredients and is a great go-to toner for sensitive skin.
The green tea in the toner helps balance your complexion, reduce dark circles and puffiness, and heal bumpy skin. The noB.S. facial toner can be used by both men and women of all ages. It suits most skin types. 
Pros
Cruelty-free
Dermatologist-tested
Vegan
Sustainably sourced ingredients
Paraben-free
Sulfate-free
Phthalate-free
Fragrance-free
No petrochemicals
Unclogs pores
Balances oil production
Gluten-free
Alcohol-free
Cons
May aggravate whiteheads
Expensive
May dry out some skin types
Price at the time of publication: $30.0
This effective toner from NXN Nurture By Nature controls sebum secretion round the clock. The combination of multi-fruit acids, natural retinoids,probiotic-fueled smart bacteria, and salicylic acid purifies and brightens skin. This nature-based serum is very gentle and mattifies the skin with the natural power of wild rose berry. The organically derived ingredients like apple fruit extract, gotu kola, green tea, lemon peel extract, marine algae, niacinamide, and orange peel extracts help replenish skin.
The blue-green algae in the toner help diminish the appearance of fine lines and wrinkles. The probiotics help replenish the levels of good bacteria on the skin. This acne edit toner is suitable for all skin types. Continued usage of this toner wards off future acne breakouts.
Pros
Paraben-free
Sulfate-free
Phthalate-free
Gluten-free
No BHA/BHT
No synthetic colorants
Natural ingredients
Alcohol-free
Anti-aging properties
Controls sebum
Reduces fine lines
Cons
May not suit dry skin
May sting skin with breakouts
Price at the time of publication: $14.5
The Heritage Store Blemish Treatment Toner assists in providing an even skin tone. It is a clear toner with no unwanted ingredients. It gently smoothens your skin. The combination of 2% salicylic acid, lysine, arginine, collodion silver, and pure essential oils and botanicals does wonders for your skin. The power-packed treatment toner helps pull out excess oils and reduces excess sebum production. It reduces the formation of acne and pimples. The invigorating camphor, tea tree, peppermint, lavender, and meadowfoam oils in the toner help cleanse your pores.
This unique formula penetrates your skin and helps control further breakouts. The final result is clear, smooth, and radiant skin. The treatment toner has 4% niacinamide that creates a dynamic approach in yielding healthy and bright skin. The toner is suitable for both males and females. 
Pros
Paraben-free
Propylene glycol-free
No artificial colors
No artificial fragrances
Phthalate-free
Clears acne
Clears blackheads
Clears blemishes
Eliminates excess oil
Vegan
Suits dry skin
Cons 
May cause a burning sensation
Price at the time of publication: $11.79
The deep cleaning facial toner by Clean & Clear is the go-to product for those with sensitive skin. This acne face toner contains salicylic acid that helps fight pimples and treats acne. The acne toner features an oil-free formula that helps prevent future blemishes and breakouts. The deep cleansing facial toner works best with the Clean & Clear foaming cleanser for sensitive skin. Its active ingredients include 5% salicylic acid, glycerin, algae extract, aloe barbadensis leaf extract, and blue 1.
It is recommended to use the facial toner once a day in the beginning. You may then gradually increase the usage to two to three times a day. The deep cleansing formula works for both men and women. It helps fight against excess oils in your pores. Apply the facial toner using a cotton pad after cleansing for better results.
Pros
Oil-free formula
Daily use toner
Clears blemishes
Clears blackheads
Removes excess oil
Suitable for sensitive skin
No burning sensation
Affordable
Cons
May dry skin out
Contains alcohol
Contains fragrances
This anti-aging skin clearing toner by Sage Organix is an advanced formula for brightening, plumping, and hydrating your skin. It also boosts skin collagen. Salicylic acid is the main ingredient in the toner. It penetrates the pores and removes dirt and sebum. The skin toner is packed with hyaluronic acid and vitamin C that boost collagen production, reverse sun damage, and minimize acne scars.
This acne facial toner is suitable for dry, oily, and sensitive skin types. The product comes in a spray formula that clarifies your skin and keeps it blemish-free. The toner is infused with peppermint hydrosol (peppermint extract) and salicylic acid that exfoliate the skin. This anti-aging toner infused with witch hazel can be used daily, twice a week, or more, depending on the skin type.
The MSM in the toner reduces inflammation and slows down the signs of premature aging. The toner smoothens wrinkles and fine lines, reduces discoloration, and hydrates skin with regular use.
Pros
Hypoallergenic
Cruelty-free
Ammonia-free
Formaldehyde-free
Paraben-free
Sulfate-free
Gluten-free
Vegan
Suitable for all skin types
Easy spray formula
Clears blemishes
Reverses sun damage
Fades acne scars
Cons
Unpleasant fragrance
Not economical
Price at the time of publication: $21.85
Salicylic acid is a hero beta-hydroxy acid that controls the oils on your skin's surface and helps unclog pores. It also helps to reduce the appearance of fine lines and wrinkles. Therefore toners rich in salicylic acid have become a favorite skin care product of many. Due to its popularity, several brands have come up with toners, so choosing one is a task. Therefore, consider the following before picking a product best suited for your skin and needs.
Things To Look For In Salicylic Acid Toners For Clear And Smooth Skin
Concentration: First, ensure the toner contains at least 2% salicylic acid. This concentration is necessary for the product to be effective. A higher concentration is more effective in treating acne but can also irritate your skin. Therefore, start by investing in a toner containing a lower acid concentration and work your way up if necessary.
Ingredients To Look For: Consider what other ingredients are in the product. Some salicylic acid toners also contain glycolic acid or other exfoliating acids. These can help improve the appearance of your skin. Additionally, look for ingredients like green tea extracts, tulsi, and niacinamide, as they offer soothing benefits to your skin apart from cleansing it.
Ingredients To Avoid: Stay away from toners containing common toxins like parabens, synthetic dyes, formaldehyde, gluten, phthalates, SLS, and synthetic fragrances. They cause redness and trigger the sensitivity of your skin. Additionally, avoid toners containing alcohol as it can dry out your skin and make the salicylic acid less effective.
Dry time: The third thing to look for is how long the toner takes to dry. You want something that dries quickly, so you do not have to wait around for it to work.
Container Type: Finally, look for a toner that comes in a pump or spray bottle that prevents the salicylic acid from oxidizing and losing its potency over time.
Dermatologist-Tested: If you want smooth and healthy skin, choose a toner tested and recommended by skin specialists. These products have no side effects and are potentially safe.
Why Trust StyleCraze?
The author, Shiboli Chakraborti, is a certified skin care coach who loves to review different products for her readers. She sifted through numerous user reviews on trusted online forums and websites to curate this list of the best salicylic acid toners that help control breakouts and oily skin. They permeate the skin and mend it from the inside out as they are easily absorbed.
Frequently Asked Questions
How do you know if salicylic acid is working?
Once you notice a significant improvement in the skin texture, less inflammation, smaller pores, reduced redness, and fewer acne marks, know that the salicylic acid is working.
How long does salicylic acid toner take to work?
Salicylic acid gets absorbed in the skin within 30 minutes of the application. Notice improvements in your acne after six to eight weeks of continuous use.
Is salicylic acid toner good for hormonal acne?
Yes. Salicylic acid toner is effective for hormonal acne. Its anti-inflammatory properties combat acne-causing bacteria and reduce redness.
Is it okay to use a salicylic acid toner in the morning and a salicylic acid cleanser at night?
No. Salicylic acid is a potent ingredient, and using it twice daily can damage the skin, especially if you are new to it. Also, excessive usage irritates and dries out the skin.
Should I use moisturizer after salicylic acid toner?
Yes. Apply a moisturizer after using salicylic acid toner to lock the moisture, keep the unclogged pores hydrated, and enjoy healthy, fresh skin.
Can I use 2% salicylic acid toner every day?
No. Skip using 2% salicylic toner daily if you are new to the potent ingredient to prevent irritating the skin. Instead, start using the toner thrice weekly, then gradually increase its usage.
Recommended Articles