9 Best Oribe Shampoos For Beautiful And Thick Hair
Remove frizz, dandruff, and safeguard color-treated hair without spending too much!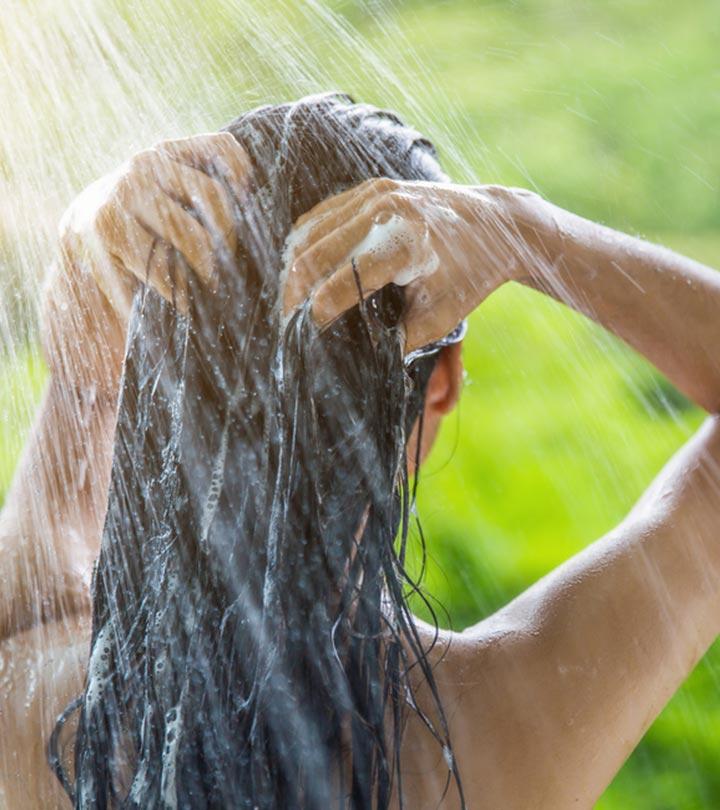 Obtaining dull-free, frizz-free, and Obtaining dull-free, frizz-free, and dandruff-free hair is quite challenging. But it is not impossible when we have the best Oribe shampoo with us. This shampoo is specially curated and created by salon experts to treat your hair problems. It's a one-stop solution for all your hair issues.
Oribe crafts their shampoo following a unique engineering method and skincare technology, using natural actives. As a result, the shampoo meets the needs of every hair type. You can use this shampoo safely for frizz, color-treated, or curly hair. This article contains a list of the 9 best Oribe shampoos that will transform your dull hair into silky, sleek hair.
Top 10 Best Oribe Shampoos For All Hair Types
This Oribe gold shampoo is devised to purify and deep cleanse your hair, reviving it to its full vitality and assists in eliminating the accumulation of dirt. It is enriched with argan, maracuja, and cypress essences, to reinforce, enrich, and strengthen both hair and scalp. It is a creamy formula that moisturizes the hair and leaves it silky and manageable. The most satisfying part is that it does not weigh the hair down and smells marvelous. This video gives you more information about the product.
Pros
Free of parabens, sulfates, and harsh chemical additives
Cruelty-free
Safe and suitable for all hair types
Non-greasy
Lightweight
Cons
Price at the time of publication: $157.0
Oribe's Gold Lust Dry Shampoo clarifies and manages your hair in between washes. It is an advanced formula, which comes with fragrance-retention, making the scent last a long time while leaving your hair smooth. It contains watermelon, lychee, Edelweiss flower, and myrrh extract that protects your hair from oxidative tension, photoaging, and the degeneration of natural keratin.The treatment is squirted via a spray bottle, releasing a purple soft-hued fluid that moistens and smoothes your hair almost instantly It is enriched with lavender and chamomile, which cools down and hydrates a dry and itchy scalp.
Pros
Non-greasy
Enriches and rejuvenates dry and damaged hair
Repairs and controls hair health
Controls color vigor
Long-lasting fragrance
Cons
Those with a sensitive scalp should consult a dermatologist before using it as chamomile may cause irritation.
Price at the time of publication: $48.0
This Oribe shampoo carries a blend of effective elements including the Oribe Signature Complex, which is watermelon, lychee, and Edelweiss Flower extracts. It also contains bioflavonoids, which provides incredible results to preserve your hair's color from fading. Accompanied with Baobab tree extract to render higher moisture to the most dehydrated sections of your hair, this shampoo also provides UV protection. The Oribe Shampoo for Beautiful Color is an intensive formula, and a little product goes a long way.
Pros
Elegant packaging
Provides UV protection
Long-lasting fragrance
Leaves hair with silky smooth texture and volume
Removes excess oils and dirt from the scalp
Cons
Some may find the consistency slightly runny.
Price at the time of publication: $46.0
For colored hair, the sun is an enemy, be it dark hair or light hair.
This Oribe Bright Blonde Shampoo is a purple-pigmented shampoo that penetrates through the cuticle, and improves hair color. It contains corn and coconut derived cleansers for healthy and thick hair and the Swiss Garden cress sprouts detoxify and protect the hair from within. The treatment is squirted via a spray bottle, releasing a purple soft-hued fluid that moistens and smoothes your hair almost instantly. Have a look at this video to learn more about the product.
Pros
Doesn't weigh your hair down
Leaves hair silky smooth
Retains color vibrancy
Moisturizes your hair
Adds lustre to your hair
Cons
Some may find the scent overwhelming.
Price at the time of publication: $17.0
The Oribe Hair Care Signature Shampoo cleanses and repairs the hair without shredding your natural oils. This signature shampoo is a thick and clear liquid formula with a refreshing citrus fragrance. Oribe's Signature Shampoo will leave your hair feeling voluminous and silky, all without weighing your hair down. The shampoo is formulated for all hair types to get rid of frizziness, dullness, weakened-damaged hair, and natural hair, etc. Here is an informative video that tells you more about the product.
Pros
Doesn't weigh your hair down
Makes your hair voluminous
Has a sweet fresh citrus scent
Suitable all hair types
Retains natural oils and moisture
Cons
Price at the time of publication: $46.0
Oribe's Serene Scalp Anti-Dandruff Shampoo is composed of salicylic acid that soothes and deters dandruff all while relaxing a dry, itchy, and irritated scalp. The shampoo comprises a blend of bilberry fruit and sugar maple essences that calm the scalp while defending against extreme damage. This anti-dandruff shampoo also consists of pea sprout extract, which revives elasticity to grow and strengthen hair, while the caffeine extracts stimulate the scalp and reinvigorates hair follicles. The orange and lemon fruit essences help preserve moisture balance between the scalp and hair while giving it a very refreshing after-wash fragrance.
Pros
Soothes and relaxes scalp dryness, irritation and itchiness
Prevents dandruff from recurring
Prevents hair from extreme breakage
Restores elasticity and strengthens hair
Cruelty-free
Retains moisture balance
Refreshing citrus scent
Cons
Price at the time of publication: $147.0
Oribe's Shampoo For Moisture & Control is unquestionably moisturizing for the hair. It foams but not a lot, so only a little product is to be used. With this shampoo, your hair gets cleansed while also retaining and controlling the moisture balance. It tames and moisturizes all hair types including thick, curly hair, damaged hair, natural hair, bleached hair, etc while smoothly cleansing it.
Pros
Suitable for all hair types
Cruelty-free
Leaves your hair smooth and silky
Hydrating properties
Cons
Some may find the scent overwhelming.
Price at the time of publication: $46.0
Oribe's Silverati Shampoo is a soothing cleanser that has a lovely citrus fragrance. The anti-yellowing effect in the shampoo is strong enough to subdue the warm hues of blond, white, gray, and blue hues of your hair. The shampoo incorporates exotic and beautiful ingredients like European silver fir, lychee, moringa seed oil, and mirabelle plum that help rejuvenate and manage hair. Silverati foams effortlessly and cleanses your hair from within making it smooth and clean. It also targets split ends and dry, damaged hair.
Pros
Anti-frizz
Adds lustre to your hair
Shimmery metallic gray liquid
Cruelty-free
Paraben-free
Cons
It may feel drying for some hair types.
Price at the time of publication: $46.0
The Brilliance and Shine Shampoo delivers long-lasting radiance and a rich shine. It comprises silk amino acids that provide moisture and shine to your hair, and pearl protein for a brilliant, deep shine and intense deep conditioning, while leaving your hair silky and glossy. This shampoo is completely anti-parabens and anti-sodium chloride, making it suitable for all hair types, particularly for dull and damaged hair.
Pros
Paraben-free
Sodium chloride-free
Safe for color and keratin treated hair
Intense deep conditioning
Delivers long-lasting shine and smooth texture
Suitable for all hair types
Cons
Price at the time of publication: $49.0
Since we've covered the best Oribe shampoos in 2023, we advise you to read our in-depth Oribe shampoo buying guide.
Which Oribe Shampoo Is Right For You?
We're listing down the finest of Oribe shampoo to assist you in finding the most accurate hair care solutions for your hair type.
Scalp Health:
Serene Scalp Anti-Dandruff Shampoo
Serene Scalp Balancing Conditioner
Serene Scalp Soothing Leave-On Treatment
Serene Scalp Exfoliating Scrub
Color-Treated Hair:
Shampoo For Beautiful Hair Color
Conditioner for Beautiful Color
Glaze for Beautiful Color
Masque for Beautiful Color
Platinum/Silver Hair:
Silverati Shampoo
Silverati Illuminating Treatment Masque
Silverati Illuminating Pomade
Curly and Textured Hair Type:
Shampoo for Moisture and Control
Intense Conditioner for Moisture and Control
Curl Gloss Hydration and Hold
Moisture and Control Deep Treatment Masque
Fine and Flat Hair Type:
Shampoo for Magnificent Volume
Conditioner for Magnificent Volume
All Hair Types:
Gold Lust Dry Shampoo
Signature Shampoo
Signature Conditioner
How To Use Oribe Shampoo?
SHAMPOO
Step 1: Use a nickel-sized dollop on your palm.
Step 2: Rub your hands together until you see the liquid turning into a foam.
Step 3: With the use of your fingertips, apply the shampoo to your hair.
Step 4: Once the product is fused well onto your hair, massage gently and thoroughly.
Step 5: Rinse well until the shampoo is completely washed from your hair.
CONDITIONER
Step 1: After shampooing your hair, towel-dry your hair, just enough for it to be damp.
Step 2: Now take a nickel-sized dollop on your palm and apply them to the end of your
hair working your way up to the crown of your head.
Step 3: Let the product sit on your hair for a couple of minutes.
Step 4: Rinse as usual.
How Long Does An Oribe Shampoo Last?
The standard perfume shaped bottle of shampoo and conditioner would last around 2 months if used thrice a week. The packaging is smaller in size than other products in the market, but you won't be needing more than a nickel-sized dollop each wash. Minimum amount, maximum results.
Why Trust StyleCraze?
Vaishnavi Kothuri is a skilled writer of hair care products. Her passion for the industry allows her to deliver articles backed by thorough research that meets people's requirements. She has consulted hair care professionals and reviewed numerous products' quality parameters before curating this list of the best Oribe shampoos that fit all hair types. Each product has detailed information about its ingredients, benefits, and other essential properties for your convenience.
Frequently Asked Questions
Is Oribe Shampoo Good?
Yes, Oribe not only has the best bottle packaging but also all their range of products are moisturizing and revitalizing. Minimum amount, maximum results – You don't need a lot of product, just use a little and it does wonders to your hair.
Are Oribe Shampoos Sulfate Free?
Yes, Oribe shampoos are free from sulphate and parabens. A decade ago, when Oribe was launched, the company designed shampoos with mild sulfates, naturally obtained from corn, oat, and coconut.
Is Oribe a luxury brand?
Yes, Oribe is a luxury brand that ensures each product has been rigorously tested both backstage and on location. The products are made of cutting-edge technology and perform like magic.
What does Oribe shampoo smell like?
Oribe shampoo has a warm, woody, and citrusy smell.
How often should you use Oribe shampoo?
You can use Oribe shampoo daily or as per your customized hair care regime.
Recommended Articles