10 Most Expensive Shampoos In The World – 2023
Keep your hair bouncy and shiny with the goodness of rare herbs in these high-end shampoos.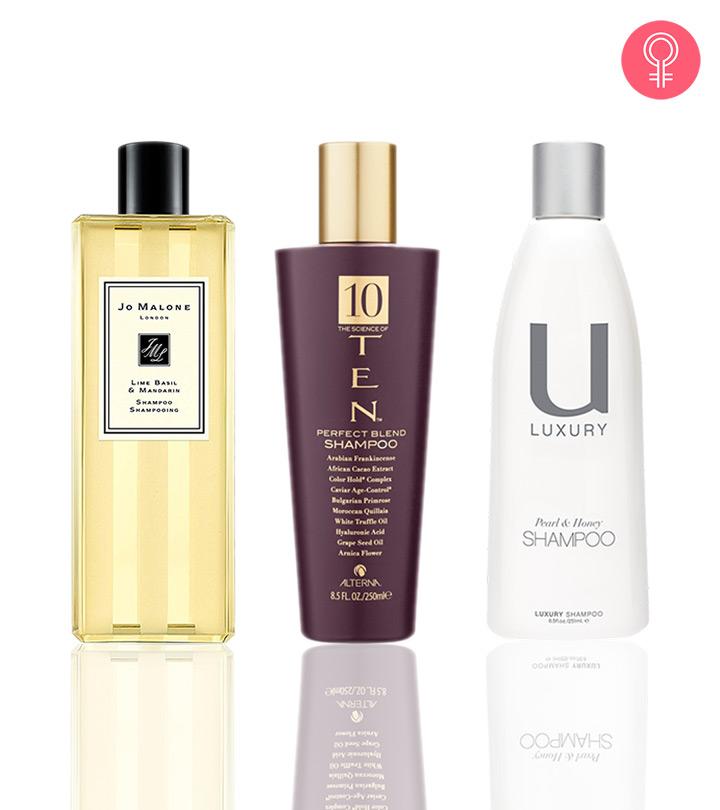 If you wonder why people purchase the best high-end shampoos even though regular shampoos are good, too, you are at the right place. While their price tags might be heavy, they're worth the money. Expensive shampoos cleanse your hair while replenishing the natural oils. These shampoos are infused with rare herbs, customized ingredients, and exotic fragrances. Once you use them, you will be able to tell the difference. Go through the list of 10 expensive shampoos, and you will know why your hair deserves it.
Top 10 Expensive Shampoos You Need To Try Right Now
Pros
Free of parabens and phthalates
Suitable for colored and chemical-treated hair
Adds volume
Just a little product required per use
Imparts long-lasting glow
Pleasant fragrance
Reduces dryness
Prevents frizz
Cons
None

Price at the time of publication: $160.0
A shampoo with pure caviar extract is undoubtedly the most luxurious one that you can have. This sulfate-free, paraben-free shampoo contains a powerful blend of Sea Silk and Age Control Complex that combats natural, physical, and environmental signs of aging that take away your hair's magnificent charm. It is filled with lipids that replenish each hair strand. It cleanses hair and restores the hair's lipid layer to its optimal state. It diminishes the signs of aging hair and improves its appearance for softer, smoother, and younger-looking hair. The potent ingredients such as vitamins, minerals, omega fatty acids hydrate and strengthen hair, boosting its vibrancy and elasticity. It shows visible results after one use. It is an overall savior to regain your hair's shine, texture, and manageability.
Pros
Suitable for color-treated hair
Suitable for all types of hair
Shows results after the first use
Cons
Might show inconsistent results
Price at the time of publication: $45.9
Pros
Sulfate-free
Paraben-free
Moisturizes the hair
Gentle formula
Vegan
Cruelty-free
Suitable for daily use
Unscented
Cons
None
Price at the time of publication: $65.88
Pros
Controls frizz
Moisturizes hair
Dermatologist-tested
Promotes scalp circulation
Vegan
Cruelty-free
Cons
Not suitable for fine hair
Price at the time of publication: $49.0
Pros
Cleanses and refreshes your hair
Just a little product required per use
Cons
None

Price at the time of publication: $15.95
Pros
Adds volume without weighing your hair down
Increases shine with every use
Hydrates dry strands
Cons
None
Price at the time of publication: $39.0
Want your hair to shine even days after washing it? This brilliant glossing shampoo produces a luster-enhancing lather that adds intense radiance to your hair. This translucent formula cleanses your hair with a creamy lather that leaves behind a pleasant aroma. The sun-ripened olive extracts in this shampoo condition your hair and deeply nourish each hair strand.
Pros
Adds radiant shine to your hair
Reduces frizz
Makes your hair more manageable
Tames unruly flyaways
Cons
Price at the time of publication: $18.93
Pros
Lathers well
Pleasant fragrance
Adds vibrant radiance to your hair
Fights humidity
Cons
None
Price at the time of publication: $36.0
Aveda Invati Exfoliating Shampoo contains wintergreen-derived salicylic acid that cleanses and exfoliates the scalp gently from pore-clogging build-up. It also renews the scalp and reduces hair fall, leaving your hair feeling soft, moisturized, and smooth. The shampoo has its trademark densiplex complex, a blend of organic turmeric and various ayurvedic herbs that add volume and life to your hair. Additionally, it has its patented aroma called, pure-fume, an organic plant and flower-based essence.
Pros
 Ideal for medium to thick hair
 Non-greasy
 Paraben-free
 Mineral-oil free
 Synthetic fragrance-free
 Cruelty-free
Cons
 Watery consistency
 Not suitable for dry scalp and hair
Price at the time of publication: $151.36
Pros
Lathers well
Conditions your hair
Prevents split ends
Cons
Price at the time of publication: $30.0
A good shampoo will cleanse your scalp and also provide nourishment to the strands. The market is full of various shampoo formulas and getting the right one for yourself, is not an easy task. Here is a list of important things to consider if you are buying premium shampoo for personal use.
Things To Consider Before Buying Expensive Shampoos For Your Hair
Choose shampoos loaded with luxurious ingredients such as amino acids, soya proteins, grape seed, rosemary, and nettle to provide deep nourishment to the hair roots. These ingredients make the strands strong while imparting a long-lasting shine and nourishment. These rich natural supplements will also prevent premature hair graying.
Choose a shampoo that helps in eliminating frizz, ensures hair detangling, and reduces scalp dryness. It should promote circulation around the scalp and offer deep moisturization. Invest in formulas that are suitable for chemically-treated or color-treated hair. Look for dermatologically certified, good natural fragrance, and easy to use shampoos. In addition, you may opt for vegan and cruelty-free products for conscious consumption.
The chemicals in most shampoos are extremely harmful to your hair health. Ensure that your shampoo is free from undesired chemicals such as paraben, synthetic fragrances, sulfates, and artificial colorants. This ensures your hair and scalp health does not deteriorate over time. For people with sensitive scalp, chemicals often result in irritation and allergies. Thus, while buying the premium shampoos choose the ones with natural ingredients rather than any artificial chemicals.
The choice of your shampoo must also be determined by the hair type. For people having fine hair, it is important to avoid creamy shampoos and go for gentle ones. If your hair often becomes too frizzy, go for shampoos that have conditioning ability. For dry and coarse hair, the focus must be on shampoos that provide deep and long-lasting hydration.
Why Trust StyleCraze?
Pooja Karkala, the author, is keen about hair care. She penned this article to give you a glimpse into why you should pamper your hair with some of these expensive shampoos. She recommends these shampoos after spending hours researching through many reviews. Each of these products was selected to give your hair more volume and other benefits like frizz reduction and sleek finish.
Frequently Asked Questions
Are expensive shampoos really better for your hair?
While price alone cannot measure a shampoo's usefulness, expensive shampoos often contain high-quality ingredients that work wonders on your hair. Therefore, purchasing an expensive shampoo can be a good investment instead of cheaper alternatives with questionable formulas.
Do people actually feel a benefit from using a shampoo for their own hair type?
Yes, it is better to use a shampoo specially curated for your hair type than using any shampoo from the market. If the shampoo is made for your hair type, it will address your hair concerns better. Some shampoos also cater to different scalp conditions that normal shampoos do not look at.
How does shampoo clean the hair?
Shampoos remove dirt, debris, and product buildup from your hair with the help of surfactants. Some shampoos also remove excess oil from your hair with the help of sulfates, which produce a rich lather.
How do hydrating shampoos work?
Hydrating shampoos mildly cleanse your tresses while protecting the natural moisture level of your hair. It keeps the natural oil of your scalp intact and does not make your hair feel coarse.
What happens if you use too much shampoo?
If you use too much shampoo, your hair can eventually feel heavy and start weighing down. It can also strip the natural oils of your scalp, making it dull and dry.
Recommended Articles
Best High-End Shampoos That Are Worth The Splurge
Best Shampoos Brands For All Hair Types
Best Shampoos And Conditioners
Best Shampoo For Long Hair