13 Best Silicone-Free Shampoos And Conditioners Of 2023
Pamper your hair with these organic formulas and get rid of your itchy scalp.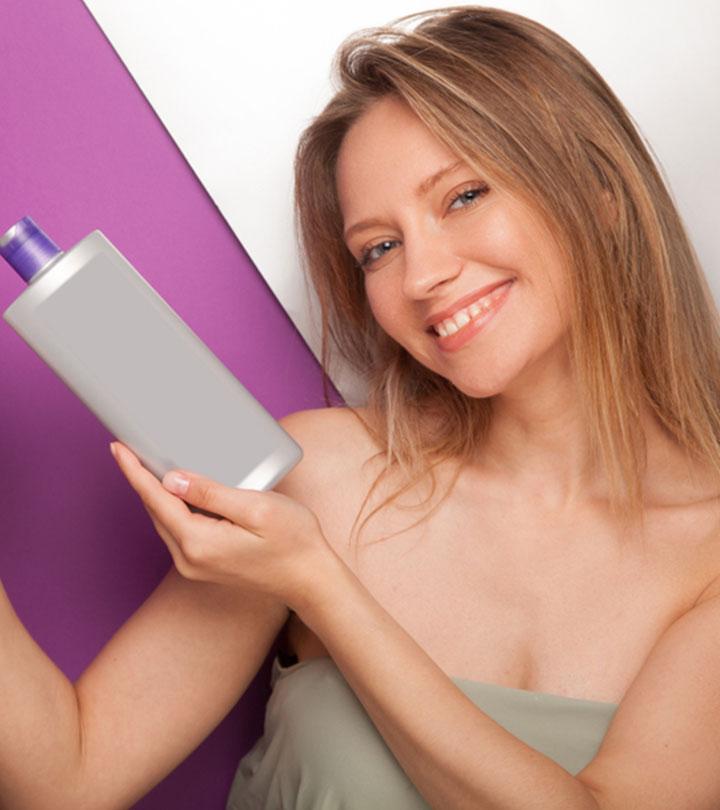 If you don't know why you should add the best silicone-free shampoos and conditioners in your hair care routine, let us tell you why. You must have noticed that hair becomes greasy and dull within a day or two after washing, and while you would blame the pollution and weather, the actual culprits are the silicon. If you were thinking about how the silicon landed on your head, these are ingredients added to your hair products to give them a long-lasting shine. However, prolonged use makes your hair heavy and greasy and creates sediments on your scalp that are hard to clean. They also allow only partial soaking of nutrients and keep your scalp itchy and flakey. The good news is there are several hair products without silicon to keep your hair lustrous the right way. Popular brands are pooling in to make the hair products more inclined to natural ingredients so you can make your hair grow healthy without worrying about the effect of chemicals on your hair and scalp. If you are unsure where to start, we are here to help. Go through the list of handpicked 13 silicon-free hair products that every hair deserves.
13 Best Silicone-Free Shampoos And Conditioners Of 2023
If your hair has a frustrating tendency to get extra-greasy the day after washing, this product combination is tailor-made for you. Boasting the dual ability to purify oily roots while hydrating frizzy ends, the shampoo-conditioner set guarantees refreshed, squeaky clean hair that holds up for over 48 hours. Based on your hair type, the time between your washes can even extend up to 3 or 4 days! There's a reason why clay cosmetics are gaining so much traction lately – clay minerals can absorb a great deal of toxins and grease and also protect your scalp against dandruff. Enriched with 3 refined clays, the dimethicone-free shampoo and conditioner will leave your hair feeling (and smelling) like fresh flowers for days. Before buying, have a look at this video that details the reviewer's experience with using the product.
Pros
3 refined clays
Free of sulfates
Lasts long
Thick, creamy consistency
Reduces over-washing
Suitable for all hair types
Cons
The conditioner contains alcohol, which may dry you out.
This shampoo and conditioner without sulfate and silicone works in harmony to offer 2 essential benefits. The former revitalizes your hair's natural flexibility and suppleness without weighing it down, while the latter infuses it with the right amount of moisture and helps bring out the shimmer. Formulated with active ingredients like elastin protein and caviar complex, which are known for strengthening your hair follicles and preventing hairfall, the combo blends science with nature to reverse damage. It also contains rosemary to stimulate hair growth, nettle to improve blood circulation, and chamomile to eliminate split ends and give your hair a warm, natural glow. The creamy consistency of this effective formula, combined with the mild yet pleasant coconut fragrance, will make you feel like you just left the salon.
Pros
Reduces hairfall
Doesn't dry hair out
Provides salon-quality results
Suitable for straight and curly hair
Requires small quantities for each wash
Cons
May not be suitable for oily hair
There's no end to the sheer number of good things rose water can do for your skin, but did you know that the astringent is also an elixir for everyday hair care? From drastically reducing oiliness to healing certain scalp conditions like eczema and psoriasis, rose water is the ultimate natural resource for rejuvenating the greasiest of locks. Adding to the power of rose in this shampoo and conditioner is pro vitamin B5, which improves elasticity, replenishes hydration, and makes hair shiny as well as voluminous. The nature-loving formula also contains mint leaves and lily of the valley to bring you the greatest blend to feel fresh and smell like a veritable orchard. Watch this video to know more about this sulfate-free shampoo.
Pros
Suitable for colored hair
Provides rich lather
Suitable for all hair types
Lasts long between washes
No sulfates, parabens, dyes, or mineral oils
Cons
The fragrance might be a bit overwhelming for some.
What really sets this volumizing shampoo and deep conditioner apart is that it contains mimosa flower – an ingredient that has been used in traditional medicine for centuries to moisturize, hydrate, and act as an antiseptic for the scalp. The soothing agent is infused with organic coconut water to thicken and strengthen the delicate strands of lifeless hair. Gently massaging a coin-sized amount from the roots to the ends will lock in moisture, reverse dullness, and restore your hair's volume. Ideal for all hair types be it straight, wavy, curly, or kinky hair and treatments, the paraben-free, cruelty-free, and silicone-free formulas keep your strands soft and silky without harming the planet in any way. The product even offers visible results in keeping the tresses smooth and moisturized from morning to night.
Pros
Adds volume
Washes off easily
Refreshing fragrance
Vegan and cruelty-free
No dyes, parabens, or silicones
Suitable for color-treated hair
Cons
The fragrance may not last long.
No longer reserved for the culinary paradise that is Morocco, argan oil has taken over the beauty world in a major way – and for noble reasons. As the primary ingredient in this revitalizing shampoo and conditioner, it acts as a wellspring of vitamin E, known for its powerful antioxidant properties along with fatty acids, which support hydrated and healthy hair while reversing the effects of damage. The sulfate-free formula doesn't stop at that, though. It contains castor and jojoba that ease dandruff and stimulate hair growth, while coconut and sweet almond oils behave like emollients to diminish roughness and moisturize dull hair strands. Finally, essential nutrients like vitamins B3 and B5 combat thinning hair to give you a rich, full texture that sways and bounces with every step you take. Reviews on various online forums assert that the product soothes an itchy scalp and revives frizzy hair from the very core for shiny and healthy-looking tresses.
Pros
Contains aloe vera
Rich in silica
Suitable for curly or wavy hair
No parabens and silicones
100% vegan
Hypoallergenic
Dermatologically tested
Cons
Might not be suitable for oily hair
A silicone-free moisturizing shampoo that works up a rich, thick lather without leaving any residue whatsoever? Sign us up, please! In addition to being safe for any hair type, this low-pH formulation is loved for the precious blend of tea tree and jasmine, which respectively remove dead skin from the scalp and lock in moisture to stimulate growth. With regular application, your hair will start to feel weightless and look voluminous and full of oomph. If you've been on the hunt for a healthy shampoo and conditioner that rescues your roots from damage while leaving your hair minty fresh, this hair growth-promoting herbal duo will serve your unruly hair like a dream.
Pros
Lathers well
Suitable for all hair types
Safe for color-treated hair
Washes off effortlessly
No mineral oils, parabens, and silicones
Cons
The scent of tea tree and jasmine might feel too strong.
Puracy is all about reinventing what we know about beauty by channelling the power of plants. This is a first-of-its-kind shampoo and conditioner to use LexFeel N5, a botanical emollient capable of mimicking the sensory experience of silicones without actually using dimethicone, sulfates, parabens, or similar stuff that doesn't belong in a natural hair care product. The plant derivative makes both products luxuriously foamy and softens your hair for long periods whereas the beet extract manages viscosity and keeps your scalp healthy. Blended with coconut and olive oils, the plant-based shampoo-conditioner kit reinforces the epidermis and shields your hair against environmental damage, offering extra care for extra-fine locks that you can't stop touching (but should!).
Pros
Contains natural silicone alternatives
Non-toxic and hypoallergenic
Increases time between washes
Suitable for dandruff and dry scalp
No synthetic fragrances or chemicals
Cons
Contains essential oils which may irritate sensitive scalps
Those with a dry, irritated scalp searching high and low for a holy moisturizing grail – it's time to rejoice! A rare gem that focuses all of its active ingredients on soothing irritation and restoring oil balance is here to the rescue! This repairing shampoo and conditioner takes advantage of the antibacterial properties of tea tree oil, lavender oil, and rosemary oil to reduce itching and shedding due to dandruff. At the same time, argan oil and shea butter quench thirsty shafts by reintroducing them to moisture. Finally, the superfruit that is sea buckthorn infuses collagen directly into the hair shaft, fortifying its vitamin content and giving you an enviable bounce. It also contains keratin and silk amino acids, which bond to keep your hard-earned moisture from escaping. The fact that the detoxifying formula smells like a spa in the middle of an orchard doesn't hurt its street cred, either.
Pros
Repairs damaged hair
Balances oily scalps
Contains green tea
Reduces itching and flaking
Fights against dandruff
Safe for color-treated hair
Cons
The thick lather may take some time to spread.
If you're in town for a sulfate-free shampoo and conditioner set that will seriously soften brittle ends and give you a gorgeous, buttery shine, this restorative duo is totally worth the surprisingly affordable price. Loaded with nourishing fatty acids derived from under-utilized saviors like shea butter and macadamia oil, the shine-enhancing formula restores the barrier between your scalp and the external environment, retaining moisture and diminishing the risk of dryness. The time-tested benefits of aloe vera work through coarse strands and please them into feeling more alive and healthy. Whether you're dealing with a perpetual case of frizz or want to feel super-clean after a whole day at the beach, this thoughtful blend of oils will live up to its promise of hydrating as well as de-frizzing your locks. This one is a favorite among reviewers who are impressed with its grease-free and active ingredients that lend a lustrous and vivacious feel to dry and brittle locks.
Pros
Softens coarse hair
Suitable for textured hair
Reduces hairfall
Creates a natural shine
Removes excess sebum
Long-lasting fragrance
Cons
To all the curly-haired gals, this sulfate-free gentle cleansing shampoo-conditioner kit is nothing if not a love letter to your tresses. On the one hand, it brings you the richness and damage protection of Moroccan argan oil blended with camellia seed oil, which is a well-known tamer of dandruff and irritation. Jojoba and avocado, on the other hand, come together to moisturize your hair follicles and enrich it with vitamin B-complex to induce growth and seal your strands to their roots. On particularly unmanageable hair days, the vitamin E will do what it does best – turn frizz to fierce and give you shiny, luscious, commercial-worthy locks. Because the combo uses keratin alongside essential fatty acids, your hair won't just look good, it will become stronger from root to tip.
Pros
Reduces hairfall
Prevents dandruff
Deeply cleanses the scalp
No sulfates and parabens
100% cruelty-free
Makes hair feel weightless
Cons
It might cause some dryness in the first 1 or 2 washes.
Perhaps the cleanest and most eco-friendly of the entire bunch, this color-safe shampoo-conditioner team observes a strict zero-tolerance policy when it comes to using synthetic or artificial ingredients. Imagine giving your hair a salon-grade treatment without a single ingredient that's unsafe, harmful, or irritating. With a total of 13 plant-based derivatives that include aloe vera, coconut, and tea tree leaf, the game-changing brand is the ultimate therapy for itchy, flaky scalps. The jojoba oil serves as a perfect remedy against dandruff and split ends, while shea butter makes your hair smoother and shinier from within. Pea protein extract, which is super-hypoallergenic and full of amino acids, upholds your natural keratin structure and boosts growth. The best part? It's suitable for all hair and scalp types! Ethically conscious consumers are obsessed with this product as it does not undergo any animal testing.
Pros
Fragrance-free
100% plant-based
Prevents itchiness
Vegan and cruelty-free
No gluten, colors, or additives
No synthetic or artificial ingredientes
Cons
The mild fragrance might feel underwhelming.
Yearning for some extra moisture that weighs your hair up instead of down? This Garnier concoction is an incredibly balanced solution to most of your frizzy hair woes. With a 94% biodegradable formula derived from scalp-safe ingredients like palm and coconut, the shampoo cleanses and smoothes the hair and promotes a balanced scalp composition, while the conditioner helps you detangle almost instantly. An excellent source of biotin and vitamin B-complex, the avocado extract in this anti-frizz formula preserves the hair you already have while stimulating more growth. If you still feel like something is missing, the color-safe kit contains a leave-in mask that will make you forget all about the tangling tendencies of regular hair. After gently rinsing with the shampoo and conditioner, wear the mask for about a minute and rinse again to unveil the silkiest of manes that never needs to be "managed" again.
Pros
Does not weigh hair down
Suitable for color-treated hair
98% natural ingredients
100% vegan and cruelty-free
No silicones, parabens, or artificial colors
Free mask sample
Cons
A nourishing coconut essence and essential oil infusion in this shampoo-conditioner duo is what helps you strengthen brittle hair and reawaken dull, frizzy locks right at the cuticles. While biotin, a water-soluble vitamin that's been known to stimulate hair growth, works to make your hair feel big and bodacious, its rice and pea plant proteins coat your strands with a protective layer and boost hydration. The blend of essential oils replenishes your hair's natural moisture and nutrient level, transforming dry, damaged hair into a soft, shiny, tangle-free, and beautiful-smelling mane. As you're offering your hair the ultimate TLC, you won't have to worry about harming the planet because this no-silicone strengthening concoction is completely vegan and cruelty-free.
Pros
Includes essential oils
Retains moisture
Thick, creamy lather
No parabens, silicones, or dyes
Vegan-friendly and cruelty-free
Cons
The rich coconut smell might feel overwhelming to some.
*The prices provided in this article are based on the latest available information. However, they may vary due to changes in pricing by the seller and/or promotional offers.
When it comes to long-lasting hair health and lustre, it's always better to find professional-grade, silicone-free shampoos and conditioners that keep you safe from major side effects in the future. To find out which ones work best for your hair type, read through this brief guide that covers everything you need to know.
How To Choose The Best Silicone-Free Shampoo And Conditioner
'Good' and 'bad' silicones
Not every silicone is bad for your hair. Primarily, the ones that are water-insoluble and impossible to rinse away completely, should be avoided. These include dimethicone, dimethiconol, cetyl dimethicone, stearyl dimethicone, cetearyl methicone, cyclomethicone, cyclopentasiloxane, and amodimethicone. On the other hand, dimethicone copolyol, behenoxy dimethicone, and stearoxy dimethicone are soluble in water, which means they do not leave behind the thick residue that leads to scalp irritation and greasiness over time. As beneficial as it would be to ditch sulfates and silicones altogether, it can be tough because they are in so many products. Knowing these differences will make you more mindful and help you navigate away from the 'bad' stuff that's really damaging your hair.
As a rule of thumb, plant-based oils serve as an excellent alternative to silicones. Certain beneficial ingredients have the power to bring out luster and shine, such as aloe vera, jojoba oil, and shea butter. Others like avocado, almond extract, and coconut are known for hydrating and protecting your hair from damage. Vitamins E, B-complex, and keratin are another formidable team that strengthen your hair from the roots and improve their overall quality. The trick here is to really read through the ingredient list and understand the function of everything. With some trial and error, you'll be able to determine exactly what works for you, or better yet, what doesn't work.
Frequently Asked Questions
Are silicone-free shampoos and conditioners good for your hair?
Yes, undoubtedly. Silicones are man-made ingredients made of large molecules that behave like a seal on the outermost layer of your scalp. While they might retain hydration from within, they block the effect of any other hydrating or moisturizing ingredients. When used frequently, they tend to build up, resulting in a dull, greasy, lackluster appearance that makes you want to wash your hair again within a day or two. Over time, the quality of hair deteriorates, leading to breakage and hairfall. A silicone-free shampoo and conditioner will prevent this layer of build-up and allow nourishing ingredients to penetrate your follicles, thus allowing the hair to breathe, receive hydration, and prevent irritation.
Why should one use silicone-free shampoos and conditioners?
A shampoo and conditioner without sulfate and silicone is less likely to have long-term effects that impact your hair health negatively. On the other hand, products containing natural emollients like plant-based oils will provide your hair with similar hydration, conditioning, frizz control, and silky-smooth texture with an added benefit – no unnecessary build-up or clogging!
Is silicone-free and sulfate-free the same?
No. Silicone is a synthetic ingredient that causes buildup. Sulfates dry the skin by stripping off the moisture.
Does silicone-free shampoo and conditioner cause hair loss?
No. Silicone-free shampoo and conditioner add moisture to the hair, repair damage, and improve its overall appearance. They do not cause hair loss.
How long does it take for hair to adjust to silicone-free products?
The hair takes six weeks to adjust to a silicone-free shampoo completely.
How often should you use silicone-free shampoo and conditioner?
Wash your hair once or twice a week with a silicone-free shampoo and conditioner.
How can you tell if the shampoo or conditioner is silicone-free?
Check the label, and if you do not find ingredient names ending with 'cones', the product is silicone-free.
Recommended Articles