9 Best Korean Double Cleansing Products Of 2023
Keep dirt and impurities at bay with skin care products made in South Korea.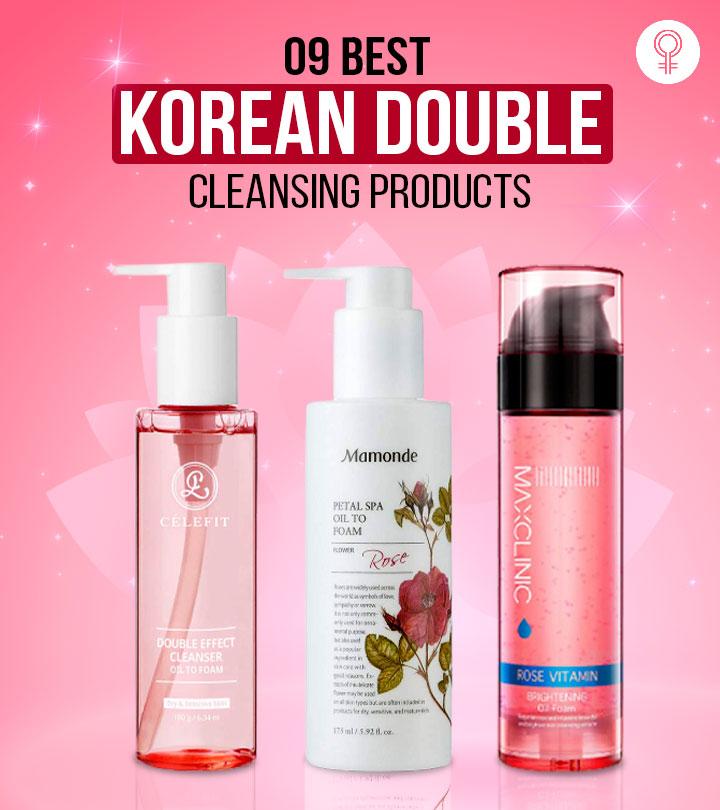 Double cleansing is a process adopted from Korea, where you clean your pores thoroughly using oil-based and water-based cleansers. It allows the skin care products to penetrate deeper for bright-looking and clearer skin. The best Korean double cleansing products remove dirt, oil, makeup, hidden pollution on the face, sunscreen, and other impurities. These cleansers are infused with unique ingredients that help to clean the pores.
The double cleansers also keep your skin hydrated by not stripping off your skin's moisture. They avoid the usage of two different cleansers. You no longer need a cleansing gel, cream, or lotion along with the cleanser. It is believed that most of the Koren beauty brands swear that you can obtain healthy and clear skin through these cleansers. But using the right cleanser is necessary for perfectly glowing skin. Check out our list of some of the ideal Korean double cleansing products that offer you a radiant glow. Keep scrolling!
9 Best Korean Double Cleansing Products Of 2023
The Celefit Double Effect Cleanser effectively removes stubborn makeup and instantly turns into foam when it comes in contact with water. It gives you a thorough cleanse. The 7 oil complexes in this formula, including sweet almond oil, macadamia oil, and argan oil, replenish lost moisture and leave your skin soft and supple. You may also check this product on websites like Amazon to see countless reviewers and customers vouch for it, helping you make a good and trusted purchase.
Key Ingredients: Centella Asiatica extract, Sweet almond oil, Argan oil, and Macadamia oil
Pros
Natural ingredients
Suitable for dry and sensitive skin
Mild fragrance
Non-drying
Cons
None
Price at the time of publication: $5
If your regular micellar water isn't doing the trick, then take a look at this cleansing balm by I Dew Care! The revolutionary formula melts away heavy makeup and leaves your skin feeling smooth, soft, and moisturized without any greasy residue. It is rich in antioxidant-filled ingredients like blueberry fruit extract, which protects your skin from environmental aggression, and glacier water, which plumps your skin. The vitamin E and vitamin B complex condition your skin and replenish the lost moisture levels.
Key Ingredients: Blueberry fruit extract, Jojoba oil, Sunflower oil, Turmeric extract, Lavender extract, Aloe extract, and Glacier water
Pros
Vegan
Residue-free
Cruelty-free
Gluten-free
Paraben-free
Pleasing fragrance
Gentle on skin
Cons
None
Price at the time of publication: $19.65
The Mamonde Petal Spa Oil To Foam is formulated with the goodness of Damask rose oil. It breaks down stubborn makeup, while the airy foam cleanses everything away gently. The soap-free formula uses organic soapberry extracts that cleanse your skin naturally. The rosewater in the formula calms down irritation. Unlike regular cleansers, this K-beauty masterpiece does not strip off your skin's moisture. Instead, it leaves your skin deeply hydrated and smooth.
Key Ingredients: Soapberry extract and Damask rose
Pros
Mineral oil-free
Colorant-free
Surfactant-free
Vegan
Cruelty-free
Creamy formula
Mild odor
Gentle on skin
Cons
None
Price at the time of publication: $21
The Saranghae Nourishing & Moisturizing Oil + Foam Cleanser washes away even the toughest makeup with ease. The olive oil in this cleanser gently breaks down any excess sebum and dirt, while the natural soap extracts cleanse it away. Even though it thoroughly cleanses your face, it does not strip away the natural moisture from your face. In fact, it is proven to deliver visible results, offering your face a boost of hydration. The green tea extracts and white truffle in the formula possess age-defying properties. They help fade your dark spots, wrinkles, hyperpigmentation, fine lines, etc. This dual-action foaming wash is even mild on sensitive skin.
Key Ingredients: Green tea extract, Olive fruit oil, White truffle extract, Sponaria extract, Jojoba seed oil, Camellia seed oil, Rose oil, Macadamia oil, Rosemary oil, and Sweet almond oil
Pros
Plant-based formula
Soap-free
Suits sensitive skin
Paraben-free
Cruelty-free
Vegan
Phthalate-free
Sulfate-free
Cons
Price at the time of publication: $19.2
The Creme Shop Daily Cleanser + Makeup Remover is infused with antioxidant-rich green tea, which improves the texture of your skin, unclogs pores, reduces acne, and fights premature signs of aging. This pore-cleansing cleanser penetrates your skin to effectively remove dirt, oil, and makeup. It also nourishes your skin. The rice water and white lily extract in this formula are known to calm down redness and irritation while enhancing a youthful glow. With regular use of this dermatologist-tested product, you will get a clear, healthy, and seamless-looking complexion.
Key Ingredients: Green tea extract, Water lily, Lavender extract, and Rice water
Pros
Dermatologist-tested
Paraben-free
Cruelty-free
Organic formula
Gentle on skin
Cons
None
Price at the time of publication: $9.99
This innovative cleansing balm by Banila Co has the highest concentration of oils to effectively melt away impurities and makeup from your skin. It is infused with lush extracts like ginseng berry and royal jelly that add a boost of moisture to your skin, making it supple and glowing. On application, it feels like a smooth balm. The emulsion takes away the debris when in contact with water. It leaves behind fresh and seamless skin.
Key Ingredients: Royal jelly, Ginseng berry extract, Evening primrose oil, Safflower oil, Sunflower oil, Ginseng root extract, and Acerola fruit extract.
Pros
Hypoallergenic
Refreshing
Gentle on skin
Artificial color-free
Paraben-free
Sulfate-free
Phthalate-free
Mineral oil-free
Non-abrasive
Cons
None
Price at the time of publication: $22.89
Cleanse away dead skin cells and makeup residue with this water-friendly cleansing oil by Etude House. It features a blend of coconut oil, grape seed oil, and apricot oil that melts away makeup and replenishes lost moisture. It has a neutral fragrance that makes it the best choice for individuals sensitive to scent.
Key Ingredients: Grapeseed oil, Apricot kernel oil, and Coconut oil
Pros
Gentle fragrance
Non-irritating
Rinses off well
Cons
None
Price at the time of publication: $16.95
Indulge in the power of six berry extracts with this facial oil to foam cleanser by Maxclinic. This dual cleansing formula effectively removes makeup from your face while preventing breakouts and pigmentation. It contains extracts of coconut, papaya, and palm tree that provide a deep cleansing experience without causing any irritation. This oil-based cleanser creates a creamy foam on contact with water. The natural AHA and rose oil in the formula gently exfoliate your skin, improving your skin texture, vitality, and firmness. With regular use, it improves your skin's elasticity and prevents signs of aging like wrinkles, dark spots, pigmentation, and fine lines. So, ensure to incorporate it into your daily skincare regime to achieve visible results.
Key Ingredients: Bilberry extract, Blueberry extract, Cloudberry extract, Papaya extract, Red chokeberry extract, Lingonberry extract, Bulgarian rose, and 12 essential vitamins
Pros
Gentle on skin
Natural ingredients
Pleasing fragrance
Scientifically-formulated
Suitable for sensitive skin
Cons
Price at the time of publication: $17.99
The Face Shop Water Bright Special Set comes with a foaming cleanser, a light cleansing oil, and a creamy cleanser. It is packed with the goodness of rice water extract, which is rich in vitamins and minerals that clarify and moisturize your skin. This ancient formula dates back to the Korean dynasty and is said to be the secret behind the bright and smooth complexion of the royal women. The lightweight purifying cleansing oil is infused with jojoba oil and moringa oil that protects your skin's natural barrier and dissolves any impurities. Instead of harsh synthetic cleansers, these formulas use soapwort to cleanse your skin naturally. You may check out this popular product on Amazon as well to read various positive reviews and view different tester's experiences.
Key Ingredients: Rice water, Jojoba oil, Moringa oil, and Soapwort
Pros
Sulfate-free
Rich in antioxidants
Pleasing fragrance
Ideal for mature skin
Cons
None
Price at the time of publication: $19.6
Cleansing is a vital part of the skincare regime, and with the worldwide adoption of Korean skincare methods, double cleansing is a buzzword among all beauty-conscious women. But it's equally important to invest in the right products to get the desired results. Hence, here are a few points that you must consider before getting double cleaning products.
How To Find The Best Korean Double Cleansing Product
Check for chemical-free skin care products, especially when you plan to purchase one for your facial cleansing. Make sure the products you opt for are free from harsh chemicals like paraben, sulfate, phthalate, surfactants, and others. This would give better results without damaging your skin. Opt for a mild product free from added color or fragrance if you have sensitive skin.
Most Korean cleansers are enriched with natural ingredients that ensure deeper penetration by thoroughly cleaning out grime. Look for creamy products for dry, damaged skin and lightweight, gel-based formulas for oily, acne-prone skin. Opt for one that claims to be naturally formulated with papaya, coconut, blueberry, and other organic extracts along with the essential vitamins to provide effective cleansing without breaking out skin. Furthermore, whenever possible, always ensure the formula is clinically-tested.
Skin Type And Ingredients To Use
Consider your skin type before making a purchase.. If you are looking for a cleanser with anti-aging properties then opt for products enriched with green tea extract, pea protein, snail mucin, argan il, and jojoba oil. While a product enriched with rice water extract would be perfect for dealing with acne-prone skin.
Cleansers often tend to dry out skin, hence, make sure to opt for nourishing and moisturizing Korean double cleansers to prevent dryness and irritation. Moreover, aloe or vitamin E and other similar hydrating ingredients restore the skin's moisture content.
If your skin is allergic to cosmetic products, make sure to check the label for hypoallergenic terms. Such products would provide better cleansing without triggering allergic reactions and would soothe your skin from irritation and itching.
Korean double cleansers cleanse your pores thoroughly but some products may block them causing skin problems. Hence, look out for products with antioxidant-rich green tea extract that improves skin texture and does not clog your pores.
The Bottom Line
Why Trust StyleCraze?
Shiboli Chakraborti is a certified skincare coach who loves trying out brand new products that can be easily incorporated into one's skincare routine. She empathizes with her users when it comes to finding the right products that can combat skincare issues with visible results. She has curated this list of the best Korean double cleansing products after extensively reviewing the product formulations on the brand's website. These products are infused with ingredients that thoroughly clean out the grime in your pores without stripping the skin of its moisture.
Frequently Asked Questions
How often is double cleansing suggested?
Double cleansing can be done once a day in the evening to remove the dirt and makeup from your skin. If used more than once, it may affect your skin's microbial balance and its protective barrier.
Do I double cleanse morning and night?
Yes. If you have oily or combination skin, double cleanse twice daily in the morning and night.
Can double cleansing cause acne?
No. But if your skin becomes too dry due to double cleansing and your body responds by producing more oils, it can lead to breakouts and acne.
How long should you double cleanse for?
Use a cleanser for 60 seconds each. So, you may require a little over two minutes to complete your double cleansing routine.
Do Koreans double clean every day?
Yes, Koreans double cleanse daily to achieve clear, supple skin.
Recommended Articles