14 Best Korean Foam Cleansers For All Skin Types – 2023
Korean foam cleansers nourish your skin back to health, leaving it radiant and glowing.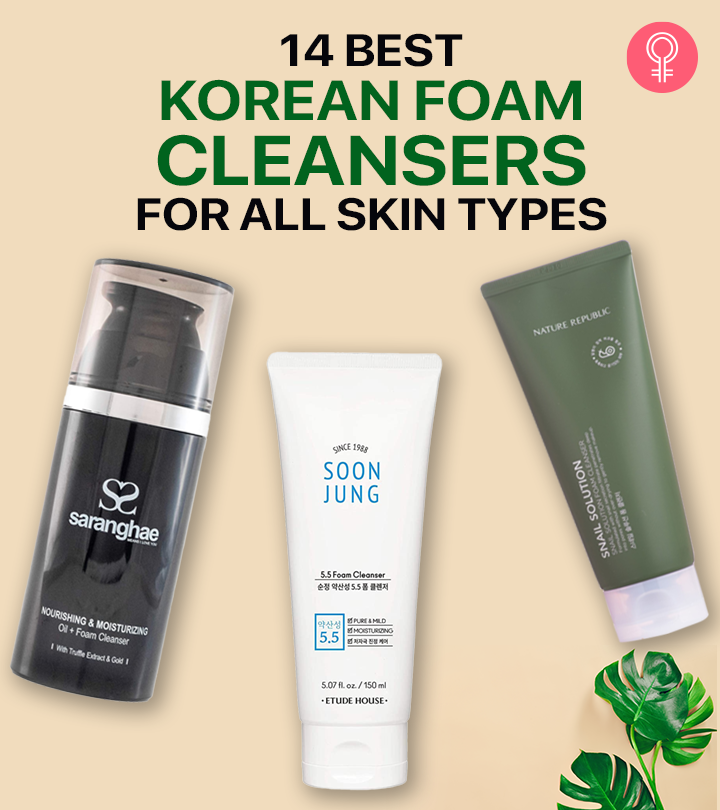 Korean skin care products have dominated the industry for a long time, and for good reason. Their effective and innovative formulas give you soft and supple skin. Since cleansing is such an integral part of your daily skin care routine, why not use the best Korean foaming cleansers for it?
As the name suggests, foam cleansers create a foam that removes grime, dust, makeup, and dead cells from your skin, leaving it clean and clear. Hillary Clark, a third-generation beauty entrepreneur, celebrity makeup artist, and medical esthetician, says, "Many foaming formulas are dual phase: first, the foam breaks down dirt and oil next, micro moisturizers and treatment ingredients hydrate or treat for specific concerns." To help you find the right one, we have created a list of the best Korean foaming cleansers you can add to your skincare arsenal. These have also got a good number of reviews online that show positive people's experience. Check them out right now!
14 Best Korean Foam Cleansers
Do you have withered out and dry skin? This super creamy and milky foam cleanser by Etude House will do the trick! It is super gentle on your skin and does not strip away its natural moisture. The panthenol in this dermatologically-tested cleanser is a powerful skin protector, which seals in moisture and maintains hydration for a prolonged period. Madecassoside soothes your skin and calms down any irritation triggered due to dryness. This foaming cleanser lathers well and removes impurities on your skin, leaving it perfectly clean and plump.
Key Ingredients: Panthenol and Madecassoside
Pros
Non-irritating
Lightweight
Non-comedogenic
Dermatologist-tested
Hypoallergenic
Mineral oil-free
PEG-free
Silicone-free
Paraben-free
Sulfate-free
Synthetic perfume-free
Tar-free
Cons
Price at the time of publication: $12.0
Clogged pores are a big no-no! And no matter how much concealer you apply, these enlarged pores just show up in a while. That's where the SKINFOOD Egg White Pore Foam comes in.
This cleanser, powered with fresh fruit and plant extracts, works magic on your pores. It firms your skin, minimizes enlarged pores, and enhances your overall complexion. The formula penetrates deep into the skin and gets rid of excess sebum, dead skin cells, grime, and blackheads for a smoother texture. The rich amino acid profile, vitamin B3, vitamin B2, and calcium improve skin elasticity and collagen production. To find out more about this product along with the reviewer's experience of using it, check out this video.
Key Ingredients: Olive fruit oil, Sesame seed oil, Albumin, and Centella asiatica extracts
Pros
Refreshing scent
Value for money
Ideal for oily skin
Reduces redness and pores
Cons
Price at the time of publication: $9.99
This unique double cleansing is all you can ask for in a foaming face wash. Saranghae's foaming facial cleanser, infused with the goodness of essential oils and foam, washes away even the toughest makeup with ease. It does not strip off the moisture from your skin and ensures hydration and elimination of breakouts.
Green tea extracts and white truffle possess anti-aging properties. These ingredients reduce dark spots, wrinkles, hyperpigmentation, and fine lines giving you a radiant, clear complexion. The olive oil in this cleanser gently breaks down any excess sebum and dirt, while the natural soap extracts wash it away. This plant-based cleanser with a dual-action foaming formula is ideal for all skin types.
Key Ingredients: Green tea extract, Olive fruit oil, and White truffle extract
Pros
Super hydrating
pH balancing
Plant-based formula
Suitable for daily use
Soap-free
Paraben-free
Cruelty-free
Vegan
Phthalate-free
Sulfate-free
Cons
Price at the time of publication: $19.2
The Sulwhasoo Gentle Cleansing Foam hydrates the skin and prevents dryness and roughness. Including this cleanser in your regular cleansing routine helps to gently remove makeup, oil, and debris from pores while soothing the face with botanical ingredients. This cleanser contains citrus peel extract, which ensures deep cleansing and helps brighten the skin tone and chestnut shell extract moisturizes the skin. The extracts of mulberry leaves and mountain yams refine the skin.
Key Ingredients: Hydra capture complex and Chestnut shell extract
Pros
Hypoallergenic
Paraben-free
Hydrating formula
Lightweight
Cons
None
Price at the time of publication: $12
The Mediheal Collagen Intense Lifting Cleansing Foam contains collagen, elastin, and squalane that keep the skin plump and firm. It contains revitalizing vitamin E and green tea, which help relax and soothe your skin. This cleansing foam enhances skin elasticity and treats the appearance of fine lines and wrinkles. It removes traces of dirt, oil, and makeup, leaving your skin looking fresh and revitalized.
Key Ingredients: Vitamin E and Green tea
Pros
Refreshing scent
Vegan
Value for money
Soothes the skin
Moisturizes the skin
Cons
None
Price at the time of publication: $9
This wonder cleanser from Mizon is enriched with snail mucin filtrate encased in mochi bubbles and is the holy grail for dry skin. The snail mucus extract in this formula forms a protective layer over your skin to prevent moisture retention and promotes skin regeneration. It is rich in copper enzymes and peptides and calms down any occasional flare-ups.
The all-natural face wash has a mixture of potent skin enhancers like hyaluronic acid for superior hydration and papaya for skin brightening. The Centella asiatica extracts soothe skin irritation. With regular use, this foaming facial cleanser helps reverse skin concerns like visible acne scars, pigmentation, and dark spots, and protects your skin from further damage.
Key Ingredients: Centella asiatica extracts, Papaya, and Hyaluronic acid
Pros
Improves skin elasticity
Anti-aging properties
Boost hydration
Fade acne scars
Paraben-free
Dermatologist tested
Cons
Price at the time of publication: $9.29
Say goodbye to drying formulas that make your skin scratchy with this excellent foaming cleanser by Klairs. It is a great skin detox for sensitive skin as its mild formula helps soothe irritation and redness and shrinks enlarged pores. Instead of a synthetic soap base, this cleanser uses a unique amino acid formula that cleanses your face, unclogs pores, and removes excess sebum, all while keeping your skin soft and moisturized. The houttuynia cordata extract and tea tree oil help manage skin conditions like acne and other skin ailments.
Key Ingredients: Glycerin, Tea tree oil, Aloe vera, Ginseng, Licorice extract, and Olive oil
Pros
Refreshing scent
Vegan
Ethanol-free
Steroid-free
Artificial coloring-free
Paraben-free
Value for money
Cons
May cause breakouts.
May dry the skin out.
Price at the time of publication: $16.99
The Innisfree Pore Clearing Facial Foam gently exfoliates the skin and removes dirt and buildup from the pores, making the skin smoother and softer. It contains jeju volcanic cluster, which soaks extra oil and dirt. Lactic acid and salicylic acid help get rid of dead skin cells and make pores look smaller. Fermented satsuma extract aids skin-tightening, and orchid flower extract ensures healthy, hydrated, and soft skin.
Key Ingredients: Jeju volcanic ash extract, Fermented satsuma extract, and Orchid flower extract
Pros
Gentle formula
Contains natural ingredients
Value for money
Cons
None
Price at the time of publication: $12
Another Jeju Island masterpiece, this hydrating and brightening cleansing foam provides superior hydration to the skin. The clear jelly-like cleanser forms fine bubbles to remove impurities, makeup, and dead skin cells for an enhanced skin tone. The aloe extract used in this cleanser is sourced from aloe leaves aged for more than 3 years. If you are an absolute beginner, this video featuring the reviewer's experience of using the product might be useful.
Key Ingredients: Aloe juice extract and Cucumber extracts
Pros
Hydrating formula
Lightweight
Non-sticky
Dermatologist-tested
Hypoallergenic
Pleasant scent
Aloin-free
Sulfate-free
Cruelty-free
Cons
Price at the time of publication: $10
This super dense foaming cleanser from The Face Shop is enriched with rejuvenating rice water that deep cleans your face while moisturizing it. This cleanser can be used in the double cleansing method as a second step. This silky, creamy foam cleanser gently removes impurities, excess sebum, and makeup, while hydrating and brightening your skin. Rice water is rich in vitamins A, B, and E, and ceramides nourish dry skin, leaving it soft and evenly toned. The moringa and jojoba oils hydrate the skin.
Key Ingredients: Rice water extracts, Moringa oil, Jojoba seed oil, and Soapwort extract
Pros
Gentle
Sulfate-free
Silicone-free
Paraben-free
Cons
Price at the time of publication: $8.4
This is another egg white-based pore cleansing foam that has made it to our list. This all-in-one cleanser from CARE:NEL moisturizes, cleanses, and refines your pores in a single wash. The dense facial foam with its thick and creamy consistency, clears your skin and removes excess sebum, dirt, grime, and dead skin cells clogging the pores. It is infused with egg albumen, rich in amino acids and botanical oil, which thoroughly moisturizes your skin.
Key Ingredients: Egg white
Pros
A little goes a long way
Luxurious foam
Light fragrance
Cons
Price at the time of publication: $12.9
The Georganic Red Yeast Rice Facial Foaming Cleanser is an excellent choice for super sensitive skin. This cleanser, fortified with 9 vegetable oils and red yeast rice, deep cleanses the skin without drying it out. The red rice, fermented for 360 hours, heals the skin texture. The microparticles cleanse the pores, bring down excess sebum production, and reduce blackheads. The spirulina extracts soothe, moisturize, and purify your skin, while coconut oil extract reduces acne.
Key Ingredients: Lavender oil, Orange oil, Papaya extract, Coconut oil, Rice bran extract, Anise seed oil, and Fermented red rice
Pros
Cruelty-free
Non-toxic
Hydrating formula
Doesn't leave any residue
Cons
None
Price at the time of publication: $27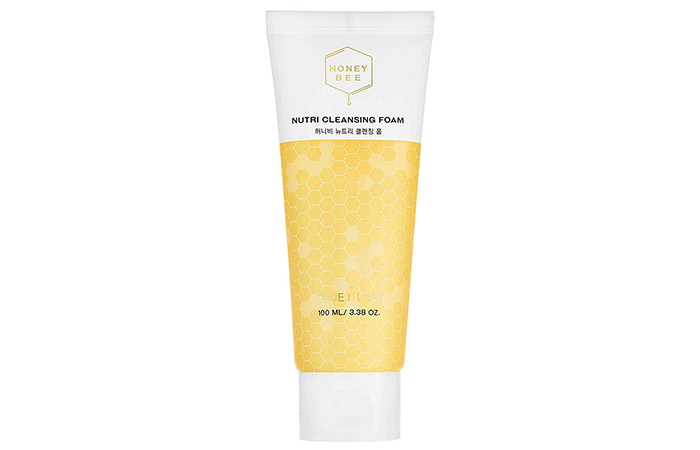 This super luxurious cleansing foam by True Island is filled with essential humectants and skin extracts. The deep cleansing face wash lathers perfectly to clear dead skin cells, dirt, and impurities from the skin. Honey is a "skin superfood" with moisture retention properties. The various vitamins and minerals in the royal jelly boost your skin's antioxidant levels, soothe your skin, and improve your skin tone. This face wash gives you super healthy skin and a radiant glow.
Key Ingredients: Royal jelly, Honey, and Propolis
Pros
Mild
Suitable for sensitive skin
Natural ingredients
Hydrating formula
Cons
None
Price at the time of publication: $9.99
The Atomy Evening Care Foam Cleanser helps maintain clean and healthy skin by eliminating excess sebum from pores. It contains trichloro acid that removes dirt and impurities from skin pores, while beta-glucan helps moisturize and nourish the skin. It features rice extracts that hydrate the skin and prevent dryness. This cleanser is ideal for oily skin as it helps in exfoliating and prepares the skin for better absorption of nutrients.
Key Ingredients: Glycerin
Pros
Non-oily
Pleasant scent
Leaves no residue
A little goes a long way
Removes makeup
Alcohol-free
Allergen-free
Gluten-free
Sulfate-free
Paraben-free
Silicone-free
Cons
Price at the time of publication: $13.7
Why Trust StyleCraze?
The author of this article, Shiboli Chakraborti, is a certified skin care coach. She has conducted thorough research on the best Korean foam cleansers to curate this list. She reviewed several online platforms, trusted sources, and brand websites for user feedback. These products create foam that removes grime, dust, makeup, and dead cells from your skin, leaving it clean and clear.
Frequently Asked Questions
Can I use a Korean foam cleanser every day?
Yes. Foam cleansers are an important part of a Korean skincare routine. You can use Korean foam cleansers every day to remove dead skin cells or clean clogged pores that are preventing healthy glowing skin. It is ideal to use a cleanser 2 to 3 times per day for faster skin renewal and anti-aging benefits.
Which Korean foam cleanser is the best for combination skin?
The Klairs Rich Moist Foaming Cleanser is a gentle formula that soothes irritation, reduces redness, and shrinks open pores. It is formulated to clear clogged pores and remove excess sebum keeping your skin soft and glowing.
Are foaming cleansers good for the face?
Foaming face washes are the best options for acne-prone skin and oily skin. They absorb excess oil from your face and keep the pores clean. They are gentle and contain good moisturizing properties that make your skin soft and supple.
Do Koreans double clean every day?
Double cleansing is a common practice in Korea. It involves cleansing the face with an oil-based cleanser followed by a water-based cleanser once in the morning and once in the evening. It keeps your face oil-free and glowing.
Recommended Articles