11 Best Anti-Aging Serums For Oily Skin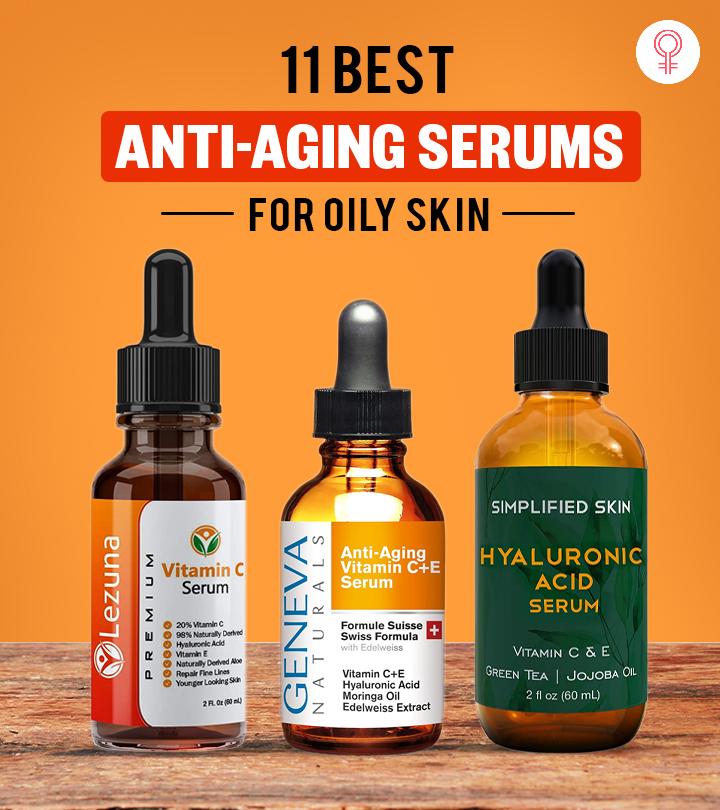 Is your skincare regimen failing to treat the aging signs? It probably lacks a good anti-aging serum. When it comes to skin issues, aging signs top the list. No matter what your age, the deep wrinkles, sagging skin, and appearance of fine lines can scare the best of us.  Enter anti-aging serums. These are specifically formulated to fight the signs of aging and more, leaving you with a youthful glow.
Every skin type has anti-aging facial serums designed to address its specific concerns. That being said, people with oily skin may have a tough time choosing the right facial serum, and that is why we did the work for you. Here is a list of the 11 best anti-aging serums for oily skin that you can use to fight wrinkles and fine lines. Scroll down to know more!
11  Best Anti-Aging Serums For Oily Skin
The InstaNatural Age Defying & Skin Clearing Serum is designed to address various skin conditions like blemishes, signs of aging, and hyperpigmentation. This weightless serum is ideal for people with oily, combination, and blemish, and acne-prone skin.
It contains retinol and vitamin C that defend the skin against environmental aggressors while eliminating fine lines, wrinkles, and discoloration. The serum leaves the skin with an even tone and smooth texture. The mix of retinol and salicylic acid also increases cell turnover and clears clogged pores. The salicylic acid, niacinamide, and tea tree oil work together to soothe the skin and lessen the appearance of blemishes.
Key Ingredients: Vitamin C, Retinol, Salicylic acid, and Niacinamide
Pros
Lightweight
Smells good
Reduces acne scars
Vegan
Cruelty-free
Cons
The eve hansen Hyaluronic Acid Serum is an intense moisturizing formula designed to fight aging signs and revive the skin's natural glow. It is infused with hyaluronic acid to hydrate, soothe, and tighten the skin. The serum also contains vitamins C and E that brighten the skin, plump wrinkles, reduce fine lines and redness, and deeply hydrate and soften the skin. This formula is enriched with the goodness of green tea, organic aloe, and jojoba oil that gently exfoliate your skin and clear out clogged pores while reducing puffiness and redness.
Key Ingredients: Vitamin C, Vitamin E, Hyaluronic acid, Green tea, Jojoba oil, and Aloe vera
Pros
Safe for sensitive skin
Brightens dark circles
Lightweight
Non-greasy
Paraben-free
Phthalate-free
Cruelty-free
Sulfate-free
Vegan
Cons
None
The IMAGE SKINCARE AGELESS Total Anti-Aging Serum is designed for people with sun-damaged, oily, or acne-prone skin. It is formulated to address signs of aging, revitalize dull skin, and provide a dewy glow by keeping it hydrated.
This anti-aging oily skin serum is infused with a triple AHA blend (lactic, glycolic, and malic acids) that deeply exfoliates dead skin cells, revealing brighter, renewed, and even-toned skin. The vitamin C-enriched formula improves skin elasticity and firmness. This serum also contains palmitoyl tripeptide-38 to plump wrinkles and grape seed extract (reservatrol) to eliminate the appearance of fine lines and dark spots. The complex is developed to penetrate deep into your skin and keep it nourished up to 48 hours post-application.
Key Ingredients: Alpha hydroxy acid blend, Palmitoyl tripeptide-38, and Resveratrol (grape seed extract)
Pros
Absorbed quickly
Lightens dark spots
Cruelty-free
Long-lasting moisturization
Cons
The OZNaturals Hyaluronic Acid Facial Serum is hydrates, softens, and rejuvenates the skin cells to reveal firm and plump skin. It is formulated using plant-based hyaluronic acid that intensely hydrates your skin, promotes moisture retention, and eliminates fine lines and wrinkles.
The serum also contains vitamin C that reduces hyperpigmentation and imparts glow. Green tea repairs the damages caused by UV rays, environmental aggressors, and free radicals, and vitamin E boosts skin elasticity. The rose hips extracts act as natural antioxidants to repair and protect the skin.
Key Ingredients: Vitamin C, Vitamin E, Hyaluronic acid, Rose hips extract, and Green tea
Pros
Fast-absorbing
Non-sticky
Paraben-free
Sulfate-free
Phthalate-free
Triclosan-free
Synthetic fragrance-free
No synthetic colors
Phenoxyethanol-free
Petrochemicals-free
Benzyl alcohol-free
Cons
The Simplified Skin Hyaluronic Acid Serum evens the skin texture, fights the signs of aging, tightens pores, prevents breakouts, and boosts collagen. This organic serum contains the goodness of active ingredients like vitamin C, vitamin E, hyaluronic acid, green tea, and jojoba oil that deeply hydrate and moisturize the skin to make it visibly smooth, plump, and soft. It also boosts brightening action to reduce pigmentation, dark circles, and sunspots.
Key Ingredients: Vitamin C, Vitamin E, Hyaluronic acid, Green tea, and Jojoba oil
Pros
Lightweight
Fast-absorbing
Cruelty-free
Paraben-free
Sulfate-free
Gluten-free
Fragrance-free
Value for money
Cons
The Advanced Clinicals Vitamin C Anti-Aging Serum has a highly potent, deeply restorative formula that intensely hydrates and firms up your skin. It is infused with K3 vitamin C that improves the skin tone and reduces fine lines and dark spots.
The serum is enriched with palmitoyl oligopeptide to diminish wrinkles by boosting collagen production. Glycolic acid eliminates acne and controls sebum. Ferulic acid acts as a natural antioxidant to impart a youthful radiance and reduce imperfections, leaving you with an overall balanced skin texture.
Key Ingredients: Vitamin C, Ferulic acid, and Palmitoyl oligopeptide
Pros
Calms redness
Affordable
Mild fragrance
Reduces acne scars
Dermatologically tested
Cons
None
The Paula's Choice CLINICAL 0.3% Retinol + 2% Bakuchiol Treatment is a lightweight formula, ideal for all skin types. The serum is designed to address signs of aging, uneven skin tone, loss of firmness, and sun damage. The powerful triple-action anti-aging blend contains the antioxidant-rich retinol that restores the skin, smooths wrinkles, and treats sun damage.
The high concentration of naturally derived and anti-inflammatory bakuchiol extract heals the skin and enhances the effects of retinol. The potent mix of peptides containing amino acids provides skin-soothing and skin-firming benefits by boosting collagen production. This anti-aging serum for oily skin also effectively reduces the appearance of fine lines and wrinkles.
Key Ingredients: Retinol, Bakuchiol extract, and Peptides
Pros
Paraben-free
Fragrance-free
Calms redness
Lightweight
Cons
None
The gopure Hyaluronic Acid Serum is designed to penetrate the skin deeply and transform dry, rough, and wrinkled skin into plump, radiant, and smooth skin. It features pure, antioxidant-rich hyaluronic acid that hydrates your skin to give it a supple, dewy, and natural glow. This serum reduces the appearance of wrinkles and fine lines to reveal smooth and younger-looking skin. The blend of green tea, vitamin C, and vitamin E defends the skin from environmental aggressors and also promotes a bright and even skin tone.
Key Ingredients: Vitamin C, Vitamin E, Hyaluronic acid, and Green tea
Pros
Lightweight
Non-sticky
Non-toxic
Cruelty-free
Paraben-free
Propylene glycol-free
Hydroquinone-free
Formaldehyde-free
SLS-free
Petroleum-free
Mineral oil-free
Dye-free
Value for money
Fragrance-free
Cons
If you are struggling with aging signs, puffiness, dullness, and uneven skin tone, the Geneva Naturals Anti-Aging Vitamin C+E Serum is what you need. It is an ideal anti-aging skin serum for oily skin types.
This serum features a powerful Swiss blend designed to give you a healthy glow. It is infused with the deeply penetrating hyaluronic acid that firms the skin and restores moisture, thereby plumping wrinkles and fine lines. The antioxidant-rich moringa oil helps brighten your skin tone and boosts radiance while providing powerful UV ray protection. It soothes inflammation and redness and reveals younger and healthier-looking skin.
Key Ingredients: Vitamin C, Moringa oil, Hyaluronic acid, and Edelweiss extract
Pros
Improves skin tone
Adds a youthful glow
Value for money
Paraben-free
Lightweight
Fast-absorbing
Lightens acne scars
Non-greasy
Cons
None
The Lezuna Premium Vitamin C Serum is a lightweight formula ideal for all skin types. It contains 98% naturally derived ingredients designed to give you a youthful glow. It is infused with 20% vitamin C that deeply penetrates the surface layers of your face to defend your skin against environmental aggressors and UV rays.
The serum promotes collagen production to reduce fine lines and wrinkles and brighten the skin tone. It also contains hyaluronic acid that hydrates the skin and maximizes collagen production to make the skin soft and supple. The organic aloe vera reduces inflammation and heals psoriasis, acne, and eczema, while jojoba oil acts as a natural moisturizer for your skin.
Key Ingredients: Vitamin C, Vitamin E, Hyaluronic acid, Organic aloe vera, and Jojoba oil
Pros
Gentle on the skin
Lightweight
Value for money
Cons
None
The First Aid Beauty Ultra Repair Hydrating Serum is a lightweight water-based facial serum that can be used daily for treating dryness, signs of aging, and redness. It is formulated with a blend of ultra-hydrating hyaluronic acid and amino acid peptides that smoothen skin and reduce the appearance of wrinkles and fine lines. It also contains colloidal oatmeal to soothe dry and irritated skin, collagen to enhance the skin tone and texture for an overall healthier look, and aloe vera to deeply nourish and hydrate your skin.
Key Ingredients: Colloidal oatmeal, Peptides, Hyaluronic acid, Collagen, and Aloe vera
Pros
Dermatologist tested
Non-comedogenic
Cruelty-free
Nano-free
Nut-free
Oil-free
Soy-free
SLS-free
Gluten-free
Alcohol-free
Ethanol-free
No artificial colorants
No artificial fragrance
Lanolin-free
Mineral oil-free
Paraben-free
Petrolatum-free
Phthalate-free
Propylene glycol-free
Talc-free
Formaldehyde-free
Oxybenzone-free
Coal tar-free
Hydroquinone-free
Triclocarbon-free
Cons
Anti-aging serums not only reduce wrinkles and fine lines but also address other skin concerns like acne and eczema. They help nourish and hydrate the skin and improve skin tone. So what are you waiting for? Choose the suitable product from our list and bring out the beautiful you!
Recommended Articles