11 Best Anti-Aging Creams For Oily Skin
Slow down skin aging and prevent oiliness and look clean, young, and matte all day long!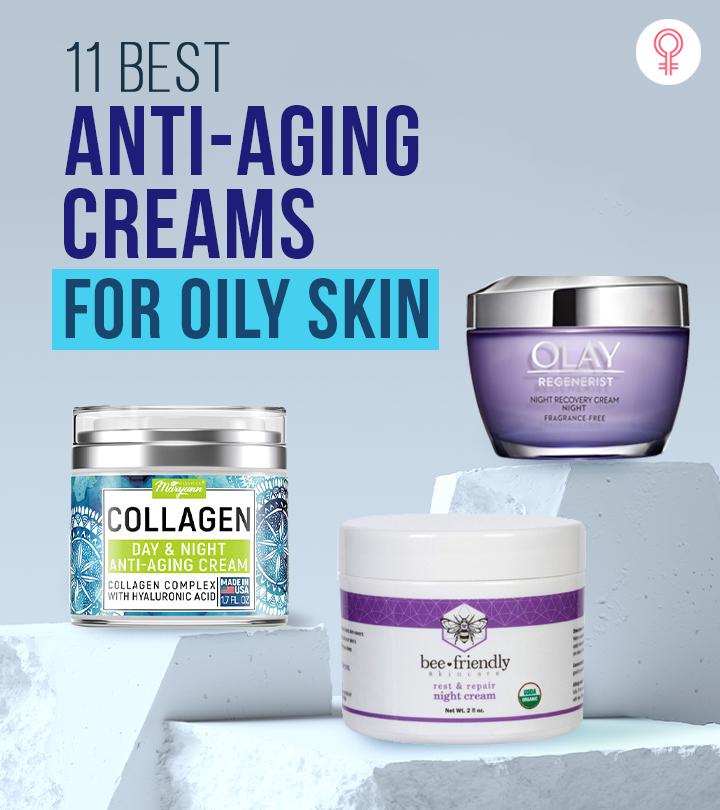 Aging gracefully is something we all hope for. In today's times, where we are constantly exposed to pollution, dust, and stress, it's no wonder our skin is aging faster than it should. On top of that, our genes and stressful lifestyles make our skin oily and dull! To slow down the process of aging, use the best anti-aging creams for oily skin.
Since oily skin is a result of low levels of moisture in your skin, opting for anti-aging creams that are rich in vitamin A, shea butter, or hyaluronic acid is your ideal choice. They lock and retain the moisture in your skin and stimulate the production of collagen which keeps your skin tight and firm. To help you slow down your aging, we have curated a list of the best 11 anti-aging creams for oily skin to give you fresh and smooth skin!
11 Best Anti-Aging Creams For Oily Skin
Give your skin a youthful and smooth look with the TREE TO TUB Ginseng Green Tea Deep Hydration Face Cream. This hydration face cream is packed with natural ingredients that keep the skin hydrated, soothe sensitive skin, and nourish your skin. The cream is also effective in locking the moisture, fighting against aging issues, and toning the skin. It offers a perfect pH of 5.5 and makes the skin radiant.
Key Ingredients: Organic Green tea, Organic Aloe vera, and Shea butter
Pros
 No oily residue
 Unisex
 Vegan
 Cruelty-free
 Paraben-free
Cons
None
The Bee Friendly Rest & Repair Night Cream is a deeply hydrating and nourishing formula that works overnight to give you healthy and youthful skin. It is made using all-natural and organic ingredients that provide anti-aging benefits to your skin. It is infused with beeswax, organic olive oil, and raw honey that improve skin elasticity and promote cell regeneration. These ingredients also boost collagen production.
Key Ingredients: Beeswax, Raw honey, Organic olive oil, Organic geranium essential oil, Organic lemon essential oil, and Vitamin E
Pros
Certified organic
Cruelty-free
Chemical-free
SLS-free
No synthetic fragrance
Paraben-free
Filler-free
Cons
Expensive
Takes time to get absorbed.
This anti-aging cream from L'Oreal Paris is rich in skin-plumping collagen that delivers anti-aging benefits. Collagen is a naturally occurring skin protein that gives the skin deep hydration and nourishment to fade wrinkles and fine lines, making the skin surface smoother over time. You can include this cream in your day or night skin care routine and witness the difference. This video will help you to get a clear idea of using the Loreal Collagen Moisture Filler Fragrance free.
Key Ingredients: Glycerin, Shea butter, Beeswax, Boswellia serrata extract, and Soluble collagen
Pros
Pleasant fragrance
Non-comedogenic
Lightweight
Dermatologist-tested
Non-greasy
Cons
The InstaNatural Collagen Night Cream is an intensely hydrating formula developed to address the common signs of aging. It is formulated with Detoskin that is clinically proven to support collagen III production for firming the skin. The rosehip seed oil and vitamin C boost collagen production, while hyaluronic acid deeply hydrates your skin and plumps fine lines and wrinkles. This cream moisturizes, brightens, and tones the skin while providing anti-aging benefits.
Key Ingredients: Detoskin, Hyaluronic acid, Vitamin C, and Rosehip seed oil
Pros
Cruelty-free
No synthetic dyes
Paraben-free
SLS/SLES-free
Mineral oil-free
No formaldehyde releasers
Petroleum-free
Polyethylene glycol-free
DTA/MEA/TEA-free
Cons
May cause irritation and breakouts.
The Body Merry Breakthrough Night Cream is an intense moisturizer that serves multiple purposes – it can be used as a night, day, or hand cream – to give you a supple and youthful glow. It contains botanical hyaluronic acid that revitalizes your skin. The nourishing blend of niacinamide, peptides, ocean minerals, and seaweed slows down skin aging, revealing an even-toned and brighter complexion. It also contains antioxidant-rich spirulina, organic sunflower oil, and jojoba oil that nourish the skin and eliminates free radicals.
Key Ingredients: Sunflower oil, Jojoba oil, Spirulina, Botanical hyaluronic acid, Niacinamide, Peptides, Ocean minerals, Seaweed, Vitamin B3, and Irish moss
Pros
Absorbed quickly
Non-greasy
Cruelty-free
Affordable
Vegan
No synthetic fragrance
Cons
The Eve Hansen Vitamin C Night Repair Cream is one of the best anti-aging night creams for oily skin. It evens out the skin tone, revitalizes dull skin, boosts elasticity, and reduces the signs of aging. This cream targets wrinkles, fine lines, dark circles, discoloration, sun spots, and blotchiness. It is infused with vitamin C that works during the night to reduce post-exposure sun damage and give you brighter-looking skin the following day.
Key Ingredients: Vitamin C
Pros
Pleasant fragrance
Non-greasy
Cruelty-free
Organic
Fragrance-free
Cons
This anti-aging cream addresses skin concerns like hyperpigmentation, deep wrinkles, surface lines, dry lips, age spots, sun spots, and discoloration. The nourishing ingredients like retinol, jojoba seed oil, safflower seed oil, hydrolyzed coconut oil, and squalene hydrate and brighten the skin, reduce wrinkles. They improve skin elasticity, boost collagen production, and reduce aging signs.
Key Ingredients: Vitamin A, Jojoba seed oil, Squalene, Safflower seed oil, and Hydrolyzed coconut oil
Pros
Hypoallergenic
Non-greasy
Dermatologically tested
Cruelty-free
Mineral oil-free
No synthetic fragrance
No synthetic colors
Paraben-free
Vegan
Gluten-free
Cons
None
The Mabox Advanced Retinol Moisturizer is a lightweight face cream designed to make your skin look younger, plumper, and glowing. It tones down dark circles, wrinkled skin, puffiness, and milia around the eyes, making you look younger. The cream is formulated with a moisturizing blend of vitamin E, vitamin B5, hyaluronic acid, shea butter, green tea, and jojoba oil that naturally soothes and regenerates the skin. You can also use it on your hands and neck to lighten sunspots, reduce UV damage, and firm the skin. To know more about the product and its merits, take a quick look at the video.
Key Ingredients: Retinol, Propolis, Green tea, Vitamin E, Aloe vera, Shea butter, and Hyaluronic acid
Pros
Lightweight
Non-greasy
Non-comedogenic
Smells good
Filler-free
Vegan-friendly
No synthetic fragrances
Cruelty-free
GMP certified
Paraben-free
Dye-free
Cons
None
If you want deeply nourished skin and a youthful complexion, the JOVOVO Naturals Royal Uplifting Face Cream is your best bet. This cream contains powerful anti-aging ingredients like royal jelly, beeswax, glycolic acid, and vitamins C and E that stimulate collagen production and reduce the appearance of the signs of aging. It also contains organic extracts of apple, orange, cucumber, avocado, and coconut that work together to give you supple and plump skin. This formula hydrates the skin, increases its elasticity, and reduces the appearance of wrinkles, crow's feet, and fine lines on your face and neck.
Key Ingredients: Vitamin C, Rosehip oil, and Glycolic acid
Pros
Cruelty-free
Absorbed quickly
Non-greasy
Cons
The Olay Regenerist Night Recovery Cream is an intensely moisturizing face cream that plumps up wrinkles and fine lines to give you younger-looking skin. The ultra-hydrating Amino-Peptide Complex penetrates 10 layers of the skin to boost skin cell regeneration. This anti-aging night cream for oily skin also contains vitamin B3 or niacinamide that helps with moisture retention while exfoliating dead skin cells. Check out this video before buying the Olay Regenerist Night Recovery Cream.
Key Ingredients: Amino-Peptide Complex, Niacinamide, and Vitamin E
Pros
Quick-absorbing
Non-greasy
Fragrance-free
No synthetic dyes
Cons
The RoC Retinol Correxion Sensitive Night Cream is infused with toned-down version retinol to minimize irritation. Retinol is a vitamin A derivative that removes dead and dull skin cells on the skin surface, leaving you with a fresher, healthier, and vibrant complexion. This cream works overnight to condition and exfoliate the skin while reducing the signs of aging. It also contains hyaluronic acid to help lock moisture into your skin and plump wrinkles.
Key Ingredients: Pure RoC retinol
Pros
Non-greasy
Non-comedogenic
Dermatologist-tested
Fragrance-free
No harsh chemicals
Oil-free
Cons
None
Why Trust Stylecraze
The author of this article, Shiboli Chakraborti is a certified skin care coach who loves trying out different beauty products. She has curated this list of the best anti-aging creams for oily skin after carefully researching, checking reviews online, and going through multiple forums for user feedback. She picked oil-free and dermatologist-tested products that are made with organic materials.
Recommended Articles