11 Best Anti-Aging Creams For Oily Skin
Slow down skin aging and prevent oiliness and look clean, young, and matte all day long!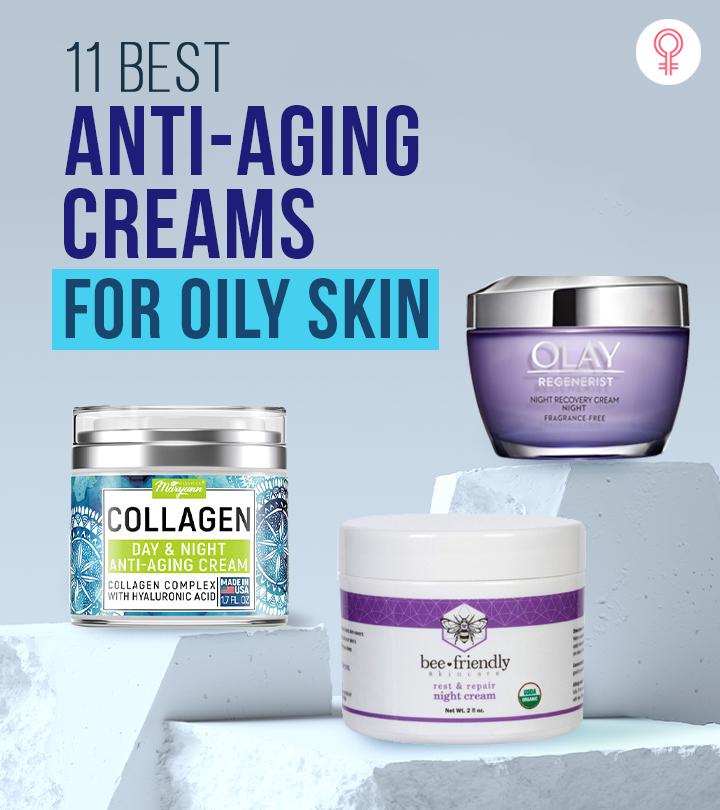 Aging gracefully is something we all hope for. In today's times, where we are constantly exposed to pollution, dust, and stress, it's no wonder our skin is aging faster than it should. On top of that, our genes and stressful lifestyles make our skin oily and dull! To slow down the process of aging, use the best anti-aging creams for oily skin.
Since oily skin is a result of low levels of moisture in your skin, incorporating anti-aging creams in your skin care routine that are rich in vitamin A, shea butter, or hyaluronic acid is your ideal choice. They lock and retain the moisture in your skin and stimulate the production of collagen which keeps your skin tight and firm. To help you slow down your aging, we have curated a list of the best 11 anti-aging creams for oily skin to give you fresh and smooth skin!
11 Best Anti-Aging Creams For Oily Skin
Price at the time of publication: $44.98
The Bee Friendly Rest & Repair Night Cream is a deeply hydrating, brightening, and nourishing formula that works overnight to give you healthy, youthful skin. It is made using all-natural and organic ingredients that provide anti-aging benefits to your skin. It is infused with beeswax, organic olive oil, and raw honey that improve skin elasticity and promote cell regeneration. These ingredients also boost collagen production.
Key Ingredients: Beeswax, Raw honey, Organic olive oil, Organic geranium essential oil, Organic lemon essential oil, and Vitamin E
Price at the time of publication: $29.99
Price at the time of publication: $26.75
Price at the time of publication: $18.97
Price at the time of publication: $17.67
Price at the time of publication: $25.99
Price at the time of publication: $49
Price at the time of publication: $7.99
Price at the time of publication: $25.99
Price at the time of publication: $20.54
The RoC Retinol Correxion Sensitive Night Cream is infused with toned-down version retinol to minimize irritation. Retinol is a vitamin A derivative that removes dead and dull skin cells on the skin surface, leaving you with a fresher, healthier, and vibrant complexion. This cream works overnight to condition and exfoliate the skin while reducing the signs of aging. It also contains hyaluronic acid to help lock moisture into your skin and plump wrinkles.
Key Ingredients: Pure RoC retinol
Price at the time of publication: $29.5
How To Select The Best Anti-Aging Creams For Oily Skin
Aging is inevitable, but you can certainly age gracefully with the help of the best anti-aging creams. Here are a few factors to consider while buying anti-aging creams that work for your oily skin.
As oily skin is more prone to breakouts, it is important to know which ingredients work for your skin. The anti-aging creams you pick should contain ingredients like retinoids, vitamin A, beeswax, aloe vera, shea butter, hyaluronic acid, or niacinamide. They provide a host of benefits like lock in moisture and reduce the appearance of fine lines and wrinkles. Green tea, glycolic, and salicylic acids are rich in wrinkle-reduction and pore-minimizing properties. These ingredients also help improve elastin in oily skin.
Avoid formations which contain harmful toxins like alcohol, paraben, SLS or SLES, mineral oil, formaldehyde releasers, petroleum, DTA, or MEA. Avoid products that have artificial or overpowering fragrances or synthetic dyes as it may lead to clogging of pores, dryness, or acne breakouts.
Oily skin tends to feel greasy, so pick a formula that is lightweight, non-sticky, and quick absorbing. Make sure the consistency isn't too watery and the formula has a mattifying effect. Opt for creams that are non-comedogenic and hypoallergenic with antioxidants and anti-inflammatory properties. Always do a patch test to avoid any side effects or allergies.
Apart from the obvious anti-aging properties like reducing fine lines, wrinkles, crow's feet and skin tightening, the cream should cater to other concerns. Like even toning and enhancing complexion, eliminating free radicals, reducing dark circles, discoloration, sun spots, dark spots, and blotchiness. The formula should nourish and hydrate your skin, tighten your pores, and reduce UV damage.
It is important to invest in the right kind of skin care to maintain a healthy routine. However, you can avoid extravagant splurge and comb through the affordable options available in the market. Focus on the ingredients and formula, rather than brand names or price tags.
Why Trust Stylecraze?
The author of this article, Shiboli Chakraborti is a certified skin care coach who loves trying out different beauty products. She has curated this list of the best anti-aging creams for oily skin after carefully researching, checking reviews online, and going through multiple forums for user feedback. She picked oil-free and dermatologist-tested products that are made with organic materials.
Frequently Asked Questions
Which type of moisturizer is the best for oily skin?
Gel or water-based moisturizers are the best for oily skin. They penetrate the skin and control oil production without making the skin greasy.
Is salicylic acid good for oily skin?
Yes. Salicylic acid reduces the oil production of your skin and soothes acne. In addition, it unclogs the pores and hydrates the skin.
When should you apply moisturizer to oily skin?
Apply moisturizer daily in the morning after cleansing your face and at night before sleeping.
How do you use anti-aging cream for oily skin?
Take a generous amount of anti-aging cream on your palm. Rub and activate the cream between your fingers and apply it gently with patting motions all over your face. Do not forget to apply the product behind your ears and neck.
How long do anti-aging creams last?
The shelf life of anti-aging creams is six months to one year.
How often should I use anti-aging cream?
Use anti-aging creams daily to prevent wrinkles, fine lines, and blemishes.