11 Best Jojoba Oils To Address All Your Skin Woes – 2022
Keep your acne-prone skin happy and hydrated with the most nourishing oils for the face.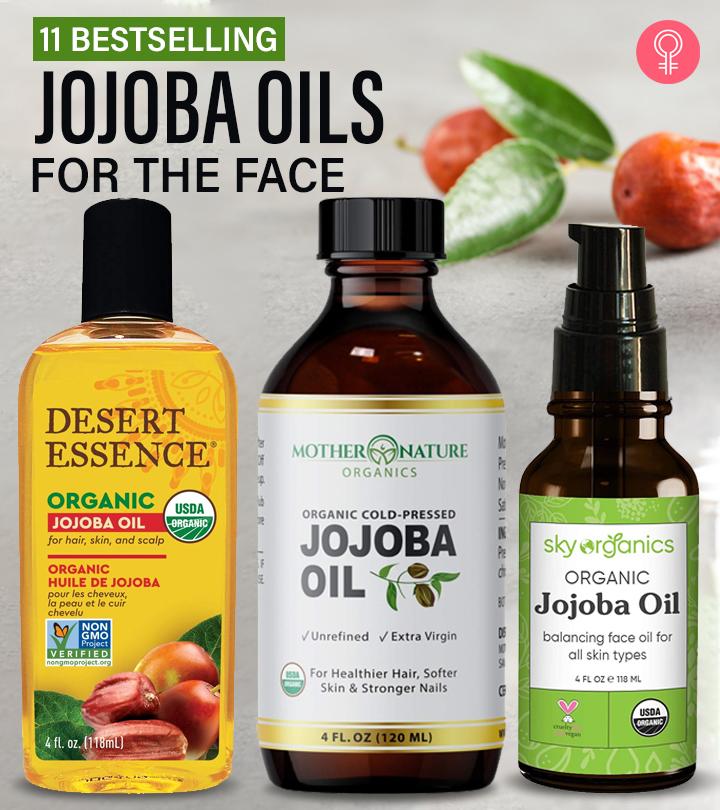 Jojoba oil is replete with vitamin E and has natural moisturizing properties. It is known for its skin-protecting effects, and you must incorporate this healing oil into your skincare regimen. Using the best jojoba oil for the face can do wonders on acne-prone skin. It protects the natural skin barrier and regulates excess oil production, which in turn prevents pore-clogging. The powerful antioxidant properties fight against environmental aggressors and keep your skin problem-free. This article explores the 11 best-selling jojoba oils for the face available on the market. Scroll down for more information.
11 Bestselling Jojoba Oils For The Face
Cliganic's Jojoba Oil is and quick-absorbing oil and works by imitating the skin's natural moisturizers. It is ideal for all skin types and helps in balancing oil production without feeling greasy. The oil features antibacterial properties that kill acne-causing bacteria. Its non-comedogenic formula is unrefined and gentle enough to be applied on sensitive skin. This lightweight oil also contains vitamins E and B complex and has a subtle scent. It is suitable for the hair, skin, nails, and body. Take a look at this video to learn more about the Cliganic 100% Pure & Natural Jojoba Oil.
Pros
Cold-pressed
Non-greasy
Leaves no residue
Quickly absorbed
Stain-proof
Hypoallergenic
Non-comedogenic
Mild fragrance
Alcohol-free
Cruelty-free
Cons
The Kate Blanc Jojoba Oil is specially formulated for oily and acne-prone skin types. It penetrates deep into the skin without leaving residue or clogging the pores. It is cold-pressed to preserve its properties and is ideal for wrinkles, marks, and stretch marks. It can also be used to moisten your lips and remove makeup. The oil possesses anti-inflammatory properties and helps in soothing rosacea, chapped skin, and sunburns. You can mix it with any carrier oil like lavender, argan oil, or rosehip oil to prevent breakouts and fade spots and scars.
Pros
For all skin types
Easily absorbed
Cold-pressed
100% pure
Hexane-free
Cruelty-free
Cons
This organic jojoba oil from Viva Naturals is infused with essential fatty acids and other skin-loving ingredients to soften and smoothen dull and dehydrated skin. The non-toxic formula supplies hydration to revive and brighten the skin. It works best on dry skin types and is absorbed quickly without feeling sticky. This oil can be used for aromatherapy, removing makeup, and for cuticle care. Click on this demo video of the Viva Naturals Organic Jojoba Oil.
Pros
Quickly absorbed
Non-greasy
Hypoallergenic
Hexane-free
Preservative-free
Cons
The Healing Solutions Organic Jojoba Oil is entirely natural and cold-pressed. This moisturizing oil helps in smoothening the skin and hair. It unclogs the pores without leaving a sticky residue to reveal a bright and youthful complexion. The chemical-free oil works as a makeup remover and naturally treats the skin. It is undiluted and unrefined and suitable for acne-prone skin.
Pros
Undiluted
Non-comedogenic
Non-sticky
Leaves no residue
Quickly absorbed
Hexane-free
Chemical-free
Cons
The jojoba oil from Now Solutions is a moisturizing all-purpose facial, body, and hair oil. Its pure formula is obtained from the cold press of jojoba shrub seeds to deliver high-quality and safe goodness to your skin. This pure quality jojoba oil is suitable for all skin types and helps in improving the texture of the skin. It leaves behind a mild fragrance.
Pros
Cold-pressed formula
Undiluted
Mild fragrance
Hexane-free
Paraben-free
Vegan
Value for money
Cons
This cold-pressed jojoba oil from Mother Nature Organics is the ultimate solution for dry, chapped, and rosacea-prone skin. It has skin healing properties and ingredients like vitamin E, B complex, zinc, copper, and fatty acids that help repair skin texture and control damage. The non-comedogenic oil is recommended for all skin types and gets easily absorbed into the skin to start working from deep within. It regulates sebum production and reduces inflammation. It is ideal for moisturizing the hair, nails, and skin and helps in soothing irritated, sunburned, chapped, and flakey skin.
Pros
Lightweight
Undiluted
Quickly absorbed
Light fragrance
For all skin types
Non-comedogenic
Synthetic pesticide-free
Derivative-free
Hexane-free
GMO-free
Cruelty-free
Cons
The Desert Essence Organic Jojoba Oil is derived from the cold press of jojoba plant seeds of the Sonoran and Peruvian desert regions. Its moisture-rich formula prevents dryness, breakouts, and patchy skin while removing makeup and offering deep pore cleansing. This skin softening and hydrating oil is absorbed quickly without feeling greasy. It treats dry, rough, and itchy skin to become smooth and radiant. Go through this video to check the detailed review of the Desert Essence Organic Jojoba Oil.
Pros
Non-comedogenic
Leaves no residue
Quickly absorbed
For all skin types
Non-toxic
Alcohol-free
Detergent-free
Synthetic scent-free
Gluten-free
Vegan
Cons
This cold-pressed jojoba oil from Sky Organics acts similar to natural skin moisturizers to balance the skin. The moisturizing formula keeps the skin oil-free and non-sticky. It contains the benefits of vitamins E and B complex to combat bacterial infections, dehydration, and pore-clogging. This quick-absorbing jojoba oil is especially recommended for dry skin type.
Pros
Non-greasy
Fast absorption
Non-comedogenic
Fragrance-free
Vegan
Cruelty-free
Cons
The organic jojoba oil from Pura D'or is enriched with the benefits of minerals, vitamins, and antioxidants to nourish your skin, hair, and nails. This moisture-intense oil possesses anti-aging properties and helps in fading wrinkles and fine lines. It helps soothe itchy, irritated scalp and adds volume and shine to dry, dull hair. The skin softening formula offers thorough hydration and prevents dryness, chapping, and flaking.
Pros
Quickly absorbed
Non-comedogenic
Non-greasy
Non-irritating
Hexane-free
Unrefined
Cons
The Maple Holistics Jojoba Oil takes care of your hair and skin. The hydrating formula contains essential fatty acids that provide natural care to dry and dehydrated skin. The oil can be blended with a wide range of carrier oils for DIY care and anti-aging skin care. It is cold-pressed and unrefined and can be used as a facial and body oil for both men and women. It is also safe for use on young children.
Pros
For all skin types
Cold-pressed
Unrefined
Safe for children
Cons
Develops an unpleasant smell.
This jojoba oil from L'arcenciel is 100% pure, cold-pressed, and organic and helps in regulating the oil production of the skin. This natural skin moisturizer replenishes the skin without being greasy or sticky. It combats bacteria that cause acne and other skin infections. The jojoba oil also helps diminish the appearance of wrinkles and fines lines by delaying aging signs. It can also be used to remove makeup and dirt.
Pros
Non-greasy
Cold-pressed
Quickly absorbed
Pesticide-free
Harsh chemicals-free
Cruelty-free
For all skin types
Cons
If you are planning to buy jojoba oil, check out the factors to consider before investing in one.
What To Consider Before Buying Jojoba Oil
Refined Or Organic: Always opt for organic jojoba oils as it contains all essential nutrients and is safe for use.
Cold-Pressed: Jojoba oil derived using the cold press method is more beneficial as the essential nutrients, antioxidants, and natural aroma are preserved.
Color: The color helps ensure the purity of the oil you want to buy. Pure jojoba oil will have a pale golden color.
Purity: To know if you are buying a genuine and pure product, always check the ingredients list. The additives with a higher percentage will have more concentration in the product you want to buy. So, if you are purchasing a pure jojoba oil, the percentage of jojoba must be 90-100%.
Why Trust Stylecraze?
Shiboli Chakraborti is a certified skin care coach and writes well-researched product reviews. She strongly recommends jojoba oil for facial skin, considering its high vitamin E content and moisturizing properties. Hence, she has compiled this list of the best jojoba oils after thorough research and screening hundreds of reviews posted by users. The products included in the list have high user ratings.
Frequently Asked Questions
Can I leave jojoba oil on my face overnight?
Yes, jojoba oil can be applied overnight on the face.
When should I apply jojoba oil to my face?
The best time to apply jojoba oil is before bedtime.
Does jojoba oil lighten skin?
Jojoba oil helps in lightening dark spots on your skin but not your skin tone.
Does jojoba oil grow eyelashes?
Jojoba oil helps moisturize the lashes and protects the hair follicles. This may help the eyelashes grow thicker and stronger.
Does jojoba oil clog pores?
No, it is non-comedogenic, i.e., it does not clog pores.
Can I use jojoba oil on my face every day?
Yes, if you have dry skin, you can apply jojoba oil daily. But, if you have oily skin, use it only twice or thrice a week.
How long does jojoba oil last?
In most cases, jojoba oil lasts 8-9 hours on the skin. That's why it's recommended to apply it overnight for better results.
Is jojoba oil good for sunburn on the face?
Yes, with moisturizing features, jojoba oil can work great on sunburns. It also helps in replenishing the lost vitamin E from the skin.
How can I use jojoba oil on my face?
You can apply jojoba oil to your face by simply massaging it with your fingertips or a cotton pad.
Recommended Articles