10 Best-Rated Sheet Masks For Sensitive Skin – 2023 Update
Give an instant boost of moisture to your sensitive skin with these hydrating sheet masks.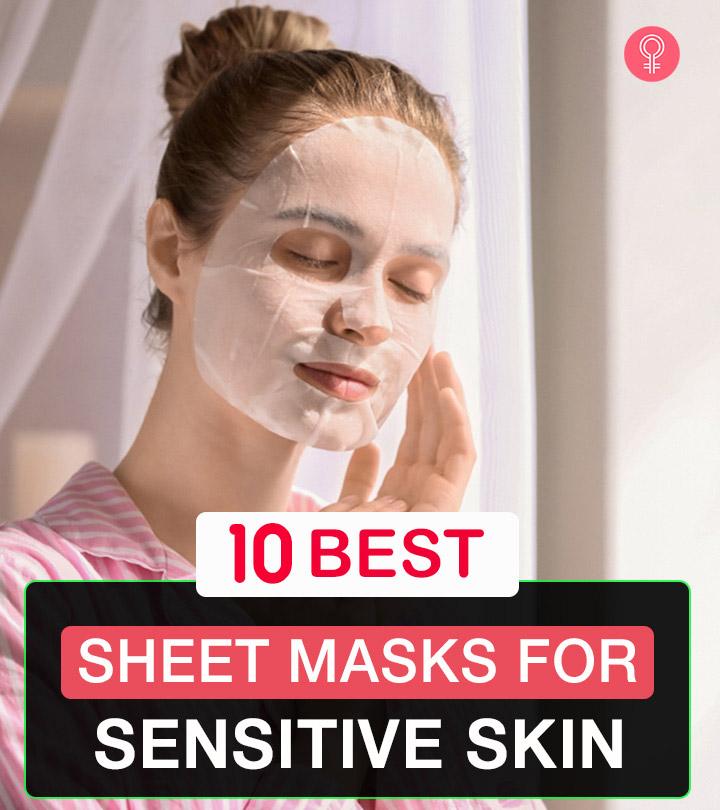 If you are looking for the best sheet mask for sensitive skin, look no further. We can help you find one. Sheet masks are one of the greatest skin care products for immediate moisturizing, lightening, and smoothing effects. However, some of us may be hesitant because of our sensitive skin. If you are one of these people, we have got some wonderful news for you! Scroll down and browse our list of the 9 best sheet masks for sensitive skin and pick one for yourself.
10 Best Sheet Masks For Sensitive Skin
The sheet masks from MEAROSA are enriched with natural vitamin C serum and hydrolyzed collagen. The nourishing ingredients include aloe, honey, pomegranate, and green tea for intense moisturizing, calming, and rejuvenating effects on the skin. These daily-use sheet masks minimize wrinkles and improve skin elasticity. They shrink open pores, nourish and hydrate the skin, and revitalize sun damaged skin, leaving it feeling soft and smooth. You can make sure to watch this review from a skincare aficionado to know the merits of this product right away.
Key Ingredients: Aloevera, Honey, Pomegranate, Green tea extract, and Vitamin C
Pros
Alcohol-free
Fragrance-free
Paraben-free
Phenoxyethanol-free
Benzophenone-free
Artificial pigment-free
Mineral oil-free
Triethanolamine-free
Cruelty-free
Cons
Price at the time of publication: $8.99
These six hydrating sheet masks from Burt's Bees are infused with clary sage to balance the skin's pH levels, deeply moisturize it, and improve its texture. The 99.5% natural botanical extracts offer a healthy skin tone by providing vitamins, minerals, phytonutrients, and antioxidants to the skin. The plant-based formula rejuvenates and revitalizes dry, irritated skin, leaving it smooth and supple. It cleanses dirt, oil, and makeup residue and minimizes pores. You can take a look at this personal video from a skincare enthusiast about this sheet mask.
Key Ingredients: Clary sage, Glycerin, and Other botanical extracts
Pros
All-natural ingredients
pH-balanced
Non-comedogenic
Dermatologist-tested
Paraben-free
SLS-free
Phthalate-free
Petrolatum-free
Cons
Price at the time of publication: $14.34
Reverse your skin's aging process with the SuperNAD Youth Activating Facial Sheet Mask. This soft banana natural fiber mask is enriched with Nicotinamide Adenine Dinucleotide (NAD), which activates cellular energy and slows down premature aging. It contains snow algae that preserve collagen and rejuvenate the skin, while white snow tea improves skin firmness and reduces wrinkles.
The vitamin- and antioxidant-rich sunflower sprout delays the signs of aging and stimulates ATP. Prickly pear and tamarind seed gum offer long-lasting hydration and nourish the skin. Regular use of this mask promotes your skin's ability to repair, revitalize, and replenish itself, remaining youthful without breakouts or allergic reactions in sensitive skin.
Key Ingredients: Snow algae, White snow tea, and Sunflower sprout
Pros
Natural ingredients
Non-toxic
Non-bleaching
Biodegradable
Vegan
Cruelty-free
Cons
The Garnier Skin Active Moisture Bomb Sheet Mask harnesses the goodness of hyaluronic acid and pomegranate extracts to deliver a burst of hydration to the skin. It offers long-lasting moisturization to keep the skin refreshed, radiant, plump, and soft. This antioxidant-rich sheet infuses the skin with nutrients and enhances its elasticity to make it supple and youthful. Each sheet mask contains half a bottle of serum, which maintains the skin's natural moisture and prevents irritation caused due to dryness. This product can be amazing for skincare enthusiasts with sensitive skin. For more information, check this video out on YouTube.
Key Ingredients: Hyaluronic acid and Pomegranate extract
Pros
Non-greasy
Long-lasting
Mineral oil-free
Paraben-free
Petrolatum-free
Cons
Price at the time of publication: $23.49
The eco-friendly facial masks from U-Need are crafted from eucalyptus tree extracts that are non-abrasive and safe for sensitive skin. This bundle of 100 sheets contains a combination of 10fruit and veggie masks like avocado, aloe, cucumber, pomegranate, charcoal, vitamin, etc. It also includes a collagen mask that enhances skin elasticity and reduces wrinkles and fine lines. This set of Korean sheet masks effectively hydrates and moisturizes the skin to leave it bright and radiant while eliminating pigmentation and dark spots.
Key Ingredients: Teatree, Collagen, and Green tea
Pros
Eco-friendly
Toxin-free
Paraben-free
Cruelty-free
Cons
Price at the time of publication: $58.99
The nutrient-rich sheet masks from FARMSKIN are packed with the goodness of various fruits like cucumber, avocado, grape, cranberry, fig, mangosteen, and tomato. These all-natural masks are made often and cupra fabric, combining materials from eucalyptus wood and cotton, while the S-shaped surface adheres to the skin with no gaps. They help smoothen, soothe, moisturize, refresh, purify, revitalize, balance, plump, nourish, energize, and strengthen the skin. This pack of 12 masks is well-saturated with a serum to provide optimal benefits.
Key Ingredients: Avocado, Cucumber, Grape, Orange, Fig, Tomato, Mangosteen, Cranberry, Honey, Mango, Blueberry, and Carrot
Pros
Assorted value pack
Natural fabric
Cruelty-free
Alcohol-free
Talc-free
Paraben-free
Silicone-free
Synthetic color-free
Triethanolamine-free
Sodium sulfate-free
BHT-free
Benzophenone-free
Cons
Price at the time of publication: $16.9
The organic sheet mask from ORGAID is enriched with hyaluronic acid and niacinamide (vitamin B3) with hydrating and anti-aging properties. It combats the signs of premature aging by maintaining the skin's natural moisture barrier, shrinking open pores, and fading age spots. It is also enriched with witch hazel, aloe vera, and green tea to soothe the skin, minimize irritation, and promote healthy cell growth. The coderma sheet is made from an innovative hybrid of fabric and hydrogel to promote maximum absorption.
Key Ingredients: Antioxidants, Vitamin B3, Hyaluronic acid, Collagen, Aloe vera, Witch hazel, and Green tea
Pros
All-natural ingredients
Preservative-free
Cruelty-free
Vegan
Paraben-free
Phthalate-free
Sulfate-free
Gluten-free
Synthetic fragrance-free
Cons
Price at the time of publication: $24
The pack of 30 TO DO LIST honey glow masks is packed with a powerful blend of honey, hyaluronic acid, and propolis to deliver a soft and luminous look in 30 days. The propolis extract clears blocked pores to leave the skin balanced, soothed, and clean, while the hyaluronic acid provides intense hydration and revitalizes the skin's outer layers. The honey extracts replenish, soften, and protect dull and damaged skin. These Korean masks are sealed tightly in eco-friendly packaging to ensure they retain moisture and remain saturated.
Key Ingredients: Honey, Hyaluronic acid, and Propolis
Pros
Paraben-free
Sulfate-free
Alcohol-free
Fragrance-free
Cruelty-free
Cons
Price at the time of publication: $88
The blend of natural ingredients in the Skin Water sheet mask offers a hydration boost to keep the skin well-nourished and rejuvenated. It offers anti-aging benefits by reducing fine lines and wrinkles while cleansing blocked pores. This sheet mask is fortified with minerals from Iceland water to lock in moisture and combat dry, flaky skin. The multipurpose Korean facial mask improves and brightens the skin tone by fading hyperpigmentation and age spots. The 12-pack daily-use masks give the skin a radiant luminous finish.
Key Ingredients: Iceland water
Pros
All-natural ingredients
Smells good
Vegan
Cruelty-free
Value for money
Cons
Price at the time of publication: $8.49
The hyaluronic acid and niacinamide in these moisturizing sheet masks from Anti age 27 fight acne breakouts while keeping the skin hydrated. Each hypoallergenic mask is ultra-thin and adheres perfectly to the contours of the face. It is saturated with extra amounts of serum to deeply penetrate the skin and minimize wrinkles and fines lines. The natural ingredients have a calming effect and protect the skin from sun damage to leave a luminous glow.
Key Ingredients: Niacinamide, Hyaluronic acid, and Dual-Peptide
Pros
Hypoallergenic
Non-irritating
Smells good
Eco-friendly
Vegan
Cruelty-free
Cons
Price at the time of publication: $7.5
Frequently Asked Questions
Should I use a sheet mask in the morning or night?
Sheet masks can be used at night or in the morning on well-cleansed skin.
Is it okay to use a sheet mask when you have pimples?
Certain sheet masks designed to target acne provide help with breakouts. Opt for acne-clearing sheet masks to relieve redness and keep your sensitive skin moisturized.
Are sheet masks bad for sensitive skin?
No, you can use sheet masks for your sensitive skin, but if you are facing itching or rashes, switch to fragrance-free masks or place your mask in the fridge for a soothing experience.
How do I choose a sheet mask for sensitive skin?
Opt for sheet masks with no harsh chemicals (mostly found in acne and anti-aging variants), fragrance-free, and ingredients like aloe and chamomile.
Do Koreans use sheet masks?
Yes, sheet masks play a vital part in the Korean skin care routine as they help regain moisture and glow in their skin.
Why is my face red after a sheet mask?
Face redness must have occurred due to some allergic reaction from the sheet mask. Opt for a suitable sheet mask according to your skin type. If you experience the same results, consult a dermatologist immediately.
Why do I get pimples after using a sheet mask?
Pimples or acne from using a sheet mask occur due to pore blockage. If you have acne, you will be more prone to breakouts due to humidity created by your skin and face mask.
Recommended Articles