11 Best Temporary Hair Color Sprays
Keep your hair looking gorgeous without being harmed by chemical additives.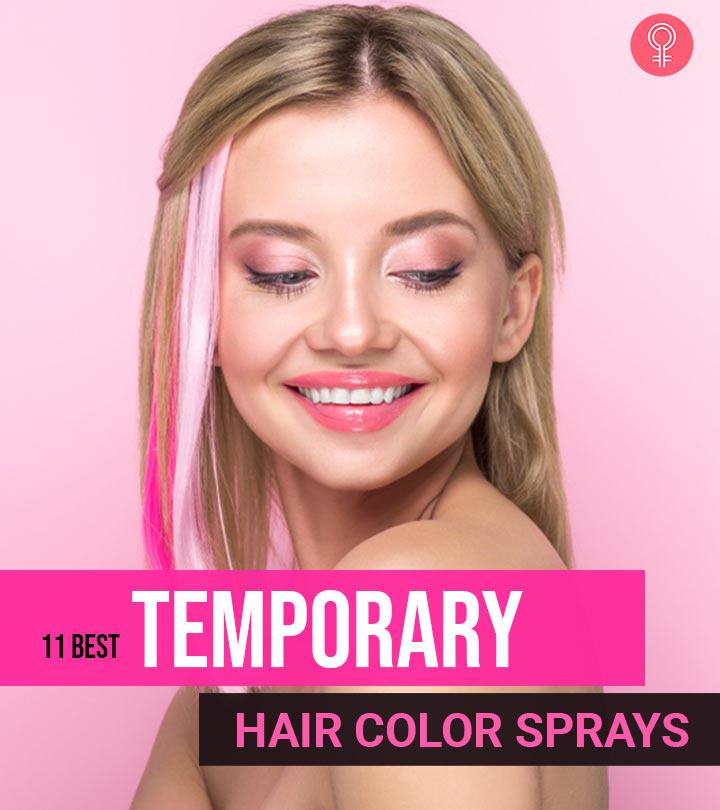 If you always wish to color your hair but are scared of the consequences, you must try the best temporary hair color sprays.
These hair color sprays let you experiment freely and help you flaunt new colors every now and then. Plus, you don't have to stick to just one hair color for long and switch easily. It doesn't cause damage and hence, saves money. We have listed the 11 best temporary hair color sprays just for you. Have a look.
How A Temporary Hair Color Spray Works
Unlike permanent hair colors, temporary hair color sprays do not have to be mixed. They can be directly applied to the hair. Temporary colors may wear off after two or three washes, making them suitable for people looking for a subtle touch-up or experimenting with colors. Temporary hair colors do not contain bleach and will not lighten the hair. If you want to give it a try, scroll down.
11 Best Temporary Hair Color Sprays
The Style Edit Root Concealer provides instant gray cover-up and works best between salon visits. This temporary hair color spray contains conditioning agents and color- adaptive pigments that adhere to the hair fiber and blend with the hair color, providing a lustrous shine and smooth finish. The color washes out with shampoo and does not damage the hair shafts.
Pros
Quick-drying formula
Smells good
Paraben-free
Peroxide-free
Non-greasy
Mineral oil-free
Petrolatum-free
Not tested on animals
Cons
None
The L'Oreal Paris Colorista Spray lets you temporarily spray and play with colors without bleaching your hair. This spray has a lightweight formula that dries quickly, providing good color coverage. It is best for gray coverage and highlights (hint and ombre) and works on all hair types. The color can be easily washed off with shampoo and gives vibrant results on blonde and light hair.
Pros
Thick consistency
Washes out easily
Great coverage
Cons
May make the hair crunchy
Color transfers easily
The Dark and Lovely Go Intense Color Sprays by SoftSheen-Carson works best for natural and relaxed hair. It gives vibrant results on dark hair, and the shades can be mixed and matched. The color washes off easily with shampoo. However, its intensity and longevity depend on the hair health. The shade Gold Rush imparts a vibrant golden hue.
Pros
Intense color
Ammonia-free
Peroxide-free
Cons
Leaves hair dry
Rubs off easily
May stain clothes
The Amscan Hair Spray has a non-toxic and hypoallergenic formula that does not leave the hair dry after use. It is easy to use and washes off easily. The shade imparts a silver-metallic hue that is not glittery but a bright gray. However, the color is not transfer-proof and may rub off easily.
Pros
Easy application
Affordable
Washes off easily
Non-greasy
Non-toxic
Even color tone
Cons
The Schwarzkopf Professional BlondMe Instant Blush offers a light rose pink tone on blonde or colored hair. It is an instant toner that enhances your hair color for a perky effect. This blush stays on your hair for up to 3 washes. Apart from nourishing your hair, this hair color rebalances the pH level and results in shiny, healthy hair. Use it to add highlights or add a strawberry pink hue to your hair ends for a reinvented look!
Pros
 Easy to use
 Ideal for soft look
 Non-greasy
 pH-balanced
Cons
The Jerome Russell B Blonde Highlight Spray is great for root touch-ups and natural-looking blonde highlights. It is easy to apply and wash off and does not contain any harsh chemicals that may damage the hair. The product gives rich color payoff on light hair and offers excellent coverage. Click this video to learn more about the product.
Pros
Affordable
Adds shine
Pleasant fragrance
Great coverage
Washes out easily
Cons
The High Beams Intense Spray-On Hair Color has a highly concentrated formula and can add subtle highlights to the hair or make a bold statement. It gives rich color payoff and is buildable. The product does not contain any harsh chemicals, and the color can be rinsed away with a single wash. It gives vibrant results on light to dark brown hair.
Pros
Suits all hair types
Rich color payoff
Washes out easily
Perfect for highlighting
Cons
The Roux Fanci-Full Temporary Hair Color Rinse blends away gray and gives a soft pastel look to your hair. It is gentle enough for everyday use and brightens dull and color-faded hair. The product adds shine to the hair and gives it a freshly colored appearance. The shade Chocolate Kiss imparts a medium to dark or reddish-brown color, depending on your hair color.
Pros
Easy to use
Chemical-free
Affordable
Washes off easily
Paraben-free
Peroxide-free
Ammonia-free
Cons
The Punky Colour Temporary Hair Color Spray is gentle on your hair and coats your hair strands instantly for a fun look. You can use it to get an orange mane, some wild streaks, or apply to the ends for a different look. This orange color spray makes your hair look vibrant and attractive. The spray-on color is easy to use and is an ideal pick for your Halloween party. In addition, the color washes off easily with a single wash.
Pros
 Non-sticky
 Cruelty-free
 Vibrant
 Long-lasting
 Easy to use
 Travel-friendly
Cons
The Goodmark Temporary Hair Color has an easy to remove formula and is available in multiple colors. The shade Bright Red delivers stunning and vibrant results. It gives the best result on natural hair and should not be applied to dyed, bleached, and chemically treated hair.
Pros
Affordable
Easy to use
Easy to remove
Cons
Unpleasant smell
May rub off and stain
The Marc Anthony Bye.Bye Gray Temporary Gray Root Touch Up Spray is best for touching up the roots between salon visits. It is easy to use and can camouflage gray hairs by providing a natural finish. The product is lightweight and dries quickly to provide full coverage. It washes off easily with soap and water, and one can last up to 40 applications. Learn more about the product in this video.
Pros
Easy to use
Quick-drying formula
Lightweight
Cons
None
These are the best temporary hair sprays that you can buy online. However, consider a few points before you pick any of the hair colors from the list.
Things To Consider Before Buying A Temporary Hair Color Spray
Color Payoff: Choose a product that offers vibrant color payoff. Not all temporary hair sprays may give the same results. Hence, check the user reviews to get a better idea. Also, pick a shade that complements your natural hair color. For instance, lighter shades may not give vibrant results and rich color payoff on dark hair.
Ingredients: Check the ingredients of the product. Avoid any hair color sprays that contain parabens, sulfates, and ammonia. These harsh chemicals may damage the hair strands.
Temporary hair colors tend to stain your clothes and skin. Hence, you need to be careful when using one. Here is a quick guide to using a temporary hair color spray properly.
How To Use Temporary Hair Color Sprays
Pick the desired color shade as per your requirement.
Wrap a towel or a cloth around your neck to prevent staining.
Shake the spray bottle.
Hold the bottle 4-6 inches away from your hair and spray evenly across the hair strands.
Start with spraying a little product, and then, you can gradually build the color. Let the color dry. Avoid combing.
Why Trust Stylecraze
The author of this article, Oyendrila Kanjilal, is a hair care enthusiast. She carefully researched and browsed through online reviews to create this list of the best temporary hair color sprays for her readers. Her selection comprises colors that are non-greasy and have a quick-drying formula. Not only are these products easy to use, but they also wash out easily, leaving no stains on your clothes.
Recommended Articles