The Top 12 Liquid Bronzers To Purchase In 2022 For A Natural Glow
The perfectly bronzed and radiating makeup looks to ace the glam chic vibes.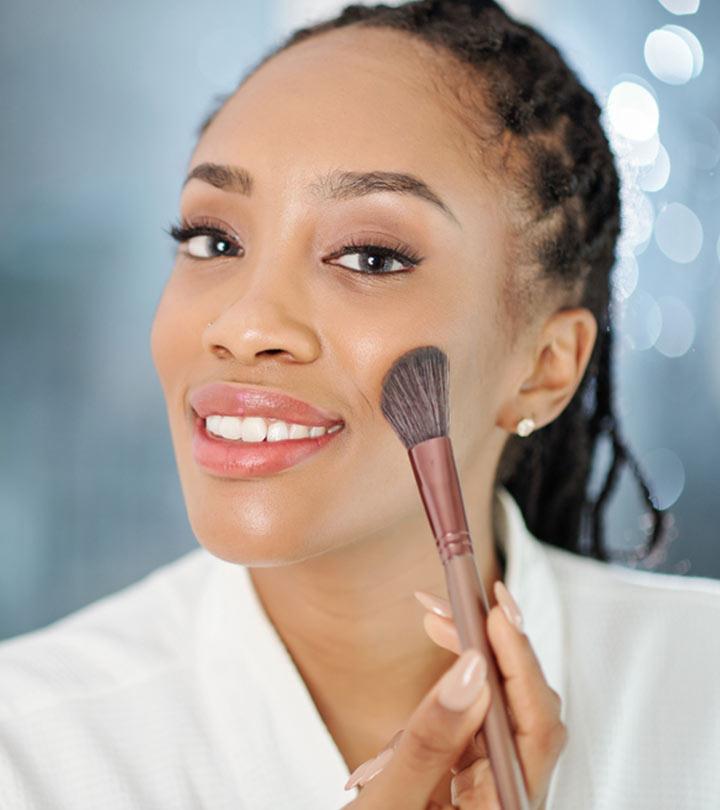 Did you know that you could achieve the best sun-kissed glow without lying in the sun for hours? The best liquid bronzer for your skin type can give you such a glow in seconds. Sunbathing and spray tans take a lot of time to give you that natural glow. Bronzers are a quick way of getting that glam look with just a few strokes. Although powder and cream bronzers are more prevalent on the market, they usually tend to either fade away in a short while or look cakey.
A liquid bronzer is the most reliable choice for nailing the perfect makeup look. Its liquid consistency offers a natural-like tan and glow and lasts for longer hours without getting cakey. Liquid bronzers are available in matte or shimmery finishes for a minimalist or glamorous look. In this article, we have listed the most tried and tested liquid bronzers that are well-loved by users worldwide. So if you are planning to attend a party sometime soon or have an event to attend, scroll down to find out the best liquid bronzer for yourself.
The 12 Best Liquid Bronzers Of 2022
Revlon Skinlights Face Glow Illuminator is a 3-in-1 product that acts as a highlighter, primer, or glow booster. Available in 2 shades, this too-faced liquid bronzer for face offers an illuminating look under any light, while the silky soft texture blends into the skin easily. It spreads evenly and gives one a natural look. This bronzer certainly will make heads turn with its lightweight and translucent radiance.
Pros
The slim nozzle helps in precise application
A small amount is enough to give naturally sun-kissed radiance
Minimizes the appearance of fine lines beautifully
Cons
Some users reported a color discrepancy
Price at the time of publication: $10.99
Dr. Hauschka Translucent Bronzing Tint is a liquid mineral tint that gently blends with the skin pores. The liquid mineral is a sure shot way to hide one's blemishes and imperfections making the skin glow. This bronzer is light and when mixed with a moisturizer, gives a really pretty glow and a natural look. This product works well with all skin tones and is one of the best liquid bronzers available in the market.You may check this video for a better understanding of this product.
Pros
Makes the skin look healthy and radiant
It does not contain unnatural dyes and preservatives
Very little product required to give a lasting glow
Cons
Some users reported an odd smell
Price at the time of publication: $29
Perricone MD No Makeup Bronzer is scientifically formulated with vitamin C Ester. The warm shade not only brightens your skin but also imparts a flattering glow to it. With the presence of broad-spectrum SPF, it helps protect skin damage from harmful UV rays. The Perricone MD No Makeup Bronzer is very light and covers the entire application area smoothly. It gives an everyday soft look and stays for long as well. 
Pros
Helps brighten complexion
Offers a subtle hint of illumination
Lightweight finish
Cons
Bare Skin Sheer Sun Serum Bronzer is an extremely lightweight liquid bronzer infused with a face serum. It comes in natural-looking shades that blend very well over a range of skin tones. It covers the face evenly and looks like a natural tan. Application of just a few drops of this product on top of your regular makeup regimen is sure to give you that beachy, summer look that is perfect to up your selfie game! This video review will help you learn more about the product.
Pros
The product adds a glow to the bare skin
Stays put all day long
Lightens age spots
Cons
Might pile on to your skin making it look cakey
Price at the time of publication: $56.99
The Hoola Soft Matte Liquid Bronzer has a weightless texture that helps to blend seamlessly into the skin. This liquid bronzer offers a completely matte look without any shimmer for that au natural dewy look. This bronzer is perfect for the no-nonsense woman who cannot be bothered with carrying an entire makeup kit. All she needs is this nars laguna bronzer and her fingertips to transform her plain-Jane office look to a party look within minutes! This video will help you make an informed decision about your purchase.
Pros
Attractive packaging
Has a delightful scent
Can be used in place of a foundation
Cons
Might not suit all skin tones
Price at the time of publication: $84.99
L'Oreal Paris Cosmetics Havana X Camila Cabello Sun-lit Liquid Bronzer is a great limited edition product from a world-renowned company. This is a water-based bronzer in a sleek floral tube. It can be applied directly to the face or can be mixed with a moisturizer. Its easy application gives a smooth radiant and shiny, as well as an even look on the face. Take your contouring game to the next level with this liquid bronzer and you are sure to turn many heads.
Pros
Practical and colorful tube
Gives a naturally tanned look
Perfect blending
Cons
The shade is lighter than expected
Price at the time of publication: $6.98
True to its name, the Lumene Watercolor Bronzer is infused with pure Arctic spring water. Moreover, the Arctic cloudberry, an antioxidant, helps brighten your skin. Added to this, the weightless formula of peptide and pearl extracts helps brighten and hydrate the skin giving an even more luminous complexion. The product gives a unique balance of luminosity, color, and care.
Pros
Has a mild fragrance
Blends completely with the skin
Gives a sun-kissed summer glow
Cons
Shake the bottle before use for a good effect
Price at the time of publication: $30.0
NARS Laguna Liquid Bronzer is a revolution in itself. The product is formulated using a vanilla extract that moisturizes skin and is enriched with Monoï and Tamanu oils that offer antioxidant benefits. It has a slightly thin consistency and mixes well with any lotion or concealer and offers even coverage all over the face.
Pros
Best when worn in summer
Is very lightweight giving a natural glow
Hydrating formula perfect for dry skin
Cons
Price at the time of publication: $54.98
No products found.
This Golden Bronze Complexion Highlighter with just a dash of glitter offers an amazingly natural look. Besides being a good highlighter, it can be used to highlight one's best facial features, like accentuating your nose and cheekbones. Want to highlight your brow bones or give the effect of big eyes, you will benefit from this highlighter from Benefit Cosmetics (see what we did there?).
Pros
This product works on all skin tones
Blends very well
Gives a natural sun-kissed glow to your skin
Cons
The Clinique bronzer Sun-Kissed Face Gelee Complexion Multitasker Bronzer is a natural-looking gel bronzer that's just perfect for all skin types. A wee bit is enough to give that all-encompassing and complete look for any occasion. This oil-free product is ophthalmologist-tested so one can use it without any worries.
Pros
Comes in an attractive packaging
Does not cause irritation
Great texture and a sheer finish
Cons
Some users found the product sticky
Price at the time of publication: $30.99
The Cover FX Custom Enhancer Drops are available in 7 shades and can be used by itself or mixed with any soft skincare products to create a unique, metallic glow. A luminous glow can be achieved all thanks to the ultra-fine pearl extracts. This is a versatile product offering the user the chance to blend the product evenly on the face.
Pros
Offers a subtle and natural look
Made using clean ingredients
Easy to blend
Cons
Price at the time of publication: $32.0
This ultra-shimmery NYX Born To Glow Liquid Illuminator is a one-of-a-kind product. It works best when applied over a base of foundation to give you that sun-kissed look. The bronzer is easy to apply and even easier to remove. This product is highly recommended and makes your cheeks look ultra-smooth and luscious in a single coat that lasts long!
Pros
Suitable for all skin types
Affordable and value for money
Lightweight
Cons
Some users reported a color discrepancy
Price at the time of publication: $14.0
Choosing new products for your skin can be exciting but torturous at the same time. With so many shades and varieties of products available in the market, it becomes increasingly difficult to single one out! It's like looking for a needle in a haystack, except the haystack is a pile of liquid bronzers! Our list and buying guide should help you find the perfect liquid bronzer to suit all your needs.
Choosing The Perfect Liquid Bronzer For Yourself- A Buying Guide
Bronzers are the perfect way to give yourself the best tan ever. Liquid bronzers especially are like tiny bottles that encapsulate a trip to your favorite island destination. But keeping in mind a few pointers is essential while purchasing the perfect liquid bronzer for yourself.
1. Your skin tone
When choosing a bronzer it is important to go one or two shades darker than your skin tone. If the bronzer is too dark for you it might make you look dark and unhealthy. If you choose a lighter shade it might not end up highlighting your features.
2. Eye color
Your eye color also counts as a major factor in determining the shade of your bronzer. For example, someone with blue or green eyes should opt for lighter shades such as rose or peach bronzers.
Applying Liquid Bronzers
Choosing the perfect liquid bronzer is a job half done; applying it correctly is also extremely important. If not done correctly the look can very quickly change from fab to drab.
Move-in "3" motion- The general rule is that you highlight the areas of your face where the sun would naturally hit. So basically start with the high points of your face in the shape of "3" from the top of your forehead and hairline moving to your cheekbones and finally ending along your jaw line. Do not forget to highlight the bridge of your nose.
Blend, blend, and blend- It is important to always use a moist beauty blender to blend in the product for a more even finish. Moving over the product lightly without brushing it off is another crucial step.
Finish the look with a setting powder.
Why Trust StyleCraze?
Chaitra Krishnan has a deep knowledge of makeup, and she believes that if you want a sun-kissed glow without laying in the sun for hours, you need to invest in a good liquid bronzer. In addition, she loves to use liquid bronzers because it gives an instantly glammed-up look. Chaitra has read thousands of reviews and user feedback to pick the products for this list.
Frequently Asked Questions
Is Liquid Bronzer better?
Liquid bronzers are best to create a dewy and shiny finish making the wearers face slightly illuminated.
Can you mix liquid bronzer with foundation?
Yes! Many manufacturers recommend mixing the bronzer into the foundation to give your foundation an overall glow.
How can I make my blender last all day?
Using a good setting spray post makeup application should help you keep your bronzer on all day long.
How long does liquid bronzer last?
This question is subjective to the brand and the quantity of the product. Most products do expire within a couple of years of their manufacturing.
Can liquid bronzer be used just by itself?
Yes, it is possible to wear just a bronzer without any foundation as it warms up your skin tone making you look sun-kissed.
Should you wear bronzer every day?
No. It is not necessary to use bronzer every day, but if you desire to add some definition to your face, it is a great option.
Recommended Articles