13 Best Milk Cleansers For Dull And Dehydrated Skin – 2023
Bid adieu to dehydrated skin with these cleansers that help nourish your skin.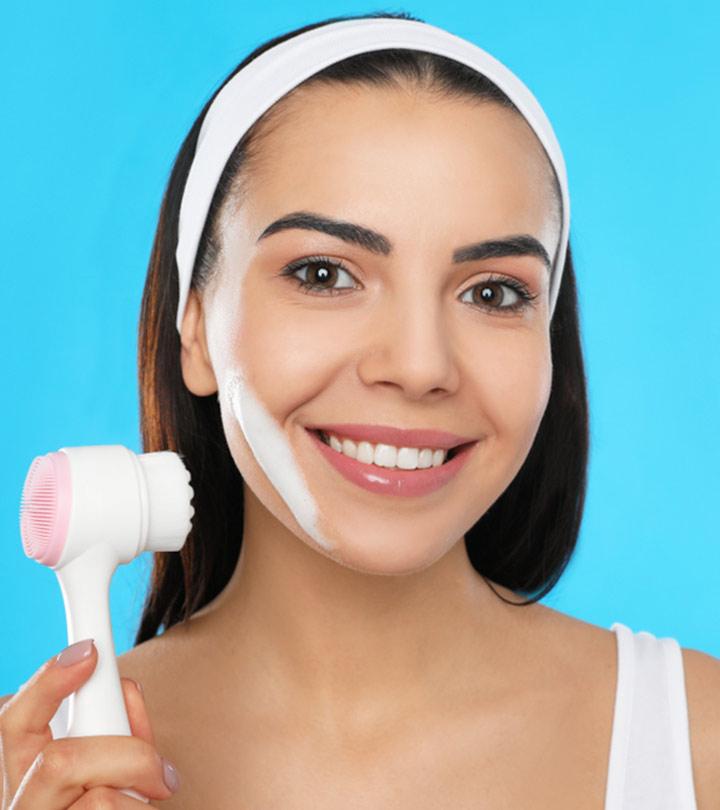 Hillary Clark, a third-generation beauty entrepreneur says, "Milk cleansers are a staple in my professional kit- especially when I will be using stubborn waterproof makeup on sensitive skin."
Are you looking for the best milk cleanser for dull skin? We have just what you need.
Everyone likes experimenting with makeup products, and finding what works perfectly for you is always a process of trial and error. We don't like removing them to make sure the debris does not give you skin allergies of any kind. Nourishing cleansing milk will see to it that no matter how stubborn and clingy your makeup is, it gets removed easily, and your skin regains its nourishment the right way. Makeup often soaks away all the hydration in your skin, and removing it can cause your skin to feel even more dehydrated and rough. While the market is full of face cleaners, you never know which ones work best for your skin's deep cleansing while replenishing it the right way. Here is a list of 13 milk cleansers that will make sure your skin looks flawless, even if putting on makeup is a part of your daily routine.
13 Best Milk Cleansers For Rejuvenated Skin In 2023
Especially formulated for those with sensitive skin, the Yes To Cucumbers Soothing Gentle Milk Cleanser contains all-natural ingredients to give your skin a soothing effect. Hillary says, "Cucumbers + Milk is the perfect combination for dehydrated, red skin. You can use this twice as a double cleanse." Indulge in this dermatologist-tested smoothing cleanser that combines aloe vera, rich soy proteins, and green tea extracts nourishes the skin without drying it. Free from harmful parabens, silicones, and SLS, this milk cleanser will also give you an antioxidant boost to leave your skin feeling soft and healthy. The goodness of cucumbers in this vegan, hydrating milk cleanser is guaranteed to keep your skin clean without stripping it of its natural barrier. You can take a look at this video review to know more about the results after using this popular milk cleanser.
Pros
Soothing formula
Free from parabens, silicones, and SLS
Contains 95% natural ingredients
Vegan product
Dermatologist-tested
Cons
Some may find the fragrance to be a bit too overbearing.
Price at the time of publication: $9.55
If you're looking for a formula that melts away dirt and impurities, the Neutrogena Skin Balancing Milky Cleanser is the one for you! This clinically-tested cleanser contains 2% polyhydroxy acid to exfoliate and condition your skin gently. The 2% polyhydroxy acid + milk will gently exfoliate to reveal fresher, serum-ready skin. You can maintain your skin's pH balance with this soothing milk cleanser that is the perfect match for dry and sensitive skin. Also infused with castor, avocado, and sunflower seed oil, the soap-free formula is expertly formulated to target pore-clogging dirt with a potent liquid exfoliant and a moisturizing humectant. A good milk cleanser for sensitive skin, it is free from parabens, sulfates, phthalates, alcohol, and dyes, making it suitable for sensitive skin types. Check this honest review of the product from a skincare enthusiast on YouTube.
Pros
Exfoliates and conditions skin
Suitable for sensitive skin
Free from parabens and sulfates
No added dyes
Soap-free formula
Can be used as a daily face wash
Clinically-tested
Allergy-tested
Cons
It may take some time to wash off properly.
Price at the time of publication: $7.1
Made with pink kaolin clay, the Honest Beauty Magic Gel-To-Milk Cleanser is a cult beauty product that works effectively to remove makeup and other impurities without drying your skin out. New sugar chemistry technology is an exciting advance as it exfoliates and penetrates deeply to deliver essential ingredients. This daily cleanser gel uses sugar chemistry technology and when mixed with water, transforms to a soft, milky formula to get rid of all the dirt while also conditioning your skin. The dermatologist-tested milk cleanser is also enriched with rose water to give you a refreshing and sweet-smelling natural scent, while smoothing your skin out. Choose from this range of products by Jessica Alba and get more than what is expected with this product that is free from parabens, phthalates, SLS, and other harmful ingredients. Before purchasing, you can take a look at a personal review on YouTube and know more about the merits and demerits of this product.
Pros
Removes makeup
Contains pink kaolin clay
Free from parabens, phthalates, and SLS
No synthetic dyes or fragrances
Cruelty-free
Cons
Some may find it slightly gritty
Price at the time of publication: $14.4
The Caudalie Vinoclean Gentle Cleansing Almond Milk is a must-have in your skincare routine. It is enriched with sweet almond oil, soothing cornflower water, and antioxidant polyphenols. The natural formula takes away makeup and impurities without drying out the skin. The soft, velvety texture makes the application process very smooth and adds extra hydration and nourishment. The natural almond scent makes your makeup removal process more effective and enjoyable to deliver visible results.
Pros
Vegan
Gentle
Non-drying
Ophthalmologically tested
Dermatologically-tested
Non-comedogenic
Suitable for all skin types
Cons
None
Price at the time of publication: $30
You can remove all surface impurities without stripping your skin of its natural moisture with the Eminence Coconut Milk Cleanser that is 100% naturally organic. Cleanse and nurture your skin by incorporating this product into your daily skin care routine to replenish lost moisture levels and say hello to a fresh, dewy finish. This rich coconut milk formula will help you treat dry and sun-tanned skin. It also helps in calming irritated skin while gently softening and hydrating it. It is pure luxury and ideal for sensitive skin and eyes. Your skin will feel like butter. Enriched with ingredients like virgin coconut oil, calendula oil, rosemary extracts, bio complex with vitamins A, C, and E, this product delivers visible results, making your skin appear soft, supple, and refreshed.
Pros
Contains vitamins and antioxidants
Moisturizing properties
Soothing formula
For normal to dry skin types
Organic product
Cruelty-free
Cons
Price at the time of publication: $25.37
Specially formulated for dry skin types, the Eau Thermale Avene Gentle Milk Cleanser is a milky no-rinse luxe milk cleanser that will help you remove makeup gently. Hillary says, "It is much better than a cleansing wipe. This is a staple in my kit and my bedside for lazy but thorough makeup removal." This dermatologist-tested cleanser is enriched with vitamin E for maintaining the skin's moisture balance and provides antioxidant protection that leaves you with smooth, soft, and supple skin. The Avene milk cleanser also contains hyaluronic acid that moisturizes your skin from within and removes skin impurities. Say no to irritated skin with this hypoallergenic cleanser that contains Avene Thermal Spring Water that soothes your skin barrier. This product is also free from parabens and gluten, making it a good choice for those with sensitive skin!
Pros
Non-comedogenic
Hypoallergenic
Does not clog pores
Dermatologist-recommended
No gluten or parabens
Cons
Some users reported a slightly greasy residue
Price at the time of publication: $22
The 100% virgin coconut oil blend with coconut milk, gum acacia, and raw shea butter in this milk cleanser makes it a must-have in your daily cleansing routine. Enriched with other natural ingredients like aloe leaf juice, white tea extract, cucumber fruit extract, grapefruit peel oil, and sunflower oil, it not only cleans your pores, it also keeps your skin moisturized throughout the day. The certified organic and natural ingredients in this cleanser lock in natural skin oils and keep your skin hydrated, promoting a healthy glow. You can naturally restore your skin's balance with this gentle cleanser that also soothes dry and irritated skin. According to multiple reviewers, this cleanses your skin without drying it out.
Pros
Contains certified organic and natural ingredients
Cleanses and moisturizes
Creamy texture
Made with fair trade ingredients
Cruelty-free
No parabens, phthalates, sulfates, or mineral oil
Cons
Some may find it slightly greasy
Price at the time of publication: $9.99
The Irene Forte Almond Cleansing Milk removes impurities and makeup. It is infused with omega-rich oils 3, 6, and 9, pro-vitamin B5, wild rose oil, aloe vera juice, shea butter, and sweet almond oil to hydrate and soothe the skin. The gentle formula replenishes, softens, and nourishes the skin. It works effectively on all skin types, including sensitive skin. This nourishing cleansing milk keeps your skin smooth and supple, making it a great choice for your daily skincare routine. Indulge in this smoothing cleanser that removes dirt without stripping the skin of its natural oils and moisture. This cleanser is clinically examined and confirmed safe for sensitive skin.
Pros
Vegan
Paraben-free
Artificial preservative-free
Phthalate-free
SLS-free
Silicone-free
Mineral oil-free
TEA-free
DEA-free
Artificial color-free
Fragrance-free
Cruelty-free
Cons
None
Price at the time of publication: $120
If you've got sensitive skin, you are bound to go the extra mile when it comes to choosing the right product for you. An almost delicious cleansing milk, the Tula Skin Care Super Calm Gentle Milk Cleanser is a lightweight formula that will give you calm, nourished, and hydrated skin with healthy ingredients like probiotic extracts, cucumber, aloe, ginger, and colloidal oatmeal. This clinically-proven formula protects the delicate microbiome and is ideal if your skin is irritated after over exfoliating. The milky texture is gentle enough to restore irritated skin without clogging your pores. Free from phthalates, sulfates, fragrance, alcohol, and other skin-irritating harsh ingredients, this cleanser's proven efficacy helps lock in moisture, minimize pores, balance your skin, and improve skin texture.
Pros
For sensitive skin
No sulfates or phthalates
Free from alcohol and fragrance
Contains probiotic extracts
Has nourishing natural ingredients
Cons
Slightly expensive

Price at the time of publication: $34
Keep dirt, oil, and makeup residue at bay with the rich and luxurious Georgette Klinger Coconut Cleansing Milk. This cleanser has a creamy formula that cleans your skin without stripping it of its natural oils. It is ideal for all skin types and is fortified with essential nutrients that help restore moisture in the skin.
It is infused with coconut oil and extracts that minimize dryness and irritation, leaving your skin feeling healthy and hydrated. The formula works by soothing skin with its grape and cucumber extracts that offer anti-inflammatory properties to reduce redness. According to multiple reviews, the milky texture is easy to use and doesn't clog your skin. You will be achieving a fresh and clean complexion after every use!
Pros
Ideal for sensitive skin
Nourishing
Lightweight
Pleasant fragrance
Softens skin
Non-stripping
Non-greasy
Cruelty-free
Paraben-free
Dye-free
Sulfate-free
Non-comedogenic
Cons
None
Price at the time of publication: $22
In case you are looking for a gentle cleanser for non-disruptive daily cleansing, the Cocokind Prebiotic Oil To Milk Cleanser is guaranteed to leave your skin feeling soft, hydrated, and replenished. The oil-to-milk formula removes every trace of makeup without disrupting your microbiome. Gently remove dirt and makeup without stripping your face by letting your skin indulge in this cleanser that supports a healthy pH skin barrier. This cleanser is formulated with fermented oats and an oat lipid complex and vouches for a healthy microbiome to help your skin fight external stressors. The gentle scent of chamomile and geranium, along with the organic oil blend will help to nourish your skin and seal in moisture, leaving you with a pleasant after-feeling.
Pros
Contains certified organic ingredients
Suitable for daily use
Maintains pH balance
Defends skin from external stressors
Cons
May not be best suited for extremely sensitive skin
Price at the time of publication: $17.99
The Versed's Gentle Cycle Milky Cleanser effectively removes dirt, makeup, and impurities without stripping the skin of its natural oils. It is enriched with oat milk, antioxidant-rich marula oil, probiotics, and blackberry vinegar to hydrate and soothe irritation or inflammation. The nourishing formula helps to protect and heal the skin. Massaging it regularly will leave your skin smooth, soft, supple, and nourished. This gentle cleanser makes it perfect for daily use and ensures your skin looks and feels healthy.
Pros
Vegan
Cruelty-free
Gentle
pH-balanced
Suitable for dry and acne-prone skin
Dermatologist-tested
Cons
None
Price at the time of publication: $14.97
You can gently rid your skin of any dirt, oil, and makeup remnants without stripping it of its natural moisture with the Kate Somerville Goat Milk Cleanser. Milk + Honey gently exfoliates while healing. This non-foaming formula is ideal for calming and cleansing dry skin and does not leave it feeling tight. This sulfate-free cleanser is suitable for removing makeup and is clinically tested safe for sensitive skin types. This creamy wonder is enriched with ingredients like goat milk, manuka honey, jojoba oil, and avocado oil to soothe and nourish your skin. This deep conditioning cleanser will help you maintain your skin's radiance and preserve essential moisture.
Pros
Clinically tested
For sensitive skin
No sulfates
Non-drying formula
Cons
Some may find the consistency to be rather watery.
Price at the time of publication: $44
We get that an extra-gentle cleanser that does not strip your skin is exactly what dry and sensitive skin types need. Our buying guide will help you get your hands on a formula that will work wonders for your skin.
How To Choose The Best Milk Cleanser
When choosing the right cleansing milk, you will want to consider your skin type as these products penetrate the skin to clean it thoroughly. Choose a cleanser that has mild or no additives as they can work wonders for your skin. If you have oily skin, you may want to choose non-comedogenic cleansing milk for preventing breakouts and clogged pores. Those with dry skin types need to choose hydrating cleansing milk formula that does not strip your skin of essential moisture.
If you have dry, flakey, and dehydrated skin, you can check the ingredients and look for moisturizing agents like hyaluronic acid or natural alternatives like bamboo, aloe, manuka honey, shea butter, and green tea. These ingredients will deliver intense moisture to the skin and aid in water retention to prevent further dehydration. You can also opt for products with essential oils instead of synthetic fragrances to get the best results that these cleansing milk products offer. The best milk cleansers will keep your skin nourished and may even come with anti-inflammatory properties to help soothe irritated skin and some can even help in improving skin elasticity.
Choose a cleanser with a consistency that you are comfortable with using. Most of these milk cleansers are recommended for daily use, so you would want to look for a creamy lotion-like texture instead of something that is like soap. Thick and heavy cleansers can feel greasy on your skin, so opt for lightweight cleansers instead.
When Can You Use Cleansing Milk
You can use a cleansing milk formula at least once a day to rinse your skin of dirt and impurities. These formulas can also help in removing impurities and makeup, so that you may use them as part of your nighttime routine. A milk cleanser is relatively simple to use, and all it takes is a few drops of the cleanser to tackle the grime that is stuck on the surface of your skin. Nourishing cleansers contain organic oils and natural extracts to restore your skin to the moisture you may have lost under all the makeup and pollutants. Gently massage the product into your skin to get instantly radiant skin.
Why Trust StyleCraze?
Kirtana Divakar, the author of this article, is a skin care enthusiast and loves to experiment with various skin care products. She believes that using a milk cleanser can help you get rid of the dirt on the skin surface. The products included in the list can also be used to remove makeup. She went through hundreds of reviews across trusted online platforms to curate this list. These milk cleansers are cruelty-free and suitable for all skin types.
Frequently Asked Questions
Is using a milk cleanser good for dry skin?
Yes, using a milk cleanser can get rid of the dirt present on the surface of your skin. You can also use it to remove makeup effectively. In combination with nourishing ingredients, a milk cleanser will help you tackle dry and dehydrated skin.
Is a milk cleanser good for acne-prone skin?
Milk cleansers often contain intense hydrating ingredients and may leave your acne-prone skin feeling oily. You can, however, find suitable cleansers that will not aggravate acne-prone skin.
Can milk cleansers remove sunscreen?
Yes, a decent cleansing milk can remove all products, including sunscreen and makeup. They gently wipe away dirt and impurities from your skin's surface.
Do milk cleansers clog pores?
Milk cleansers may or may not clog your pores, depending on the choice of product. Look for non-comedogenic milk cleansers if you have enlarged pores and want to steer clear of dirt getting stuck under your skin.
Can we use a milk cleanser every day?
Yes. Milk cleansers have a gentle formula that is safe for daily use. They help rejuvenate and nourish your skin, preventing environmental damage.
Is milk cleanser water-based or oil-based?
Milk cleanser is a combination of both water- and oil-based cleansing agents. Therefore, it fills your skin with the benefits of both agents.
Which is better, cleansing milk or cleanser?
Cleansing milk is a gentle formula that does not require water to foam up. If you have dry and sensitive skin, opt for a cleansing milk. A cleanser requires water to lather up. So, use it if you have oily skin.
Recommended Articles
Best Jelly Cleansers For Refreshed And Cleansed Skin
Best Cleansers For Oily Skin
Best Facial Cleansers For Mature Skin
Best Natural Face Washes For Skin That Is Healthy And Radiant
Best Paraben-Free Face Washes For Every Skin Type