11 Best Cruelty-Free Bronzers in 2023 For A Shimmering Glow!
Be the diva and attract all eyes on you with these stunning, long-lasting bronzers in town.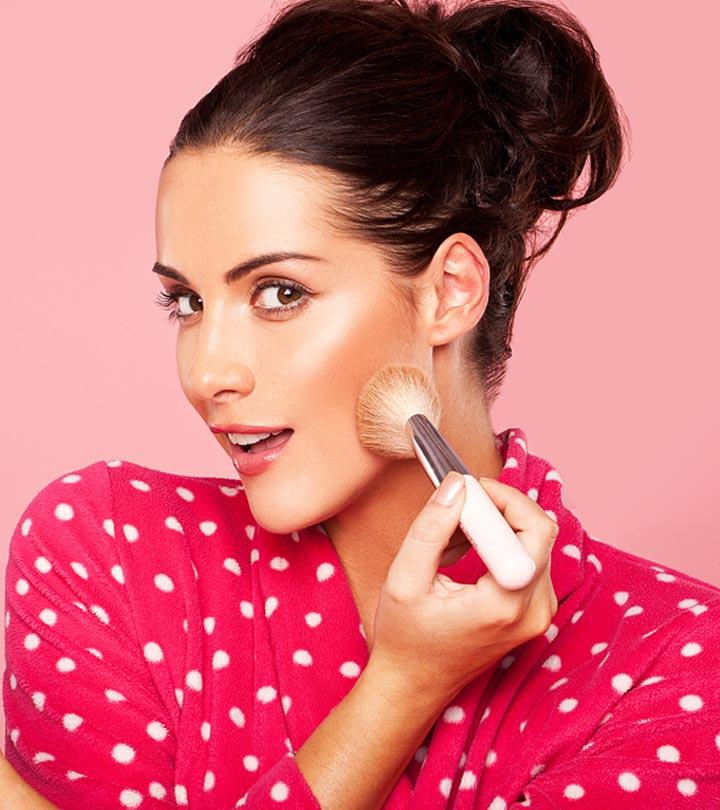 We all love a sunkissed tan. But with our stressful schedules, it is often difficult to hit the beach regularly. That's why we have got you the best cruelty-free bronzers to tan yourself whenever you feel like sitting in any corner of the world. They are cruelty-free because who wants to harm them in the process of feeling or looking beautiful? These bronzers are a gift from God if you are a sensitive skin person who prefers to avoid the harsh sun rays to stay away from allergies, sunburns, and skin conditions.
If you are ready to flaunt a gorgeous tan while staying away from sunlight, scroll down to explore the 11 best cruelty-free bronzers available out there. The smooth texture, charming results, and lustrous sunkissed glow you get using these bronzers is something you can't miss out on.
Keep reading to know more.
11 Best Cruelty-Free Bronzers in 2023 You Must Get Your Hands On!
Beach bums, are you missing the sun tan? Sweep it across areas where you want to flaunt a sun-kissed tan and watch your skin radiate the warmest glow. Enhancing your complexion and features instantly, this bronzer pressed powder can also be used to contour and define your cheekbones. A must-try for workaholics who can't seem to fix a date with the sun or make it to those tan appointments, sweep on this drugstore bronzer and stay glam with an enviable tan — anywhere, anytime! You may check this video for a better understanding of this product.
Pros
Delivers a bronze and honey glow
Boosts a healthy and flawless finish
Buildable pigment and blends easily
PETA-certified cruelty-free product
It has a soft and smooth consistency.
Cons
It may require retouches.
It may deliver an orangish tint on pale skin.
Price at the time of publication: $7.32
Feel sun-kissed and wow, all around the year! A great option for matte lovers and oily skin users, Whatup Beaches by Elizabeth Matt delivers a finish so flawless that no one will ever make out whether you've hit the beach or applied a bronzer. Are you planning to use a sunless tanner? Wait till you see the effect of this matte bronzer powder and its sun-kissed glow. Promising a flattering look on your skin, you can also use it to contour and define your eyes, cheeks, and chin. Add to the collection right away!
Pros
Delivers a natural tan
A fine and silky-smooth powder
Absorbs excess sebum with its oil-control formula
Provides a buildable coverage
Easy-to-apply and travel-friendly
Cruelty-free product
Cons
Expensive
It may take longer to blend.
Price at the time of publication: $15.0
This tan shimmers! Yes, you read that right. Milani Baked Bronzer formulated on the terracotta tiles of Italy has nothing but a glam tan in store for you. Promising a streak-free glow and a subtle shimmer finish, watch your skin shine wherever you go. Use it to blend the natural tan on your face or body, as it applies seamlessly and appears as good as your natural complexion. A great choice if you are looking for a stunning glow up to flaunt at summer parties and beach getaways — don't skip this bronzer! This video review will help you learn more about the product.
Pros
Made of premium ingredients
Delivers a natural coverage
Doubles up as a contour and highlighter
Long-lasting and easy-to-apply
Portable and cruelty-free product
Cons
May not be ideal for deep skin tones
Price at the time of publication: $9.99
Now anyone can get an exotic tan at home! If beach getaways look like a far-fetched dream, then let this sunless tanner grant your wish in the comfort of your home. Easy-to-use and velvety smooth, it ensures a tan so exotic and lightweight that you'll fall in love with your summer look instantly. Formulated to appear darker and with no traces of orange, the mousse is also non-comedogenic and packed with skin care benefits. All you have to do is apply it after gently exfoliating the skin, and you are ready to flaunt your beach tan the next day! This video will help you make an informed decision about your purchase.
Pros
Made of essential and botanical ingredients
Ultra-smooth and streak-free
Hydrating, soothing, and anti-aging
Long-lasting and easy-to-apply
Gluten-free, paraben-free, and cruelty-free
Cons
It may feel sticky.
It takes longer to dry.
Price at the time of publication: $34.99
Like basking in the sun's glory but minus the harmful rays! Tan lovers, Mineral Fusion has a duo palette that might thrill up the bronze goddess in you. Packed with both matte and shimmer shades in this cute compact palette, you'll always be ready to flaunt your sun-kissed beauty effortlessly. With shimmer adding a perfect shine to your pretense tan, prep up to enjoy some envy stares at parties and celebrations. And the best takeaway is, the powder has a natural formula made of pomegranate, aloe vera, red tea, and white tea that protect and soothe the skin too. Bonus — it's suitable for all skin types!
Pros
Made of antioxidant-rich ingredients
Shields against free radical damage
Provides anti-aging benefits
Protects against UV rays
Gluten-free and cruelty-free product
Free from talc, paraben, artificial colors, synthetic fragrance, and more
Cons
Expensive
It may not blend easily.
Price at the time of publication: $15.99
Here's an organic bronzer that promises a gorgeous tan without irritating the skin. Made of 100% natural ingredients and free from toxic chemicals, this one ensures you get to enjoy the sun-kissed glow without any side-effects. Packed with antioxidant-rich and mineral-based ingredients such as rice-powder (which controls the sebum btw!), vitamin E, coconut, cocoa butter, and argan oil, consider your skin blessed with a healthy tan instantly. Want more? It has a delightful cocoa fragrance. Try it to feel sun-kissed & loved!
Pros
Safe and non-irritating bronzer
Nourishing and natural formula
Delivers an even and smooth coverage
Vegan and cruelty-free product
Recommended for light to fair skin with cool tones
Suitable for contouring cheekbones, eyes, and chin
Free from talc, GMOs, parabens, gluten, artificial color, and more
Cons
Small
It may require touchups.
Price at the time of publication: $18.0
Not just any other bronzer, this one is worth the splurge because of its high-performance illuminating effect! Formulated with photo luminescent technology, it refracts and manipulates light to help skin appear naturally enhanced. Also, it is infused with transparent particles that allow seamless color transitions on the skin. Sounds interesting? There's more. The product is handmade with a mixing technique, thus ensuring a perfect balance of powder and pigment. As we said, this is no ordinary bronzer. Try on for a radiant finish!
Pros
Smooth and buildable formula
Lightweight, easy-to-apply, and blend
Ensures a warm and sun-kissed look
Can be used for contouring cheeks and jawline
Recommended for medium to light skin tones
Vegan and cruelty-free product
Free from sulfates, synthetic dyes, parabens, fragrance, and more
Cons
Expensive
The pan is fragile.
Price at the time of publication: $43.97
Love the sun, but don't have the time to get tanned? You clearly need a bronzer, and this one will stay all day long, all thanks to the infused primer. Keeping the shade intact as you've freshly applied, you'll never have to worry about retouches for the entire day. Just dab it lightly on the apple of your cheeks and you are all bronze-kissed and good to glow. Seems easier than getting a tan and fighting the harmful rays, right? A cruelty-free bronzer for pale skin, go, grab e.l.f primer-infused creamy powder today!
Pros
Ultra-pigmented and creamy texture
All-day wear and lightweight
Suitable for fair to medium skin tones
Vegan and cruelty-free product
Paraben-free, phthalates-free, triclosan-free and more
Cons
It may take longer to blend.
Price at the time of publication: $7.0
Not a fan of pressed powders? Give this matte bronzer by Milk Makeup a try. Ideal for dry and combination skin, the product runs like butter on the skin, thus making the whole experience fun and effortless for you. Given how creamy products adhere longer than powders, this one might be a great option for those outdoor summer hangouts and picnics. And the best part is, you can use it as a contour stick as well to give your jawline and cheeks a stunning definition. Yep, roll on this easy-to-use stick for a gorgeous summer tan!
Pros
Creamy and smooth formula
Easy to apply and blend
Includes mango butter and avocado oil
Deliver a flawless, healthy, and nice glow
Vegan and cruelty-free cream bronzer
Gluten-free and paraben-free
Cons
Price at the time of publication: $32.75
One-stop for all your sultry and sun-kissed looks! Declutter this season, and get your hands on this pressed powder that delivers the charm of three. Use it as a bronzer to flaunt a tan, as a highlighter/contour to shine, or as an eyeshadow to flutter away like a stunner — this compact powder is designed to glam. Formulated with natural ingredients such as coconut oil, agar, and aloe vera, the blend works together to take care of your skin while you walk around with your gorgeous tan. Need we say more?
Pros
Silky-smooth texture
Delivers a seamless and natural tan
Adds warmth and enhances complexion
Vegan and cruelty-free product
Moisturizes, hydrates, and soothes skin
One of the best option for a tan and makeup lover
Free from gluten, paraben, sulfates, phthalates and more
Cons
Expensive
Heavy product and not travel-friendly
Price at the time of publication: $42.0
Lastly, this bronzer from The Body Shop that claims to deliver natural coverage and last up to 8 hours. That's long enough to last through a date, movie, or even work! Also, its handmade formula is not a joke. Formulated on a terracotta disc, the powder is slow-baked with Italian olive oil (organic), vitamin E and A-rich shea butter, and marula oil that ensures intense nourishment, hydration and repairs skin's moisture barrier too. Now, that's a combo worth trying, isn't it?
Pros
Silky-smooth texture
Suitable for all skin types
Leaves the skin soft and supple
Adds an iridescent glow with the natural tan
Dermatologist-tested and cruelty-free product.
Cons
Price at the time of publication: $22.0
There you go, those are 11 best cruelty-free bronzers of 2023 for you. To know more about types of bronzers, how to apply them, or how to pick the best cruelty-free bronzer, read our buying guide below.
Buying Guide – Best Cruelty-free Bronzer
Different Types Of Bronzers?
There are mainly three different types of bronzers:
Pressed powder bronzer: Mostly bronzers are preferred in pressed powder form. They are easy-to-use, blend seamlessly, and can be used for contouring as well. Other than these  powder bronzers are available in matte and shimmer, thus giving you a choice to keep it natural or add a little shine to your tan.
Cream bronzer: Are you looking for an intense tan effect? If yes, then cream bronzers are ideal for you. They may take longer to set and blend, but they deliver a foundation-like coverage and last longer.
Liquid bronzer: Liquid bronzer, just like pressed powders, are easy-to-apply and blend. Also, they deliver a stunning contour look as well. And other than being apt for oily skin, they are great for acne and sensitive skin too.
How To Choose The Best Cruelty-Free Bronzer For Yourself?
Look out for the following features to pick the best cruelty-free bronzer:
Skin Tone: Unless you want to end up looking like an Oompa Loompa, choose the right skin tone! For example — If you have light to fair skin tone, select a subtle pastel or pink shade for sheer coverage and for medium skin tone, earthy-tones or bronze tone are a perfect match to add warmth. And as for deep to dark skin tone, brown shades with a dash of shimmer would be a great choice. Also, a bronzer should be at least 2 shades darker than your natural skin tone.
Skin Type: Yes, your skin type matters too. Pick a bronzer that suits your skin type for the best results. For normal to dry skin, liquid bronzer can provide ideal coverage. However, if you have oily, very oily, or combination skin, then stick to pressed powders or gel bronzers only. And as for acne-prone skin, a liquid bronzer is the best choice.
Lasting Power: A bronzer should last long, or else your tale about visiting the beach will fall apart quicker than you think. So, inspect if the bronzer has long stay-power or is long wear for the best experience.
Matte Or Shimmer: Bronzers are available in matte and shimmers. Though anyone can apply matte, shimmer shades are ideal for deeper skin tones only. However, if you think you can handle all that shine, go ahead and shimmer on!
Go Cruelty-free: Lastly, let's be a little considerate about animals before you invest in a bronzer or any beauty products. Go cruelty-free, so you know the product is made with love, peace, and kindness.
How To Use A Bronzer?
Using a bronzer is simple, and you don't have to be a professional to get the perfect tan look. Here are some basic steps:
Use a stippling brush for the best coverage and start from the hairline
The idea is to create a '3' on either side of the face starting from the hairline, cheeks, and jawline
Run the brush gently over one half of the hairline. Be extremely gentle, so you don't leave a patch or orangish tint
While running over your cheeks, keep a two-finger gap from the nose bridge. Also, you can gently brush it over your nose bridge too if you like
Lastly, bronze that jawline with the same pressure and go downwards toward the neck for complete coverage
Blend as much as you can, so the powder looks more like a shadow and spreads seamlessly with your natural skin tone.
With that, we bet you'll have the best sun-kissed glow ever!
Why Trust StyleCraze?
Chaitra Krishnan, the author of this article, is a makeup enthusiast who loves to keep up with the latest trends in the beauty industry and review makeup products. Her strong knowledge of makeup trends and products and exhaustive research on the best cruelty-free bronzers helped her create this list for her readers. These bronzers cover your blemishes and aging signs with just a few strokes of a brush.
Frequently Asked Questions
Is bronzer necessary?
Yes, if you want to show off some sun-kissed love to your peers, a bronzer would be ideal for you. Besides adding warmth to your skin, they enhance your complexion, and deliver coverage that looks natural and flawless.
Is liquid or powder bronzer better?
It depends on your skin type. If you have a normal, combination, or oily skin — a powder bronzer would be ideal, whereas, for dry skin, a liquid or cream bronzer would be better.
Should I get bronzer or contour?
If you are planning to get a pretense tan, then you would need a bronzer, but if you want to define or enhance your features, then a contour palette is all you need. Also, a bronzer can be used for contouring too.
Should bronzer have shimmer?
Not necessarily, and it depends on your skin type. For example, using a bronzer with shimmer on very oily skin is not the best idea because your skin will end up looking greasy. However, those with normal to moderately oily skin can enjoy a bronzer with shimmer.
Can you use a bronzer instead of a foundation?
No. A foundation is primarily used to uplift your natural beauty, even out your skin tones and give a seamless appearance. A bronzer, on the other hand, adds warmth to the skin in order to create a fake tan.
Do I need a bronzer if I'm tan?
Yes, you can use a bronzer if you are tanned to even out your skin tone. Considering you might not get tanned evenly be it on your face or body, a bronzer can help to give a natural and uniform coverage.
What is the difference between illuminator and bronzer?
A bronzer adds warmth to areas on your face that might naturally get tanned under the sun. However, an illuminator is used to highlight certain areas or features.
Recommended Articles