12 Best Face Self-Tanners For Acne-Prone Skin
Avoid the scorching sun with these easy-to-use formulations and enjoy a perfect summer glow.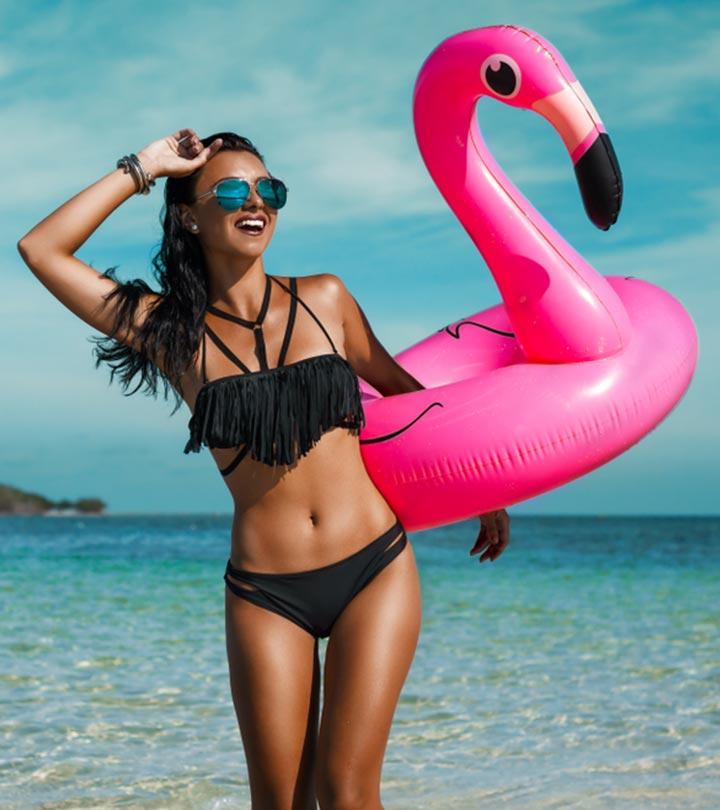 If you are looking for ways to get yourself tanned, self-tanners are the best bet. However, not every self-tanner would be good if you have acne-prone skin. So, we have an entire list of the best face self-tanners with several positive reviews for acne-prone skin for you. A self-tanner is the most convenient and easiest way to tan yourself at your convenience and comfort. "Self-tanners are a safe option compared with using sun beds or sitting out in the sun. Both sun beds and sitting out in the sun expose the skin to harmful UVA and UVB rays. These are the biggest cause of ageing of the skin, due to the damage they cause to the layers of the skin. UV rays are also a major cause of skin cancer," says Dr. Kazim Dhanji, an aesthetics doctor.
However, not every product goes well with your acne-prone skin. If you don't use the right product, it may affect your skin, leading to severe breakouts and dryness. So, what kind of product should you use? A self-tanner that has moisturizing, hydrating and soothing ingredients is the best. To avoid further skin aggravation and clogged pores, experts recommend using non-comedogenic products. with clinically-proven ingredients. Moreover, while choosing the self-tanner, you must remember to select it based on the tan intensity you need, the ingredients used, the product longevity, and more. If you are still confused about which one to buy, scroll down to check out our list of the best self-tanners available for acne-prone skin.
12 Best Face Self-Tanners For Acne-Prone Skin – Reviews And Guide
If you're looking for an ideal way to maintain a tan on-the-go, this bronzer will help you without having to expose your skin to the harmful UV rays of the sun. Made from natural plant-based oils, essential oil blends, and fruit and plant extracts, the Skinerals Californium Sunless Bronzer gives you a smooth and toned glow. The antioxidants such as acai berry and fig extracts help reduce the appearance of blemishes. This self-tanning mousse is a light foam formula and dries quickly, leaving you with a sun-kissed tan sans the unevenness of a regular tan from sun-bathing. This self-tanner for body acne is 100% nut-free and makes it safe for use on both the face and body.
Pros
No streaks or splotchy patches
Provides antioxidant benefits
Cruelty-free
Sulfate-free and paraben-free.
Vegan
Non-greasy
7-day tan
Cons
It contains propylene glycol, which may irritate the eyes.
When it comes to achieving a streak-free glow, the L'Oreal Paris Sublime Bronze self-tanner is your best bet. This hydrating tanning lotion gives you a gradual yet evenly bronzed glow while nourishing the skin with its vitamin E formulation. Go sunless with this tanning milk that is ideal for both first-time tanners and experts to achieve a bronzed glow! You can even customize the intensity of the color as it builds with each use and offers a beautiful golden glow. Maintaining a sun-kissed glow has never been easier with this hydrating tanning moisturizer. You can also go through this YouTube video to get an insight into the reviewer's experience and know more about the final results after using this self tanner from L'Oreal Paris.
Pros
Formulated with vitamin E for softer skin
Easy to apply
Buildable formula
Ideal for first-time users
Lightweight formula
Cons
It may take a long time to dry.
Infused with argan and coconut oils, the Miami Gorgeous LaPlaya Self-Tanning Mousse is a great bargain. You can get an instant natural bronze color that will make you look naturally tanned. This self-tanner contains vitamins E, A, D3and B6 and natural oils like coconut oil, olive oil, argan oil, and jojoba oil, which will leave your skin tanned, smooth, and streak free. A fresh, radiant glow goes hand in hand with this sunless tanner that is safe for all skin types. The odorless mousse formula gives you a tan that both dries quickly and nourishes your skin. This self tanner from Miami Gorgeous can truly work wonders on your skin. You can take a look at a review of the product if you require more convincing.
Pros
Suitable for all skin types
Paraben-free
Gluten-free.
Quick-drying
Can be applied using a tanning mitt or hands
Cruelty-free.
Cons
The product may have a strong odor right after application.
Made with non-toxic, natural, and organic ingredients like aloe vera gel, organic coconut oil, vegetable-derived glycerin, calendula flower extracts, chamomile flower extracts, natural coconut, and mango extracts, this lotion is perfectly blended to create a natural-looking tan. The Bahama Tan Sunless Lotion offers you an easy-to-use formula that allows you to build your own personalized tan color, based on your skin color by layering. It's paraben-free and is infused with organic ingredients like shea butter, jojoba oil, canola oil, argan kernel oil, and monoi de tahiti oil, which make it great for all skin types, including sensitive skin. A perfect, sunless and realistic tan awaits you if you're looking for a deeply moisturizing lotion that also leaves your face feeling smooth and hydrated. For an honest review of this self tanner, take a look at this YouTuber's brief yet thorough video.
Pros
Non-comedogenic
Vegan
Non-GMO
Natural scent
No stains or dyes
Dermatologist-recommended
Cons
May take a while to dry completely.
The Botanic Tree Organic Cosmetic Self-Tanner is a complete steal if you're looking for a natural-looking sunless tan. This self-tanner for acne-prone combination skin is plant-based and 100% organic, which will give you a streak-free faux bronze glow that looks natural. The facial self-tanner does not cause acne and doesn't feel oily or cakey on your face. It is enriched with organic aloe vera leaf juice, shea butter, coconut oil, jojoba seed oil, apricot kernel oil, montana flower oil, rosemary leaf oil, avocado, linseed oil, grape seed oil, passionfruit seed oil, coconut pulp oil, and organic fruit extracts like vanilla fruit extract that deeply hydrate and rejuvenate your skin. Whether dry, oily, acne-prone or combination skin, this formula is fast-absorbing and will not stain your clothes or leave any dark spots behind.
Pros
Lightweight
Vegan
Organic herbal formula
Cruelty-free
Zero parabens
Cons
It may not suit all skin tones. A patch test is recommended.
The Tanceutical self-tanning face lotion is designed specifically for delicate areas like the face and neck. It is non-comedogenic, so it won't clog pores or cause any acne. This facial self-tanner is popular for its exclusive formula that promises a smooth and natural-looking sunless tan with no streaks or orange color. The moisturizing formula of the lotion not only has a fresh and enticing coconut scent, but also blends and dries quickly. Free from parabens or mineral oil, this expert-recommended product is filled with ingredients like mango butter, acai berry, and vitamin E that improve the quality and appearance of skin.
Pros
Non-sticky
Moisturizing properties
No artificial coloring ingredients
Long-lasting
Certified cruelty-free by PETA
Dermatologist-recommended
Cons
One has to wait at least 7-8 hours before sweating or showering.
The St. Tropez Self-Tan Bronzing Mousse comes with a new mood-boosting fragrance that lacks a self-tan smell. That's just the beginning of it! This self-tanner caters to all of your tan requirements and even allows you to control the depth of your tan. If you choose to go with a medium golden tan, you could simply leave it on for an hour and extend the time for a deeper and darker bronze tan to best suit your skin tone. The sunless tanning product is easy to apply onto your skin and is lightweight, non-sticky, and infused with jojoba and skin care actives that prolong your tan for up to 10 days!
Pros
Streak-free finish
Lightweight
Quick-drying
Hydrating mousse
Contains naturally derived tanning actives
Vegan
Cons
Some may find the fragrance overpowering.
The self-tanner spray by Bronze Tan will help you maintain a sun-tan all year round! It works wonders for a gradual and natural sunless tan and is an ideal option for both oily and acne-prone skin. This self-tanning water deeply hydrates your skin while giving you a bronzed glow. It has a buildable color and leaves you with a darker skin tone than what you began with. The water spray formula avoids overloading the skin with too much of a tanning product and contains aloe vera and cucumber, which accommodates sensitive, acne-prone skin. If you are looking for a gradual self-tanner to work it's magic overtime, this self-tanner for acne-prone oily skin will do just the trick!
Pros
Hydrating properties
Suitable for all skin types
Gradual skin tan
Can be used to touch up pre-existing sunless tanners
Cons
This product may stain clothing, furniture, or hair.
The EcoTan Organic Face Tan Water works just like the sepia filter and also covers blemishes and spots. With natural hyaluronic acid, this tan water is lightweight, non-greasy, and hydrates your skin helping you gradually build a natural-looking glow for your face. The self-tanner application process is simple, especially if you have oily or acne-prone skin. The formulation of this product includes anti-aging and anti-acne properties as well as natural and organic ingredients like vitamin C, for brighter-looking skin. The self-tanner for acne-prone mature skin includes flower extracts, fruit extracts, herbs, cacao, and is also non-comedogenic and doesn't clog your pores, and reduces the appearance of pores as well.
Pros
Contains no artificial colors
Certified natural and organic ingredients
Hydrating ingredients
Non-comedogenic
Cons
Some may find the color slightly orangey.
Achieve the sunkissed tan with the Bondi Sands PURE Self-Tanning Sleep Mask. It is formulated with super-hydrating hyaluronic acid and vitamin C for a healthy, rich sheen. This self-tanner is loaded with vitamin E, which helps rejuvenate the skin. Worry not if you have dry skin as cocoa and shea butter will keep patchy flakes at bay. The moisturizing formula protects the skin barrier and makes the skin healthy. It further helps to reduce the appearance of pores. The dermatologically-tested formula is non-comedogenic and safe for sensitive skin types. The dual tanning actives make your skin glow and the tan starts to develop after six hours of application and continues to develop for 24 hours.
Note: Do not apply other products until the color has formed.
Pros
Fragrance-free
Recyclable packaging
Lasts for two days
Vegan
Cruelty-free
Easy application
Cons
The St. Tropez Self Tan Purity face mist offers light to medium tanning. It is formulated with hyaluronic acid, hibiscus extracts, and green mandarin water that instantly revive your skin. This premium self-tanning product enables you to achieve a natural sun-kissed glow with an even tan. The oil-free formula is vegan, does not clog pores, and does not transfer or require to be rinsed off. This buildable color formula leaves you with nourished skin. Exfoliate and moisturize the desired area, spray 5-6 pumps of this tanning mist and you are ready for a post-holiday glow.
Pros
Lightweight
Paraben-free
Mineral oil-free
Sulfate-free
Phthalate-free
Fresh tropical scent
Suitable for daily use
Cons
These aloe vera infused self-tanning face pads are the perfect option for an instant sunless glow. The advanced self-tan formula incorporates a marine-based complex called Algo-Tan that creates the look of a natural tan, without harmful side effects of exposure to the sun. The TourneSol self-tanning face pads are specifically designed for delicate skin and are easy to use.  The tanning pad provides a rich color along with exfoliating and anti-aging benefits. Additionally, they are easy-to integrate into your daily skin routine as they have nourishing ingredients and hydrating properties.
Pros
Quick-drying formula
Gentle exfoliating properties
Maximum hydration and anti-aging benefits.
Easy, streak-free application.
Hassle-free
Cons
Might have to be careful with the pressure that you put while applying the face pads.
*The prices provided in this article are based on the latest available information. However, they may vary due to changes in pricing by the seller and/or promotional offers.
Things To Keep In Mind While Choosing A Self-Tanner For Acne-Prone Skin
How To Choose The Right Self-Tanner For Susceptible Skin?
If you have sensitive skin, or if you have skincare routines that can dry out your face, it is important to consider this as an important factor before investing in any product. Dry areas tend to have more dead skin, which may soak up more of the tanning product than other areas. It is therefore recommended to apply a moisturizer with clinically-proven results to these areas before using the self-tanner. Make sure to wear comfortable clothing while applying the tanner, so that the product doesn't bleed or stain your outfit.
Acne comes in many forms, including blackheads and whiteheads although the most serious type of acne is a pimple. Pimples often cause redness and appear in the form of a swollen and painful bump. Acne scars sometimes cause a pit or 'depression' in the skin surface. Acne can cause severe pain, irritability, and it is therefore extremely important to choose gentle, dermatologist-tested products for your face that are prominently alcohol-free.
Since self-tanners for acne-prone skin come in different forms, you should choose the one that you are comfortable with. Choose the right scientifically formulated product for yourself after going through the ingredients. A good tanner for acne prone skin will have nourishing vitamins and minerals to build your skin's moisture. Non-comedogenic products are ideal as they do not clog pores and are suitable for sensitive skin. Ensure that the tanner does not contain harsh chemicals such as parabens, as they may irritate your skin or cause breakouts.
Clinically-verified organic ingredients and extracts are extremely beneficial to your skin. Especially with sensitive skin, the need to carefully choose healthy alternatives is a significant concern. Plant-based products include various plant and fruit extracts like vanilla fruit extracts and natural oils like aloe vera leaf juice, shea butter, coconut oil, jojoba seed oil, montana flower oil, linseed oil, grape seed oil, passionfruit seed oil, coconut pulp oil that deeply hydrate and refresh your face.
How To Apply A Self-Tanning Product On Acne-Prone Skin
The application process is often rather simple. Once the texture of the product is determined, you can determine whether or not you would like to apply the product using mitts or with your bare hands. If you choose a lotion, it is likely to be light and easy to spread.
Step 1: Gently exfoliate with a face scrub to remove all dead skin cells. Remember that almost all skin products always work best on clean and dry skin.
Step 2: Apply a layer of the self-tanner on your face when it is completely dry, like you would with a moisturizer.
Step 3: Use circular motions and spread evenly. Blend it carefully to the hairline, while avoiding the hair, lips, and eyes.
Step 4: Hydrate your skin for longer lasting results.
Step 5: Wash your hands after applying the tan to avoid discoloration of fingers.
Step 6: Be sure to continue to use a potent sunscreen which offers SPF 30 or higher and UVA and UVB protection.
Follow these tips closely for best results. Additionally, keep in mind to,
Avoid applying the self-tanner after shaving.
Try to avoid water and sweat for at least 6 hours after applying the tanner.
Try to avoid extremely hot environments to prevent streaking.
Compare the prices of the products so that you can find one within your range.
Follow the frequency of using self-tanner as per the instructions given along with each product (this depends on how long it takes for the tan to become visible and for up to how long the tan is likely to stay).
You should never have to compromise when it comes to the quality of the products you use regularly on your face, and we understand that clearly. Free from any harm caused by the actual exposure to the ultraviolet rays of the sun, there are many bronzers available in the market that will give you a natural-looking orange or golden tint within a shorter time period. Without worrying about damage to your skin, sunless self-tanners give you a more structured, rejuvenated look. We take your sunless tanning needs very seriously and hope to have given you clarity before you click 'Add to Cart'.
Why Trust StyleCraze?
Krati Darak, our in-house writer and editor, is a skin care enthusiast. She has compiled a list of the best face self-tanners for acne-prone skin after evaluating the user feedback from trusted platforms and brand websites. The list includes top-rated products that do not lead to severe dryness or breakouts. Instead, these products will offer you a natural tan and ensure your skin feels healthy without the hassle of visiting a salon.
Frequently Asked Questions
Will a self-tanner break out my face?
No, your face will not break out if you choose the right tanner for your skin type and constantly ensure that your face is hydrated.
Can I put self-tanner on my face if I have acne?
Yes. However, do look for self-tanner with mild and natural ingredients.
Does face tan clog pores?
Make sure that you choose non-comedogenic products that are ideal as they do not clog pores and are suitable for sensitive skin.
How do you self-tan your face without breaking out?
• Moisturize your face thoroughly, especially the areas around your acne with a lightweight formula.
• Pat the self-tanner for acne-prone skin with a damp sponge or a smooth tanning applicator on your skin. Prevent rubbing your face to prevent a fresh breakout.
How can I tan my face without clogging my pores?
Follow these steps to tan your face without clogging the pores-
• Exfoliate and cleanse your pores with lukewarm water to ensure clean pores.
• Wait a few hours after showering to let your enlarged pores close automatically before applying the self-tan.
• Another trick is to shower with cold water to close your pores faster.
• Apply a self-tan that is formulated for acne-prone skin types.
• Use a smooth tanning applicator to ensure you apply the tan
Does self-tanner hide acne scars?
Yes. Self-tanners for acne scars can be helpful since acne scars are darker than your original complexion. When you tan, the scars are not too noticeable anymore. However, repetitive self-tanning can permanently darken your scars, so it's essential to use self-tanners in moderation and follow the recommended application guidelines.
Recommended Articles