10 Best Longest Lasting Self-Tanners For A Beautiful Glow That Stays – 2023
Achieve a natural sun-kissed tan without any UV damage from the comforts of your home.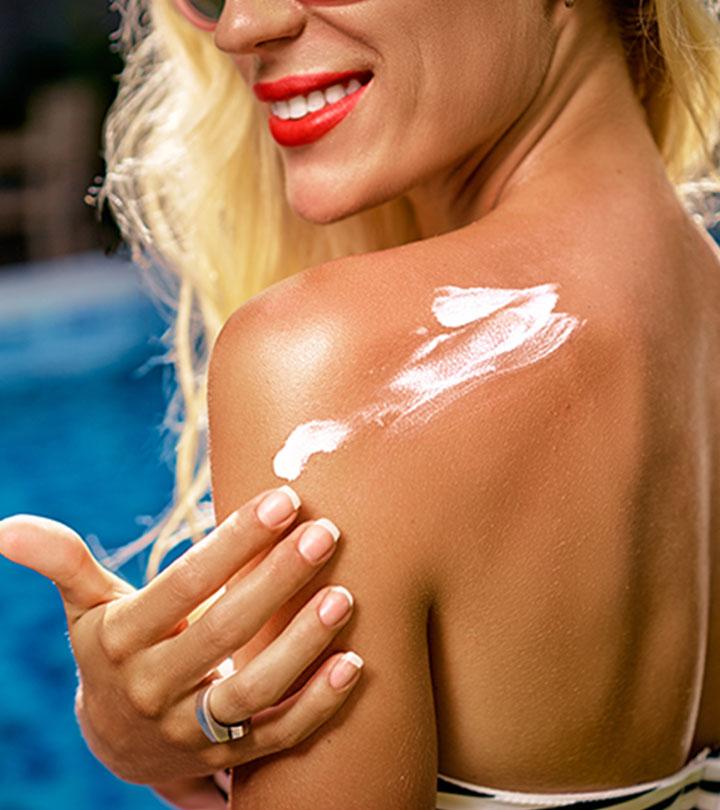 The best long-lasting self-tanners ensure that your sun-kissed glow lasts throughout the year. Now you can maintain your golden glow in all seasons and not just the summers. Lounging out in the Sun is no longer a safe option of self-tanning, no matter how much SPF you put on. The Sun is not your BFF and can harm your skin pretty badly, leading to skin cancers and premature aging. Going to a tanning salon is expensive, and most women do not really have the time for it. Well, no worries! We have multiple brands that offer skin-friendly self-tanners or tanning mousses that provide you with a gorgeous tan that darkens with time.
"The first and most essential advantage of using a self-tanner is that it is completely safe. The products are beneficial to the skin since they have anti-aging and hydrating characteristics and do not require prolonged sun exposure," says Dr. Anna Chacon, a certified dermatologist. A self-tanning mousse or lotion is enriched with nourishing skin care ingredients that soothe your skin and moisturize it for a healthy look.
However, some self-tanners run the risk of making your complexion look orange-ish and stain your bathroom floors and bedsheets. But the tanners in our list are long-lasting, easy-to-use, and mess-free. If you follow the instructions carefully, you can absolutely avoid looking like a ripe pumpkin! For the most natural-looking bronzed glow, try out the best long-lasting self-tanners on the market. This article lists a few of the longest-lasting self-tanners from our favorite brands that are available at all types of price ranges to help you decide on the one best for your budget. These have multiple reviews on trusted online platforms, which indicates a positive people's response. So, go on ahead to find out more about them.
What Do You Mean By The Longest Lasting Self-Tanner, And How Does It Work?
A long-lasting self-tanner is pretty self-explanatory. It means that the product will provide you with a gorgeous tan that will last for an extended period. It also means that you don't have to reapply the formula frequently and enjoy your gorgeous glow in peace. It works when you start applying the product from your feet up, and the formula dries down and begins to darken with time gradually. It is suggested to start by using a small amount and building up to the desired shade. Ensure that you apply the self-tanner after applying a body moisturizer.
10 Longest Lasting Self-Tanners For A Natural, Bronzy Glow
This lightweight safe tanning foam is a must-have because it offers an even application without any streaks. The formula has a mild fragrance and provides a natural-looking color that doesn't look tacky or orange. The foamy formula is infused with natural active ingredients like aloe vera and coconut oil, enhancing that bronzy, healthy-looking glow with a long-lasting color payoff. We recommend leaving the fast-acting foam for about 6 hours before you wash it off to get the best results. This flawless self-tanning product is perfect for beginners and is easy to use even if you don't have much experience with self-tanning. The best part about this longest lasting drugstore self tanner (besides the color it provides) is that once you wash it off, you will be left with a sweet smell that is mild and refreshing. For more information about the product, check out this reviewer's experience video.
Pros
Natural ingredients
Lightweight consistency
Mild fragrance
Quick-acting
No streaks
Results in a natural golden color
Beginner-friendly
Buildable color
Cons
May leave a sticky residue
Review: A reviewer states, "I consider myself a fake tan enthusiast with fair skin. Bondi Sands Self-Tanning Foam amazed me with its smooth blend, instant color, and lasting results. No orange tint, even after swimming. A game-changer that beats pricier options."
Sun Laboratories is a trusted and safe brand when it comes to its self-tanning products. This longest lasting self tanning lotion is one of the longest-lasting self-tanners in the market today made from all-natural ingredients like vitamin C and E, and aloe vera extract, which leaves your skin feeling soft and hydrated. In addition, the paraben-free formula ensures that you are left with a natural-looking tan that has no streaks and looks flawless for a long time. Thanks to the natural and safe formula, you get revitalized skin after every application with a long-lasting bronze effect that also enhances its elasticity, so you don't have to worry about any pesky premature aging signs like fine lines or wrinkles. With regular application, you will experience a tan that lasts for a long period and offers your skin a deep tone that makes you look as if you just stepped off the beach. This reviewer's experience video has complete details on how to use the product.
Pros
Natural ingredients
Long-lasting
Safe to use
Paraben-free
Enhances the skin's elasticity
Moisturizing
Cons
Some may find the consistency watery
Review: According to a user, "As someone with fair skin, Sun Labs Tan Overnight lotion pleasantly surprised me. The mitt texture was smooth, offering a natural, non-orange glow. Use some lotion before application if you have dry skin, but overall, a reliable self-tanner that's worth the try."
We cannot talk about the best, longest-lasting self-tanners and leave out this one by Tanceuticals! It has an exclusive formula that is smooth and results in a natural-looking tan, free from streaks or any blotchy patches. It also includes natural ingredients like acai berry, mango butter, and vitamin E that offer nourishment and hydration to the skin. Since the self-tanner doesn't contain any parabens or mineral oils, you don't have to worry about any adverse reactions upon application. The non-streaking self tanner comes with extended color staying power and is fairly easy to use as all you have to do is apply on clean skin and spread it evenly all over. It is quick-drying and results in a beautiful deep shade that makes you look like you were baking in the sun for hours. The tan will last you for a solid 7 to 8 days, and it won't transfer to your clothes as well. Check this video to learn more about the product.
Pros
It won't stain your clothes
Quick-drying
Last upto 7-8 days
Blends easily
No blotches or streaks
Refreshing coconut fragrance
Cons
You may need to exfoliate your skin for dead skin cell removal before applying the self-tanner.
Review: A reviewer opines, "Tanceuticals CC Self-Tanning Lotion offers a refreshing change. Delighted by the smooth, non-sticky application and the tropical scent. It leaves a lovely deep golden tan on my skin. Its natural fade and skin-friendly formula really won me over!"
This self-tanner is a godsend for people who have sensitive skin and have to think twice before applying any product. It is formulated with soothing and hydrating ingredients like aloe vera and shea butter, ensuring that your skin is left feeling baby soft after every application. The ultra-hydrating and extended fade control formula contains melon seed extract, grape seed extract, raspberry seed extract, and lychee extract, making it suitable for people with sensitive skin types. The formula provides your skin with a natural golden, radiant glow. Not only does it look great after application, but once the tan starts wearing off (which is not very soon), it goes away consistently. This is great for people who want to avoid blotchy fadeaways! Since the formula is easy to control, you can apply it without a glove and use your bare hands.
Pros
Smooth and even application
Ultra-hydrating
Organic formula
Suitable for sensitive skin
Doesn't feel flaky
Cons
Some may find the fragrance intense
Review: According to a tester, "Vita Liberata Organic Self-Tanning Lotion is definitely my go-to choice. Its natural color is super impressive, even when I apply it on my face. This also leaves no odor and lasts super long! It is definitely a great addition to my tanning regimen."
If you're nuts for coconuts, this is the product for you! This coconut-infused formula is rich in antioxidants to offer a gorgeous bronze glow while revitalizing and hydrating the skin and reducing stretch marks. This lightweight foam is easy to apply and is suitable for all skin types, whether oily, normal, or dry, and the depth of color depends on how long you keep the tanner foam on before you shower and rinse it off. You don't have to worry about any residue once it is rinsed off, and it won't stain your clothing or sheets. It offers a long-lasting, natural-looking tan. The product is available in a color range of 4 shades. As the color is quickly developing, it will start showing up within an hour, so it's perfect for people who are busy and short on time.
Pros
Hydrating
Suitable for all skin types
Foam-like consistency
Quick developing
Won't stain sheets or clothes
Paraben and DHA-free
Cons
It may get splotchy when the tan starts to fade
Review: A reviewer says, "MineTan's Skin Express Self Tan Foam won me over with its natural, streak-free tan. As a fair-skinned redhead, it's really a game-changer to avoid the dreaded orange tint. The scent is pleasant, and though it fades faster, it's my new go-to for a quick, even tan."
This organic sunless tanning lotion is made with organic ingredients like aloe vera juice, shea butter, sugar cane extract, moringa oil, and jojoba seed oil, which nourishes and moisturizes your skin on every application. This plant-based bronzing tanner is the safest way to get a tan without exposing your skin to any harmful chemicals or UV rays. Trust us when we say this one won't leave you looking orange once the lotion dries because it results in a perfect bronzy shade. It is designed with extended fade control technology and offers a long-lasting sun-kissed look. We recommend applying this sunless tanning product evenly on clean and exfoliated skin that is free of dead skin cells. Keep moisturizing your skin for some time after rinsing out the product for the best results. Since the organic formula is filled with nourishing ingredients, not only will you get the tan of your dreams, but you will be left with soft and plump skin.
Pros
Organic hydrating ingredients
Even and smooth application
Streak-free
It won't stain your clothes
Safe to use on sensitive skin
Cons
You may need to use a glove when applying the formula
Review: According to a tester, "Botanic Tree's Organic Cosmetic Self Tanner gave my skin such a natural glow! As a fair-skinned individual, I love the subtle, golden tan it provides. But you need to really blend it and apply it lightly for a great finish."
The best thing about self-tanning drops is how versatile they are; they can be used with your regular moisturizer, serums, or face oils to create a custom self-tanning formula. If you want to control the glowy result, you can incorporate this product into your skincare routine. The lightweight formula contains natural hydrating ingredients like raspberry seed oil and blueberry extract, chia seeds, kale, avocado, and coconut, brightening the skin and providing anti-aging benefits. The key ingredient, cocoa seed extract, protects your skin from external factors like blue light and pollution. The mix of antioxidants and hydrating components in the formula ensures that your skin is left looking young and feeling hydrated. This formula comes in a color range of 3 shades. It comes with an extended tan durability, offering a long-lasting bronzed glow.
Pros
Color correcting properties
Contains antioxidants
Buildable
Enhances the body's natural collagen production
Cons
It may not be streak-free
Review: A user states, "Isle of Paradise Self-Tanning Drops are my go-to for a natural glow. I mix it with my moisturizer and the light shade suits my fair skin perfectly. It is super easy to apply. Definitely go for this if you want a radiant, sun-kissed look."
Not only will this product give you that beautiful natural glow, but it will also tone and firm your skin. This sunless tanner formula contains potent ingredients like seaweed extract and pea extract, which help promote collagen production and tone your skin to make it firm and smooth. If you hate spray tans and would rather not risk the UV tanning bed, this long-lasting self-tanning lotion is a great alternative. The long-wearing tan effect of this product offers prolonged color retention. The alluring fruity and sweet scent makes the whole application process enjoyable. The fragrance lingers even after rinsing the product. We suggest that you take a pea-sized amount and spread it on your body, let it sit for three to four hours, and then rinse it off for a subtle golden glow. If you want to get a darker skin tone, you can keep it on for a longer duration.
Pros
Tones and firms the skin
Fruity fragrance
Even application
Contains caffeine
Buildable shade
Lightweight
Chemical-free
Dermatologist-tested
Cons
Review: A reviewer states, "Coola Sunless Tan Firming Lotion has really been my summer savior. I flaunted dresses confidently with streak-free legs! The fine mist sprayer gave me such an even application, including the tricky spots. While I'd love if it lasted a bit longer, it's my go-to for a natural tan."
If you are looking for a self-tanning lotion with premium and natural ingredients, you must go for this. You can use it on your face and body because it is formulated with ingredients like aloe vera gel, macadamia oil, lactic acid, and safflower seed oil which have anti-aging properties. These ingredients also keep your skin hydrated. So, not only will you get that beautiful caramel color, but you will get some fantastic skincare benefits as well. It is easy to apply and provides an even application that dries down and provides a citrusy, fresh scent that leaves you feeling invigorating. You don't have to worry about it clumping or leaving a hideous orange undertone after the application as it is made from a smooth formula that glides on your skin seamlessly and offers extended color retention.
Pros
Fresh citrus scent
No clumping
Extended fade resistance
Smooth and easy application
Blends well
Streak-free
Moisturizing
Anti-aging
Suitable for face and body
Cons
It may not be suitable for oily skin or acne-prone skin
Review: A tester says, "REBLX Premium Self Tanner pleasantly surprised me. I'm a veteran user of self-tanners but this one really amazed me! The mitt makes the application so easy, even for the super tricky areas. Realistic color for fair skin, no orange or ashiness. It's my new go-to for a flawless tan that lasts."
Give yourself a natural and glowing self-tan with the Glossiva Face and Body Illuminating Self-Tan Drops. This light to medium shade of tan drops offers you a radiant finish and bronze glow with a long-lasting tan. This self-tan drop is infused with ultra-hydrating coconut extracts, avocado oil, and chia seeds. The cruelty-free and long-wear formula also contains color-correcting actives like hyaluronic acid, hibiscus flower extract, and fruit extracts. The color-correcting technologies help even out your skin tone in the most flawless and hassle-free way, providing you with a subtle, natural-looking, and radiant tan. You can blend this product easily with carrier oils, serums, foundations, and moisturizers. Also, it offers the advantage of extended wear.
Pros
Easy to use dropper
Hassle-free application
Vegan
Durable color
Skin-friendly formula
Pleasant and mild fragrance
Hydrates the skin
Cons
May be too orange for some skin tones
Review: According to a user, Glossiva Face and Body Illuminating Self-Tan Drops was such a surprise! As a newbie to self-tanning drops, I was a little unsure, but it gave a natural and radiant tan without streaks. Super simple to use by mixing with moisturizer, no oily feel, and no unpleasant odor. Lasted a week and counting!
*The prices provided in this article are based on the latest available information. However, they may vary due to changes in pricing by the seller and/or promotional offers.
Now that you are aware of the various self-tanners available online, you need to know about the important factors to consider before deciding on the product that meets all your needs. You can refer to the buying guide listed below to know more.
How To Find The Longest Lasting Self-Tanners
Moisturizing properties

A long-lasting self-tanning product must-have moisturizing ingredients. This will help your skin feel and look good, especially when the color starts to develop after rinsing it off. Not only will your skin feel great when the self-tanner has hydrating properties, but it will help the flawless tan last longer as well. A well-moisturized skin tends to hold color well. Hence it makes sense to look for lotions that have vitamin E and aloe vera juice.
Buildable

Some people like to start small when it comes to self-tanning, especially if they are beginners. However, it's always a good idea to go for products where you can start with a light shade and then build it up from there. This way, you can understand your desired shade and where you need to stop to avoid going overboard.
Consistency

As you may have noticed from our list, there are many types of formulas available online. From spray to liquid to foam, you will find different consistency created to suit different skin types. If you have dry skin, go for a thick and creamy formula to provide an even application without streaking. On the other hand, if you have oily skin, we recommend going for thin consistency products as they won't clog your pores or leave a sticky residue.
In addition, always perform a patch test to avoid any allergic reactions.
How To Apply The Longest-Lasting Self-Tanner?
Here are the steps you must follow when applying a long-lasting self-tanner:
Step 1 – Start by applying the tanner from your feet up. Keep checking that you cover all areas evenly and that they are streak-free.
Step 2 – When you work from your feet up, it means that you won't have to bend. This will help avoid any blotching around the tummy and waist area.
Step 3 – Keep the product on for the time mentioned on the packaging
Step 4 – Rinse it off with lukewarm water
Step 5 – Finish off the process with a moisturizer
Step 6 – If you want a muted shade, then you can mix the tan lotion with your moisturizer.
Why Trust StyleCraze?
Our author, Kirtana Divakar, is a skincare lover constantly on the lookout for products that are affordable and functional. She knows that sitting under the sun to get that beautiful tan may not be safe and feasible. To get you that all-year tan, she has gone through various customer feedback online and assembled this list of the choicest self-tanners available online. These self-tanners are long-lasting and are made of ingredients that soothe your skin and leave you with a gorgeous tan.
Frequently Asked Questions
Will a self-tanner age your skin?
Not really, you need to choose self-tanners that have antioxidants, and anti-ageing properties as that will prevent any premature ageing signs like fine lines and wrinkles.
Does self-tan get darker the longer you leave it on?
Yes, it usually does get darker the longer you leave it on. However, some self-tanners are buildable, so you can layer the product and leave it on to get that dark shade.
Can I self-tan over an existing self-tan?
Never apply a self-tanning lotion over an existing tan, as it will look blotchy and uneven. Also, it will just highlight the breakup of the old color.
What is the best way to remove a self-tan?
You can remove a self-tan by exfoliating or using lemon juice. However, the process is not quick; the tan will just fade faster than normal.
How long does a self-tan last?
It can last anywhere between 6 to 8 days. But, of course, it also depends on how moisturized your skin is.
Can you use self-tanner on your face?
Yes, if the packaging says it's suitable for the face and body, then you can.
Should moisturize after self-tanner?
If you want to delay the color from fading quickly, moisturize your body after getting the tan.
Recommended Articles: