10 Best Shoes For Jumping Ropes To Keep You Safe From Injuries
Jumpstart your skipping routine with these snug, breathable, and lightweight shoes!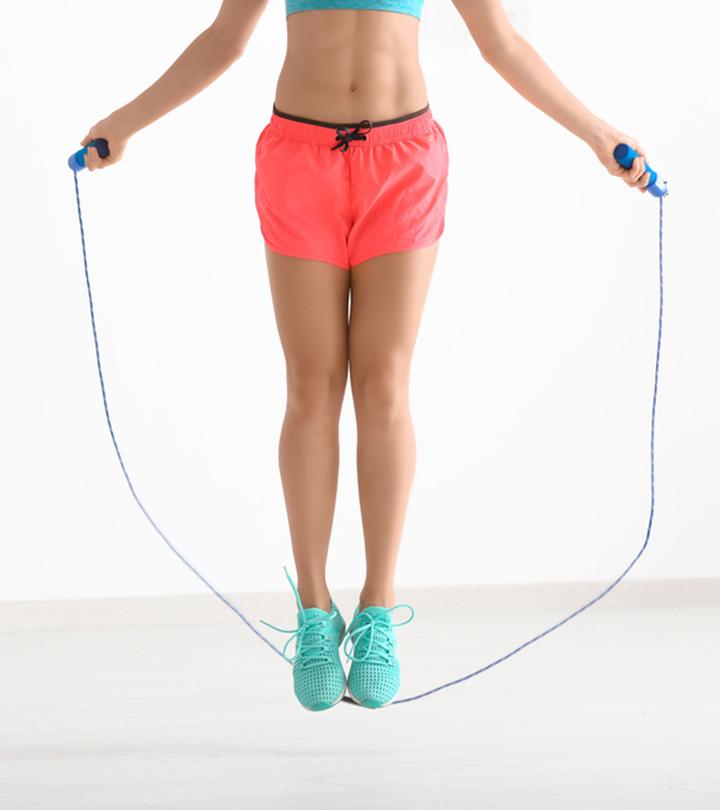 If you're looking for a fun yet effective way to burn calories, jumping ropes is among the best exercises. And to do it the right way, you need the right jumping rope and the best shoes for jumping ropes. This is because jumping ropes are known to have an impact on the knees as well as feet, and you would want to keep yourself safe from injuries and impacts when you work out. To help you find the right pair, here's a list of the 10 best shoes for jumping rope with reviews.
10 Best Shoes For Jumping Rope For Women
The New Balance sneakers feature a REVlite midsole that delivers incredibly lightweight cushioning while providing a responsive ride for comfortable all-day wear. The shoes are made of 100% synthetic material and an NB memory sole. They feature a sleek design that is comfortable from the inside. The bootie upper construction hugs your foot for a snug supportive fit. This easy slip-on women's trainer is perfect for jumping rope or doing any other exercise that exerts pressure on the knees and feet. Click on this Youtube video to find the honest review about the New Balance Women's Fuelcore Nergize V1 Sneaker.
Pros
Snug fit
Supportive and protective
Sleek design
Lightweight cushioning
Cons
Price at the time of publication: $84.16
The PUMA Women's Tazon Cross-Trainer Shoe has a sleek, streamlined silhouette. These stylish sneakers sport a synthetic leather upper with midfoot saddle for maximum fit and comfort. The Eva in the heel absorbs impact. The rubber sole makes walking or running much easier. The shoes are made of 100% leather and synthetic material that is lightweight, breathable, and durable. These training shoes come in different colors. Watch this honest review of the shoe for jumping ropes -its benefits, comfort, and merits.
Pros
Sleek design St
Streamlined silhouette
Midfoot saddle for good fit
Eva in heels absorbs impact
Make walking and running easy
Lightweight
Breathable
Durable
Cons
Price at the time of publication: $45.47
The Nike Women's Competition Running Shoes have a serrated rubber sole that makes them flexible and perfect for running and crossfit training as well. The mid arch is perfect for adding support to the foot and helping to propel the body forward as you walk or run. The upper breathable material makes these shoes lightweight and comfortable to wear and remove. The textured outsole ensures superior grip. These Nike shoes for women are available in many colors.
Pros
Serrated rubber sole
Flexible
Mid arch adds support to the foot
Breathable material
Lightweight
Superior grip
Cons
Insole may hurt the heels
Price at the time of publication: $105.95
The Reebok Women's Cross Trainer is made of durable, lightweight material. These flex weave woven sneakers provide resilient stretch and support. The re-engineered Flexweave technology provides stability and flexibility to the feet and body movements. Toe Tection technology offers durability for high-intensity workouts. The low-cut design increases ankle mobility without causing any pain. These stylish trainers with rubber soles and the new heel bootie construction with added cushioning provide ultimate performance comfort. These shoes are great for weightlifting as well and are available in many colors.
Pros
Durable, lightweight material
Resilient stretch and support
Offer stability and flexibility
Added durability for high-intensity workouts
Increase ankle mobility
Added cushioning
Cons
Price at the time of publication: $61.43
The NOBULL Women's Training Shoes are lightweight, breathable, and flexible. The SuperFabric guard plates are applied on a highly flexible mesh base layer that creates a 360-degree shield. The outsole lug pattern is designed for multi-environment usage, be it in the sun or rain. High carbon lateral and medial guards provide added protection on the sidewalls. The medial rope grip adds stability to all kinds of surfaces. The shoes' functional and simple design keeps you looking and feeling good during workouts. They are available in many colors. Check out this video to gain more insights on the Nobull Women's Training Shoes.
Pros
Lightweight
Breathable
Flexible
360-degree shield
Designed for multi-environment usage
Added sidewall protection
Added stability
Cons
Price at the time of publication: $129
The Inov-8 Women's Sneakers are lightweight trainers that offer good support for a more balanced, agile, and connected movement during indoor workouts. The zero-lift function allows steady footing for deadlifts so you can get that natural feel as near to being barefoot. The forefoot space allows you to spread out the toes. It does not hurt the toes and provides a solid base even for weightlifting. The outsole features a non-slip grip so you can confidently jump rope or do any other workout. It suits the gym, outdoors, and every day wear.
Pros
Lightweight
Allows steady footing
Does not hurt the toes
Provides a solid base
Non-slip grip
Cons
Price at the time of publication: $115
The RYKA Women's Tenacity Cross-Trainer Shoes can also be used in the gym. These low-profile platform shoes feature an n-gage eva foam under the forefoot that provides extra cushioning. Their lightweight, full-length, and upper breathable mesh material features additional foot support. The midfoot strap aids a secure, snug fit. The shafts measure approximately four inches from the arch. The heels measure approximately 0.75 inches. The shoes are available in black and silver colors.
Pros
Provide extra cushioning
Lightweight, breathable mesh
Midfoot strap aids secure, snug fit
Offer traction
Cons
Shoelaces could be too short
Price at the time of publication: $119.99
The Inov-8 215 Cross-Trainer Shoes are designed to provide superior comfort, stability, power, and lateral support. They are responsive, flexible, and move with you naturally. They offer solid support during high impact, strength, and agile workouts. A firmer platform with a heel lock adds power and balance while lifting weights. The new ADAPTERFIT Met-cradle adapts to the natural movement and swells with the foot when in motion during fast, hard, lateral, and medial movement. The elastic mesh liner hugs the foot like a glove for added comfort and more support. The shoes are perfect for all kinds of training. They are available in many colors.
Pros
Provide superior stability and lateral support
Responsive and flexible
Adapt to the natural movement
Snug fit
Perfect for all kinds of training
Cons
May not suit individuals with wide feet
Price at the time of publication: $39.95
The ASICS Women's Gel-Fit Cross-Trainer Shoes are made of a seamless material that reduces the potential for chafing caused by traditional stitches and seams. The Rearfoot GEL Cushioning System absorbs shock during high impact exercises like running or rope jumping. They have internal elastic sleeves that provide a snug fit. A crisscross pattern in the midsole promotes multi-directional flexion and adaptability that maximizes the foot's natural motion. These jump-rope shoes help elevate your workout performance. They have a rubber sole and are made of 100% synthetic material. These trainer shoes for women are available in many colors.
Pros
Reduce chafing
Optimum shock absorption
Snug fit
Promotes multi-directional flexion
Adapts to the foot's natural motion
Rubber sole
Reasonably priced
Cons
None
Price at the time of publication: $79.99
The Under Armour Women's Reflective Running Shoes feature a perforated upper fabric with ultrasonic seaming. The dual-layer midsole with Charged Cushioning and Micro G foam and an anatomical outsole reduces impact on the knees and heels. The smooth, ultrasonic welded seaming with Bemis tape provides next-to-skin support and comfort. The arch reinforcement construction allows precise fit and foot guidance. The embedded sockliner within the cavity of the midsole helps with added cushioning, moisture-wicking, and seamless comfort while you jump rope. The anatomical rubber outsole ensures natural flex and durability.
Pros
Reduces impact on knees and heels
Reinforcement construction
Precise fit and foot guidance
Added cushioning
Moisture-wicking design
Flexible
Durable
Cons
None
These are the 10 best shoes for jumping rope that you can buy online. Take a look at the following checklist before making your purchase.
How To Choose The Right Shoes For Jumping Rope
Rubber Sole: Serrated rubber soles are the best. They provide flexibility around the balls of your feet as you land on the ground.
Gel Cushioning: Gel cushioning in the midsole provides extra support to your feet and also absorbs shock. It reduces the impact on your feet and knees.
Fit: A breathable mesh made of synthetic material provides a snug fit along with easy wearability. This material is soft, hugs and supports the feet, and is flexible enough to allow free movement of the feet.
Weight: Buy a lightweight shoe for jumping rope for maximum agility.
Forefoot Space: If the space in the front of your foot is not enough, your toes may hurt. Hence, check if you have at least half an inch of space in front of your toes. At least half an inch from the longest toe.
Elevation: Most trainers come with an elevation (in reference to heel height) that helps support the knees and improves agility. However, if you do not prefer elevation, you can always opt for shoes without it.
Frequently Asked Questions
Is it safe to do jumping rope barefoot?
It is not safe to jump barefoot. If you are a beginner, jumping rope barefoot, especially on a hard surface, can injure your knees and the balls of the feet.
What shoes help you jump higher?
Shoes that have good midsole support and good traction can help you jump higher. A good example is the Under Armour Women's UA Speedform Apollo 2 Reflective Running Shoes.
What are the best jumping rope shoes for beginners?
The New Balance Women's FuelCore Nergize V1 Sneaker and the ASICS Women's Gel-Fit Cross-Trainer Shoes are both good for beginners. While the former is a lightweight pair that offers all-day comfort, the latter is budget-friendly, chafe-free, and offers good shock absorption.
Are running shoes good for jumping rope?
Yes, running shoes are good for jumping rope as they are both lightweight but offer good shock absorption and cushioning.
Do jumping rope shoes reduce foot pain?
Not necessarily. If your shoe is not the right fit or does not offer the right cushion, you may instead, get foot pain.
What are the benefits of jump rope shoes?
Jump rope shoes ensure your feet stays protected and well-cushioned during the activity. They also reduce the impact on your feet and knees during the jumps.
Recommended Articles