10 Best Nail Polish Shades For Fair Skin
Steal the show with these stunning nail colors that look super gorgeous on fair skin.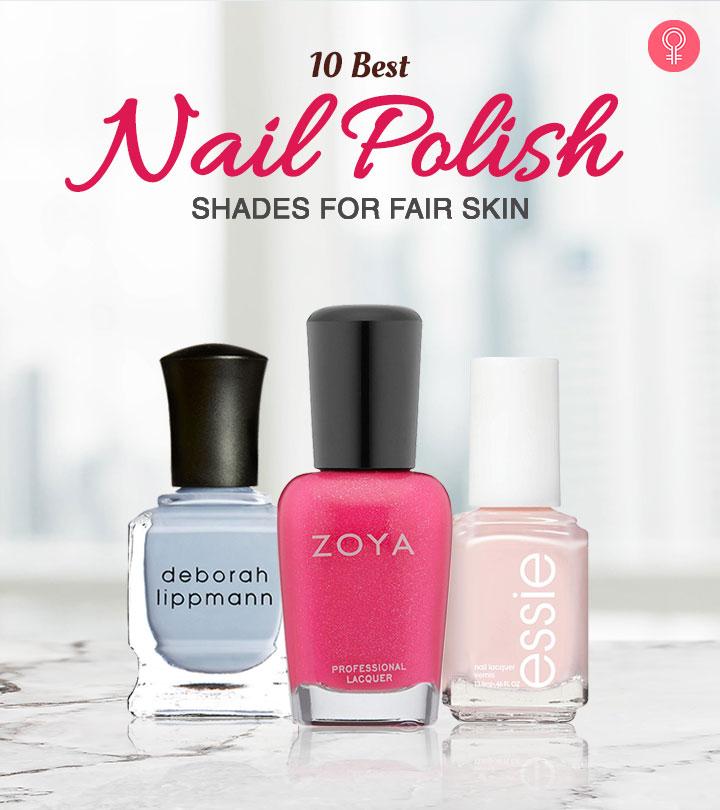 A good coat of nail paint can surely spice up your daily life and add the extra oomph factor to your look of the day. The best nail colors for fair skin are the ones that not only complement your skin tone but also blend without looking out of place with your outfit. From nudes to deep and dark tones, they can all do justice to your skin tone if you know when and how to wear them right. "When selecting the best nail polish for a fair complexion, consider your personal style and the occasion. If you prefer a classic look, go for neutral shades like beige, nude, or pale pink. If you want to make a statement, you can try bold colors like red or purple. Consider the season, too – pastel shades are perfect for spring, while darker shades work well in fall and winter." says Simone de Vlaming, a beauty expert.
Whether you are looking for a glossy shine or dull matte, the following nail shades for fair skin are the answer to your confusion about landing the best nail paint.

The Best Nail Colors For Fair Skin Tones
Essie's Ballet Slippers is one of the most popular nude nail polishes out there. Even the Queen of England swears by it! This classic pale pink nail polish is her favorite nail polish color. Graced with a subtle, sheer finish, this beloved award-winning essential is a must-try for all you fair ladies, no matter the season. This creamy, pale color with a cool undertone is best to get the ballet pink nails that are beautiful and oh-so-elegant. If you want to know more about the nuances of Essie Nail Polish in Ballet Slippers, have a look at this YouTube video.
Pros
Shimmery finish
Flawless coverage
Glides easily
Even application
Vegan formula
Lead-free
DBP-free
Toluene-free
Formaldehyde-free
Cons
This classic hot-bright red looks gorgeous on light skin tones with a warm undertone. It is warm and almost neon-like with a jellied-creme finish that applies beautifully. The color is super opaque, so if you are ever in a rush, you can get away with a single coat of polish or create a bold nail look with its buildable coverage. If you are into the vintage look, this elegant nail color for fair skin is guaranteed to give you a chic, 80s vibe instantly. This knockout, eye-catching color is chip-defiant, non-fading, and imparts long-lasting results.
Pros
Long-lasting results
Premium-quality ingredients
Richly-pigmented
Chip-resistant
Optimum sticking power
Quick-drying
Streak-free application
Buildable coverage
Cons
None
CND Vinylux Nail polish is among the best coral nail colors for fair complexion. It offers your nails a gel-like shine that is perfect for daily use and special occasions. The coral color looks great on deep and dark skin tones with a warm or neutral undertone. With Vinylux long-wear nail polish, you get easy application and removal and a long-lasting glossy finish. In addition, the nail polish has an anti-fade formula that gently nourishes your nails, doubling up as a nail care product. The beauty of Vinylux is that it is made to function like ordinary polish, so you won't need a lamp to dry it.
Pros
Transfer-resistant
Anti-fade formula
Quick-drying
Glides smoothly
Glossy finish
Easy to apply
Buildable coverage
Easy to remove
Cons
May start to chip in a few days
The shade Neutral Nude is a pink cashmere shade. It is one of the best neutral nail polish colors that enhance fair complexion for a youthful glow. It gives precise holographic glitter, making your nails look sparkling in the sun. The gel-like shiny finish is chip-resistant and lasts long with shock-resistant durability. The sheen appearance of this shade of nail polish for fair skin looks beautiful.
Pros
Shimmery coverage
Long-lasting formula
Chip-resistant
Easy to remove
Cruelty-free
Vegan
Non-toxic formula
Toluene-free
Triphenyl Phosphate-free
Paraben-free
Formaldehyde-free
Cons
None
If you think gray is not the most appealing nail polish shade, think again. For those times when black feels too dramatic, pink feels too soft, and red seems too much, gray never disappoints. Serene Slate from the celebrity-endorsed brand Essie is a simple stone gray that is thoroughly pigmented and easy to apply. Two coats of this polish, and you're good to go!
Pros
Full coverage
Richly-pigmented
Long-lasting shine
Chip-resistant
Glides easily
Streak-free application
Cons
Head Bang is a gorgeous cool-toned chocolate brown shade that is a must-try for all you fair ladies. Its formula layers well without streaking or bubbling, making it very easy to apply. The first coat is slightly thin, so we reviewers on online forums recommend using at least two coats. Brown is a very happening color at the moment, and this shade is guaranteed to garner you a ton of compliments!
Pros
Long-lasting coverage
Offers UV protection
Quick-drying
Chip-resistant
Suitable for home manicures
Cons
Faulty brush
Watery consistency
Buy Me a Cameo is the prettiest frosted satin mocha out there. This lovely glazed neutral lacquer is shimmery yet discreet and suits even darker skin tones. It gives your hands a sophisticated look that you can wear year-round. The finish is glossy and it applies nicely. You will also be surprised by how long it lasts on your nails without chipping!
Pros
Glossy finish
Long-lasting coverage
Hydrating formula
Streak-free application
Cute packaging
Flawless coverage
DBP-free
Toluene-free
Formaldehyde-free
Cons
The 100% Pure Zer0 nail polish color offers a gorgeous, chip-resistant color for an at-home manicure or pedicure that looks salon-quality. It is named 20-free because the 20 typical toxins present in traditional formulas are not used in creating this vegan and cruelty-free nail polish color. The best thing about this nail polish is that it touches the standard of purity with its non-toxic formula. It comes with a superior applicator and features a streak-free formula. Camel by the Sea is among the top soft pastel shades for fair skin tones that offer your hands an elegant and classy look. This color formulated without toxins has a pearlized finish and reflects light that gives a natural shine to your nails.
Pros
Free of significant toxins
DBP-free
Toluene-free
Camphor-free
Formaldehyde-free
Xylene-free
Acetone-free
Parabens-free
Phthalates-free
Cruelty-free
Vegan
Gluten-free
No artificial fragrance
No artificial dyes
Easy to apply
Quick-drying
Cons
Revlon Nail Enamel comes with the ShadeLock Technology that helps the color of nail polish stay vibrant longer for fade-resistant wear. It comes in 47 different shades sheer, opaque, shimmer, metallic, camphor, etc. The precision brush of the nail enamel applies just the right amount of polish for easy, smooth, and bubble-free application. You can pair it with a base coat to get the best protection against chips, breaks, and the yellowing of nails. Experience the chip-deflect and anti-fade technology that offers you brilliant color that stays fresh.
Pros
Chip defiant
Anti-fade technology
47 Gorgeous color options
Quick-drying
Glossy-finish
Chip-Resistant
Long-lasting
Good quality
Cons
None
Courtney by Zoya Nail Polish is a full-coverage, smooth application shade of deep red beetroot. It offers you a gorgeous bold look and compliments your fair skin. In addition, this formula is free from 10 toxic and harmful chemicals common in other nail polishes. On the hands of famous people and the runway in Paris, New York, the UK, and Italy, you can see the beautiful nail colors by Zoya. This super-glossy polish has a high-shine finish for those perfect electrifying nails. Many reviews have indicated that the highly pigmented formula glides effortlessly. Moreover, ethically conscious consumers love this product as it is not tested on animals to determine efficacy.
Pros
Parabens-free
Xylene-free
Lead-free
Formaldehyde-free
Phthalates-free
Cruelty-free
Long-lasting
Glossy finish
Good quality
Easy to apply
Cons
None
*The prices provided in this article are based on the latest available information. However, they may vary due to changes in pricing by the seller and/or promotional offers.
There's no stopping you from wearing the brightest colors or palest shades, but check out some of the factors that you should consider before investing in statement-making nail colors.
How To Pick The Best Nail Color For Fair Skin 一 A Buying Guide
If you have fair or pale skin, you can experiment with a wide range of colors. But make sure to avoid colors that make you look washed out. Choose a color and shade according to your skin's undertone. According to the skin undertone, here are a few flattering nail colors for light skin that offer exceptional results when worn properly.
Yellow or warm undertones: Mustard yellow, shades of warm red, green, and coral.
Pink or cool undertones: pastel colors, light pinks, teal, mint green, metallic gold, or silver.
Neutral undertone: Light neutral, soft pastels, light pinks, nudes, burgundy, navy, or maroon.
Your nail polish doubles as a fashion accessory and helps you make a statement without saying a word. There are a variety of nail shades for pale skin that can help address and complement your different moods. There is the regular nail polish with a smooth, gloss finish and the matte finish that lacks luster and tends to chip easily. While the chrome and glitter nail polishes are best for festive occasions and nighttime wear, the chrome finish lasts longer than your regular glitter polish. You can also try the gel effect range for a shiny, long-lasting finish or the classic French manicure for an elegant, minimalist look. Look for a plumped-up, salon-quality effect with a smooth consistency that elongates your fingers and leaves your hands looking refined and polished.
Traditionally, nail polishes were formulated with harsh chemicals that were harmful to the human body in the long term. But now, you can easily avail of the non-toxic, skin-friendly nail colors for fair skin formulated without the top nasty chemicals. Always make sure to choose a five-free nail polish devoid of toluene, DBP, formaldehyde, formaldehyde resin, and camphor. You can also conduct a patch test before committing to any nail polish formula for consistent use to make sure that it is compatible with your nails.
No one likes flaunting chipped nails with half-remaining polishes. So, always look for chip-resistant, long-lasting nail polishes that do not require frequent reapplication. While matte finish nail polishes are famously known to chip most easily, gel and chrome nail polishes stay put for many days, making them ideal for long-lasting style. You can also use base and top coats to prolong the life of your nail polish. Look for an extra broad brush for quick and easy coverage.
We love flaunting colored nails in different finishes. While some are easy to take off, others are not quite so much. Check out the following steps to effortlessly remove your polish without damaging your nails.
The Best Way To Remove Nail Polish
What You Need
Nail polish remover
Cotton balls
Step 1: Unroll the cotton ball and tear it into smaller strips, large enough to cover your nails.
Step 2: Wet the cotton strip with nail polish remover, put it firmly on the nails, and let it sit for a minute or two.
Step 3: Remove the cotton strips by pushing them off the ends of your nails with slight pressure at the nail bed.
Step 4: Wash your hands with lukewarm water and follow up with a moisturizer.
An essential part of a celebrity-inspired manicure is making sure that you choose the right color. While many of us match our nail polish hues to our outfits, the colors that actually look the best are the ones that suit your skin tone. We hope this guide helps you find the most flattering shades for your hands this season.
Why Trust StyleCraze?
The author, Esha Saxena, loves makeup, especially experimenting with nail polish colors. She talked to nail experts to understand what shades go with which skin undertones and scoured hundreds of nail polish shades and online reviews before picking her top favorites for this list.
Frequently Asked Questions
Which nail color should be avoided with the tan complexion?
Any shades of gold should be avoided with a tan complexion. It will merge with the dark or medium skin tone and lose its luster.
Does yellow nail polish look good on fair skin?
Yes. Yellow looks vibrant on fair skin. In particular, shades like pastel and muted yellows are the best option.
What nail color makes you look younger?
Warm and bright shades make you look younger. Shades like red and orange with brown undertones can add youthfulness to your nails.
Can I wear pastel or bright nail polish shades if I have fair skin?
Yes, you can wear bright nail polishes or light pastel shades for fair skin tones, but it's important to choose the right shades. Pale pastel nail polish for fair skin shades like baby pink, lavender, and mint green can look beautiful on fair skin tones. For brighter shades, opt for colors like coral, light blue, or peachy nail shades for fair skin.
Recommended Articles