10 Best Metallic Nail Polishes Of 2023
Get a salon-like finish with these long-lasting and glossy metallic nail shades.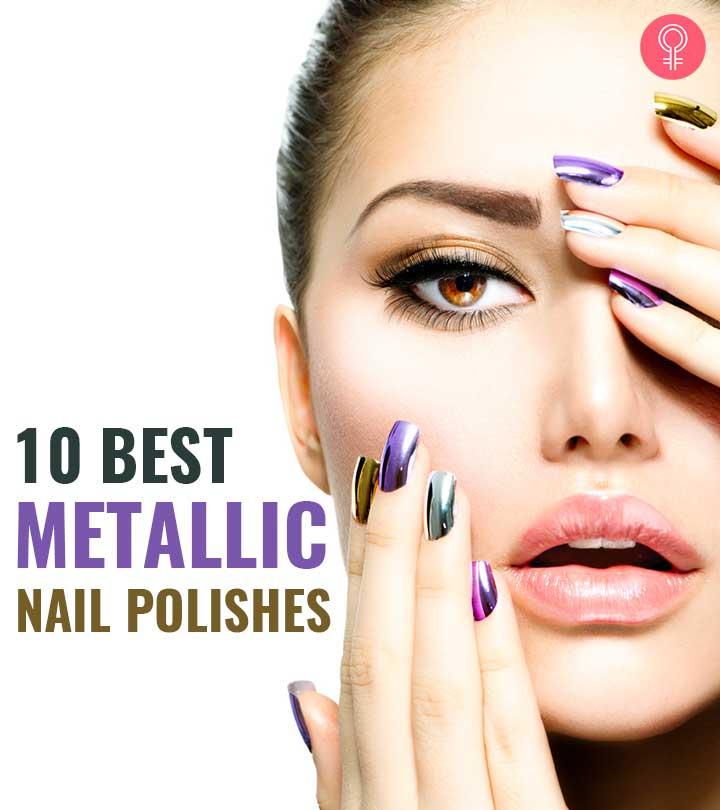 The best metallic nail polish can give your nails a salon-quality glossy manicure from the comfort of your own home for only a fraction of the cost you would pay elsewhere. Metallic nail polishes come in a variety of vibrant colors, and the best products that can gloss and glam up your nails don't contain any dangerous chemicals. So, you have to get a metallic polish that provides excellent coverage if you are to successfully pull off the DIY manicure. We have studied and created a list of the top 10 metallic nail polishes on the market right now. Take a look!
10 Best Metallic Nail Polishes Available Right Now
Kleancolor Nail Polish is the best metallic nail polish. This full-size metallic set consists of metallic 12 nail polishes in bright colors. The colors include a good mix of blues, greens, and pinks. These polishes offer a smooth and long-lasting look to your nails. These chip-resistant nail polishes are easy to remove and travel-friendly. To make an informed decision before buying, you can check out this video.
Pros
Long-lasting
Easy to use
Easy to remove
Travel-friendly
Chip-resistant
Wide range of colors
Cons
Price at the time of publication: $16.99
OPI Nail Lacquer in the shade This Color's Making Waves is the best metallic shimmer nail polish. This blue-green lagoon color is long-lasting and chip-resistant and offers exceptional coverage on the nails. OPI Nail Lacquer is available in over 200 shades and provides high-gloss shine up to 7 days. It offers long-lasting wear and does not contain formaldehyde or toluene.
Pros
Long-lasting
Chip-resistant
Offers exceptional coverage
Provides high-gloss shine
No formaldehyde and toluene
Cons
Price at the time of publication: $10.79
ILNP Juliette Holographic Rose Gold Nail Polish is a durable metallic nail polish. It is designed to maximize sparkle with a beautiful rose gold finish. This chip-resistant and long-lasting nail polish is made from high-quality ingredients. It is free from harmful chemicals and easy to remove. It offers a glossy and gorgeous rose gold finish. Click here to check out this YouTuber's unbiased review.
Pros
Chip-resistant
Long-lasting
Easy to remove
Smooth and glossy finish
Non-toxic
Vegan
Cruelty-free
Cons
Price at the time of publication: $10.0
KBShimmer Shade Shifter Multichrome Nail Polish shifts colors from cyan to blue to red-orange to purple based on light and viewing angle. This polish gives the best results when applied in 3 coats by itself or in 1 coat over black. It has a flat brush for easy application. It does not contain toluene, formaldehyde, or dibutyl phthalate. Here's a personal review video to help you get a better understanding of the product.
Pros
Color-shifting polish
Flat brush for easy application
Long-lasting
Formaldehyde-free
Cons
Price at the time of publication: $13.0
ILNP MEGA Ultra Holographic Boutique Nail Lacquer is a high-quality nail polish. It is completely opaque and does not require a base coat. This holographic nail polish is long-lasting and has a fast-drying formula. It is 100% vegan with intense holographic sparkle.
Pros
High-quality
Long-lasting
Intense holographic sparkle
Fast-drying formula
Vegan
Cruelty-free
Easy to use
Easy to remove
Cons
Price at the time of publication: $10.0
Smith & Cult Metallic Nail Polish is an advanced metallic 8-free nail polish. It delivers vibrant and chip-resistant color to your nails. Its ultra-adherent base coat prepares the nail surface and maximizes the lifespan of your manicure/pedicure. It is formulated without dibutyl phthalate, toluene, formaldehyde, formaldehyde resin, camphor, xylene, ethyl tosylamide, and triphenyl phosphate.
Pros
Smooth finish
Long-lasting
High-shine and glossy finish
Chip-resistant
Vegan
8-free chemical formula
Gluten-free
Cons
Thick and streaky formula
Price at the time of publication: $18.0
Sally Hansen Insta-Dri Matte Metallics Nail Color in the shade Smokey Silver has a gorgeous silver metallic finish. Its 3-in-1 formula with a built-in base and top coat offers shiny, extended wear in a single coat. It dries in 60 seconds. The bottles have color-matched caps for easy shade navigation. This full-coverage formula delivers an extra day of wear- and chip-resistance.
Pros
Chip-resistant
Dries in 60 seconds
Easy to remove
Long-lasting
Cons
Clumpy formula
Scratches easily
Price at the time of publication: $5.25
ZOYA Nail Polish is a royal metachromatic metallic nail lacquer. It is vegan and formulated with a Big 10-free breathable formula. This metallic nail polish does not contain formaldehyde, formaldehyde resin, dibutyl phthalate, toluene, camphor, TPHP, parabens, xylene, ethyl tosylamide, or lead. It dries quickly and is chip-resistant. It is available in a wide range of blues, purples, pinks, and reds.
Pros
Non-toxic
Quick-dry formula
Chip-resistant
Vegan
Cruelty-free
Cons
Price at the time of publication: $10.0
Essie Glossy Shine Finish Nail Polish in the shade Good As Gold has a gold metallic finish. It provides flawless coverage with excellent durability. It comes with an easy-to-glide brush that fits every nail size for streak-free application. Its salon-quality formula gives a long-lasting glossy finish to your nails.
Pros
Salon-quality formula
Easy-to-glide brush
Flawless coverage
Glossy finish
Long-lasting
No formaldehyde and toluene
Cons
None
Price at the time of publication: $9.99
Eternal Metallic Nail Lacquer offers a nail-friendly shiny finish. This long-lasting and quick-dry lacquer is available in a set of 4 bright metallic colors. These nail paints provide high coverage and fix the colors with a glossy finish. You can apply them on natural, acrylic, or gel nails. They are free of toluene, formaldehyde, dibutyl phthalate, formaldehyde resin, camphor, ethyl tosylamide, xylene, MEHQ / HQ, MIT, parabens, animal-derived ingredients, and gluten.
Pros
High quality
Quick-dry formula
Long-lasting
High-gloss finish
Vegan
12-free formula
Cons
Very thin formula
Average quality
Price at the time of publication: $17.99
Why Trust Stylecraze
Baishali Bhattacharya is a certified image consultant who strives to provide her readers with products that help them look and feel their best. Here, she talks about the best metallic nail paints that leave you with salon-grade gloss without exposing you to any harmful or dangerous chemicals. Her review process involved independent research and aggregating user reviews on various online forums and websites.
Frequently Asked Questions
Is glitter in nail polish metallic?
Not always. The glitter in nail polishes is usually made from a plastic called polyester. However, nail polishes can contain metal in their composition.
Can you wear metallic nail polish in an MRI?
Yes. It is best to remove your nail polish before you go into the MRI machine. Nail polishes, regardless of whether it's metallic or not, can contain trace amounts of metals.
Are metallic nail polishes as safe as regular ones if it chips off and is accidentally ingested?
Ingesting nail polish, metallic or not, is not healthy. Nail polishes usually contain a lot of chemicals and when ingested you are inviting a lot of chemicals into your body. However, if you ingest just a minimal quantity it is unlikely to cause any noticeable harm.
How do you remove metallic nail polish?
Soak a cotton ball with nail polish remover. Press it on one nail and hold it for 30-40 seconds and then gently wipe away the nail polish. Repeat it for all nails.
How can you make regular nail polish look metallic?
There are two ways you can make regular nail polish look metallic. You can use metallic nail powder to buff your nails with an eyeshadow applicator after applying regular nail polish. This will transform the finish from glittery to metallic. Apply a top coat to seal it. Another method is to use metallic acrylic powder with a solution of acrylic powder. For this method, paint your nails, dab the metallic powder, apply the solution and apply a top coat.
Recommended Articles