The 7 Best Body Lotions For Back Acne – Flaunt A Flawless Back
Get rid of back acne and flaunt your back with the help of the right skin care products.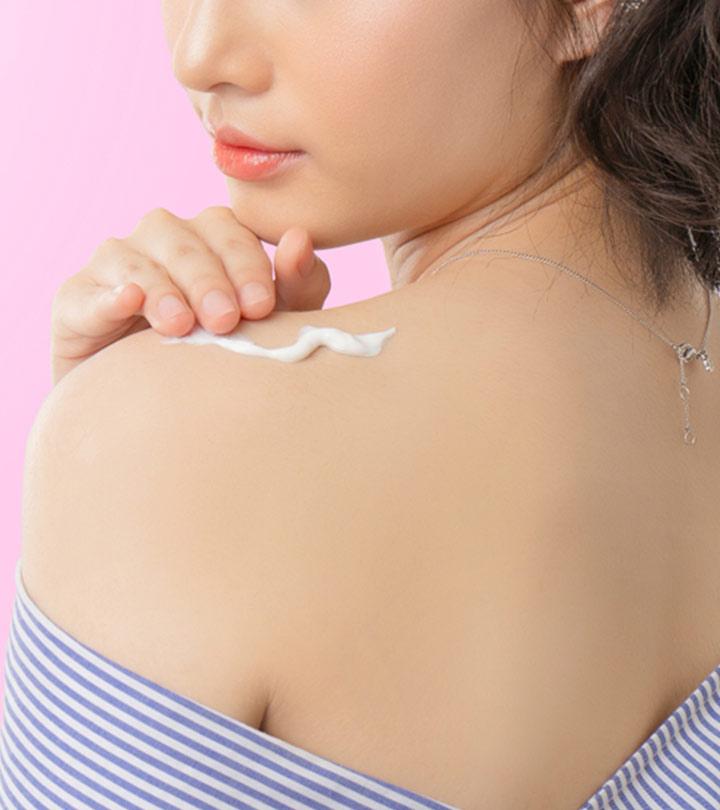 If you are looking for the best body lotion for back acne, we have got you covered! While there are so many creams and treatment options for acne on the face, there's not much you can do for the hard-to-reach back acne. However, there are a few body lotions that are specifically formulated to treat and soothe back acne flare-ups. Back acne not only causes itching, irritation, and inflammation like any other acne, but it can also wreak havoc on the confidence you need to wear that little backless dress at a party! Not only that, any tight clothing can actually add more sweat and friction to the back acne, thus making it even worse.
That is why a good slathering of body lotion every night may help in calming this acne down for you. To help you get started, we have shortlisted the 7 best body lotions for back acne for you to choose from. Check them out!
7 Best Body Lotions For Back Acne For A Squeaky Clean Back
This legendary lotion made its mark as the first-ever lotion specifically formulated for breakouts on buttocks. It starts working almost instantly, delivering drastic changes with each passing day. Some of the benefits include softer and well-hydrated skin along with acne disruption within 24 hours of application. It is infused with alpha-hydroxy acids that gently exfoliate to give you even-toned and blemish-free skin, so you can bid goodbye to butt and back acne. Aloe, calendula, and arnica are among other amazing ingredients that fight inflammation and skin irritation. This pH-balanced lotion is suitable for sensitive skin and can be used on a daily basis for acne treatment at home.
Pros
Promotes even-toned skin
Hydrating
Suitable for all skin types
Cruelty-free and vegan
Paraben- and sulfate-free
Cons
May not remediate cystic acne
Price at the time of publication: $9.99
Finding the right formula for your back acne can be like searching for the last piece in the puzzle of skincare to nail that head-to-toe perfection. Fret not as we bring you this lightweight yet powerful formula. This lotion for acne is a blend of concentrated kojic acid extract, coconut oil, olive fruit oil, glycerin, and castor oil that nourishes the skin by reducing the spots, freckles, acne scars, and other marks to give you soft and smooth skin. It has a pH of 6 and gets instantly absorbed in the skin, acting on a deeper level to rid the skin of imperfections.
Pros
Lightweight
Brightens skin
Delivers an airbrushed look
Softens
Gentle
Cons
Price at the time of publication: $15.95
Having body acne can already be hard to deal with, but finding an ideal lotion to prevent breakouts can be an ordeal altogether. Well, not anymore. This body lotion that exfoliates back acne is made with natural acne-preventing and fighting ingredients like witch hazel, tamanu oil, and salicylic acid that work great for the back, shoulders, chest, buttocks, and legs. Additional ingredients like aloe, jojoba oil, and tea tree essential oil moisturize and soothe the skin. Give your body a relaxing massage every day after shower and before hitting the hay, and your acne will fade like magic.
Pros
Fades blemishes
Improves complexion
Hydrates
Vegan
Cons
Contains artificial fragrance
Price at the time of publication: $19.99
This mist-like body lotion is all you need to get the job done right for upper back acne. This Japanese moisturizing gel lotion not only treats acne but also keeps your skin hydrated for long durations, making it an ideal skin elixir for the winters when the skin craves moisturization. It works its magic by promoting self-healing of the skin with its mild formula enriched with soybean extracts, vitamin C and AHA. Add this to your cart and keep acne, dryness, and scaliness at bay whether in summers, fall, or winters.
Pros
Mild formula
Prevents drying of the skin
Nourishing formula
Oil-free
Paraben-free
One bottle goes a long way
Cons
Some may find the consistency runny.
Price at the time of publication: $7.05
If you like your lotion leaving you smelling delicious, this soothing body lotion is crafted for you. It is a blend of glycerin, vitamin A, vitamin B, lemongrass oil, and vitamin C that fights effectively against acne apart from other mild to chronic skin issues that may cause redness and inflammation. This back acne medication is both antifungal and antibacterial and helps relieve itching. Use this paraben-free formula on a regular basis to both eliminate and prevent acne.
Pros
Soothing
Suitable for all skin types
Relieves itching and irritation
Paraben-free
Cons
May not be hydrating enough
Price at the time of publication: $24.99
This acne cleansing lotion from Mario Badescu is worth the splurge if you're dealing with stubborn back acne. This paraben-free body astringent gets rid of excess oil to prevent back acne, and breakouts on your neck, and chest, giving you clearer skin. Formulated with niacinamide, camphor, glycerin, hydrolyzed yeast protein, and biotin, this can be used on a daily basis after shower. All you need to do is apply the lotion to acne-affected areas on your body with a cotton ball and wait for it to deliver outstanding results.
Pros
Soothing
Removes excess oil
Suitable for daily use
Cruelty-free
Cons
Not for facial use
Contains alcohol
Price at the time of publication: $15.0
The culprit, more often than not, for acne all over the body is sebum and gunk-filled pores. This acne body lotion is formulated with key ingredients that are AHA, BHA, calamine, tea tree extracts, and 5% niacinamide, which remove pore-clogging dead skin cells and eliminate impurities and sebum that cause breakouts. As a cherry on top, it also soothes skin irritation, prevents inflammation, and fades acne scars. Suitable for all skin types, this cleanser for back acne is the all-in-one acne care for the whole body that you need to ward off acne demons.
Pros
moisturizes
Removes dead skin cells
Soothes irritation
Removes excess sebum
Cons
Price at the time of publication: $19.92
How To Choose Body Lotion For Back Acne
It is recommended to use lotions that contain natural zit-zapping ingredients such as salicylic acid that unclogs pores, glycolic acid that fades spots and redness, and lactic acid that delivers smooth skin with its gentle treatment. You can also look for benzoyl peroxide on the label of the product as it can kill acne-causing bacteria. Tea-tree oil can also do wonders with its anti-inflammatory and antibacterial properties.
Hypoallergenic and non-comedogenic
Experts recommend picking lotions that are non-comedogenic and hypoallergenic if you have acne-prone skin. Many times acne results from clogged pores and allergic reactions. Hypoallergenic products are less likely to cause allergies and non-comedogenic lotions don't clog the pores.
Read the label of the lotion carefully and look for a moisturizing cream that is suitable for your skin types such as dry, combination, or oily. It is recommended to opt for an oil-free body lotion for oily skin and sulfate-free lotion for dry skin.
Many body lotions for back acne are fragrance-free and contain no harsh chemicals. And this makes a difference because harsh chemicals can irritate the skin and aggravate acne. You can check for parabens, silicone, sulfates on the list of ingredients to know which ones not to consider when buying a body lotion for back acne.
We body lotions because they're an easy addition to the skincare regime and work well to remediate back acne. However, here are some other measures you could take to ensure an acne-free back.
How to Get Rid of Back Acne
Shower soon after workout
The acne-causing bacteria thrive on sweaty skin, this is why it is important to take the gym clothes off and take a shower immediately after workout. Therefore, make it a point to hit the washroom soon after being back from gym or a run, more so if you're sweating.
Use a scrub before shower
Make it a point to use a scrub for the body a couple of times a week, especially if you have blackheads and skin spots. Body scrubs help get rid of sebum and unclog the pores, thus lowering the chances of causing breakouts. Ensure you scrub gently as it could otherwise cause irritation and inflammation.
Do not pick, squeeze or scratch
Even though it would be really difficult to control the temptation sometimes, make sure you do not pick, squeeze, or scratch acne as it can cause infection and lead to scarring and pigmentation. Instead, use an anti-itch body lotion for back acne.
As mentioned earlier, select a product with ingredients like salicylic acid, glycolic acid, and lactic acid that work towards preventing back acne, skin irritation, redness, and inflammation by removing dead skin cells and unclogging your pores..
If you have tried all the measures and are yet unable to manage your back acne, pay a dermatologist a visit and follow the treatment as prescribed. Oral prescriptions can be very effective and helpful as well.
Back acne is mostly caused by sebum as there are a greater number of sebaceous glands on the back. This can lead to multiple acne-related issues like scarring and pigmentation. While it can cause extreme discomfort, it may also affect your confidence. However, not anymore because we're sure you'll find the right lotion from our list of the 7 best body lotions for back acne. Use these amazing lotions and you no longer will have to toss away your gorgeous-looking backless or tight-fitting clothing.
Why Trust StyleCraze?
The author, Kirtana Divakar, is a skincare enthusiast and loves trying out different beauty products. She believes in using the best lotion to keep your back acne-free and flawless. Her extensive research on the lotions and their online reviews has helped her compile a list of the best body lotions for back acne. Kirtana's recommended products smoothen your back skin and help you flaunt it confidently. It is a perfect buy for people who like wearing backless clothes.
Frequently Asked Questions
Does lotion help with back acne?
Yes, lotion can help with back acne. The salicylic acid or other such ingredients reduces acne by exfoliating and clearing pores. Many acne-fighting lotions also contain benzoyl peroxide as it kills the acne-causing bacteria.
Why is my back acne so bad?
The skin on our back is especially prone to breakouts because of a greater number of sebaceous glands, excess dead skin cells, inability to reach the back to keep it clean on a regular basis, and an overgrowth of bacteria. Thus, if you have oily skin or acne-prone acne, you might end up having acne on the back.
Does back acne go away on its own?
It may. But, right treatment and skin care can help you get rid of acne faster and give your clear skin sooner.
What causes acne on the back?
The accumulation of excess sweat, oil, dead skin cells, and bacteria can cause back acne. It can turn worse due to friction with sweaty shirts or backpacks.
How often should you use body lotion for back acne?
You can regularly use a suitable body lotion for back acne. Some dermatologists recommend using back acne lotions twice a day.
How long does it take for acne lotion to work?
You may start witnessing visible results after four to six weeks after starting to use it. You can expect the maximum benefits in eight to twelve weeks.
Can I use skin lotion to get rid of acne?
Yes, you can use a skin lotion to get rid of acne if it contains benzoyl peroxide. Benzoyl peroxide is known to treat mild to moderate acne.
Will glycerin and rose water help with back acne?
Yes, glycerin and rose water can form a toner that can eliminate acne and blemishes. For the best results, use one tablespoon of glycerin and two tablespoons of rosewater.