9 Best Vidal Sassoon Hair Dryers For Salon-Worthy Hair At Home
Get your hands on easy-to-handle dryers for voluminous and easily manageable hair.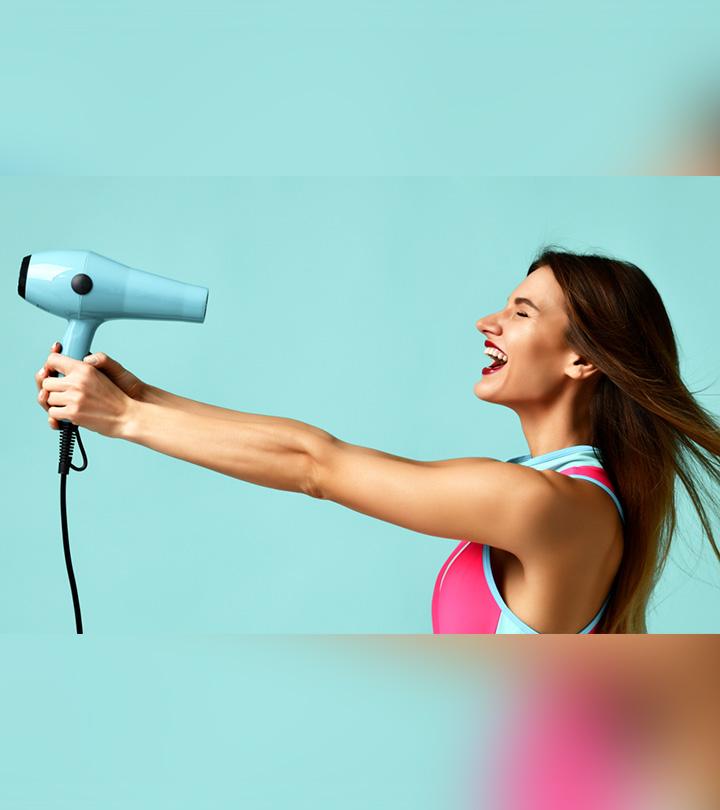 There are plenty of good reasons to want a Vidal Sassoon hairdryer this season! The brand offers hairdryers with a variety of features and you can pick one according to your necessities and preferences. Some of these hair dryers are portable, while others offer supe-quick drying. You even get the choice of a hairdryer that goes mild on the heat intensity if that's what you need. Vidal Sassoon hair dryers can help you make your hairstyling routine at home an easy and satisfying experience. Moreover, it is not only blow drying that these tools are good for. They can help you tackle stubborn frizzies so that you are left with red-carpet-ready, voluminous, and manageable hair. The best part? These blow dryers are available for every hair type and texture.
To make life easier for you, we have narrowed down their top hairdryers and given you all the details you need to make an informed decision before you pick one for yourself. Explore our curated list of the best 9 Vidal Sassoon hair dryers right here:
Top Picks
9 Best Vidal Sassoon Hair Dryers You Must Try!
The Vidal Sassoon VSDR5501 Turbo Dryer is designed for fine hair. It works on 1875W of power to dry your hair in no time on the go. It uses ion technology that offers 2 heat/speed settings and a cold shot to set your hair as desired. It truly adds volume to your limp and fine hair, leaving it looking fuller and frizz-free. Moreover, it also tames flyaways, giving you a soft and sleek look.
Pros
Uses 1875W
Adds volume and body
Makes hair soft and shiny
Easy to store and use
Dries hair quickly and evenly
Easy to handle
Cons
Price at the time of publication: $15.16
Not a fan of bulky hair dryers? Then you must try this hair dryer by Vidal Sassoon for it is compact, lightweight, and easy-to-handle. Using 1875W to deliver the maximum heat, the device also has 2-heat and speed settings for drying and styling flexibility. Also, on hot days you can use the cold shot button to dry or style as you want. A great option for beginners and professionals to use on the go, give this Vidal Sassoon professional hair dryer a try.
Pros
Dries hair quickly
Space-efficient with a convenient hanging loop
Travel-friendly and dries on low noise
Easy-to-clean with a removable end-cap
Cons
Short cord
Heat may be too strong
Price at the time of publication: $39.95
Here's a hair dryer that can travel with you! Cute, compact, and lightweight enough to fit in any of your suitcases, let your hair always be selfie-ready on those getaways and trips with this travel dryer. And besides being space-efficient, it is user-friendly and lets you control the heating as well with its 2-heat and 2-speed settings. Also, do you enjoy styling your hair? Then you'll love this Vidal Sassoon mini hair dryer even more for it has a cold shot button for cool drying and styling. Grab it already!
Pros
Dries hair quickly and evenly
Sturdy and comfort-friendly
Dual voltage and uses 1875W
Foldable design for easy storage
Cons
Noisy
It does not have a concentrator for focused drying.
Just like your personal hairstylist, this hair dryer with tourmaline ceramic technology guarantees to offer more than just quick-drying! It will control the frizzies, condition, add a shine and volume to your mane with every blow dry! So, if you are dealing with a frizz problem, then switching to this multi-tasking dryer would be ideal. Leaving your hair with a salon-worthy glow every time and effortlessly, there's no reason why you should give this wondrous tool a miss!
Pros
Uses 1875W
Ensures quick drying and styling
Guarantees easy styling with the cold shot button
Allows drying flexibility with 3-heat and 2-speed settings
Suitable for straight, curly, and wavy hair
The included diffuser and concentrator allow focused drying and styling.
Cons
Loud
The high heat setting may get too hot.
Take control of the frizz with this tourmaline ceramic technology that claims to leave your hair smooth, manageable, and with a frizz-free finish. Giving your tresses the right kickstart for the day, this Vidal Sassoon travel hair dryer offers 2-heat and 2-speed settings and comes with a concentrator for focused drying too. One of the best hair dryers for those dealing with an ultra-frizzy mane, invest in this heat tool to enjoy good hair days forever.
Pros
Adds a shine and volume
Dual voltage and uses 1875W
Foldable and travel-friendly
Style-friendly with a cold shot button
Easy-to-store with a hanging ring
Cons
Though running on a powerful 2000W, this Infra Radiance Hair Dryer with ionic conditioning and infrared technology is ultra-gentle on your hair. From distributing heat evenly to giving your waves and curls an enviable definition, it also tames the frizzies and improves manageability. Yep, all this in a few minutes of blow-drying! Besides this, it protects from heat damage as well, all thanks to the ceramic coating. Now, who's ready to flaunt some gorgeous curls and beachy waves with this Vidal Sassoon 1875 ionic hair dryer?
Pros
Locks in and balances moisture levels
Infrared heat prevents over-drying
Easy-to-style with cold shot button
Allows drying flexibility with 2-heat and 2-speed settings
Lightweight, easy-to-use, and comfort-friendly
The included diffuser minimizes frizz and adds volume.
Cons
It may overheat if used for long.
Did you know ion helps reduce the frizz and add a shine and volume instead? Yep, and you can now enjoy the bliss of ion technology in this Vidal Sassoon portable hair dryer. With the patented Ion Select dial that helps you control the amount of ion it emits while drying, this smart hair dryer also ensures manageable, smooth, and salon-worthy hair within minutes! Besides this, it's a fast dryer, and the duck-beak concentrator helps with focused drying and styling too. Do not miss it!
Pros
Dual voltage and uses 1875W
Foldable and travel-friendly
Easy-to-clean with removable end-cap
Features 2-speed and 2-heat settings
Easy-to-style with an easy-press cold shot button
Cons
How about perking up your hair routine with this teal-colored hair dryer? Trendy, bright, and with all the advanced functions, it's also a great option to give away to your loved ones as a gift. Featuring 3-heat and 2-speed settings, this chic hair dryer offers both styling and drying flexibility with every use. And besides this, it comes with a concentrator for focused drying and styling too. Still, want to stick to boring black hair dryers?
Pros
Uses 1875W
Ensures quick-drying and adds volume
Style-friendly with an easy-press cold shot button
Easy-to-clean with a removable end-cap
The convenient hanging loop allows easy storage.
Cons
Not ideal if you prefer strong heat
Lastly, this hair dryer claims to turn your hair from damp to dazzling with its negative ion technology. With turbo and set options for quick-drying and styling, it also has an easy-press cool/hot button for quick-switching while drying. Just what you need to give your tresses a stunning makeover at home, get ready to enjoy a gorgeous volume, shine, and manageable hair with this Vidal Sassoon frizz defense hair dryer in your kitty. Try it!
Pros
Minimizes the frizz
Distributes heat evenly
Foldable and space-efficient
The included concentrator allows focused drying.
Cons
Price at the time of publication: $72.44
There you go! Those were the 9 best Vidal Sassoon hair dryers to get salon-worthy hair at home. Are you still wondering how to choose the right one or how to clean the hair dryer? We've explained it all in our buying guide below.
Buying Guide
How To Choose a Vidal Sassoon Hair Dryer?
Drying technology: Choose a hair dryer that offers more than just drying and styling benefits. For example, a hair dryer with ion and tourmaline technology will not only dry your hair quickly but adds volume, shine, and leaves hair frizz-free. Also, those with a ceramic coating prevents heat damage too.
Wattage: Though most of the Vidal Sassoon hair dryers provide maximum heating at 1875W, however, if you prefer stronger heat then you can opt for a 2000W hair dryer instead.
Weight: Ideally, you should choose a hair dryer that is lightweight, compact, and easy-to-hold, so you can travel along with the same when required. Also, bulky hair dryers can end up causing cramps when used for a long time, hence it is ideal to choose a hair dryer that is lightweight.
Heat Settings: Inspect the heat settings before choosing a hair dryer. Also, select a dryer that offers more than one heat setting so you can switch between the heat flow as per your drying needs.
Style-friendly: Lastly, whether you are into hairstyling or not, your hair dryer should be. So, in case you decide to style your hair, you don't have to rush to the salon, just pick up your hair dryer and start styling.
How To Clean a Vidal Sassoon Hair Dryer?
Here are some basic steps to follow if you have never cleaned a hair dryer before:
First, let the hair dryer cool down after usage.
Remove the end cap carefully.
Next, with a brush or cleaner, gently remove all the hair and build-ups on the fan and cap.
Now, your hair dryer is good as new to use again!
Yep, drying your hair can't get fancier, quicker, and satisfying than this! With Vidal Sassoon making all your hair dreams come true in a blow-dry, get ready to banish the frizz and bad hair days with the right hair dryer. With 9 top hair dryers on our list promising to deliver more than just manageable and dry hair, there are options for workaholics, travelers, and frizz haters too. Now, what are you waiting for? Pick yours and give your hair a reason to shine effortlessly!
Why Trust StyleCraze?
Author Vaishnavi Kothuri is a hair and beauty enthusiast who stays in the loop with the latest hair care and styling products. According to her, every hair type and user need can be met with a great Vidal Sassoon hairdryer. It's her goal to guide her readers in picking out the most suitable option through her buying guide. She compiled a comprehensive and detailed list of all the top products after studying every review available on the market. Getting salon-quality hair at home is a snap with Vidal Sassoon hair dryers.
Frequently Asked Questions
Is Vidal Sassoon discontinued?
No, it is not. Vidal Sassoon hair dryers and the brand continue to deliver its top services and make women fall in love with their hair with their products!
Can a hair dryer explode?
It is rare for a hair dryer to explode, which can be due to overheating or due to internal issues. However, Vidal Sassoon hair dryers are safe and are also designed with ceramic coating to prevent heat damage.
Why does my blow dryer smell like it is burning?
Hair dryers, when used for a long time, can end up overheating and giving off a burning smell. Hence, use it at low heating as much as possible, and also, turn it off after usage.
Why do hair dryers burn out?
A hair dryer may burn out if it is used for a long time and also on high heat. Plus, there is a chance they may burn out if not unplugged from the socket after usage. Hence, take precautions while using the hair dryer.
Is Vidal Sassoon hair dryer good?
Yes. The Vidal Sassoon hair dryers can cut short your trips to the salon for a blow dry. You can now make stunning, salon-like hair makeovers at home any time without spending a dime. Among the various designs, heat settings, and additional features, you can choose the best Vidal Sassoon hair dryer for you.
Should we use a Vidal Sassoon hair dryer every day?
No, in general, it is not recommended to use a hair dryer on a daily basis. The heat can weaken your hair and make it prone to breakage.
How long does a Vidal Sassoon dryer last?
A Vidal Sassoon hair dryer can easily last you around 3-5 years, or more, if used properly.
Recommended Articles