11 Bestselling Body Washes For Oily Skin – 2021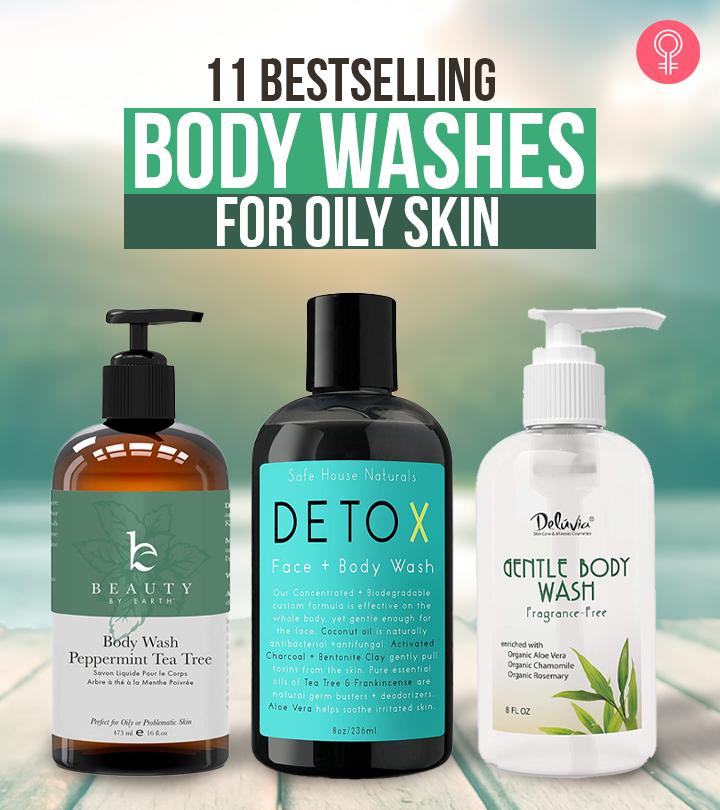 Managing oily skin is not easy. You need to keep the grease in check to prevent acne, pimples, and blemishes. If your regular soap or body wash is not helping you manage the excess sebum production, it's time to switch to body washes made specifically for oily skin.
These body washes contain effective ingredients that clarify your skin without stripping its natural oils. This article lists 11 best selling body washes for oily skin that ensures it stays clean, fresh, soft, and hydrated for long. Scroll down to check them out!
11 Best Body Washes For Oily Skin
This clinically approved body wash by NewYorkBiology contains blends of tea tree, spearmint, and peppermint oils. It helps fight fungi, bacteria, oily skin, and breakouts.
The antibacterial and antifungal properties of tea tree oil help purify and exfoliate the skin. Spearmint and peppermint oils have antiseptic properties to soothe and calm dry and itchy skin. This body wash can help soothe and improve athlete's foot, jock itch, acne, nail fungus, eczema, dry, itchy skin, yeast infections, other common foot, back, chest, butt, and skin irritation, and body odor.
Pros
Cooling sensation
Gentle
Refreshing fragrance
Lathers well
Alcohol-free
Paraben-free
Sulfate-free
Cruelty-free
FDA approved
Cons
The Peppermint Tea Tree Body Wash from Beauty By Earth is suitable for oily, problematic, and acne-prone skin. It consists of peppermint oil, tea tree oil, and saponified organic oils with antibacterial and anti-inflammatory benefits that soothe and cleanse the skin.
Tea tree oil contains anti-inflammatory agents that clear the bacteria and oil buildup that can lead to breakouts. Peppermint oil imparts a cooling effect and soothes inflammation and irritation. The antioxidant-rich sunflower seed oil fights acne-causing bacteria and has anti-aging properties. Coconut oil moisturizes the skin and imparts a healthy glow, while the sweet orange oil protects your skin from aging and keeps it firm and young. This body wash helps fight body odor, athlete's foot, jock itch, and nail and foot fungus.
Pros
Refreshing fragrance
Gentle
Paraben-free
SLS-free
Toxin-free
Vegan
Cruelty-free
Cons
Might cause burning in the private parts.
Tree To Tub offers an organic body wash with healing benefits. It is infused with soapberries, which provide natural, creamy lather and maintain the pH balance of the skin. They also have antibacterial and anti-inflammatory properties that soothe and heal the skin.
Other organic ingredients like shea butter and aloe vera deeply moisturize the skin and repair skin damage. Cucumber and chamomile soothe and calm the skin, making it radiant and clear. Peppermint oil imparts a fresh, invigorating sensation. This body wash is suitable for soothing eczema, psoriasis, and other skin conditions.
Pros
No residue
pH-balancing
Dermatologist recommended
Cruelty-free
100% vegan
SLS-free
Paraben-free
Silicone-free
Sulfate-free
Gluten-free
Fragrance-free
Cons
This product from Safe House Naturals is a perfect face and body wash for oily, acne-prone, and blemish-prone skin. It is infused with organic ingredients to regulate oil production, balance hormones, and promote healthy and glowing skin. This body wash also contains activated charcoal and bentonite clay to eliminate excess oil without drying the skin out.
Aloe vera helps heal the skin and reduces inflammation and irritation. Lavender oil balances oil production, heals blemishes, and stimulates blood flow, while rosemary essential oil initiates cell renewal and aids in clearing acne. Tea tree oil helps reduce acne and controls excess sebum. Eucalyptus and coconut oils have antifungal and antibacterial properties that reduce infections. Frankincense essential oil helps repair and heal the superficial layers of the skin, thus reducing acne, pimples, and scars.
Pros
Organic ingredients
Natural fragrance
Paraben-free
SLS-free
Dye-free
No artificial fragrance
Vegan
Cruelty-free
Cons
The Tea Tree Body Wash by Way Of Will cleanses the skin without drying it out and fights body odor. The natural body wash contains 100% pure tea tree essential oil, which has antifungal, antiviral, and anti-inflammatory properties.
It helps regulates oil production and fights fatigue.  Other intense moisturizing ingredients hydrate your skin and lock in moisture, so your skin feels soft and supple all day long. The menthol fragrance invigorates the senses and uplifts the mood.
Pros
Smells good
Lathers well
Alcohol-free
Sulfate-free
Paraben-free
Phthalate-free
Formaldehyde-free
No artificial color
No synthetic oil
Cons
Less quantity for the price.
The Sebamed Olive Face & Body Wash is a mild moisturizing cleanser that cleanses your face and body without drying your skin out. It is formulated with a special care complex that contains olive oil, provitamin B5, and botanical starch derivatives that restore moisture to the skin and soothe irritation. This body wash has a pH of 5.5, which maintains the skin's acid mantle and strengthens its barrier to protect it from dryness, allergies, and harmful bacteria.
The ultra-mild formula contains a natural moisturizing complex of vitamins and allantoin that makes the skin smooth and healthy. This body wash also contains the patented pentavitin moisturizer, which shows amazing hydrating effects for up to 72 hours. It can be an effective treatment for acne, eczema, psoriasis, rosacea, contact dermatitis, skin mycosis, and other atypical skin conditions.
Pros
Ultra-mild
Hypoallergenic
Dermatologically tested
pH-balancing
Paraben-free
Soap-free
Alkali-free
Phthalate-free
Cons
The Nallure Natural Body Wash contains concentrated aloe vera that hydrates and soothes the skin. Aloe vera is rich in antioxidants that prevent premature aging, fade blemishes, and control excess oil. The gentle formula hydrates the skin and maintains its moisture balance. It also helps maintain the pH balance of the scalp. This body wash cleanses, moisturizes, softens, smoothens your skin with regular use.
Pros
Contains natural ingredients
No residue
Can be used as shampoo
Alcohol-free
Paraben-free
Cruelty-free
SLS-free
Fragrance-free
Petroleum-free
Color-free
Allergen-free
Cons
The cleure Face & Body Wash is a 3-in-1 cleanser for the face, body, and hands. It nourishes and balances your skin, minimizes oil and shine, fights acne, and opens up clogged pores.
This body wash is formulated with glycerin, which draws moisture from the environment and hydrates the skin without making it greasy. It also locks in the moisture for a long duration and strengthens the skin barrier to make it look healthy. This cleanser can be used as shampoo as well.
Pros
Hypoallergenic
Multipurpose
Fragrance-free
Paraben-free
Dye-free
Gluten-free
Salicylate-free
Sulfate-free
Cruelty-free
Cons
This body wash from Deluvia is enriched with almond, apricot, and jojoba oils, which deeply nourish and protect the skin with vitamins A and E. Anti-inflammatory ingredients like aloe vera, chamomile, and rosemary heal and soothe the skin, prevent bacterial infections, and keep acne at bay. They are also effective against skin allergies and problematic skin. This body wash is also infused with plant extracts, including dandelion, gotu kola, and wild geranium that purify and moisturize the skin.
Pros
Lathers well
Refreshing scent
Cruelty-free
Fragrance-free 
Cons
Expensive
Can be harsh on sensitive skin.
The MARIO BADESCU Body Soap is perfect for oily skin. It eliminates excess oil and has a pleasant aroma, making it suitable for daily use. This body wash contains grapefruit and papaya extracts cleanse and exfoliate the skin and impart a radiant, flawless glow to it.
The AHAs in grapefruit extract helps break down oil and dead cell buildup. Oat protein soothes irritation, and linden and ginseng extracts rejuvenate and refresh the skin. Glycerin helps revitalize the skin and lock in moisture.
Pros
No residue
Non-drying
Contains organic ingredients
Smells wonderful
Cons
The Clinique Happy Body Wash is a refreshing gel with creamy lather to cleanse and rejuvenate the skin. It is lightly scented with Clinique's signature citrus-floral fragrance that invigorates the senses and provides a luxurious bathing experience.
Pros
Smells good
Lathers well
Long-lasting
Cons
There are a few things to keep in mind while choosing a body wash for oily skin. Scroll down to the next section for more information.
Things To Consider Before Buying A Body Wash For Oily Skin
Check For These Ingredients: If you want to maintain healthy skin and avoid acne and pimples, check if the body wash contains any of these ingredients:
Salicylic Acid: It is a beta-hydroxy acid (BHA) that penetrates the pores and dissolves dead skin cells and buildup to treat acne. 
Glycolic Acid: It is a type of AHA (alpha-hydroxy acid) derived from sugarcane. It exfoliates the skin and stimulates collagen production to minimize fine lines and wrinkles. 
Tea Tree Oil: It has antibacterial, anti-inflammatory, antiviral, and antifungal properties that treat and protect your skin. It repairs the skin layers and controls the secretion of sebum. 
Peppermint Oil: It contains menthol, which has anti-inflammatory and cooling properties and reduces breakouts. 
Stay Away From Harsh Chemicals 
Avoid products containing harsh chemicals that could strip off the natural glow and moisture of the skin. These include parabens, alcohol, sulfates, phthalates, and synthetic colors and fragrances.
Taking care of oily skin is not a hassle anymore! Take your pick from any of the above-listed body washes and flaunt smooth and healthy skin.
Recommended Articles
The following two tabs change content below.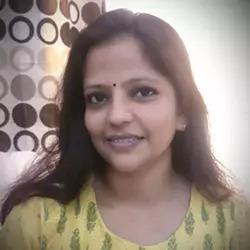 Khushboo is a blogger with over 6 years of experience. She started as hotelier and worked with several renowned hotel chains. She developed a passion for content writing, and as time flourished, made it her full-time career. She loves writing for the online media and specializes in lifestyle, health, travel, and beauty-related content.