9 Best Snail Masks That You Must Try In 2023
Gently formulated products that offer a naturally youthful glow to your skin.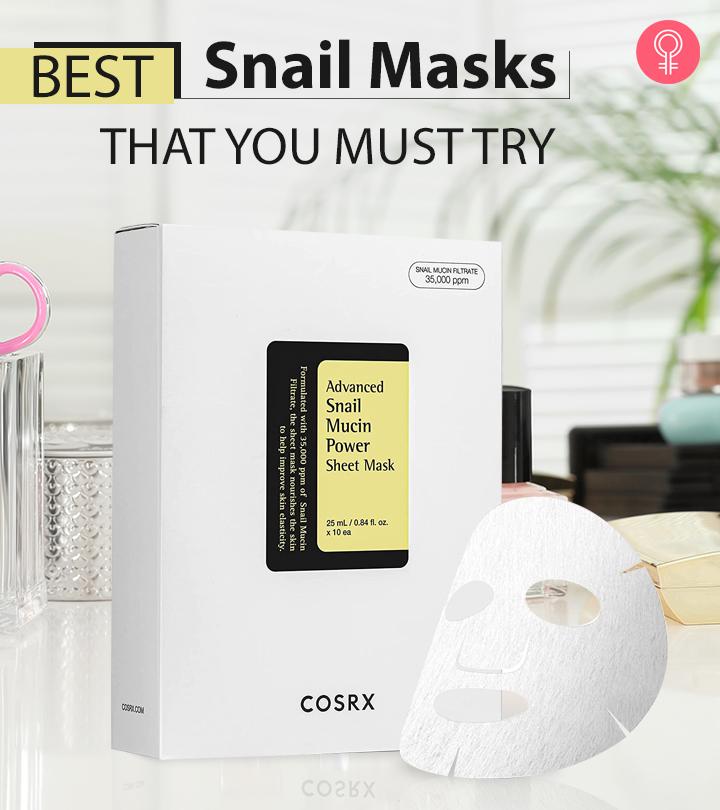 Snail masks are made from snail mucin and have been an integral part of Asian skin care for a long time. Including the best snail mask in your everyday routine will work wonders for your skin. Today, they are gaining popularity worldwide due to their inclusion in K-beauty products. Korean cosmetic products include snail slime to revitalize skin, making it soft and supple. These masks provide moisturization, improve skin elasticity, and reduce the appearance of dark spots, acne scars, and hyperpigmentation.
To help you figure out the best mask for you, we have rounded up the best snail masks. Scroll down to give your skin a plump, healthy, and glowy look.
9 Best Snail Masks Of 2023 That You Must Try
Benton Snail Bee High Content Mask Pack is a soothing skin care product that provides protection to your skin. It contains snail secretion filtrate, rich in collagen, mucin, elastin, and allantoin, to provide moisturization, balance sebum, firm your skin firm, and help in skin recovery. The dermatologically-tested mask also has bee venom that contains beneficial biochemical components and anti-inflammatory properties to enhance your skin quality. The mask's green tea leaf water-based composition prevents aging, while tannin has anti-inflammatory properties that protect and improve your skin. Green tea in the mask also imparts a cooling sensation, while other plant-based ingredients offer hydration. This sheet mask works well for dehydrated, sensitive, itchy, and blemished skin. Multiple reviewers have also tested this product and claimed to have seen visible results.
Pros
Soothing
Anti-inflammatory
Fragrance-free
Vegan
Cruelty-free
Cons
None
The COSRX Advanced Snail Mucin Power Sheet Mask is your one-stop skincare solution. It contains 35,000 ppm of snail mucin and has a concentration seven times higher than other snail masks available on the market. This naturally-derived sheet mask is soaked with 96 mucin power essence and offers nourishment. It repairs damaged skin and reduces the appearance of acne scars. Its key ingredient, mucin, obtained from snail secretion filtrate, increases moisturization and repairs skin for natural radiance. It has a lightweight texture that your skin can easily absorb. This superior cellulose sheet offers a face-hugging fit and helps absorb nutrients, garnering multiple positive reviews online.
Pros
Hypoallergenic
Dermatologist-tested
Cruelty-free
Paraben-free
Sulfate-free
Phthalate-free
Fragrance-free
Cons
The Snail Honey Jelly Treatment Mask naturally boosts moisture and provides radiance. This mask is soaked with organic ingredients such as 10,000ppm natural honey extracts, 10,000ppm mucin essence, and seven different types of hyaluronic acid to provide long-lasting moisturization. The mask nourishes, soothes, and rejuvenates your skin without making it sticky. It reduces the appearance of fine lines, enhances skin elasticity, and reduces signs of aging for a clear skin texture. It helps with cell regeneration, giving you a youthful look. The mucin essence and hyaluronic acid provides moisturization to skin layers to make it supple. This serum boosts cell regeneration and improves collagen production, giving you a youthful glow. It is made from natural ingredients that restores oil and moisture balance, revitalizes tired skin, and does not clog pores. This non-irritating and eco-friendly mask is created from eucalyptus tree extracts. Multiple reviewers have experienced visible results after using this sheet mask and highly recommend it. But, remember to perform a patch test to check for any signs of skin sensitivity.
Pros
Suitable for sensitive skin
Anti-aging
Brightening
Non-comedogenic
Organic ingredients
Cons
None
FaceTory Oh My Goodness Rejuvenating Snail Mask is infused with snail secretion filtrate and shea butter that hydrate dry skin, making it look dewy and smooth. It also reduces the appearance of fine lines and wrinkles while improving skin elasticity, thereby leaving your skin looking youthful and plump. This rejuvenating mask stimulates collagen production and also brightens your complexion. Its aloe vera leaf extract and jojoba seed oil provide hydration, reduce irritation, and soothe sun damage. This mask helps heal and repair your skin, giving it a gorgeous glow and a smooth glass skin effect! Multiple reviewers on Amazon have also tested this product and noticed visible results.
Pros
No residue
Anti-acne
Anti-aging
Soothing
Cruelty-free
Sulfate-free
Paraben-free
Suits all skin types
Cons
Messy and difficult to use
La Pure Korean Face Mask is infused with 7000 ppm of snail secretion filtrate, which repairs and rejuvenates your skin quickly and more efficiently. It is loaded with a blend of natural minerals, enzymes, and vitamins. It is skin-friendly and free from parabens, thereby guaranteeing safety. This mask helps nourish, moisturize, and rejuvenate your skin. Its snail filtrate content soothes irritated skin, forms a protective coat, and provides radiance for younger-looking skin. It also reduces the appearance of fine lines, delays skin aging, manages uneven skin tone, minimizes the appearance of pores, rehydrates skin, and reduces inflammation. Reviewers on Amazon have noticed visible results after using this mask, adding it to their daily regimen.
Pros
100% cotton masks
Pleasant smell
Non-greasy
Easy to use
Anti-aging
Paraben-free
Cons
None
Mother Made Rich Snail Deep Moisturising Sheet Mask is infused with a high concentration of snail mucin and effectively moisturizes your skin, leaving it soft and firm. Its snail secretion filtrate content stimulates collagen production, soothes sensitive skin, reduces redness, repairs damaged skin, and reverses aging signs. It is fortified with vitamin C and E, hyaluronic acid, ceramides, marine collagen, and herbal extracts. This Korean product revitalizes dull, damaged, and dehydrated skin by embedding the nutrients deep inside. It has vitamin E that protects your skin from damages, and offers moisturization to dry and flaky areas. It also has marine collagen for toning sagging skin to make it firm. The sheets are made from eucalyptus fibers and natural bamboo. They are suitable for sensitive and dry skin. Use daily in the case of dry skin and in case of oily or acne-prone skin, use twice or thrice a week.
Pros
Anti-aging
Lightweight
Fragrance-free
PEG-free
Oil-free
Alcohol-free
Paraben-free
Phenoxyethanol-free
Dye-free
Suits all skin types
Cruelty-free
Cons
The Elishacoy Skin Refining Snail Mask is a 100% cotton sheet mask infused with snail secretion filtrate that has deep moisturizing properties for achieving glowing skin. Its long-lasting hydration enhances the skin's elasticity. These sheet masks are made of skin-safe ingredients and offer you a younger-looking and radiant complexion.
Pros
Preservative-free
Gluten-free
Soy-free
Lanolin-free
Paraben-free
Dye-free
Eco-friendly
Cons
None
Skederm Snail Jelly Mask contains 5000ppm snail secretion filtrate captured in a hydrogel-coated mask sheet. It provides anti-aging benefits and moisturization and makes your face glow. These snail mask ingredients are easily absorbed and help in hydrating the skin. The serum infused-hydrogel adheres to your skin perfectly, resulting in intense nourishment. It contains seven types of organic ingredients and hydrolyzed collagen that soothes your skin. It has mucin from snails for a protective skin barrier that locks the moisture in to energize and refresh your skin.
Pros
Anti-acne
Fragrance-free
Anti-aging
Paraben-free
Sulfate-free
BPA-free
Cruelty-free
Cons
Veraclara Nutrition Black Snail Royal Prime Mask Sheet has a highly concentrated moisturizing formula. It contains snail secretion filtrate and other moisturizing ingredients that help in improving dry and dull skin. It is also enriched with witch hazel that enhances the appearance of dry, damaged skin and the matricaria extracts soothe the skin. This mask keeps your skin hydrated, soft, and glowing without making it sticky.
Pros
Anti-acne
Soothing
Mild scent
Suitable for oily and normal skin
Cons
*The prices provided in this article are based on the latest available information. However, they may vary due to changes in pricing by the seller and/or promotional offers.
Snail masks have taken the beauty world by storm. However, not everything you put in your shopping cart may work for your skin type. The following tips can help you pick the best snail mask for your skin.
What You Need To Consider Before Buying A Snail Mask
Instead of opting for a mask that contains harsh chemicals or alcohol, which may be highly drying, go for one that contains natural substances. Parabens, SLS, SLES, mineral oil, formaldehyde, formaldehyde-releasing agents, phthalates, phenoxyethanol, coal tar, and sulfates are other ingredients that should not be present in the masks you use. Nothing better if the products are dermatologically-approved!
Choose a snail mask that helps you address your specific skin concerns. For instance, opt for a non-comedogenic mask if you have acne-prone, sensitive skin. You can easily remedy dryness and dullness with a moisturizing snail mask. Look for aloe vera extracts, hyaluronic acid, jojoba oil, etc., to nourish your skin.
You may want to look into hypoallergenic options if you have sensitive skin. If you have red, irritated, or itchy skin, opt for an anti-inflammatory mask. Those with acne-prone skin should choose products specially formulated to combat acne and lighten scars.
Snail masks that promise skin repair and rejuvenation, boost cell regeneration, and improve collagen production are great options for anyone over 30.
Since a snail mask is a skin treatment product, it is not necessary to be scented. Added artificial scents mean added chemicals that may harm the skin. Therefore, stick to fragrance-free products when it comes to skincare items.
Snail mask products are pretty expensive in general. However, spending a lot of money on a snail sheet mask is not a good idea. Every product you choose should provide you with the best value for your money and favorable results. So, you can go for mid-priced ones if it meets your requirements.
Masking it is one of the easiest ways to rejuvenate your skin and provide the extra care it needs. Snail masks offer a variety of benefits that cater to multiple skin types and needs. Check out some of the major ways this mask type can help you elevate your skincare game.
Benefits Of  Using A Snail Mask
It provides moisturization.
It helps balance sebum production and secretion.
It reduces signs of aging like wrinkles and fine lines.
It helps with pore minimizing.
It helps to rejuvenate overall skin.
It promotes collagen production and skin healing.
It helps with boosting skin elasticity.
But, there is hardly any point in investing in snail masks if you do not use them the right way. Follow the right steps for the best results.
How To Use A Snail Mask
Cleanse your face thoroughly and prepare the skin with a toner.
Carefully place the mask over your face and leave it on for 15 to 20 minutes.
Gently pat the leftover essence into the skin until it is fully absorbed.
Why Trust StyleCraze?
Krati Darak, the author of this article, is a certified skincare coach who swears by the K-Beauty skincare routine for her skin. She advocates the importance of using snail masks to achieve rejuvenated, flawless skin. She has conducted hours of research to review the products and help her readers make the best choice. Some of these snail masks are her top picks too!
Frequently Asked Questions
Are snail masks good?
Yes. Snail masks are good for your skin since they provide moisturization, nourishment, and rejuvenate dull and aging skin.
Can I use a snail mask everyday?
Snail masks primarily contain snail mucin, which is an organic ingredient, making it ideal for everyday use. But, if you have oily skin, use twice or thrice a week.
How quickly does snail mucin work?
Snail mucin is a potent ingredient that shows satisfactory results in less than 3 months with consistent usage. Although it nourishes and moisturizes your skin instantly, you may notice even-toned skin in a few weeks.
Does a snail mask remove pimples?
Yes, snail masks work on active pimples and reduce them. It has anti-inflammatory properties that kill acne-causing bacteria.
Do you wash your face after applying a snail face mask?
No, you do not need to wash your face after using a snail face mask.
Does snail face mask clog pores?
No, a snail face mask does not clog your pores. Its lightweight texture is easily absorbed into the skin. However, overusing and layering it may clog your pores.
Recommended Articles
Best Snail Skin Care Products For Beautiful Skin
Best Snail Creams For Skin – Our Top Picks
Best Korean Sheet Masks For Healthy And Glowing Skin
Best Korean Snail Creams
Best TONYMOLY Face Masks For An Envy-Worthy Glow