10 Best Korean Skin Care Kits
Pamper your skin with gentle skin care kits that provide promising results.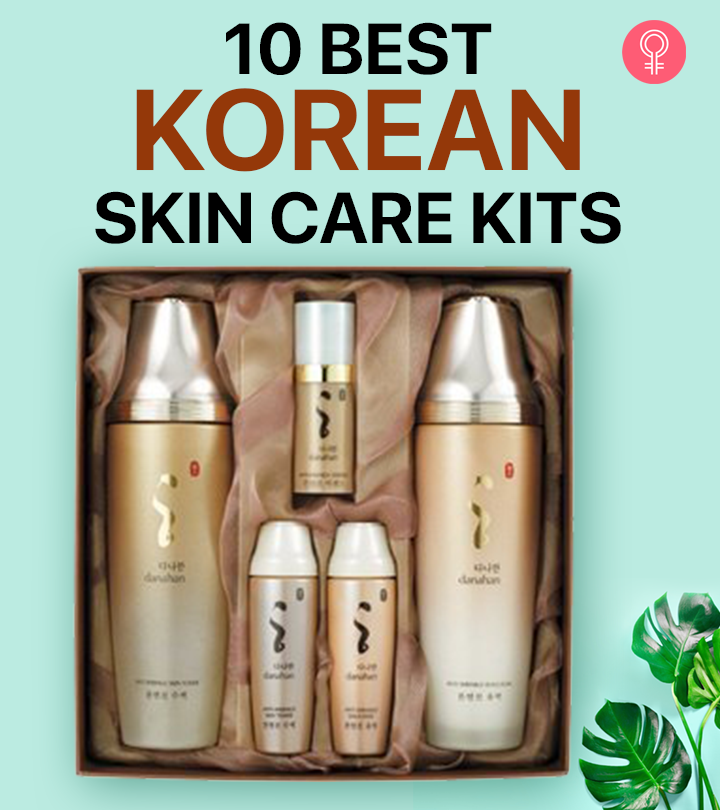 Korean skin care is all the rage these days. You need to try some of the best Korean skin care kits from the list below! Skin care enthusiasts have claimed promising results by introducing these products into their daily routine. They are known to have gentle but effective products that are great for all skin types. These skin care sets make an elaborate 9 or 10 step skin care regimen easy to follow. Pamper your skin with the skin care kit that suits you best.
10 Best Korean Skin Care Kits
This kit from ATOMY consists of six amazing products, including a lotion, a toner, an essence, an eye cream, and a nutrition cream. The products contain five types of hyaluronic acid, ceramides, and panthenol that recharge dry skin with a boost of moisture and hydration. They are formulated with non-irritating ingredients that seep into your skin instantly to soothe it.
The toner provides hydration, the under-eye cream helps diminish wrinkles and strengthens the skin's barrier around your eyes, the essence works on the deeper layers of your skin, and the nutrition cream and lotion help balance your skin and recharge its hydration levels to make it plump and supple. This Korean skincare set is perfect for damaged, dehydrated, and mature skin. The reviewers have left behind positive feedback for the products that testify to their efficacy. Check out the honest review of the ATOMY Skin Care System The Fame in this video.
Pros
Boosts skin revitalization
Pleasant fragrance
Travel-friendly
Non-oily
Cons
Not suitable for sensitive skin.
The Sulwhasoo Bestsellers Trial Kit is an ultra-luxe daily essential set. This kit includes five products formulated with traditional herbal ingredients. The mild cleansing oil is designed with an oil-based formula that helps remove dirt and impurities. The cleansing foam helps remove makeup and grime from pores, and the First Care Activating Serum is formulated with an anti-aging formula that helps hydrate the skin and treats dryness. The essential comfort of balancing water with a fast-absorbing formula offers instant hydration, while ginseng renewing cream helps skin look firmer and smoother. However, conduct a patch test on your skin before using it.
Pros
Travel-friendly
Pore-minimizing effect
Ideal for day and night use
Pleasant scent
Cons
None
The COSRX All About Snail Kit consists of four products –a gel cleanser, an essence, an all-in-one cream, and an eye cream– to repair, moisturize, and soothe the skin.
The Advanced Snail Mucin Gel Cleanser removes impurities from the deepest pores without stripping the skin's protective barrier. It restores moisture while healing and smoothening the skin's texture. The Advanced Snail 96 Mucin Power Essence is formulated with 96% snail secretion filtrate that hydrates your skin and boosts elasticity.
The Advanced Snail Peptide Eye Cream helps reduce the appearance of fine lines, wrinkles, and dark circles with 72% snail secretion filtrate, five types of peptides, and niacinamide. People experience a smooth and youthful glow after using it. The Advanced Snail 92 All InOne Cream is a gel that glides onto your skin to help repair and rebuild the moisture layer for long-lasting hydration, leaving you with glass skin. The rave reviews online make this results-driven kit a favorite among skincare enthusiasts. Watch this video for a detailed review and demo of the COSRX All About Snail Kit.
Hillary Clark, Medical esthetician, says, "Snail Mucin is a great alternative for people that are too sensitive for retinol."
Pros
100% natural
Hypoallergenic
Helps in skin detoxification
Dermatologist-tested
Travel-friendly
Reduces fine lines and wrinkles
Cons
Not suitable for acne-prone skin.
This anti-aging skincare kit from K-Bright includes Icy-Lock Miracle Booster Pearls Hydra Glow, Crystal Bright Illuminating Serum, and Crystal Bright Water Lock Gel Cream. The Booster Pearls are formulated with fresh vitamin C that brightens and tones the skin to make it appear flawless and licorice extract that helps soothe the skin and reduce redness and acne scars.
The Crystal Bright Illuminating Serum contains amino acids, niacinamide, and freeze-dried borage seed oil to correct dark spots and inhibit melanin production for long-lasting radiance. The Crystal Bright Water Lock Gel Cream is formulated with freeze-dried borage seed oil and niacinamide, which boost radiance and leave your skin feeling dewy and soft by locking in the hydration.
Pros
Suits all skin types
Non-sticky
Makes skin dewy
Reduces dark spots
Imparts glow
Perfect for summers
Cons
The Seoul Ceuticals Korean Skin Care Set consists of three products –Marine Mineral Plump & Glow Essence, Multi-Function All-In-One Anti-Aging Snail Repair Cream, and Day Glow. The essence toner is infused with a potent blend of cucumber extract, aloe vera, tamarind extract, Japanese green tea, and marine minerals that hydrate your skin and make it look brighter and feel healthier.
The Multi-Functional All In One Anti-Aging Snail Repair Cream contains 97.5% snail mucin extract, organic shea butter, organic aloe vera, jojoba oil, and vitamin E, which not only hydrate your skin but also boost radiance and improve texture to deliver visible results. The Day Glow Serum is loaded with the goodness of vitamin C, which not only brightens your skin but also reduces fine lines, wrinkles, crow's feet, stubborn acne scars, and spots. It also shrinks pores, prevents breakouts, and helps minimize the appearance of hyperpigmentation.
Pros
Non-comedogenic
pH-balanced
Improves skin protection
Light fragrance
Cruelty-free
Ideal for acne-prone and sensitive skin
A little goes a long way
Cons
None

The DONGINBI Red Ginseng Moisturizing and Firming Set contains products that are formulated to hydrate and firm the skin. This results-driven kit includes emulsion, toner, cream, and eye cream and all are formulated with red ginseng extract that hydrates and nourishes the skin. The formulas also fight against aging signs like fine lines and wrinkles and help reduce their look. The emulsion provides hydration and helps improve skin texture, while the toner helps balance skin pH. The cream has a richer formula that moisturizes and firms the skin. The eye cream is specifically formulated for the delicate skin around the eyes, reducing the appearance of fine lines and wrinkles. In addition, DONGINBI's patented technology – Moist Cera RG TM gives a youthful-looking complexion.
Pros
Replenishes hydration in 24 hours
Refines skin's texture
Lightweight
Cruelty-free
Suitable for all skin types

Cons
None
This LANEIGE Besties Set consists of five products, including a cleansing foam, serum, moisturizer, lip mask, and water sleeping mask. These products are infused with shea butter, coconut oil, blue hyaluronic acid, and murumuru butter and are suitable for all skin types. The blue hyaluronic acid offers long-lasting hydration that gets absorbed quickly. The water bank blue hyaluronic cleanser foam contains papain enzyme and blueberry extract that help remove impurities, oil, and dirt from the skin.
The water bank blue hyaluronic revitalizing toner and moisturizer offer intense hydration and help soothe the skin. The lip sleeping mask contains vitamin C, which helps soothe dry, chapped skin. A water sleeping mask with mineral-rich water helps lock in moisture and keep the skin hydrated.
Pros
Offers long-lasting hydration
Double cleansing formula
Absorbs quickly
Suitable for all skin types
Ideal for day and night use
Cons
None
The Mizon Collagen Setconsists of the following products: Power Lifting Toner, Collagen 100 Ampoules, Power Lifting Emulsion, and Power Lifting Cream. All these products have a high concentration of collagen extract, which has anti-aging properties. It deeply moisturizes the skin and boosts its elasticity to make it appear firmer and brighter.
The Collagen Power Lifting Toner is the first step of the skin care routine and is loaded with collagen that smoothens and tightens your skin with consistent use. The Collagen 100 Ampoule intensely hydrates your skin and makes it supple and plump. The Power Lifting Emulsion is the third step that gives an intense boost of moisturization and nourishment to all the dull and stressed areas of your face. The Power Lifting Cream has a high concentration of low molecular collagen that tightens the skin and fills it with nutrients for a firming effect.
Pros
Lightweight
Promotes skin plumping
Non-sticky
Dermatologist-tested
Travel-friendly packaging
Suitable for all skin types
Cons
None

The Case Full Of Seoul Best Korean Skin Care Set includes ultra-luxe K-beauty products that have been meticulously curated to give your skin an amazing makeover. The 9 Wishes Rice Foaming Cleanser has a micro-ground rice texture that gently and deeply exfoliates the dead skin cells and cleans and removes stubborn makeup and impurities, excess sebum, and blackheads. It is loaded with nutrients that help even out the skin tone and restore the skin's hydration.
The Toner + Emulsion has active ingredients that instantly hydrate and revitalize your skin. The URANG True Rose Repair Essence is formulated from organic Bulgarian rose water and rose essential oil and has a jelly-like texture that reduces irritation and redness and re-energizes your skin. The URANG Vitamin Oil Serum is formulated with rosehip oil and jojoba oil that deeply penetrates your skin to provide natural radiance. It even tones your skin and reduces fine lines.
The Tov Camellia Wrinkle-free Eye Solution is formulated with shea butter and macadamia nut oil to hydrate the delicate under-eye area. The IWLT All-In-One Concentrate Treatment Sheet Mask is infused with a serum that is formulated with pearl powder, vitamin C, and niacinamide. This potent serum boosts hydration and brightens your skin.
The Touch in Sol No Pore-blem Primer is a perfect makeup base as it conceals pores, wrinkles, and evens out the skin tone. The formula also controls oil production and keeps your skin free of excess sebum secretion for long-lasting makeup. The MayCoop Raw Sauce Mini is a mini toner + emulsion, and the MayCoop Raw Moisturizerprovides ultimate hydration to your skin, soothes it, and balances the skin's barrier for better absorbing ability and regeneration.
Pros
Skin-friendly ingredients
Deep exfoliation
Suits all skin types
Premium packaging
Cons
Expensive
Less quantity compared to the price
The SNP peptaronic Complete Skin Care Set consists of five products that replenish dull skin, prevent moisture loss, and improve the skin's overall texture. The term "peptaronic" comes from the combination of "peptide" and "hyaluronic". The potent combination of peptides amplifies the skin's vitality, while the hyaluronic acid thoroughly moisturizes and hydrates the skin.
The peptaronic toner is infused with nourishing and ultra-moisturizing abilities, thanks to hyaluronic acid. This toner heals and repairs damaged skin while balancing the natural oils to maintain your skin's health. The peptaronicserum hydrates your skin and makes it look flawless. The peptaronic cream consists of 5 layers of moisture-inducing hyaluronic acid to replenish your dry skin. It locks in moisture and protects your skin with a hydration barrier.
The peptaronictone up cream is formulated with pink kaolin that naturally relaxes your skin, makes it clearer, and boosts vitality. The peptaronicblister mask comes in a set of 10 sheets. These sheet masks are formulated with a Marine Complex serum, which includes seaweed extract, spirulina maxima, and Hezekiah fusiform extract. The potent blend locks in moisture and makes the skin resilient.
Pros
Great for sensitive skin
Promotes skin healing
Non-sticky
Ideal for everyday use
Light fragrance
A little goes a long way
Cons
*The prices provided in this article are based on the latest available information. However, they may vary due to changes in pricing by the seller and/or promotional offers.
K-beauty products are known for their lightweight formulas and effective results on the skin. But when it comes to your skin, you must do proper research before making any purchase decision regarding Korean skincare kits. So, we are providing a buying guide for your help:
How To Select The Best Korean Skin Care Kits
Ingredients to look out for in Korean skin care products are ginseng, snail mucin, mugwort extract, fermented rice water, licorice root, pearl, birch, and bamboo extract. Generally, Korean products are made with natural ingredients, so check the label and see if it includes any ingredients that you are allergic to, to avoid any reaction or side effects. Furthermore, you can avoid using K-beauty products that have harsh chemicals such as sulfate, paraben, artificial fragrances, etc.
The pH balance of healthy skin is 5.5. Several factors might cause a shift from this balance. Just ensuring that the products you apply are pH-balanced will restore your skin to its ideal balance., The pH range of your gentle skincare products should be between 4.5 and 6.
You must check the products that come in a Korean skincare kit and make the choice according to your skin type. Some skin care kits are suitable for all skin types of skin which are perfect for normal or combination skin. If you have dry or oily skin, check the ingredients and pick the product kit accordingly.
The Korean skin care routine kits should be travel-friendly. It must have the preferable size that can be carried anywhere so that you can maintain your skincare routine everywhere. For this, go for Korean skincare kits that have your daily skincare essentials of sufficient quality. You can also match the size of the kits according to your travel schedule.
Various Korean companies are introducing their skincare products in the market every day, so, research and get the right products after proper inspections and background checks of the brand. Also check the ratings of the products and the reviews of the users.
Why Trust StyleCraze?
The author, Shiboli Chakraborti, is a certified skincare coach and has in-depth knowledge on how your skin behaves in response to different skincare and makeup products. She has gone through product reviews and customer feedback to bring you this specially curated list of the best Korean skincare kits that address various skin concerns. Creams, packs, masks, and serums, these kits come with one of each to introduce you to the exotic ingredients and rich formulations that made K-beauty a rage among the enthusiasts.
Recommended Articles