Korean Skin Care Routine For Morning & Night – A Complete Guide
Learn how to use the right products in the correct order to achieve flawless radiance.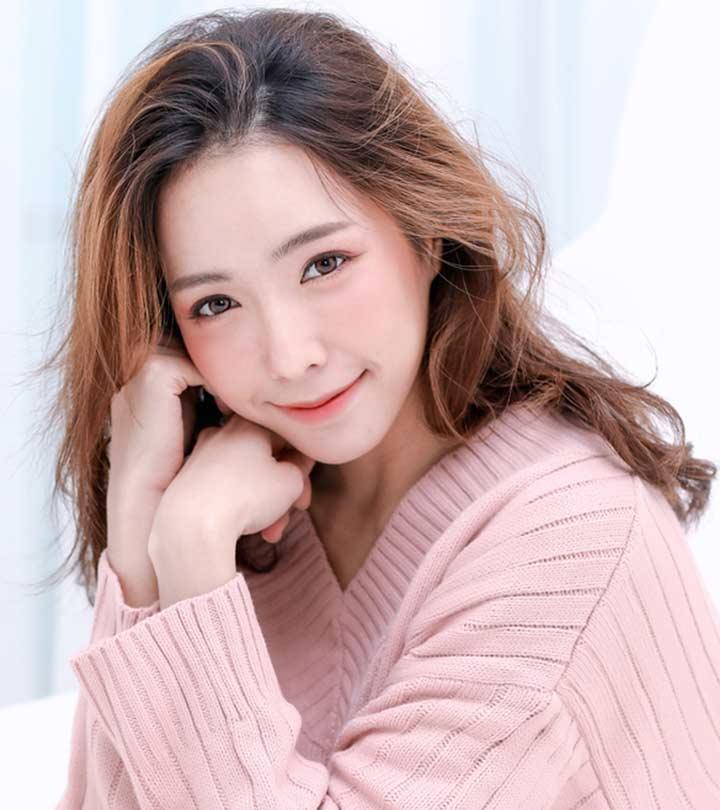 Korean skin care routine is what most of us are obsessed with now. K-beauty care tips claim to provide perfect skin with a flawless and porcelain look. And it is true! Their 10-step skin care routine is an effective solution to achieve radiant and flawless skin.
Though the 10 elaborate steps can be time-consuming and achieving this Korean beauty may not sound practical, you will know how good they are once you start, maybe that is the reason why Korean skincare is taking over the global beauty market. Following these steps will be worth it in the end, and you will not regret spending your time doing this. Interested to know the steps? This article discusses the complete 10-step Korean beauty secrets you can follow day and night to achieve that perfect look. Keep reading!
Before that, let us discuss how it helps your skin. The Korean skincare routine is all about improving your skin health by moisturizing, keeping it hydrated, and offering the essential ingredients the right way (1). You can flaunt your natural, clear, and, glowing skin without putting on any makeup. Laura Geigaite, an esthetic practitioner, says, "The Korean beauty regime involves using various hydrating products that assist in skin repair. This skin treatment prevents water loss and the entry of foreign substances through the skin. Furthermore, the processes help prevent fine lines, wrinkles, and other signs associated with aging."
Do you have to follow all the steps every day? No, it is not compulsory to follow all the 10 steps every day. You can skip some steps but ensure your skin receives all the necessary ingredients. Let us discuss the routine now! Scroll down!
The 8-Step Korean Morning Care Routine
Note: The morning skin care ritual has 8 steps (without double cleansing steps). However, if you want, you can always use a mild cleanser to clean your face.
Step 1: Wash Your Face With Water
Use water to wash your face after you wake up. Do not use any cleanser. Water not only makes your skin feel refreshed, but it also removes impurities from your face that may have settled down on the skin during the night. It also keeps your skin hydrated.
Step 2: Apply Toner
After washing your face with water, apply toner. You may dab the toner on a cotton swab and apply it in a sweeping motion or pour the toner in your palms and pat it lightly all over your face. A toner helps to balance the pH level of your skin and ensures proper absorption of the next skin care products.
Step 3: Apply Essence
An essence is a blend of serum, toner, and moisturizer and is a crucial part of the 10-step Korean skin care regimen. It hydrates and primes your skin and nourishes the skin cells. It also prepares your skin for the next steps. Pour a bit of it on your palm and gently press it all over your face. Do not sweep your fingers.
Step 4: Apply Ampoule
These are similar to essences and serums. However, compared to both products, ampoules contain a higher concentration of active ingredients. Ampoules usually come in a glass bottle with droppers. Use the dropper to apply a few drops on your face. Use your fingers to tap and press it all over your face gently.


Quick Tip
It is recommended to apply and massage Korean ampoules on your face only once or twice a week as they are highly concentrated and active.
Step 5: Apply Serum
Use a serum that addresses your skin issues. Serums are best for anti-aging benefits and can reduce skin issues, such as dark spots, hyperpigmentation, dryness, fine lines, and wrinkles (2). Take a pea-sized amount of serum (or two pumps) and press it gently all over your face with your fingertips.
Step 6: Use An Eye Cream
The area around your eyes is super delicate, and your regular face cream and serums are not going to work. You need an eye cream to keep the area hydrated and protected throughout the day (3). Take a little amount of eye cream on your fingertips and apply it from the inner corner of your eyes to the outer corners.
Step 7: Apply Moisturizer
After you have applied eye cream, apply a layer of moisturizer on your face. A moisturizer keeps the skin hydrated, nourished, and radiant all day long (4). If you have oily skin, use a water-based moisturizer, and if you have dry skin, use a cream-based moisturizer. Massage the moisturizer gently all over your face and neck.
Step 8: Apply Sunscreen
Protecting your skin from UV rays is a must. Once you have completed all these steps, apply sunscreen. This prevents dark spots, tanning, sunburn, fine lines, and wrinkles (5).
According to a 2020 survey conducted on the US population, women were more likely to always wear sunscreen than well. Based on the response to the survey, 29.0% of women aged 18 or older always used sunscreen while stepping outside on a sunny day for more than an hour. This percentage was 25.7% in women aged 18–29, 30.0% in women aged 30–44, 30.9% in women aged 45–64, and 27.7% in women aged 65 or older.
Use a product with at least SPF 30.
This was the elaborate 8-step Korean morning skin care routine for dewy skin. These products keep your skin hydrated and healthy throughout the day.
Once you are back home, it is time to let your skin breathe and prepare it for its night-time restoration process. A proper skin care routine makes sure that the skin heals and repairs itself properly. 
The 10-Step Korean Night-time Routine
Step 1: Clean Your Face With A Cleansing Oil
You have to take off the dirt, sebum, and impurities accumulated on your face. Using a cleansing oil binds the dirt with the oil and makes it easier for you to clean your skin thoroughly (6). Massage the oil thoroughly all over your face and neck. Wipe your face with a wet cotton wipe. You can see your makeup and dirt coming off your skin.
Step 2: Double Cleanse With A Gentle Foaming Cleanser
Once you have oil-cleansed your face and removed all makeup and dirt, use a gentle foaming cleanser to clean your face. Pour some cleanser on your palm, add water, and rub your palms together to generate lather or foam. Apply it on your face and wash off.
Step 3: Exfoliate Your Skin
This step should not be repeated more than two times a week. Exfoliation helps in scraping the dead skin cells and impurities from your face. This evens out your skin tone and promotes cell regeneration (7). You may use a chemical or enzyme-based exfoliant or a physical exfoliator (scrub) on your skin.
Step 4: Apply Toner 
This step is similar to the step mentioned in the morning skincare routine. Even at night, you will need a toner to maintain the pH levels of your facial skin.
Step 5: Apply Essence
The essence always follows the toner. Never miss this step as the essence is needed to keep your skin hydrated for the entire night.
Step 6: Apply Ampoule
Right after hydrating your face with the essence, apply an ampoule. The super ingredients and active agents in the product will help your skin regenerate and recharge itself throughout the night (8).
Step 7: Apply Serum
After you have applied the ampoule, apply serum on the specific areas of concern. For instance, if it is an anti-acne serum, apply it on the affected areas. However, you can apply the serum all over your face and neck. This depends on whether you are using a serum for specific skincare issues or overall nourishment.
Step 8: Apply Sheet Mask
This is an absolute favorite of K-beauty followers. The sheet masks are saturated with serum that contains essential active agents. These are suitable for all skin types. They provide deep hydration to your skin and also offer specific benefits, such as anti-aging, anti-acne, hydration, collagen-boosting effects, depending on your skin requirements.
Step 9: Use An Eye Cream
Once your skin has absorbed all the goodness of the sheet mask, it is time to take care of your eye area. Apply an eye cream to keep the delicate skin around your eyes hydrated and nourished.
Step 10: Apply Moisturizer
Finish off with a night moisturizer. Applying moisturizer at the end seals all the ingredients and helps your skin soak up everything throughout the night. You will wake up with soft, smooth, and supple skin.
The Korean skincare routine is all about nourishing the skin and providing it with the right ingredients, both externally and internally. Here are a few additional tips and tricks that you may follow to keep your skin as healthy as the Koreans.
Korean Skin Care Routine: Additional Tips
1. Stay Hydrated
Keeping your body and skin hydrated is essential. Though topical ingredients will help your skin stay hydrated externally, you also need to provide internal hydration. Drink plenty of water in any form. You may drink flavored tea (mainly tisanes or herbal teas, minus the caffeine) or flavored water (naturally flavored with lime and cucumber slices).
2. Rest And Relax
Do not strain yourself. Give yourself a break and relax. When you are stressed, it reflects on your skin. The best way to relax is by sleeping. When you sleep, your body restores and repairs itself. This improves your overall health (both physical and mental) and also benefits your skin.
3. Eat Well
Consume a lot of fresh vegetables, grains, meat, dairy, and fish. Include fermented and pickled foods in your diet. Such foods contain essential vitamins and probiotics that are beneficial for both the skin and gut health. Fish and meat broth contain collagen, which keeps your skin youthful and healthy. If you love having a dessert after meals, pick any fruit instead of baked and sugary delights. Consider consulting with experts to make a proper diet chart suitable for your physiology.

4. Exfoliate Your Skin
This is applicable for not just your facial skin but your entire body. Try to rid your skin of dead skin cells by exfoliating it at least once or twice a week.
5. Never Forget Sun Protection
Never forget this even if it is cloudy and raining outside. UV rays can damage your skin and speed up the aging process. Hence, carry your sunscreen along.
Infographic: Insider K-Beauty Tips
Korean skincare brands are making waves in the world of makeup, beauty, and cosmetics with its refreshing aesthetics and effective methods in the beauty industry. It sure looks like this trend is not dying down anytime soon. While you try out all kinds of beauty products from your nearest K-beauty outlet, why not check out a few tips and hacks recommended by the natives themselves?
Check out the infographic below for some lesser-known, insider Korean beauty tips.



The Korean skincare routine is popular and trending across the globe for hydrating your skin and imparting a natural glow to your skin. The simple step of washing your face with water gets rid of the grime and prepares your skin for the next steps of the routine. Toner, essence, serum, eye cream, ampoule, and moisturizer, each play an equally important part in hydrating your skin, slowing down aging, and preventing sunburns and acne. Even though the ten-step routine may not seem practical at times, if you go through all the steps with patience and love, you will surely see the results over time.
Frequently Asked Questions
Does the Korean skin care routine work for oily and acne-prone skin?
Laura Geigaite says, "The Korean skin care routine works for oily and acne-prone skin if certain precautions are followed, such as using mineral sunscreens and lotion-based light moisturizers, exfoliating your skin regularly, using alcohol-free toners with hydroxy acids, rinsing off excess grime and dirt using gentle cleansers, and avoiding oil-based cleansers."
How do you get Korean glass skin?
According to Geigaite, "You can achieve Korean glass skin through a process with the following steps: double cleansing, exfoliation, toning, adding an essence, treating with an ampoule or serum, moisturizing, applying eye creams, sealing with face oils during the day, using SPF only during the day, and using sheet masks."
Is Korean skin genetic?
"Studies have established that two genes are thought to be related to skin pigmentation in Korean skin. The genes are linked to skin color, implying that Korean skin is largely genetic," says Geigaite.
Is rose water a toner?
Yes, rose water is a natural toner. You can apply it to your face to tone and hydrate the skin.
Is Korean skin care better than Japanese skin care?
Both are good skin care practices. However, their effectiveness will also depend on your skin type, preferences, and lifestyle. If you want to follow a quicker routine, then the Japanese routine is for you. If you want to follow a more intensive routine, the Korean routine is the right choice.
Is Korean skin care safe?
Yes, the majority of the ingredients used in Korean skin care products are safe.
Is aloe vera gel a toner?
Yes, aloe vera gel is a natural toner that can soothe your skin with its cooling properties.
Can I sleep with rose water on my face?
Yes, rose water can help in skin rejuvenation and make your face look radiant the next day.
Key Takeaways
Korean skin care focuses on improving skin health instead of just covering up imperfections.
The multi-step morning routine comprises cleansing, toning, essence, treatment, moisturizing, and sun protection.
The night skin care routine uses a cleansing oil, foam cleanser, exfoliation, toner, essence, ampoule, serum, sheet mask, eye cream, and moisturizer.
Remember to stay hydrated, eat healthy food, and relax well for naturally radiant skin.

Discover the top 10 Korean beauty secrets for radiant skin. Click on this video to learn how to achieve glowing, youthful, and healthy skin.

Sources
Articles on StyleCraze are backed by verified information from peer-reviewed and academic research papers, reputed organizations, research institutions, and medical associations to ensure accuracy and relevance. Read our editorial policy to learn more.
The following two tabs change content below.