11 Best Drugstore Korean Vitamin C Serums For Women
Revive your skin with the anti-aging and skin-repairing goodness of these affordable serums.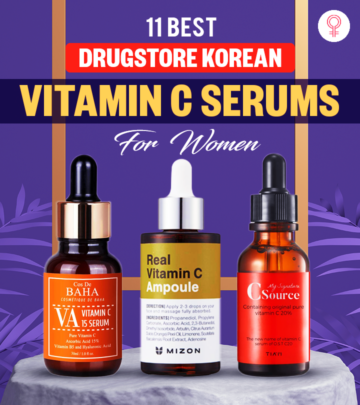 Vitamin C serums are considered the holy grail of skincare as it combats problems like hyperpigmentation, formation of wrinkles, and uneven skin tone. But not any serum will do. You need to invest in the best drugstore Korean vitamin C serums for glowing, gorgeous skin. Why Korean serums, you ask? It is because Korean skincare focuses entirely on natural and organic formulations, and their vitamin C serums are no different. Regular use will help you achieve glass-like skin and is the perfect addition if you are looking for an anti-aging, damage-reversing, and brightening skincare product. To help you find your ideal match and upgrade your routine, we have made a list of the best drugstore Korean vitamin C serums that you must have in your beauty products collection right away. So, take a look!
11 Best Drugstore Korean Vitamin C Serums For Women
Pros
Lightweight
Non-greasy
Non-oily
Non-sticky
Cruelty-free
Paraben-free
Alcohol-free
Fragrance-free
Sulfate-free
Artificial colorant-free
Cons
Price at the time of publication: $9.99
Pros
Lightweight
98% natural
72% organic
Pleasant fragrance
Gets absorbed quickly
Cruelty-free
Cons
Price at the time of publication: $17.0
The Mizon Real Vitamin C Ampoule is a fast-absorbing formula that moisturizes your skin, evens out the skin tone, and improves elasticity. This serum is ideal for people struggling with pigmentation, blemishes, saggy skin, dryness, roughness, and dullness. It is created using 19% of pure vitamin C without any water dilution that helps deliver the active ingredients directly into your skin. This serum also contains organic moisturizing ingredients that nourish the skin with essential nutrients while providing vitality to your skin.
Pros
Non-sticky
Lightweight
Gets absorbed quickly
Natural ingredients
Cons
May cause a tingling sensation
Price at the time of publication: $30
The I Dew Care Bright Side Up Brightening Vitamin C Serum is your go-to solution to re-energize dull skin and get an intense dose of essential nutrients. This lightweight serum makes your skin appear plump and dewy. It is packed with vitamin C that boosts radiance, evens out the skin tone, and protects against oxidative stress-causing environmental aggressors.
Its antioxidant-rich grapefruit extract is enriched with vitamin C and has been known to brighten the skin, reduce signs of aging, and prevent premature aging. Additionally, the vitamin E and vitamin B5 infused in this serum condition the skin and restore moisture while alleviating dryness. It also contains glycerin that hydrates the skin and seals in moisture and niacinamide that aids in improving the overall skin texture.
Pros
Vegan
Lightweight
Small amount required per use
Pleasant fragrance
Cruelty-free
Paraben-free
Sulfate-free
Phthalate-free
Silicone-free
Cons
Sticky formula
May cause breakouts on sensitive skin
Price at the time of publication: $16.98
Pros
Paraben-free
Sulfate-free
Phthalate-free
Cruelty-free
Suitable for all skin types
Cons
May cause breakouts in some
Price at the time of publication: $19.97
Pros
Paraben-free
Sulfate-free
Artificial fragrance-free
Cruelty-free
Gluten-free
Anti-aging effect
Allergen-free
Suitable for dry and acne-prone skin as well
Cons
May cause redness or breakouts on sensitive skin
Price at the time of publication: $19.79
Tia'm My Signature C Source is a Korean vitamin C serum designed to give you a clear complexion and a strong skin barrier. It is formulated with 20% of pure vitamin C that purifies your skin, vitamin B12 that provides soothing benefits, and glutathione for brightening the skin tone.
Pros
Artificial colorant-free
Calms redness
Smoothens the skin
Reduces acne scars
Cons
Short shelf life
Contains alcohol
Price at the time of publication: $17
The Creme Shop What Acne? Hydrating & Healing Serum is a thick formula designed to penetrate the skin layers to balance and rehydrate it deeply. It is infused with glycolic acid that exfoliates dead skin cells for a glowing complexion and vitamin C that protects against external aggressors, fades dark spots, and diminishes acne scars.
Pros
Small amount required per use
Smoothens the skin
Diminishes breakouts
Cruelty-free
Cons
None
Price at the time of publication: $11.99
Dear Klairs Freshly Juiced Vitamin Drop is an all-in-one serum that clears breakouts, minimizes pores, prevents hyperpigmentation, fades dark spots, and soothes irritated skin. This serum is skin rejuvenating, energizing, and non-irritating, which makes it ideal for everyday use. It uses 5% L-ascorbic acid for brightening the skin and evening out the skin tone along with a blend of Centella asiatica extract and hyaluronic acid for deeply nourishing and hydrating the skin. Before buying, have a look at this video for more details.
Pros
Gets absorbed quickly
Non-comedogenic
Hypoallergenic
Safe for sensitive skin
Paraben-free
Sulfate-free
Alcohol-free
Paraffin-free
Allergen-free
Cons
Low vitamin C concentration
Contains silicone
Prone to faster oxidization
Price at the time of publication: $19.95
By Wishtrend Pure Vitamin C 21.5% Advanced Serum is a nourishing and hydrating formula designed to prevent and fade hyperpigmentation. It contains 21.5% pure vitamin C in the form of ascorbic acid that helps eliminate dead skin cells to give you an even skin tone and bright complexion. This non-sticky Korean vitamin C serum is formulated with 70% sea buckthorn water. This ingredient acts as a highly concentrated vitamin ampoule containing vitamin E for an instant antioxidant boost and intensifies vitamin C's effects. In addition, sodium hyaluronate and panthenol work together to exfoliate uneven and textured skin, thereby leaving it silky smooth.
Pros
Gets absorbed quickly
Lightweight
Exfoliates dead skin
Non-sticky
Non-greasy
Does not oxidize fast
Vegan
Cruelty-free
Ethanol-free
Silicone-free
Artificial color-free
Artificial fragrance-free
Paraben-free
Sulfate-free
Alcohol-free
Cons
May cause a tingling sensation
Price at the time of publication: $29.9
Goodal Green Tangerine Vita C Dark Spot Serum+ is a lightweight gel-based serum ideal for daily use and suitable for all skin types. It is formulated using 70% green tangerine extract that nourishes the skin and brightens your complexion. The fresh and concentrated vitamin C helps reduce blemishes, melanin, and dark spots while revitalizing dull skin. This Korean vitamin C serum can be used as a day and night treatment. Additionally, the organic ingredients like lavender oil, lemon peel extract, and orange extract infused in this serum give you visibly smoother, brighter, and naturally glowing skin in a matter of 2 weeks.
Pros
Natural ingredients
Lightweight
Dermatologist tested
Non-irritating
Non-greasy
Cons
Price at the time of publication: $19.9
These are th ebest-selling Korean vitamin C serums available on the market. But, why are these serums so popular? Find out in the next section.
Why Are Korean Vitamin C Serums The Best Choices For Healthy Skin?
When it comes to vitamin C serum, Korean formulations are the most skin-friendly in terms of concentrations, additional ingredients, results, and the overall feel. There are many options available, depending on your skin type, concerns, and the kind of results you are looking for.
Vitamin C is often referred to as an all-in-one solution for most skin concerns, regardless of your age. Let us look at some of the benefits that make vitamin C work for all ages and skin conditions.
Reasons Vitamin C Works For All Ages And Skin Conditions
Anti-Aging Benefits: Vitamin C helps fight various signs of aging, and if you are someone struggling with wrinkles, fine lines, crow's feet, etc., then vitamin C is a must-have addition to your skin care routine. This is because it provides damage protection and boosts skin regeneration by neutralizing free radicals.
Hydrating: Vitamin C is a nourishing ingredient that provides thorough hydration to dehydrated skin. It attracts water and impedes transepidermal water loss, thereby improving moisture retention.
Healing Properties: Vitamin C can boost the production of fibroblasts in your skin, which are imperative for healing wounds.
Protects Against Sun Damage: Sun exposure is the leading cause of dehydration, flakiness, discoloration, rosacea, and sunspots. Vitamin C helps restore photodamaged skin over time when applied daily.
There are a few things to keep in mind before you buy a Korean vitamin C serum. Let us take a look at the ways to choose the best vitamin C serum for your skin.
How To Choose The Best Korean Vitamin C Serum
Form Of Vitamin C
Vitamin C is available in various forms – L-ascorbic acid, tetrahexyldecyl ascorbate, ascorbyl palmitate, and sodium ascorbyl phosphate being the most common. However, not all are similar in terms of efficiency, absorption, and stability. Most professional brands offer clinically-tested serums to prove their effectiveness. So, make sure you select the proper form of vitamin C for your skin type and concern.
Concentration
Vitamin C serums are usually formulated with a concentration between 5% to 30%. The concentrations are recommended based on the form of vitamin C and its effectiveness. For instance, the recommended L-ascorbic acid concentration is at least 10%. However, there are formulations available with 20% as well.
Ingredients
While vitamin C on its own is good enough, there are other potent ingredients that will increase the benefits of the serum. Vitamin E and ferulic acid are the most common ingredients found in most vitamin C serums. They provide exceptional antioxidant benefits, strengthen the skin barrier, and prevent free radical damage.
While vitamin C is a highly beneficial ingredient for your skin, it can also leave your skin feeling worse if you do not take precautions while applying and introducing vitamin C serum into your skin care routine. Let us look at some pointers to keep in mind when using a Korean vitamin C serum.
Precautions To Follow For Regular Use Of Vitamin C Serums
Use Vitamin C In The Daytime: Vitamin C is designed to give you antioxidant protection against damage from free radicals. So, you can make the most of it in the morning. But, make sure that it is fully absorbed before you step out for your day as light tends to render it less effective.
Layer It With A Sunscreen: Using sunblock or SPF is imperative if you are incorporating vitamin C into your skin care routine. This is because most potent forms of vitamin C are highly sensitive to light exposure. So layering a broad-spectrum sunscreen on top of your vitamin C serum is a must. Additionally, when used with SPF 30 or higher, vitamin C protects the skin even better.
Don't Go Overboard With Concentrations: Though it sounds tempting to go higher in terms of concentration to get more benefits, it may end being a nightmare for your skin. Choose the concentration based on your skin type and concerns.
Don't Use Vitamin C With Other Actives: On its own, vitamin C is known to be advantageous and stable for most people. However, if you have sensitive skin, it may sting initially. So, if you use it in the same part of your routine as a scrub, actives like benzoyl peroxide and niacinamide, or AHAs and BHAs, vitamin C may get oxidized and end up causing redness and irritation. So, it is best to reserve vitamin C for mornings and other actives for the nighttime routine.
Store It Properly: Unlike other active ingredients, vitamin C is highly vulnerable to light and air. When exposed, it oxidizes into dehydroascorbic acid, making the formula less stable and less effective. So, vitamin C should be stored in air-tight opaque or amber-colored container and kept in a dark and cool space. If the solution has become cloudy, dark, yellow, or brown, it has likely become oxidized, and while you may still use it, the serum will not be as effective.
Be Cautious When Using With Retinol: Retinol and vitamin C are both highly potent ingredients and must not be used together. Vitamin C is best used during the day, while retinol is most effective at night, and experts strictly advise against using the two at the same time.
Why Trust StyleCraze?
Shiboli Chakraborti, the author of this post, is a certified skin coach who reviews and writes about various beauty products for her readers. After going through numerous user feedback and skincare expert recommendations, she has curated this list of the best drugstore Korean Vitamin C serums for women. These serums are lightweight and made of natural ingredients that nourish and repair the skin, effectively combating skin concerns such as uneven skin tone and wrinkles.
Frequently Asked Questions
Does the Dear Klairs vitamin C serum work?
Yes, the Dear Klairs vitamin C serum works effectively to minimize pores, reduce breakouts, and eliminate hyperpigmentation. The formula also works wonders on sensitive skin.
Which is the strongest vitamin C serum?
Try the Cos De Baha VA Vitamin C 15 serum to improve skin texture and elasticity, and enjoy sun protection.
Which Korean company's vitamin C serum is the best for your face?
Korean companies like Cos De Baha, Seoul Ceuticals, and Mizon offer great facial serums.
How do I know if my vitamin C serum is real?
To confirm that your vitamin C serum is real and the formula has not oxidized, make sure that the serum is transparent, white, or has a light champagne color. Dark or cloudy serums indicate that the product might have expired.
Does Korean vitamin C lighten the skin?
Yes. Korean vitamin C serums lighten and brighten your skin. They also treat blemishes and reduce the appearance of aging signs.