13 Best Vitamin C Cleansers Of 2023 For Glowing And Radiant Skin
A heavenly glow on your face is a distant dream no more with this powerful ingredient.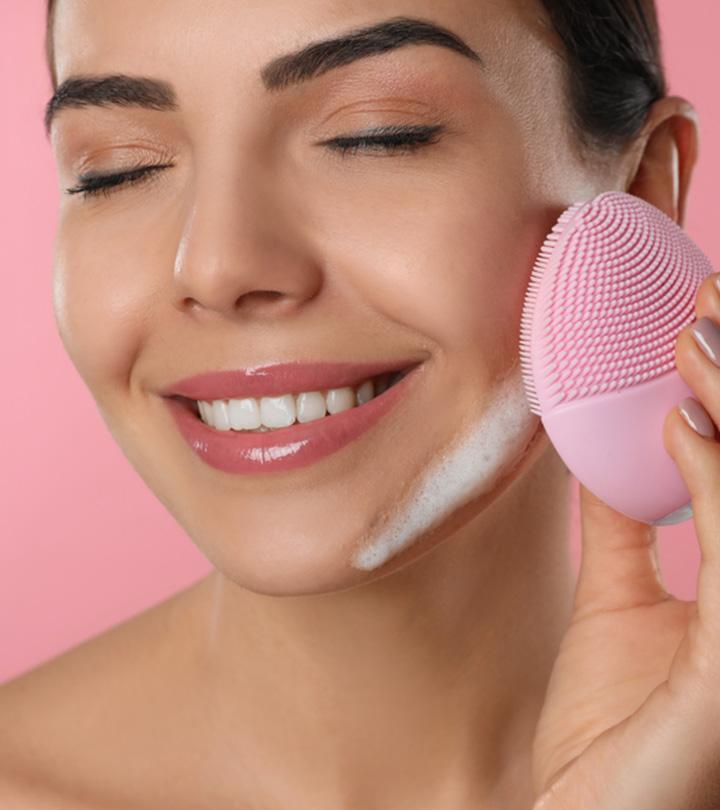 Everyone dreams of radiant and glowing skin that looks flawless. Well, to achieve this, you need the best vitamin C cleansers for an even skin tone. This active ingredient is a strong antioxidant that is an all-rounder. From making fine lines disappear, correcting uneven skin tone, and increasing collagen production to healing skin issues like spots, pimples, and sunburn, it can do it all.
The intake of food rich in vitamin C increases immunity, works as a good energy booster, and acts as a detox agent. Since we use cleansers daily, it is best to invest in products designed especially to suit your skin type from gel, cream, or foaming cleansers. Guess what, vitamin C cleansers take the cake for most skin issues. Therefore, go through our list of the 13 best facial cleansers to leave you feeling refreshed and healthy. Keep reading for more information and choose your favorite product according to your skin needs.
13 Best Vitamin C Cleansers For That Naturally Glowing Skin
If you thought flawless skin was a distant dream, this vitamin C facial cleanser could change your mind. Along with the benefits of the antioxidant vitamin C, it's packed with the nutrients of aloe vera, coconut water, green tea extract, and sugar cane extract. According to the reviewer's experience, it does wonders in reducing the appearance of those pesky fine lines and for rejuvenating dull skin. As a result of the various oils and extracts present in it, the color, aroma and texture of the product may vary between bottles, but that's normal. This cleanser is suitable for all skin types and works best when followed by an appropriate serum and moisturizer. Packed with potent antioxidants, this cleanser with pore-refining qualities unclogs pores and reduces breakouts, inflammation, and dark spots. Do give this product a try. However, we recommend performing a patch test before using the product to avoid any adverse reactions. Take a look at the Insta Natural Vitamin C Cleanser video to learn more about the product.
Pros
Cruelty-free
Paraben-free
No mineral oils
Pleasant citrus fragrance
Contains natural ingredients
Cons
May not be suitable for extremely sensitive skin
The antioxidant-rich formula of this vitamin C facial wash takes care of multiple skin concerns. It gives a boost to collagen production, hydration, and radiance and refines the tone and texture of your skin. It gently strips away the dead skin cells without damaging the skin, leaving it bright and glowing. This cleanser is formulated with vitamin E which protects the skin from environmental stressors and harmful UV rays, organic rosehip oil which is rich in antioxidants and fatty acids that increase the elasticity of the skin, and tea tree oil which fights inflammation and breakouts. It also contains the benefits of organic olive oil, borage seed oil, orange peel extract, oregano, wild geranium extract, and organic dandelion extract that are great in treating problematic skin. Do try this clinically-tested product to get that fresh 'spa-returned' look.
Pros
Cruelty-free
Vegan-friendly
Paraben-free
Sulfate-free
Phthalate-free
PEG-free
Dermatologist-tested
Cons
If you're up for change from the usual face cleansers, set your hands on this 2% salicylic acid vitamin C enriched cleanser that combines the benefits of pink grapefruit. This combination gives an uplifting boost to your skin with its rich, creamy lather that efficiently clears dark spots and blackheads. It eliminates oil and dirt and leaves your skin squeaky clean without over-drying or irritating the skin. Formulated with MicroClear technology, it acts straight on the source of acne and breakouts by removing excess oil. It also helps prevent sunburn, and if used with other sun protection measures, it decreases the risk of skin cancer and aging of the skin caused by the sun. Look at this video of the Neutrogena Oil-Free Acne Wash for an honest review.
Pros
Dermatologist-recommended
Natural ingredients
Ideal for combination and oily skin types
Acts fast on acne
Cons
Let this vitamin C cleansing gel work its magic on your skin by deep cleansing and removing toxins and impurities. This is because it's infused with pure botanical cleansers and essential oils, and a blend of vitamin C, white tea, and lemon bioflavonoids. These renew and restore your complexion's vibrance by neutralizing free radicals and UV rays that cause sun damage, ultimately reducing the signs of premature aging and promoting rejuvenation for mature skin. This refreshing vitamin C gel cleanser is fortified with 2 powerful forms of vitamin C that gently remove dead skin cells and impurities from skin, making it fresh and bright.
Pros
GMO-free
Vegan
Paraben-free
Phthalate-free
Preservative-free
Synthetic color-free
Biodegradable
No animal testing
No added fragrance
NSF-certified
Cons
Some may find the fragrance too intense.
If you're losing hope because of the stubborn blemishes and spots that just won't fade, do try this gentle vitamin C cleanser that removes dirt, excess oil, and makeup, leaving your skin feeling and looking clean and fresh. It maintains the moisture of your skin while cleansing it without making it feel dry or tight. This chemical-free cleanser combines the powerful antioxidant protection of vitamin C with nourishing aloe vera, rosehip oil, and tea tree oil. This gentle formula is great for all skin types and the end result is a more radiant and youthful looking complexion.
Pros
Vegan
Cruelty-free
Sulfate-free
Paraben-free
Dye-free
Fragrance-free
Cons
May cause stinging in the eyes
A radiant complexion and flawless skin are no longer a far-fetched dream with this organic vitamin C cleanser that also contains vitamins A and E to combat free radicals. Vitamin A conditions the skin, vitamin C helps prevent skin damage while vitamin E hydrates and nourishes the skin. Together these vitamins for glowing skin work wonders on oily and combination skin types. Allantoin and Panthenol help soften and moisturize the skin, making it look more youthful. This gentle daily cleanser does wonders for pigmented, sun damaged, and aging skin. It is also infused with orange, mandarin, grapefruit, and basil which nourish the skin and also give this dermatologist-tested cleanser a refreshing citrus scent. The clinically proven, effective formula cleanses the damage caused by pollution and other environmental stressors without over-drying the skin. Check this video to learn more about the Murad Environmental Shield Essential-C Cleanser.
Pros
Paraben-free
Cruelty-free
Phthalate-free
Gluten-free
Mineral oil-free
Formaldehyde-free
Oxybenzone-free
Petroleum-free
Clinically proven results
Cons
This vitamin C cleanser is like a magic potion with tea tree oil that improves skin clarity, freshness, reduces acne, and inflammation, and rosehip oil that rejuvenates and nourishes your skin to add a glow by hydrating it. It also has organic aloe vera that soothes irritated skin, reduces inflammation, and moisturizes thoroughly. The wonder ingredient, vitamin C, diminishes fine lines and wrinkles and makes your skin radiant by boosting collagen production. This cleanser gently removes dead skin cells and minimizes pores without stripping the skin of moisture and is great for alleviating sun spots, breakouts, and discoloration of the skin. Patch testing is essential to determine if the product is suitable for your skin type.
Pros
Cruelty-free
Vegan product
Organic ingredients
Naturally crafted recipe
Cons
May not suit extremely sensitive skin
The Belif Creamy Cleansing Foam is an effective cleanser that removes impurities without stripping your skin's natural oils. The cleansing foam is enriched with high-quality ingredients like vitamin C and natural herbs that remove makeup and impurities. It is infused with apothecary herbs like wormwood that prevent breakouts, soapberry that helps to detoxify, and sweet flag to cleanse and soften. All of these are powerful humectants that help to hydrate your skin, leaving it feeling soft and supple. The dermatologist-tested gentle cleanser is suitable for all skin types, even sensitive, delicate skin. Based on the reviewer's experience, regular use of this cleanser helps to improve skin texture and gives a radiant and youthful-looking, glowing complexion.
Pros
Sulfate-free
Phthalate-free
Mineral oil-free
SLS-free
Synthetic preservative-free
Dye-free
Fragrance-free
Dermatologist-tested
Cons
This vitamin C cleanser exfoliates your skin with gentle and natural jojoba wax beads that unclog your pores by removing excess oil, dirt, and dead skin. Vitamins C, E, and natural oils work deeply on your skin and nourish it, ensuring that it always looks radiant and healthy. It also contains natural and organic ingredients like organic aloe vera, organic olive oil, clementine essential oil, tea tree essential oil, organic rosemary extract, and organic red clover extract. These combat signs of aging like fine lines and wrinkles and ensure an even tone and texture while ensuring hydrated skin. This product with its impressive ingredients list might just be the answer to your prayers, according to the reviewers. Don't forget to conduct a patch test to determine if it is suitable for your skin.
Pros
Exfoliates
Cruelty-free
Suitable for everyday use
Natural and organic ingredients
Cons
May not be suitable for acne-prone skin
The Perricone MD Vitamin C Ester Citrus Brightening Cleanser improves the tone and texture of the facial skin with proven efficacy. It gets rid of irritation and skin inflammation, as it brightens and moisturizes your face. While it calms the skin, this clinically proven cleanser also reduces the appearance of dark spots with regular use. As compared to the traditional Vitamin C, the Vitamin C Ester is a more stabilized form that helps remove skin irritation faster and more efficiently.
Pros
Suitable for sensitive skin
Hydrates skin
Reduces fine lines and acne
Provides long-lasting freshness
Cons
This anti-aging vitamin C facial wash infused with rosehip and tea tree makes a promise of keeping your skin youthful and luminous. Described as a deliciously lightweight and natural anti-aging cleanser for all skin types, it provides eight-fold antioxidant protection to your skin. This herbal infusion also contains organic aloe vera, olive oil, borage oil, orange peel tincture, and oregano oil which deliver essential nutrients that provide anti-aging benefits. They also smoothen, soften, brighten, refine, firm, and moisturize your skin while gently cleansing your pores. This dermatologist-tested blend with 15% vitamin C targets fine lines, wrinkles, dark circles, age spots, crows feet, and hyperpigmentation to deliver youthful skin. Patch testing is necessary before using the product to avoid adverse effects.
Pros
Cruelty-free
Sulfate-free
Paraben-free
Color-free
Fragrance-free
Vegan-friendly
Contains botanical extracts
Cons
May not be suitable for extremely dry skin
This vitamin C fix cleanser helps to brighten your skin, pantheon moisturizes and hydrates it while amino acids improve the clarity of your skin. It prevents the breakdown of collagen, helps your skin repair itself, offers anti-inflammatory benefits, prevents sun damage and pigmentation, and reduces uneven skin tone and melanin production. This daily use gentle cleanser helps to protect skin from everyday environmental stressors leaving you with refreshed and brighter skin as it gently washes away dirt and impurities.
Pros
No toxic chemicals
Contains natural ingredients
Prevents sun damage
Suitable for all skin types
Cons
Fragrance may not be liked by all
This product can breathe new life into your skin to deliver flawless, younger-looking skin with proven efficacy.
This vitamin C cleanser forms a barrier against free radicals and can even help soothe sunburn symptoms. It is packed with natural and organic ingredients which help your skin to look and feel soft, youthful, and vibrant all the time. Rosehip oil, tea tree oil, and orange peel tincture offer a good dose of hydration and cleanse, purify, and protect the skin for a revitalized and gorgeous look. This dermatologist-tested product is formulated for use by all skin types and delivers visible results after the very first application by refreshing the skin the moment it is used, as the reviewers have noted.
Pros
72% organic
100% vegan
Cruelty-free
Paraben-free
Fragrance-free
Cons
May only offer a light lather
*The prices provided in this article are based on the latest available information. However, they may vary due to changes in pricing by the seller and/or promotional offers.
When you're trying to achieve luminous skin, it is essential to get your hands on the best vitamin C cleanser that suits your skin and requirements. It's important to keep a few things in mind so that you can make an informed choice, so here we bring you a comprehensive buying guide!
How To Choose Vitamin C Cleansers
Vitamin C is often listed under several different names, but when you're buying a cleanser, look for L-ascorbic acid which is most effectively absorbed by your skin. Make sure this is listed as one of the first 5 ingredients.
The ideal concentration level of vitamin C for a facial cleanser is between 10 and 20%. It shouldn't be below 8% as it may not deliver evident results, and anything over 20% could lead to skin irritation.
Look for both vitamins C and E, sometimes mentioned as L-ascorbic acid and tocopherol respectively on the ingredient list, as they work very well together. Vitamin E stabilizes vitamin C, giving maximum skin protection. Another antioxidant called glutathione also works very well with vitamin C. Also check for ferulic acid, which lowers the pH level of vitamin C so your skin can easily absorb it.
If your cleanser begins to change color, like if from yellow it turns brown or orange or from a clear color it turns yellow, it's a sign it's oxidizing, and it's best to discard it.
Of course, you need to buy something that fits your budget but it's wiser to let factors like concentration, formula, and the skin problems you are trying to address determine your choice rather than just the price.
If you have sensitive or dry skin type, opt for a product that is lighter and has a concentration of less than 20% L-ascorbic acid, especially if you are using it twice a day. Do read the product label carefully and ensure that it suits your skin type, causing no serious side-effects in case you easily break out or have extremely sensitive skin.
Now that you know what to look for in a vitamin C cleanser, let us tell you about the myriad benefits that come with using this powerful antioxidant product, and it's sure to amaze you.
Benefits Of Using A Vitamin C Face Wash
Being an amazing anti-aging ingredient, it enhances production of collagen which helps to reduce fine lines, thickens the top layer of the skin and firms it.
Vitamin C is a powerful antioxidant so it protects the skin from free radicals and UV ray damage, thus reducing uneven skin tone and texture, fine lines, acne scars, and dark spots.
It prevents the production of melanin in the skin, which helps to reduce hyperpigmentation and dark spots, improves skin texture and tone and enhances the glow of your skin.
Why Trust StyleCraze?
The author, Kirtana Divakar, is a skin care enthusiast. She conducted extensive research to compile a list of the best vitamin C cleanser for her readers. She also went through numerous user feedback on trusted online forums and brand websites to ensure that the items were safe for use. These cleansers reduce the appearance of fine lines, repair uneven skin tone, and increase collagen production.
Frequently Asked Questions
Does Vitamin C cleanser work?
Facial cleanser with citrus extracts facilitates the synthesis of collagen and protects your skin from UV rays which not only makes your skin healthier but also reduces the signs of aging. They can be used daily for most skin types.
Is Vitamin C cleanser good for acne?
While this does require more research, vitamin C is a powerful antioxidant which fights free radical damage and treats acne. Vitamin C products also work for hyperpigmentation and inflammation reduction that is caused by acne.
Is Vitamin C cleanser good for skin?
Vitamin C facial cleanser contains powerful antioxidants that help your skin look healthier and prevent signs of aging with its collagen-boosting effects. It also protects the skin from UV damage. When used with other ingredients like vitamin E or ferulic acid, vitamin C proves to be an even more potent antioxidant.
Does Vitamin C fade dark spots?
Vitamin C application reduces melanin production which helps in the fading of dark spots, leading to a more even complexion.
Can you use Vitamin C and hyaluronic acid together?
Yes, you can. And when you do, they are an extremely effective addition to the skin care routine.
Can you use Vitamin C cleanser with retinol?
Vitamin C and retinol ideally work in different pH environments, and so, should not be combined. If you're using a vitamin C cleanser and a retinol sunscreen, it's best to have a 10-minute gap before you apply your sunscreen.
Recommended Articles: