10 Best Vitamin C Serums To Fade Dark Spots – 2023
Flaunt a flawless, glowing face as this potent ingredient breathes new life into your skin.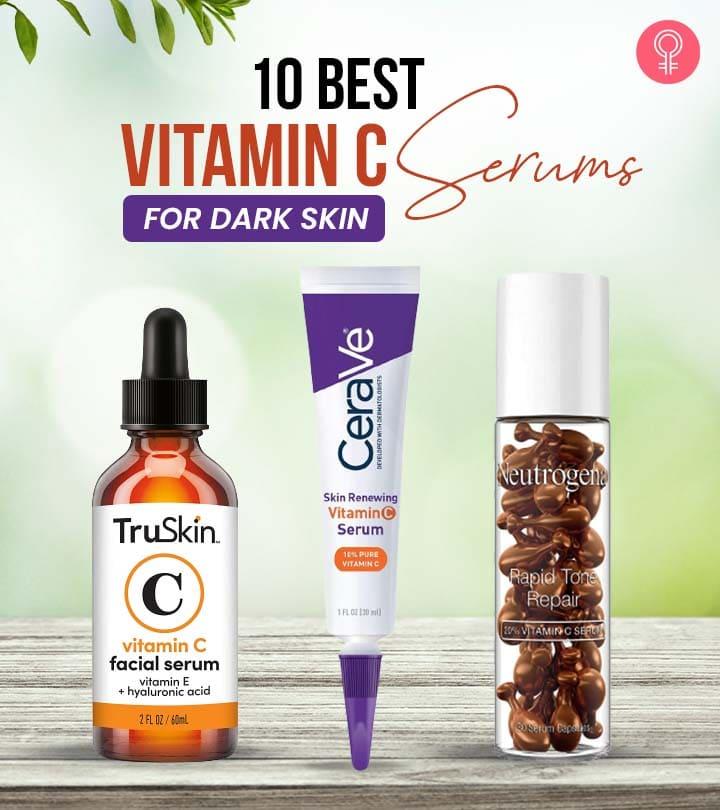 The skincare benefits of Vitamin C are widely known. While looking for skincare products, we often look for the best Vitamin C serums for dark skin, creams for acne, and so on. This skin-rejuvenating ingredient keeps your skin healthy by improving collagen production and repairing it from within. It reduces signs of aging and prevents oxidative damage. What's more? Vitamin C reduces hyperpigmentation and keeps your skin flawless, and it also brightens your skin by inhibiting melanin production. Sounds like a super ingredient, right? Well, thankfully, you can find this ingredient in several skincare products. Below are some of our top picks for Vitamin C serums that work effectively on dark skin. Read on!
10 Best Vitamin C Serums For Dark Skin
CeraVe's Skin Renewing Vitamin C Serum contains 10% pure vitamin C that gets quickly absorbed into the skin. It is formulated with 10% l-ascorbic acid that visibly brightens the skin. This serum has three essential ceramides to restore the natural barrier of the skin. It is also infused with hyaluronic acid that retains the natural moisture of the skin. This pure vitamin C serum also has vitamin B5 that soothes the skin. For a thorough review of the product, have a look at this YouTuber's video.
Pros
Gentle and safe
Allergy-tested
Non-comedogenic
Fragrance-free
Paraben-free
Cons
Thick
Causes a mild burning sensation on application
Price at the time of publication: $20.94
The TruSkin Vitamin C Facial Serum combats dark spots, fine lines, and wrinkles. It is packed with the goodness of antioxidant-rich vitamin C to fight free radicals, boost collagen production, brighten the skin, and prevent early aging signs.
The botanical hyaluronic acid in the formula hydrates and moisturizes the skin, and vitamin E prevents environmental damage caused due to harsh UV rays. This serum also contains organic aloe vera that is rich in antioxidants and vitamins A, C, and E. The plant-based skin serum can be used both during day and night to get youthful skin. Check out this YouTuber's review of the product if you require more details.
Pros
Natural formula
Synthetic color-free
Unscented
Paraben-free
Sulfate-free
SMO-free
Phthalate-free
Cruelty-free
Vegan
PEG-free
Cons
Price at the time of publication: $38.99
The Rapid Tone Repair 20% Vitamin C Serum from Neutrogena brightens and maintains the uniformity of your skin by evening out uneven skin tone. Each capsule contains 20% vitamin C that offers vigor to dull and lifeless skin.
The clinically proven formula fades dark spots, wrinkles, and fine lines while smoothening the skin. The antioxidant properties of vitamin C prevent early aging signs caused due to external factors, such as sunlight and environmental aggressors. This encapsulated serum ensures potency and freshness. You can also check this YouTube video for a complete idea about the product.
Pros
Non-comedogenic
Safe and biodegradable
Oil-free
Paraben-free
Alcohol-free
Unscented
Dye-free
Preservative-free
Cons
Price at the time of publication: $17.99
The Elbbub Vitamin C 20% Anti Aging Serum features a safe, plant-based formula enriched with botanical extracts, such as witch hazel, jojoba oil, and aloe vera, to smoothen the skin. It restores skin elasticity while eliminating dryness and dullness. The hyaluronic acid in the serum fades wrinkles and other aging signs.
This advanced antioxidant-rich serum boosts collagen production and targets issues like dullness, saggy skin, dark spots, sun spots, and fine lines. With non-comedogenic properties and a gentle formula, this effective vitamin C serum also suits sensitive skin and acne-prone skin. It can even be used under your eyes to lighten dark circles.
Pros
Non-comedogenic
Non-sticky
Leaves no residue
Quickly absorbed
Unscented
Gentle
Cons
May causes a mild burning sensation
Price at the time of publication: $9.99
Want to get brighter and tighter skin in only four weeks? Try the RoC Multi Correxion Revive + Glow Daily Serum packed with 10% vitamin C. This multifunctional serum is weightless and prevents wrinkles and fine lines while transforming dull and lifeless skin. It contains energizing nano peptides that add glow and fight the aging signs caused because due to environmental aggressors.
The clinically proven formula improves the skin's texture by enhancing skin elasticity and removing discoloration. This serum is a one-stop solution for dullness, deep wrinkles, dark circles, dryness, uneven skin tone, and crow's feet.
Pros
Non-irritating
Lightweight
For daily use
Dermatologically tested
Paraben-free
Cons
Price at the time of publication: $22.97
The L'Oreal Paris Revitalift 10% Pure Vitamin C possesses anti-aging properties to enhance the youthfulness of your skin in just a week. It is made with top-quality ingredients that deeply penetrate the skin to repair it from within. It protects the skin from oxygen and UV exposure and keeps it safe and sound.
The serum contains 0.3% retinol that boosts collagen production to neutralize the damages caused by free radicals. Use this serum to make your skin tone even, smoothen wrinkles, and get naturally bright skin.
Pros
Lightweight
Non-comedogenic
Unscented
Allergy-tested
Paraben-free
Dye-free
Mineral oil-free
Cons
May causes a mild burning sensation
Price at the time of publication: $17.7
The Lumene Valo's Glow Boost Essence has a highly concentrated formula that hydrates and brightens your skin. The glow-enhancing serum features Nordic-C, an energizing and radiance boosting technology.
The nordic birch sap, a rare golden berry containing an abundance of vitamin C, along with pure arctic spring water, offers a dose of glow while recharging and restoring the skin. The arctic cloudberry extract removes fatigue and signs of dullness from the skin. This serum contains two types of hyaluronic acids and vitamin C that instantly plump and hydrate the skin.
Pros
Lightweight
Quickly absorbed
A little goes a long way
Cons
Price at the time of publication: $22.74
The Advanced Clinicals Vitamin C Serum provides brightening effects while increasing the skin's luminosity. This highly concentrated serum contains vitamin K3 that visibly reduces aging spots, dark spots, scars, and discoloration while hydrating dull and dry skin. It enhances the skin's tone and texture while filling in wrinkles and fine lines.
The serum contains encapsulated peptides to combat imperfection and give you even-toned skin. The advanced formula features palmitoyl oligopeptide to boost collagen production that firms the skin and glycolic acid that reduces acne, oiliness, and expression lines. It is also infused with soothing aloe vera that keeps your skin hydrated and soothed.
Pros
Pleasant scent
Non-oily
Allergy-tested
Dermatologically tested
Cruelty-free
Cons
Price at the time of publication: $9.99
The Better Skin Co.Epik C Serum has a clean and skin-friendly formula made with plant-based technology and infused with ascorbic acid, the most stable form of vitamin C. It helps to reduce the appearance of wrinkles and fine lines while lifting and tightening the skin. It eliminates puffiness and redness to leave your skin youthful and glowing. This serum also has phytovie that creates a protective shield on your skin to combat free radicals and environmental aggressors.
Pros
Pleasant lemon scent
Paraben-free
Cruelty-free
Vegan
Gluten-free
Cons
None
Price at the time of publication: $38.0
Mad Hippie's Vitamin C Serum is formulated using the stabilized form of vitamin C to prevent oxidation. It helps in magnifying collagen production while decreasing wrinkles and fine lines. The serum also protects from photoaging, a root cause of early skin aging. The vital antioxidants from vitamin E fill in wrinkles and fine lines.
This serum also contains hyaluronic acid, known to plump and intensely hydrate the dull skin. The konjac root powder softens and smoothens the skin, while the rich nutrients, such as zinc, copper, fatty acids, lipids, phosphorus, potassium, iron, magnesium, folic acid, etc., enhance the skin's overall texture. The serum also contains chamomile extract that calms the skin and clary sage that tones the skin with its astringent properties.
Pros
Lightweight
Pleasant grapefruit scent
Paraben-free
GMO-free
PEG-free
SLS-free
Synthetic scent-free
Cruelty-free
Cons
Doesn't absorb well
May cause breakouts
Price at the time of publication: $27.19
According to Dr. M. Khawar Nazir, Dermatologist, "Vitamin C greatly helps to treat pigmentation & signs of aging, if applied regularly. In short, Vitamin C application leads to miracles on the skin."
Vitamin C serums come in many variants, in combination with other beneficial ingredients. With so many varieties on the market, how will you choose your right fit? Let's discuss this in the next section.
How To Choose The Best Vitamin C Serums For Dark Skin
The primary purpose of every product is to help you accomplish the desired skin goals. For dark skin, look for a brightening serum. Its prime focus is on enhancing radiance, removing discoloration, fading marks, and hyperpigmentation to reveal bright and radiant skin.
The best vitamin C serum for dark skin is the one that contains skin brightening and illuminating agents in addition to vitamin C. Look for ingredients like niacinamide, kojic acid, alpha-arbutin, tranexamic acid, etc.
Why Trust StyleCraze?
The author of this article, Shiboli Chakraborti, is a certified skin care coach who loves experimenting with different skin care products. She understands the importance of topical vitamin C for healthy skin. So, she read through multiple reviews on brand websites and online forums to curate this list of the best vitamin C serums for dark skin. These serums reduce the signs of aging and hyperpigmentation and keep your skin glowing and smooth.
Frequently Asked Questions
How long does it take for vitamin C to work on dark skin?
Vitamin C takes around three weeks to even out your skin tone and imparts a glow. It also improves the appearance of dark spots.
Is vitamin C serum good for sensitive skin?
Yes. Vitamin C serum is effective in calming down sensitive skin. It soothes irritated skin.
How long does vitamin C stay on the skin?
Vitamin C stays in the epidermal layer of the skin for eight to 24 hours.
Is vitamin C good for melanin-rich skin?
Yes. Vitamin C restricts melanin synthesis and treats hyperpigmented spots on the skin.
Does vitamin C serum really work?
Yes. Vitamin C serums boost collagen production, combat the signs of aging, and prevent oxidative skin damage.
Is vitamin C serum safe for the skin?
Yes. Vitamin C serums free of toxins and common allergens are safe for all skin types. Always check the ingredients list before purchasing a product to prevent skin allergies.
Can we use vitamin C serum every day?
Yes. Use vitamin C serum daily to protect your skin from environmental damage.
When should you apply vitamin C serums?
Use a vitamin C serum at night to boost collagen production, repair skin damage, and enhance skin elasticity. However, if you choose to apply it in the morning, use sunscreen to protect your skin from sun damage.
Recommended Articles