5 Best Korean Body Lotions Of 2021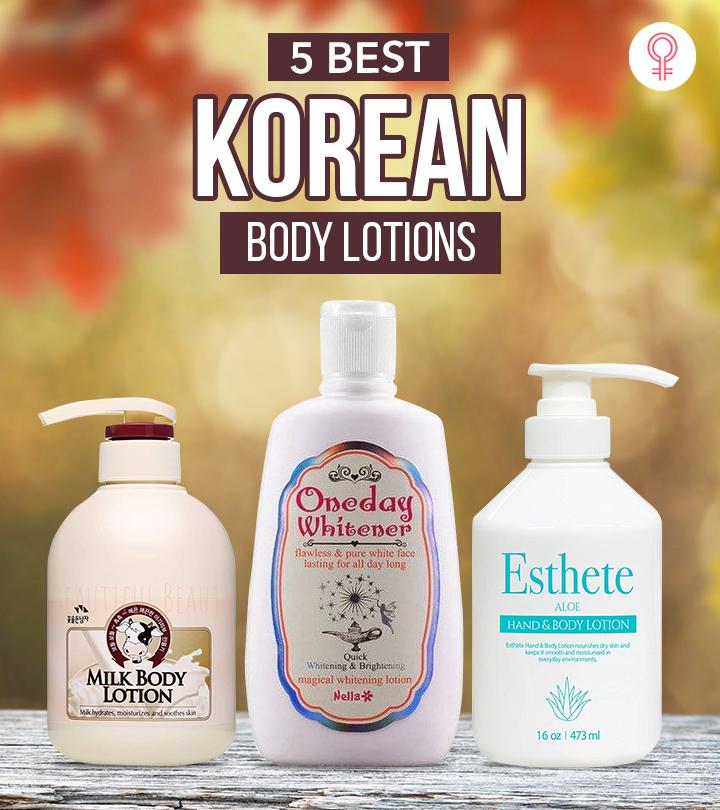 If there is one thing that has surpassed the popularity of K-pop, it's K-beauty! Korean beauty products have become synonymous with high-quality and affordability. So, why not embrace the Korean skin care range that promises supple, soft, and healthy-looking skin? In this article, we have reviewed the 5 best Korean body lotions on the market. Scroll down to check them out.
5 Best Korean Body Lotions For Women
The Somang Milk Body Lotion has a non-greasy and milky texture that glides easily on the skin without leaving any residue. It forms a protective barrier on your skin to keep it thoroughly moisturized. The lotion is rich in milk extracts, vitamins A, D, B12, and B6, biotin, organic proteins, and lactic acid, which transform dry skin into supple and soft skin. It is instantly absorbed into your skin to nourish, soothe, and soften it and relieve dry patches and irritation. The sweet floral scent soothes your senses and leaves a lingering fresh fragrance all day long.
Pros
Mild
Lightweight
Spreads easily
Non-sticky
Value for money
Cons
Contains parabens
Strong scent
This lotion from Nella is an instant whitening and brightening Korean body lotion. The lightweight formula soothes and brightens dull skin with just a single application. It contains tiny pink capsules that impart a natural radiance to your skin without leaving a white cast. The niacinamide in the lotion brightens and clarifies your skin. Peppermint extract calms dry and irritated skin, while witch hazel extract has antibacterial properties that treat blemishes and soothe your skin. This lotion is also water and sweat-proof, thus ensuring hydration all through the day.
Pros
Adds glow
Sweat-resistant
No white cast
Waterproof
Suitable for all skin types
Cons
The ILLIYOON Total Aging Care Body Lotion is a Korean native herb-based body lotion with long-lasting moisturizing and anti-aging abilities. It hydrates and softens parched skin and improves elasticity.
This multifunctional lotion reduces skin wrinkles and boosts radiance and brightness. It is formulated with ginseng, fermented soybean, camellia seed extract, and green tea extract. Ginseng acts as a protective barrier that improves skin vitality and moisturizes it. Fermented soybean moisturizes the skin, camellia seed extract nourishes it deeply, and the green tea extract works as an antioxidant to improve and soften skin texture.
Pros
Non-greasy
Absorbed quickly
Suitable for mature skin
Value for money
Cons
This Korean body lotion instantly firms your skin and imparts an even tone. The brightening elements make your skin naturally translucent. This product contains bifida ferment filtrate and pseudo alteromonas ferment filtrate, which add a sparkling finish to your skin. It has all-natural extracts like blueberry, blackberry, sesame seed, rice, soybean seed, euterpe oleracea fruit, garlic bulb, morus alba fruit, and juni perus communis fruit. This potent blend penetrates the skin to nourish it from within and make it soft and smooth.
Pros
Contains natural ingredients
Lightweight
Non-greasy
Value for money
Cons
Leaves a white cast
Unpleasant fragrance
The Esthete Aloe Hand & Body Lotion provides 24 hours of intense hydration to parched skin. It repairs damaged and dry skin and makes it smooth and soft. The lightweight, non-greasy formula is absorbed instantly and glides easily for smooth application. It protects your hands, feet, and skin from dehydration and dry, itchy patches.
Aloe vera, shea butter, extra virgin olive oil, ceramides, allantoin, and hyaluronic acid restore and revitalize your skin and lock in hydration. The extra virgin olive oil has antioxidants, anti-aging, and anti-inflammatory properties that protect your skin from free radical cell damage. The ceramides lock in moisture and hold the skin cells together to form a protective skin barrier to make your skin look firm, smooth, and radiant. Allantoin, extracted from comfrey, heals acne scars by promoting skin cell turnover and moisturizes and rejuvenates the skin.
Pros
Absorbed quickly
Lightweight
Non-greasy
Paraben-free
Cruelty-free
Mild
Pleasant fragrance
Cons
None
It's time to transform your dry and dull skin into soft, supple, and hydrated skin. Pick an appealing product that suits your skin type from the list above of the 5 best Korean body lotions. Your skin will thank you as it attains a healthy, dewy, and luminous glow.
Recommended Articles