5 Bestselling Korean Hair Dyes For Women – 2021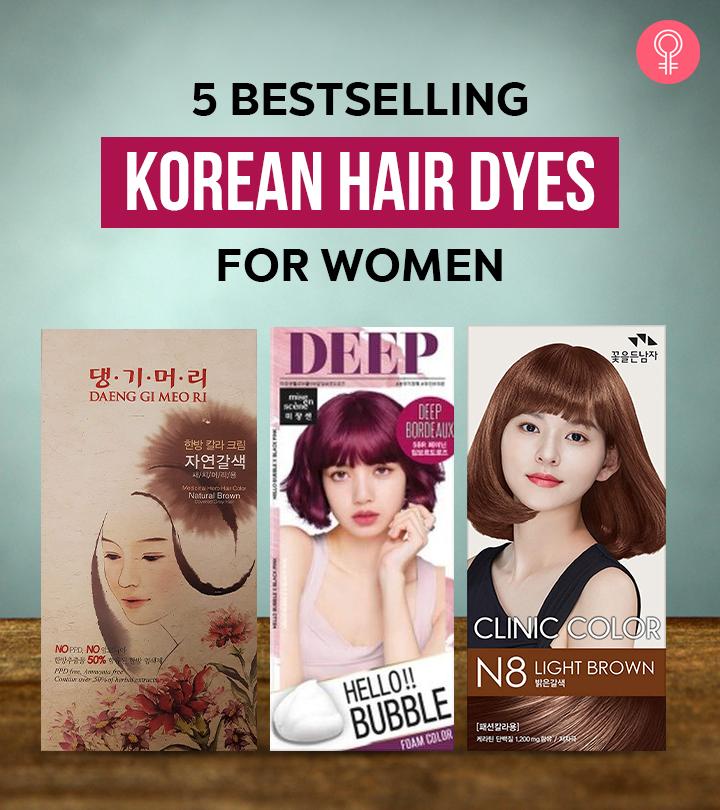 Are you bored of your hair color and planning to dye it for a quick makeover? Well, just like the raging Korean skin care and beauty products, Korean hair dye brands are making their way up the beauty charts. They color your hair and make it super soft and lustrous. These dyes are easy to use, give quick results that last long, and are perfect for DIY routines at home. If you are tempted and want to try them, scroll down to check out the 5 best Korean hair dyes for women.
5 Bestselling Korean Hair Dyes For Women
The Herb Speedy Color Cream in the shade Natural Black is formulated with natural herbal extracts. This Korean hair color minimizes hair loss and prevents allergies caused during hair coloring. The instant 10-minute speedy color cream is best suited for people with a sensitive scalp. It substitutes an allergic reactant called diamine compound, which irritates the sensitive scalp, with a natural ingredient. It holds vibrancy for up to 25 shampoo washes, protects shine and color, and prevents damage or discoloration due to UV ray overexposure.
Pros
All-natural ingredients
Contains sunscreen agents
Non-irritating
Long-lasting
Ammonia-free
PPD-free and Odor-free
Easy to use
Cons
Slightly expensive
Stains for a couple of washes.
The DAENG GI MEO RI Medicinal Herb Hair Color is made of 50% natural ingredients. It is infused with ginseng, Cnidium officinale, and mugwort. The herbal oriental blend minimizes damage and nourishes the hair without irritating your scalp. It leaves your hair healthier and stronger with no foul odor. The non-irritating formula contains keratin, a hair protein with a natural moisturizing substance (PCA), and chrysanthemum to improve scalp health, offer moisturizing effects, and prevent redness or itching caused by the hair dyeing process.
Pros
Ammonia-free
PPD-freeEasy to use
Value for money
Vibrancy for up to 3 weeks
Cons
May cause allergy or rashes on sensitive skin.
The HELLO BUBBLE Foam Color gives you a hassle-free at-home hair coloring experience. This Korean hair color protects your hair with multiple bubbles that dye your hair in just 20 minutes. It is ammonia-free and gives your hair a lustrous texture after dyeing. This hair dye is formulated to safeguard your hair and scalp from the damages caused by hair color.
Pros
Gentle
Easy to use
Non-staining
Ammonia-free
Odor-free
Cons
Might fade away after a couple of washes.
The Somang Clinic Hair Color protects and nourishes your hair. This is one of the best Korean hair dyes, containing ingredients that help your hair stay healthy and lustrous after coloring. Keratin gives strength to your hair, ceramides boost moisture into your hair, glycyrrhizin extract (M.A.G) protects your scalp, and camellia oil imparts a natural shine. The potent blend is free of chemicals that may cause damage to your scalp or hair. The package includes a comb, brush, plastic gloves, and cape.
Pros
Hypoallergenic
Gentle
Easy to use
Non-staining
Value for money
Vibrancy for up to 3 weeks
Cons
Unpleasant odor
May cause slight hair fall.
The Dongsung Seven-Eight Hair Color works effectively to cover up all your grays. This Korean hair dye is formulated with vitamin C to give your hair a boost of nourishment and enhance its texture. It also contains Tahitian black pearl extracts that restore lost shine, bounce, and vitality. This hair color improves the overall health of your damaged hair and protects it from further UV damage. It blocks out the harsh rays and prevents your hair color from fading away.
Pros
Fade-resistant
Ammonia-free
Odor-free
Easy to use
Non-staining
Vibrancy for up to 3 weeks
Cons
None
Korean hair dyes are super-safe and easy to use at home. Pick one from the above list, and let your tresses be your shining canvas!
Recommended Articles