The 6 Best Japanese Hair Dyes
Dyes that care for your hair and nourish it while rendering the most flattering hues.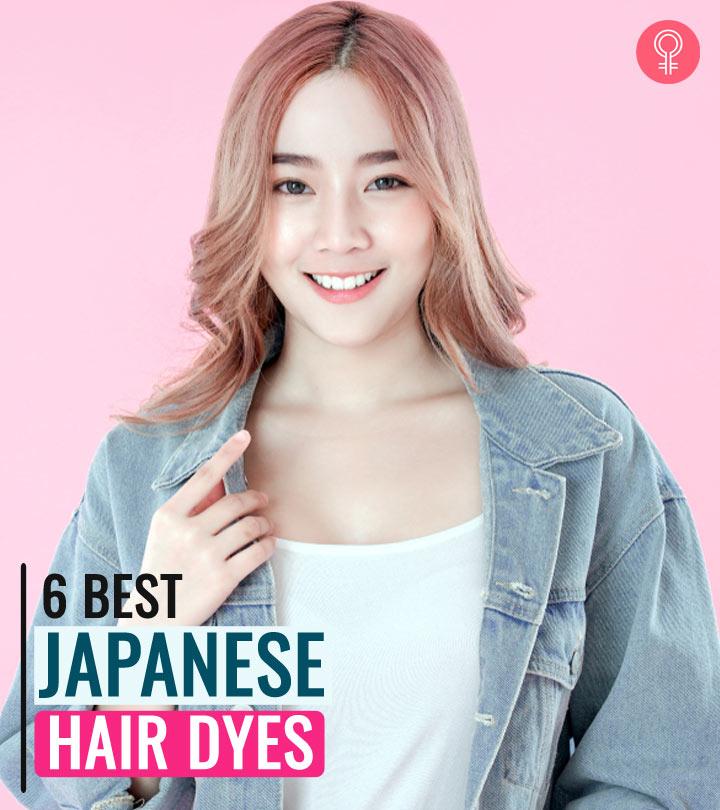 Oftentimes, we color our hair, but the color doesn't show up. That's why you must try the best Japanese hair dyes that are specially made for bleached Asian and naturally black hair or similar hair types. These dyes add the real color to your hair, no matter how dark your natural hair is.
They are made with safe, nourishing ingredients that hydrate and condition your hair while keeping the shine intact and healthy. They also chide away your fear of damaging the hair due to heavy dyes. To solve this query, we have got you the 6 best Japanese hair dyes to get a completely new makeover.
6 Best Japanese Hair Dyes
The Kao Liese Prettia Bubble Hair Dye is a rinse-off treatment. This hair dye contains hydrolyzed silk and lanolin acid that protect the hair and repair and moisturize the cuticles. It also contains amino acids and royal jelly extract that prevent hair breakage and dryness, making your hair soft, healthy, and shiny.  The hair dye has a soft foaming solution that evenly coats and colors the hair. The shade Ash Brown belongs to the Design Series of the brand and gives a bluish-ash color to dark hair.
Pros
Prevents breakage
Prevents dryness
Moisturizing
Cons
Price at the time of publication: $14.5
The Salon de Pro Hair Color has a scent-free formula that does not irritate the eyes and nose. The penetrating, no-drip coloring formula evenly dyes the hair works in just 15 minutes, giving a beautiful finish. The hair dye contains polymer silk protein to improve firmness and bounce, royal jelly extract to keep the hair moisturized, olive oil to add shine, and vegetable protein to protect your hair. The hair dye comes in a one-push bottle packaging to ensure convenient and mess-free use.
Pros
Easy to use
Fragrance-free
Moisturizing
Non-irritating
Ammonia-free
Cons
None

Price at the time of publication: $19.48
The Bigen One Push Cream Color comes in a one-push bottle and can be applied directly without pre-mixing. It comes with an applicator brush to spread the dye evenly on the hair strands. The formula contains evening primrose oil, grape seed oil, collagen, and eucalyptus oil to keep the hair soft, moisturized, and shiny. This shade is great for gray hair coverage and lasts long.
Pros
Easy to use
Long-lasting
No-drip formula
Easy storage
Mess-free
Cons
Contains phenoxyethanol and ammonia
Price at the time of publication: $22.8
The Dariya Palty Hair Color works like a hair treatment. The formula contains grape oil, orange oil, and apricot oil that keep the hair moisturized and shiny, and seaweed extract that protects the hair barrier.
The product has a ready-to-use liquid formula in a bottle with a brush type nozzle for ease of use. It contains silk protein that makes the color long-lasting. The dye has a sweet fragrance. The shade Gray Ochre imparts a bluish-ash color to dark and pre-bleached hair.
Note: Do a patch test 48 hours before using the product to avoid allergic reactions. It is not recommended for permed and chemically straightened hair and the eyebrows.
Pros
Easy to use
Moisturizing
Liquid formula
Cons
May cause allergic reactions
Not for chemically treated hair
The Rishiri Kombu Hair Color Treatment is a natural hair dye and is great for sensitive skin and people who are allergic to chemical hair dyes.  The dye is specially developed for covering gray hair. It polishes the hair and scalp to improve hair texture, keep the scalp healthy, and maintains PH of the scalp, and balance hair. The product is free of chemicals and synthetic additives. It works slowly and dyes the hair gradually over time with regular use.
Pros
Chemical-free
Artificial fragrance-free
Improves hair texture
Softens the hair
Provides great coverage
Safe for sensitive skin
Cons
Takes time to show results
Price at the time of publication: $35.5
The ShoHan Instant Powder Hair Color has a gentle formula without ammonia and hydrogen peroxide. The hair dye is less abrasive and works on reducing hair loss and strengthening the hair fibers. It is infused with conditioning agents that make the hair smooth and silky. The hair dye provides great gray hair coverage and imparts a stunning color.
Pros
Ammonia-free
Hydrogen peroxide-free
Gentle formula
Provides great coverage
Makes hair smooth and silky
Cons
May cause allergic reactions
Contains SLS
Price at the time of publication: $6.97
If you are wondering how to protect your hair from the side effects of hair dye, look no further than Japanese hair dyes. They color your hair and double up as hair treatments that nourish and hydrate the hair strands. They are perfect for a DIY color change or touch-up at home and can save you from expensive salon visits. So, if you are considering giving it a shot, check the following factors before selecting a Japanese hair dye.
How To Choose The Best Japanese Hair Dyes?
Shade: Choose the color of your hair dye that matches your undertones. Warm shades with copper or golden tints, such as brown, chestnut, and chocolate, look good on people with warm undertones. On the other hand, those with cool undertones can opt for colors with a purplish or bluish tinge, like ash brown or cool brown.
Ingredients to Avoid: Choose a hair dye free of peroxides, ammonia, bleach, and other harmful chemicals. Additionally, avoid dyes containing synthetic additives and fragrances. These irritants dry out your scalp and turn your tresses brittle.
Lasting Power: Look for hair dyes that do not fade after a few washes. Choose the dyes that provide good coverage to grays. Consider dyes with UV filters, as they last longer.
Nourishing Formula: Choose a formula fortified with moisturizing agents like glycerin, shea butter, vitamin E, hydrolyzed silk, and lanolin acid to protect your hair and moisturize the cuticles. Additionally, pick formulas infused with amino acids, aloe vera, argan oil, keratin, and royal jelly extract to prevent hair breakage and dryness.
No-Drip Consistency: Choose a hair dye that does not have a runny or watery consistency. Dyes having thick consistency are easy to apply. They do not stain your clothing. Additionally, no-drip dyes are the best for DIY hair styling.
Bottle Design: If you pick a bottle dye, choose those with brush-type nozzles or an attached applicator brush. They deliver mess-free applications and provide uniform coverage to the hair strands.
Developing Time: Some hair dyes work in just 15 minutes to give a beautiful finish, while others work slowly and show results over time with regular use. Choose one according to your needs.
The products mentioned above are some of the best Japanese hair dyes you can buy online. They are formulated with ingredients that are beneficial to the hair and give stunning results on dark hair. Go ahead and try any of these hair dyes today.
Why Trust StyleCraze?
Oyendrilal Kanjilal, the author of this article, is a hair care enthusiast who loves keeping up with the latest trends in hair care. She has sifted through various user feedback online and has compiled this list of the best Japanese hair dyes. What sets them apart from many products is that they are made of natural ingredients that keep your hair moisturized and nourished while giving you the best shine and color to your hair.
Frequently Asked Questions
How long does Japanese bubble hair dye last?
It lasts for about 4-6 weeks.
Is hair dye safe in Japan?
Yes, Japanese hair dyes are ammonia-free and safe to use.
Why do people in Japan dye their hair purple?
The purple color gives a very different look to the hair, which also compliments the skin tone of Japanese people.
Does Japanese bubble dye have bleach?
No, Japanese bubble dyes don't contain bleach.
Do Japanese people dye their hair brown?
As most Japanese people have naturally black and brown hair, they only prefer these dyes to cover their grays.
What is the best Japanese hair dye brand?
BigenOne is the best Japanese hair dye brand that provides affordable, easy-to-apply, safe dyes.
Why is Japanese hair dye better?
Japanese hair dyes don't have harmful ingredients but only natural ingredients to cover the hair effectively.
Recommended Articles